For years Travis Watkins and Charlie Dennis were, in one way or another, performing in propinquity on football fields.
The two were never very far apart.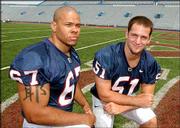 As little league players back home in suburban Wichita, Watkins was the center and Dennis was the quarterback. Later, at Derby High, the two played side-by-side on the defensive line.
"It was tough to run on us," Watkins said with a smile.
Last year the former Panthers were together again on Kansas University's defensive line, although actually far apart. Both started at defensive end. But now that Watkins has switched to tackle, there will be times when they line up next to each other again.
"That's my natural position," Watkins said. "I've played tackle all my life. Last year was tough, but you can't make excuses. It's a whole different world at end."
In truth, Watkins was betrayed by his wheels. His speed is more suited to tackle where he has to do less chasing and more stuffing.
"Heck, now they have converted running backs playing end," Watkins said.
Or converted quarterbacks. Dennis is a former signal-caller.
"I run a little quicker than he does," Dennis said of Watkins, "but he's a lot bigger than I am. What I do well is run."
Dennis, in fact, owns the fastest shuttle run among KU's defensive lineman.
Although Dennis is listed as a senior and Watkins as a sophomore, the two are just a year apart because Watkins red-shirted as a freshman in 2001. As a rookie in 2001, Watkins was thrown into the fray right away. He started 10 of the Jayhawks' 11 games and was credited with 38 tackles, including three for losses.
Now, at 6-foot-4 and bulked up by about 10 pounds to 280, Watkins hopes to make an impact at a position where he feels comfortable.
"I've known all along I should play defensive tackle," he said. "They didn't have to convince me to move back."
Meanwhile, the 6-5, 240-pound Dennis didn't have to be convinced to switch from quarterback to defensive end.
"I got too big," Dennis said. "I was smaller and skinnier than everybody in little league."
Through his junior year in high school, Dennis was a two-way performer at quarterback and defensive end. Then he became a tight end/defensive end for his senior year.
"I was much, much better at tight end than quarterback," Dennis said with a smile.
Basically, he's been playing defensive end ever since. That includes two years at Butler County Community College in El Dorado where he was credited with 26 quarterback sacks.
Last year, in his first season at the major-college level, Dennis started all 11 games at right defensive end, making 44 tackles with six for losses, including three sacks. He also intercepted a pass and recovered a fumble. Twice against UCLA and Iowa State Dennis was named KU's defensive player of the game.
"It was fun to play against all the name schools," Dennis said in reflection. "That UCLA game. You play them and you find out how good you are pretty quick."
With Dennis listed as the right end and Watkins as the left tackle, it would appear the two Derby High products will not be playing side-by-side as they did in high school. But that's only on paper.
"I'll be switching sides a lot more this season," Dennis said.
In other words, Dennis has had to learn a new scheme. Again. In four years of junior college and college football, Dennis has played under four different head coaches five, if you count interim coach Tom Hayes being in charge for the last three games of the 2001 season.
"Every one of the head coaches I've had has been great," Dennis said. "I feel like I've experienced every kind of coaching there is, and I feel lucky about that."
Dennis and Watkins also are charter members of each other's admiration society.
"He's a stand-up guy," Watkins said of Dennis, who has many times voiced the same sentiment about his long-time teammate who is studying to go into the ministry.
Copyright 2018 The Lawrence Journal-World. All rights reserved. This material may not be published, broadcast, rewritten or redistributed. We strive to uphold our values for every story published.