Chalk it up to drought, fire ants and warm winters.
Whatever the reason, there just aren't as many butterflies in Lawrence or around Kansas this year.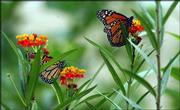 "It's been a bad year for butterflies no, it's been a very bad year," said Orley "Chip" Taylor, a professor of biological sciences at Kansas University and founder of Monarch Watch.
Here's why:
l Last winter was relatively warm. Butterflies seem to fare better when temperatures are "consistently cold," Taylor said.
"Butterflies overwinter here as adults and as pupae, larvae and eggs," he said. "And for whatever reason we're not sure why warm, dry winters have a detrimental effect."
l In January, a winter storm in central Mexico wiped out three-fourths of the hemisphere's monarch population.
"Last year's (monarch) migration was sensational, but this year's numbers will be down," Taylor said.
l Many of the butterflies seen in Kansas migrate here from Texas. For their populations to flourish, they need a decent spring.
"Spring was lousy," Taylor said. "It was hot and dry, and the fire-ant populations have been building up for 18 months." Fire ants are known to feed on some butterfly species' pupae and larvae.
The Texas migrants include the often-seen monarchs, painted ladies, sulfurs and red admirals.
"The red-admiral population is virtually invisible this year," Taylor said, noting last year's population was as much as 200-fold more than this year's.
Taylor said this year's drought only made matters worse.
A comeback?
Brian Boyce, retail nursery manager at Sunrise Garden Center, 1500 N.Y., said he'd noticed a decline in butterfly numbers.
"When we put out our butterfly bushes in the spring, I noticed there weren't any butterflies usually, they're just swarming with them."
But Boyce said he was seeing a comeback. "Just this morning I saw some butterflies on our butterfly bushes, which are in their second blush now," he said. "I'm encouraged by that."
Marcia Henry, who runs Henry's Plant Farm near Stull, said she, too, had noticed more butterflies.
"Over the weekend it seemed like we had a lot come in," she said. "But I haven't seen too many monarchs yet, just a few."
Henry's Plant Farm has several butterfly gardens on display.
Taylor said Henry's and Boyce's observations were in keeping with the usual fall increase in insect populations.
"Things should get better from now on," Taylor said.
Fall tagging
Though this year's butterfly population is troubled, it's by no means threatened.
"Many species numbers, low to high, will vary 100 fold or more. That's not unusual," Taylor said. "They come back."
How the drop in numbers will affect Monarch Watch's annual fall tagging event Sept. 14 at the Baker Wetlands remains to be seen.
"Last year we had 360 people tag over 3,000 butterflies," Taylor said. "I doubt we'll see those numbers this year."
This year's tagging is co-sponsored by the Jayhawk Audubon Society.
Monarch Watch is a KU-based educational outreach effort that engages residents in large-scale research projects, including the annual tagging of monarch butterflies to help track their migration.
Monarch Watch collects information from affiliates in 37 states east of the Rocky Mountains, Taylor said.
Copyright 2018 The Lawrence Journal-World. All rights reserved. This material may not be published, broadcast, rewritten or redistributed. We strive to uphold our values for every story published.