Prague, Czech Republic — Tens of thousands of Czechs fled their historic capital for higher ground Tuesday as torrential rains turned the Vltava River into a menacing cascade and unleashed more flooding that has now killed at least 88 people across Europe.
Churning toward Prague's Old Town, the heart of the capital and a popular tourist stop, the brown, swollen Vltava inflicted the worst flooding in more than a century on the Czech Republic. Officials said at least nine people died after more than a week of heavy rainfall.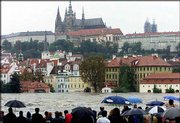 Water engulfed Prague's historic Kampa island, flooding architectural gems dating to the Hapsburg Empire. Volunteers gathered around landmarks and scrambled to fill hundreds of sandbags in a desperate bid to save the city's treasures from rising waters.
Late Tuesday, cranes worked under floodlights and in pouring rain to pull up crushed boats, barrels and even a refrigerator to help the swirling river slip past barriers. Volunteers sprayed plastic foam into the cracks between the sandbags to prevent water from seeping through.
At least 40,000 residents of low-lying areas of Prague a city of just over 1 million inhabitants were ordered to leave their homes Tuesday, and a total of 200,000 were evacuated nationwide, Interior Minister Stanislav Gross said. The 340-room Intercontinental Hotel and the Four Seasons Hotel evacuated their guests at the peak of the summer tourist season.
But by 9 p.m. Tuesday, the threat to the Old Town appeared to be easing.
Czech television said the Vltava was expected to rise only by another foot, and Jan Buergermeister, the official in charge of the area, said even triple that would affect only the evacuated areas.
In neighboring Austria, where at least seven people have died, firefighters and Red Cross volunteers were stacking sandbags to hold back parts of the swollen Danube River, which flooded Vienna's port and some low-lying streets.
The Danube punched through dams in the town of Ybbs in Lower Austria province Tuesday, and emergency workers in hip boots gingerly waded along railroad tracks, pulling out debris.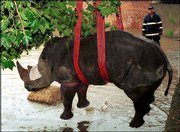 The Defense Ministry said 8,000 soldiers were battling floods in Upper Austria and along the Danube.
The flooding affected an estimated 60,000 Austrians, who either were evacuated from their homes or suffered flood damage, authorities said. In Salzburg province, more than 1,000 buildings were under water, and in the badly flooded Danube town of Krems,
Most of Europe's flooding casualties were in Russia, where at least 58 people were killed late last week mostly Russian tourists vacationing on the Black Sea who were ambushed by flood waters.
At the Zoological Garden on the outskirts of Prague, about 400 animals were moved to higher ground. Zoo employees had to euthanize a 35-year-old Indian elephant called Kadir after he ended up stranded up to his ears in a flooded part of the zoo and was in danger of drowning, a worker said. A hippopotamus that escaped from its corral and became aggressive also had to be put down.
Copyright 2018 The Associated Press. All rights reserved. This material may not be published, broadcast, rewritten or redistributed. We strive to uphold our values for every story published.