SACRAMENTO, CALIF. — Mwadi Mabika had 20 points, nine rebounds and six assists Saturday as the Los Angeles Sparks snapped the Sacramento Monarchs' franchise-record six-game winning streak with an 81-71 victory.
Mabika had 15 second-half points as the Sparks (21-6) avoided their first three-game losing streak since last season.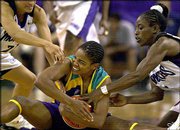 Los Angeles, which made 11 of 23 three-point shots, has won eight straight over Sacramento.
Leading 61-59, the Sparks went on an eight-point run paced by three-pointers by Tamecka Dixon and Nikki Teasley.
Teasley made five three-pointers and scored a career-high 18 points. Dixon added 13 and DeLisha Milton had 11.
Lisa Leslie tied a season-low with only four points, going the first 26 minutes without a basket. She finished 1-for-9 from the field with nine rebounds and seven turnovers before fouling out.
Fever 69, Sting 48
Indianapolis Nikki McCray scored 20 points and Indiana held Charlotte to two field goals during a 14-minute span. Tamika Catchings had 14 points and 15 rebounds, and Nadine Malcom scored 12 points for the Fever (12-15).
Comets 69, Miracle 62
Houston Sheryl Swoopes scored 25 points as Houston earned its franchise record-tying 12th straight home victory with a win over Orlando.
Shock 68, Rockers 57
Cleveland Rookie Swin Cash scored 24 points and grabbed 14 rebounds to lead Detroit past Cleveland. Cash's double-double was her seventh in 14 games.
Copyright 2018 The Associated Press. All rights reserved. This material may not be published, broadcast, rewritten or redistributed. We strive to uphold our values for every story published.