The West Nile virus has killed four Louisiana residents and infected 58 others in one of the worst outbreaks of the mosquito-borne disease in the country, state health officials said Friday.
Gov. Mike Foster declared a state of emergency Friday in a move to get $3 million to $5 million in federal aid to combat the outbreak.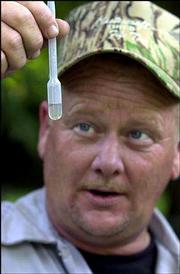 "We've never had anything this widespread here," said Charlie Anderson, Louisiana's West Nile Virus coordinator. "We feel like we're only at the beginning. The virus has established and is spreading statewide."
In Baton Rouge and New Orleans, dozens of trucks loaded with pesticide are spraying day and night to kill the virus-carrying mosquitoes. Teams of entomologists from the federal Centers for Disease Control have descended on St. Tammany Parish, northeast of New Orleans, to investigate.
"The scary thing is this started so early," Anderson said. "We ordinarily look at the season beginning in August. There are a whole lot of unanswered questions."
West Nile virus is carried by migratory birds and spread by mosquitoes. A dead bird found last May in Baton Rouge was an early sign that the West Nile virus had spread to Louisiana.
Infected humans can develop flu-like symptoms and, in some cases, encephalitis or a fatal swelling of the brain. Most infected people don't get sick at all, Anderson said.
First discovered in the West Nile district of Uganda in 1937, the virus has spread to Europe, the Middle East, Asia and North America. In the summer of 1999, seven New Yorkers died during the first large outbreak of the virus in the United States. Since then, West Nile has killed 22 people in 34 states as far west as South Dakota. Migrating birds will likely carry the virus to California this year or next, according to the Centers for Disease Control.
St. Tammany mosquito abatement control district director Charles Palmisano said every acre of the parish similar to a county is being sprayed with three times the usual amount of pesticide.
"It's not like we have hordes of mosquitoes," Palmisano said. "In fact, the mosquitoes are very low now. The question is, how low do we have to get to prevent human involvement?"
Residents have been asked to drain standing water from mosquito breeding grounds such as birdbaths and ditches, and to protect themselves with long sleeves and mosquito repellent.
The realities of a sweltering Louisiana summer are causing some to rethink that advice.
"You'd put yourself in heat exhaustion with long sleeves in this weather," said Scott Ricca, co-owner of Clegg's Nursery in Baton Rouge. "It's impractical. During the day even if you're wearing mosquito repellent you walk outside and sweat so much it comes off of you anyway. Mosquitoes are a hard thing to fight against."
The four Louisiana deaths occurred in the southern half of the state. Most of the elderly victims were weakened by other illnesses before they developed the virus.
Copyright 2018 The Lawrence Journal-World. All rights reserved. This material may not be published, broadcast, rewritten or redistributed. We strive to uphold our values for every story published.