Today, more than 50 years since he left high school as a sophomore, Mel Lisher will receive an honorary high school diploma.
When others his age were picking up their diplomas at the now-defunct Liberty Memorial High School, Lisher, now 68, was an enlistee helping fight the Korean War.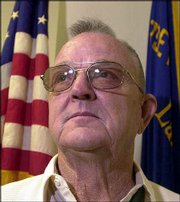 "He dropped out of high school to join the Army," Lawrence High School Principal Dick Patterson said of Lisher. "He became a tank commander in Korea, so he was in a tank when his class graduated."
Patterson will award Lisher with the honorary diploma in a ceremony at 7:30 p.m. at the American Legion, 3408 W. Sixth St.
Lisher left school and enlisted in 1950.
"I just needed out of high school," Lisher said. "I wasn't happy, and I wasn't heading down the right trail, but from then on, it's been good."
He returned from military service in October 1953 and married in 1954.
"I thought about going back to high school a couple of times, but I came home and I was young and I got married," he said. "I figured I needed to make a living or whatnot, and it didn't seem like I had the time."
Lisher, a Lawrence resident since 1942, worked various jobs until becoming an electrician, a trade he worked at for 40 years.
He owned and operated Mel Lisher Electric until his retirement. Now his son, Mel Jr., runs the company, but Mel Sr. still works on a part-time basis at the shop.
Lisher said he was working with his friend and fellow Legion member, Max Rife, at a Girls State and Boys State banquet when he mentioned he never got his high school diploma.
Rife, a former Lawrence High School administrator, mentioned to his friend that there was a program that would allow him to receive a diploma.
"I said, 'Shoot yeah, I want it,'" Lisher recalled.
Because Lisher left school to serve the United States during a war, he was eligible to receive an honorary diploma, Patterson said.
Though Lisher acknowledges that an honorary diploma won't change much, he said he would be happy to have it.
"Don't I sound fired up?" he said. "It's exciting for me. It really is. It's just hard to believe. I've thought about getting my GED once, but when I found out what went into it, I took my wife to Hawaii instead."
Lisher's wife is pleased about the diploma.
"I'm really happy for him," Rebecca Lisher said. "This is something he's wanted for a long time."
Is a college degree in her husband's future?
"I wouldn't put it past him," she said.
Copyright 2018 The Lawrence Journal-World. All rights reserved. This material may not be published, broadcast, rewritten or redistributed. We strive to uphold our values for every story published.