Boston — Derek Lowe didn't have any trouble closing out Fenway Park's first no-hitter since 1965.
Bounced out of Boston's bullpen last summer, Lowe pitched the majors' first no-hitter of the season in leading the Red Sox over the Tampa Bay Devil Rays 10-0 Saturday.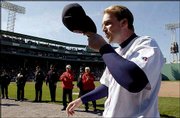 "I wouldn't think anything like this would happen to me, especially after last year," Lowe said. "I was booed off the field. I had a drastic turnaround from 2000 to 2001. It was a bad feeling."
Last year, Lowe was 1-4 with a 6.75 ERA and two blown saves in nine April appearances. He eventually lost his job as closer to Ugueth Urbina.
"I started working out last Oct. 15th because I wanted to be ready to start," Lowe said. "People were probably thinking 'Why is he starting?' I just wanted to be ready for this opportunity."
Lowe, who was six outs short of a no-hitter in his first start of the season April 5 at Baltimore, allowed only one runner a walk to Brent Abernathy leading off the third inning.
Lowe (4-1) finished off his gem by getting Jason Tyner on an easy grounder.
"I'm such a huge golf guy. I was thinking Tiger Woods in the Masters finish the deal," he said. "That's what I kept telling myself you've got to finish it."
The Devil Rays were held hitless for the first time in their five-season history. The closest they came to a hit was on Steve Cox's liner that right fielder Trot Nixon caught on the run in the fourth.
The last no-hitter at Fenway was by Red Sox right-hander Dave Morehead against Cleveland on Sept. 16, 1965. Mike Mussina of the New York Yankees was one strike away from a perfect game at Fenway last Sept. 2 before pinch-hitter Carl Everett singled.
"After 80 pitches without a mistake, you kind of get it in your head that maybe he's got something working here," said Tampa Bay's Ben Grieve, who went 0-for-2.
Jason Varitek said it's a "catcher's dream" to be behind the plate for a no-hitter, and he's now done it twice. He caught Boston's last no-hitter, by Hideo Nomo on April 4, 2001, at Baltimore.
"I've been with Derek since '95," Varitek said of his Seattle days with Lowe. "I was pretty bad and he was a one-pitch pitcher. We've come a long way."
Lowe admitted he'd thought of a no-hitter after his Baltimore start.
"Yeah, I did. I saw Nomo do it. I thought, 'What would it be like to actually do it?"' he said. "The second it comes into your mind, you've got to get back to the real world."
Lowe, making just his 27th career start, struck out six in pitching the first no-hitter in the majors since St. Louis rookie Bud Smith did it last Sept. 3 at San Diego.
Lowe breezed through the ninth, retiring Russ Johnson on a soft liner, getting Felix Escalona on a fly ball to center fielder Rickey Henderson and wrapping it up with Tyner's groundball to second baseman Rey Sanchez.
For the last out, Lowe threw a changeup.
"You try to pitch your game no matter what happens. I struggled so much last year, but I learned a lot and it's paying off," Lowe said.
After the final out, Lowe hugged third baseman Shea Hillenbrand, and then was surrounded by teammates as the sellout crowd of 32,837 cheered. He waved his hat to the fans several times as he walked to the dugout.
Later, Lowe came out on the field with a microphone and addressed the crowd, thanking the fans for hanging with him through the tough times. He acknowledged he'd pitched poorly in the past and heard their boos, saying, "I deserved it."
Red Sox manager Grady Little said Lowe has matured.
"He knows what he's doing now," Little said. "He's learned how to pitch. He's going to be a good one."
Boston pitcher Pedro Martinez agreed.
"I picked him as my Cy Young for this year," said Martinez, who has three such awards but no no-hitters. "He's got so much potential."
Fans at the NHL playoff game between the Boston Bruins and Montreal Canadiens rose to a standing ovation when news of Lowe's feat was put on the FleetCenter video board.
Nomo's no-hitter was also the last no-hitter in the AL until Lowe did it.
Lowe, a 28-year-old righty, was especially effective with his sinkerball, which he mixed with his curve and fastball.
The Devil Rays began the day batting a major league-low .212 in nine road games.
Martinez and teammate Tim Wakefield both lost no-hit bids in the ninth at Tampa Bay in recent years.
Henderson hit the second pitch from starter Delvin James (0-2) into the left-field screen for his 80th career leadoff homer, extending his major league record.
The Red Sox chased James and broke it open with six runs in the third. Manny Ramirez had an RBI single after Henderson singled leading off and Jose Offerman walked. After Brian Daubach was intentionally walked, Hillenbrand chased James with an RBI single.
Varitek greeted reliever Jorge Sosa with ground-rule double to right, making it 5-0. One out later, Sanchez looped a two-run single to center.
Nomar Garciaparra's RBI double in the fourth made it 8-0 and extended his hitting streak to 12 games.
James, making his third major league start, allowed six runs on five hits in 2 1/3 innings.
Notes: Red Sox CF Johnny Damon sat out the game with a slight tightness in his right hamstring after leaving Friday's contest. ... Tampa Bay's Greg Vaughn, who entered the game hitting just .113 lowest among qualifiers in the batting race went 0-for-3. ... Henderson's last start in CF was July 30, 1998, when he was with Oakland. ... Cleveland's Brady Anderson is second with 44 leadoff homers. ... It was Kids' Opening Day. Both teams were introduced and lined up along their respective baselines, with the Red Sox starting players coming out escorted by a child selected from the crowd.
Copyright 2017 The Associated Press. All rights reserved. This material may not be published, broadcast, rewritten or redistributed. We strive to uphold our values for every story published.