Erfurt, Germany — An expelled student dressed in black went on a shooting rampage Friday at a school in eastern Germany, roaming the hallways with a pistol and a shotgun. Eighteen people died in the terrifying assault, including the attacker a 19-year-old who killed himself as commandos closed in.
Witnesses said 13 teachers, two girls, a school secretary and a policeman had died in the shooting spree, which lasted perhaps 10 minutes. Four people were injured: one woman with a gunshot wound to the leg and three people suffering from shock. Police said they had found about 500 rounds of live ammunition near the killer's body.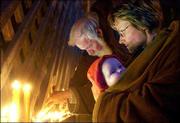 "We cannot find words for what we feel in Germany right now," President Johannes Rau said. "Germany is in mourning in the face of these incomprehensible events."
Friday's death toll in Erfurt matched that of the 1996 shootings at an elementary school in Dunblane, Scotland, where 16 children, a teacher and the gunman died. The toll was higher than the 15 who died in the 1999 shooting spree at Columbine High School in Littleton, Colo.
'A horrible scene'
During the standoff, about 180 students were trapped inside the school and a handwritten sign pasted to one window read "HILFE" Help. Outside, groups of dazed and shocked students huddled in the street, hugging and crying. The school has about 700 students in grades five through 12.
"I heard shooting and thought it was a joke," said Melanie Steinbrueck, 13, choking back tears. "But then I saw a teacher dead in the hallway in front of room 209 and a gunman in black carrying a weapon."
The government ordered flags flown at half-staff, and Chancellor Gerhard Schroeder's party canceled a weekend election rally.
"We are stunned in the face of this horrible crime," a grim-faced Schroeder told reporters. "All explanations we could give right now don't go far enough."
Police said those killed in the Johann Gutenberg Gymnasium school had been found lying in hallways and bathrooms.
"The police officers were confronted with a horrible scene," police spokesman Rainer Grube said.
Attacker's motive
Police did not identify the suspected killer. Grube said he had been expelled from the school, but did not say when. The expulsion apparently meant he could not take final exams.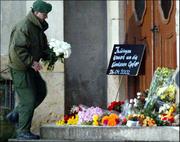 A woman who said she went to school with the attacker said he had once told her, "One day, I want everyone to know my name and I want to be famous."
In a television interview, Isabell Hartung said the youth often had had run-ins with teachers, though she described him as intelligent and well-liked by his peers. She said he had "bad relations with his parents."
Police said a janitor had first called for help at 11:05 a.m., reporting gunfire at the school. A squad car arrived within five minutes, and the gunman fired at the officers, killing one.
The teen-ager fled back inside the building. No more shots were heard until about a half-hour later, when police commandos stormed the school and the assailant shot himself in a classroom.
"The guy was dressed all in black gloves, cap, everything was black," said Juliane Blank, 13. "We ran out into the hallways. We just wanted to get out."
Authorities were investigating the possibility of a second gunman because some witnesses reported hearing shots from a different direction, police spokeswoman Doreen Jedersberger said. The noise could have been echoes, she said.
Country in shock
Politicians and teachers' groups suggested Germany might have underestimated the potential for violence at its schools and in society at large.
"We now must also ask ourselves the deeper question of what actually is going on in our society when a young person causes such disaster in such a way," Interior Minister Otto Schily said.
Schroeder's conservative challenger in September elections, Edmund Stoiber, said the shootings were "an alarm signal for our society." In Paris, French Foreign Minister Hubert Vedrine said he was "filled with consternation and horrified by the tragedy."
Like most European countries, Germany has tight gun control laws. But there are millions of legal weapons in German homes, registered for use in sport and hunting or kept by collectors.
"Whether something like this could have been prevented is an open question," Schily said, adding it appeared the gunman was motivated by hate triggered by his expulsion from school.
Erfurt, a city of about 200,000 in former communist East Germany, is generally not considered crime-ridden. The school, housed in a 1908 building, has a high academic reputation. It has 53 teachers.
In February, a 22-year-old German who had recently lost his job shot and killed two former bosses and his old high school's principal in a rampage outside Munich.
Copyright 2018 The Associated Press. All rights reserved. This material may not be published, broadcast, rewritten or redistributed. We strive to uphold our values for every story published.