A fast-moving storm packing nearly 70 mph winds, heavy rain and hail punched early Friday through the Lawrence area, downing power lines, trees and shoving airplanes around.
About 650 Westar Energy customers in the area of 25th and Iowa streets were without power much of the day because of downed lines and poles, utility spokeswoman Jo Beilman said.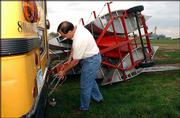 All power was restored, however, by about 3 p.m., she said.
"We think it was just strong, straight-line winds," said Phillip Bills, meteorologist with the National Weather Service in Topeka. "It was a storm that started near Manhattan and Salina and just scooted straight through to Kansas City."
The line of storms reached the Lawrence area shortly after 5 a.m., traveling at about 45 mph, Bills said. A thunderstorm usually moves at speeds of 30 to 35 mph, he said.
The Kansas University weather lab recorded a top wind speed of 51 mph during the storm, an official there said. But at Lawrence Municipal Airport wind gusts got as high as 68 mph, Bills said.
That was enough to damage a single-engine Cessna 150 probably beyond repair airport manager Lloyd Hetrick said. The plane, which belonged to Dennis and Karen Nichols, Basehor, was tied down but broke lose in the fierce winds, Hetrick said. The nose gear, left wing and fuselage were damaged.
High winds also blew a Falcon 100 jet sideways, Hetrick said. It was not tied down, he said.
"That's the problem with airplanes," Hetrick said. "You got to keep them tied down. They are made to fly."
At the KOA Campground, 1473 U.S. Highway 40, a trailer loaded with 10 canoes was blown over. About 20 people were camping at the site when the storm hit, manager Kim Newell said.
Here are rain totals from Friday reported by area

6News Weather Watchers:Roger Boyd, Baldwin, 0.12 inchesDanny Basel, Eudora, 0.50 inches.

From the National Weather Service:Perry, 1.06 inches.Ottawa, 0.06 inches.
"We aren't aware of any other damage or problems," she said.
The storm also brought heavy rain and hail. Just slightly less than a half-inch (.47) of rain fell at the airport, the weather service said. That contrasted with just .12 of an inch of precipitation in Baldwin weather spotter Roger Boyd's rain gauge.
Hail ranged in size from 1.75 inches in diameter to .88 inches in the Lawrence area, Bills said. The hail reportedly covered the ground in an area about two miles northwest of Lawrence, he said.
Dime-size hail destroyed asparagus on the John and Karen Pendleton farm, 1446 E. 1850 Road.
"Everything that was above ground got clobbered," John Pendleton said.
The Pendletons, who sell their asparagus and other garden crops through their Pendletons' Country Market, said their losses represent about a tenth of their 20 acres of asparagus, or several hundred pounds.
"The good thing about asparagus is its a long season," John Pendleton said. "Hopefully by the middle of next week we'll have some more."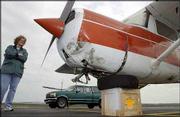 The power outage allowed about 100 students at Lawrence Alternative High School, 2600 W. 25th St., to have an unexpected day off. Students and teachers called it a day about 10 a.m., district spokeswoman Julie Boyle said.
"We waited awhile to see if the power would come back on, and when it didn't, we sent them home," she said.
Though all power in Lawrence was thought to be restored, any Westar customers without power should call 1-800-LIGHTKS.
There are continued chances for thunderstorms in the Lawrence area today, forecasters said.
Copyright 2018 The Lawrence Journal-World. All rights reserved. This material may not be published, broadcast, rewritten or redistributed. We strive to uphold our values for every story published.