Los Angeles — Barry Bonds did it again.
The San Francisco slugger hit another pair of home runs Wednesday night, giving him four in two games and leading the Giants over the Los Angeles Dodgers 12-0.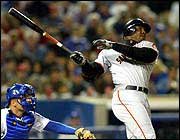 Bonds became the second player in history to homer twice in the opening two games of a season, joining Hall of Famer Eddie Mathews, who did it for the Milwaukee Braves in 1958.
The two homers both over 440 feet lifted Bonds' career total to 571, leaving him two behind Harmon Killebrew for sixth on the career list.
Bonds hit a three-run homer off Hideo Nomo (0-1) in the first inning. Bonds added a solo shot off Terry Mulholland in the fourth, triggering a six-run burst that gave the Giants a 10-0 lead.
Bonds, who set records by hitting 73 homers and drawing 177 walks last year, had two homers and five RBIs Tuesday as the Giants opened the season with a 9-2 victory over the Dodgers.
Bonds was walked intentionally by Nomo in the second, and Mulholland walked Bonds on four pitches in the fifth before he left the game along with several other regulars from both teams.
"As I said yesterday, you're seeing one of the best players ever to play the game," Dodgers manager Jim Tracy said beforehand.
Bonds has five hits in six at-bats, five runs scored and nine RBIs. He has reached base eight straight times after popping out in his first at-bat. And that's in only two games.
Russ Ortiz (1-0) pitched seven shutout innings, allowing three hits while walking one and striking out two. Ortiz, who retired his final 10 batters, also hit his third career homer.
Tsuyoshi Shinjo walked and Rich Aurilia singled before Bonds hit a 1-2 pitch from Nomo an estimated 443 feet to give the Giants a 3-0 lead before an out had been recorded.
Bonds tagged a 1-0 pitch an estimated 459 feet into the right-field seats in the fourth to make it 5-0. Benito Santiago hit a three-run homer, and Ortiz a two-run shot later in the inning.
Cubs 10, Reds 3
Cincinnati Sammy Sosa hit his first home run of the season, and Kerry Wood (1-0) struck out 10 in only five innings. The lopsided game became heated in the ninth, when Reds reliever Luis Pineda hit two batters and was ejected by plate umpire Mike Everitt. Both benches and bullpens emptied, but no punches were thrown.
Marlins 6, Expos 5
Montreal A.J. Burnett (1-0) took a shutout into the eighth inning, and Derrek Lee hit a grand slam for Florida as baseball returned to normal in Montreal with a tiny crowd and an Expos loss. One night after 34,351 fans came out and loudly cheered Montreal's comeback win, only 4,779 were on hand for the second game of the year, which almost featured another dramatic rally.
Phillies 3, Braves 1
Atlanta Vicente Padilla (1-0) pitched six strong innings in his first major league start, and Pat Burrell hit a solo home run and scored twice for Philadelphia. Atlanta's Gary Sheffield homered for the second straight game. Kevin Millwood (0-1) went seven innings, giving up three runs on eight hits.
Pirates 5, Mets 3
New York Pokey Reese drove in three runs, two after an error by Gold Glove second baseman Roberto Alomar, and Pittsburgh defeated Steve Trachsel (0-1) and New York. Mo Vaughn hit his 300th career home run, his first in the National League, but Alomar's misplay set up Pittsburgh's go-ahead rally in the sixth inning.
Astros 15, Brewers 2
Houston Daryle Ward, taking Moises Alou's place in the Houston lineup, homered during an eight-run fourth inning and finished with four RBIs.
Rockies 6, Cardinals 3
St. Louis Denny Neagle pitched six solid innings, and Larry Walker hit a three-run homer for Colorado. Garrett Stephenson (0-1), coming off reconstructive elbow surgery, had a rocky return to the rotation for the Cardinals. He allowed six runs and six hits.
Padres 8, Diamondbacks 7
Phoenix D'Angelo Jimenez singled home the go-ahead run, and Phil Nevin doubled in two more during the ninth inning for San Diego.
Copyright 2018 The Associated Press. All rights reserved. This material may not be published, broadcast, rewritten or redistributed. We strive to uphold our values for every story published.