Atlanta — Rain falling downtown Sunday morning mirrored the mood of Kansas Jayhawk fans mourning events at the Final Four.
Bummed about KU's loss to Maryland in the NCAA Tournament semifinal, many Jayhawks with premium seats in the Georgia Dome sold their tickets to the highest bidder rather than witness another university claim the title.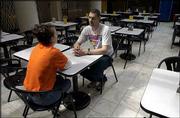 "Most of the people I know sold them," said Larry Welch, director of the Kansas Bureau of Investigation. "I did, too, because I have no interest in seeing Indiana and Maryland."
Welch and his friend, Judd Durner of Burrton, sold six lower-level tickets to Monday night's championship game for $400 each.
"Judd and I are content to start making plans to go to New Orleans for the Final Four next year," Welch said.
While the blooming dogwood trees are beautiful in Atlanta, these are the dog days of spring for KU fanatics. A 97-88 score on Saturday made it so.
Hundreds of scalpers understood that and descended upon Oklahoma and Kansas fans at the dome and at street corners, restaurants and hotel lobbies. Folks with a Jayhawk or Sooner pedigree drew a crowd, as people, seeing blue of KU or red of OU on a shirt or cap asked, in the slang of the business, "Any extra?"
KU season-ticket holder Alan Rose's answer to that question was an emphatic "No!"
A briefcase full of cash couldn't separate this Topeka auto mechanic from his ticket, a colorful 6-inch by 2-inch piece of paper with 2002 Final Four printed on the front.
"I'm keeping it," Rose said. "I'll have the '91 and '93 Final Four tickets in a frame at home. I'll take it apart and put this in."
The Easter Bunny was questioned while sharing candy eggs with NCAA basketball enthusiasts at Atlanta Marriott Marquis in Georgia.

Who will win tonight's NCAA championship between Indiana and Maryland?

"Maryland is the turtle. I'm a hare. In this race, I have to go against the Terrapins."
Somebody else willing to forgo big money was former KU administrator Del Brinkman, an Indiana graduate now living in Bloomington, Ind.
Immediately after leaving the dome's box office with his five tickets for Saturday's games, a scalper offered him $2,000 per seat.
That's $10,000 on an $800 investment. A staggering return and an amazing offer, given that more than 53,000 tickets were sold for the dome.
"I wouldn't sell them," said Brinkman, preferring to watching the title showdown.
And if he had, his wife, Carolyn, wouldn't have been pleased. Carolyn is a long-time Hoosier fan. Del is, too, having earned a doctorate at Indiana before working at KU.
Richelle and Cory Smith of Emporia don't have such a complex basketball loyalty situation. They're just regular fans with upper deck tickets binoculars and oxygen masks optional.
They were acquired for $120 each through the NCAA's general public lottery.
"I might take $1,500," said Richelle, prodded to name a price while visiting a downtown mall to relax between Final Four game days.
Cory, who graduated from KU's pharmacy school and who gets into pickup basketball games with former KU players Milt Newton and Sean Pearson, said no scalpers had tempted them so far.
Neither had seriously considered giving up these eye-straining positions in the dome, even after KU's semifinal loss. If it happens, he might listen to offers. That wouldn't have been the case if the Jayhawks had fared better Saturday.
"We wouldn't sell them for any price if KU was playing for the championship," he said.
The good-guy award in Atlanta goes to Lawrence resident Max Falkenstien, who sold a ticket to an Indiana fan that his wife no longer needed. His price: $100.
"He was so excited," said Falkenstien, who has broadcast Jayhawk games for more than half a century.
Copyright 2018 The Lawrence Journal-World. All rights reserved. This material may not be published, broadcast, rewritten or redistributed. We strive to uphold our values for every story published.