Douglas County Clerk Jamie Shew chats live about April elections
March 29, 2011
This chat has already taken place. Read the transcript below.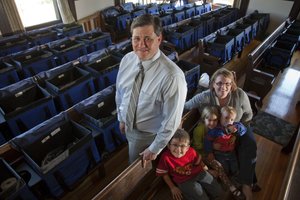 Shew, the county's chief elections officer, will be available to answer questions about the upcoming election for Lawrence City Commission and area school boards, including the Lawrence school board. You can submit your questions in advance below.
In-person, advance voting continues through noon April 4 at the Douglas County Courthouse, 1100 Mass., and polls will be open countywide from 7 a.m. to 7 p.m. on Election Day, April 5.
Moderator:
We're about to begin our chat today with Jamie Shew, Douglas County clerk. He's here at The News Center, preparing to answer questions and chat with us about the upcoming election for area offices, including Lawrence City Commission and Lawrence school board.
There's still time to submit questions...
Moderator:
Hello everyone.
I'm Mark Fagan, schools reporter for LJWorld.com and the Journal-World. I'll be moderating our chat today with Jamie Shew, Douglas County clerk. He's here to talk about the upcoming elections.
Thanks to Jamie for joining us here today...
Moderator:
Now for our first question...
How many actual cases of election fraud have you seen, or even suspected, in your years as clerk?
What would it cost to do a recall election?
Jamie Shew:
Thanks, glad to be here today.
Moderator:
Whoops. I got ahead of myself.
Now, you may answer the first question...
Jamie Shew:
We have a number of systems in place to try and identify any potential fraud. Most of what is identified is what would be unintended fraud; wife signs for husband on advance ballot. We address that and correct it when it happens. We have had two instances that have resulted in larger investigations and resulted in further results. Each election there are a number of accusations but usually upon investigation result in no fraud. A recall election would depend on the size of the jurisdiction.
Moderator:
Larger investigations and further results? What happened?
Jamie Shew:
One instance was an individual who was voting and lived in another county, we addressed it at an election where his ballot was challenged and not counted and the matter was resolved with his registration being updated to that county. The other instance was an individual who after being advised not to sign advance applications for his family did so in another election and that matter was forwarded to the District Attorney are resolved.
Moderator:
As f a recall election, perhaps you could explain a little bit about what a recall is — it would be a vote to essentially remove someone or some people from office, right? —and what would be grounds for a recall? Are there any restrictions? Also, how difficult is it to get a recall in motion? What do you have to do?
Jamie Shew:
Recall elections differ for each office in the mechanism's which require them to be initiated, what gets the issue on the ballot, and when it can happen. Generally, there has to be a reason that fits in a narrow definition of what is allowed and is approved prior to a petition circulation. Then there are rules on petition circulation and the number of signatures required to cause an election. If the election is held, the cost is incurred by the entity. Recalls can be difficult with an number of hurdles to get it in motion. Additionally, there are usually rules that state an office holder can not be recalled a number of days from first taking office and so many days prior to the end of the office. Once again, all of the rules are office specific.
Is it too late to register to vote in the April 5 election?
Jamie Shew:
Yes, voter registration closes 15 days prior to each election. If you have moved 30 days prior to the election and are registered in Douglas County, you can return to your old precinct to vote. If you have moved and not updated your registration, go to your new precinct and you will be able to vote provisionally and update your registration at the same time. Check your current registration on our web site www.douglascountyelections.com where you can see where you vote and also view a sample ballot so you are prepared when you got vote.
Moderator:
I understand the Kansas Legislature has passed a voter ID bill — today. What's that going to mean for voters here in Douglas County and when?
Jamie Shew:
That is correct, the House has agreed to the Senate version of the voter id bill and it is headed to the Governor's desk where it is expected to be signed. This will result in changes for voters. The id provision will take effect for the 2012 elections and the birth certificate verification portion is delayed until 2013. Our office has already started plans to make implementation as smooth as possible for both voters and poll workers. This will result in a change in training and methods for the poll workers and we will provide them all the support needed to make sure the process is seamless on election day. Implementation plans are vital when implementing a new policy, we are planning an extensive voter education campaign which will also include a person in our office that will staff an id hotline to assist people in making sure they are prepared, we will also be setting up web sites and education material to make sure the people are prepared, informed, and ready to vote with as few barriers as possible.
Moderator:
What, exactly, would constitute proof of citizenship? I'm thinking for 18-year-olds, just getting ready to vote. Would someone need a birth certificate? Passport? Anything else?
Jamie Shew:
The proof of citizenship portion will not take effect until 2013 which is good because it will allow both the state and local governments to process how we will implement this portion of the bill, Kansas will be the first state to require an copy of birth certificate or naturalization papers and this will require extensive discussions on implementation. After 2013 new voters will need to present a copy of birth certificate, naturalization papers, or an approved document that verifies citizenship in order to be a valid registered voter. Because our county has a very transient population our office will work hard to make sure we have a contact person who helps individuals get their proof from Kansas or any other state. Our efforts to work through the various rules and systems for each state to help each voter will make sure that someone is not denied the ability to vote because they can not get a document, this will be a goal of our office to make sure that administrative hurdles do not impact a person's ability to participate in voting.
Moderator:
How do you think the new provisions — ID and/or proof-of-citizenship — might affect turnout in upcoming elections? Will people be turned away at the polls and not come back? Will the ID requirements help, by giving voters more reason to have confidence in the system?
Jamie Shew:
The unique challenge for elections is balancing the need to secure the elections process with access to participation. The recent Marion County case by the Supreme Court moved that balance from erring on the part of protecting voter access to saying that there is some level of responsibility for securing the elections even if it impacts voter access. Since that case, that discussion has become important to our communities. Now that some states have had id for a few years, research is started to emerge with conflicting results on the impact of turnout. As administrator of elections in our county, my goal is make sure we have done everything possible to minimize any potential barrier to the voter. It is vital that a voter know that she/he has a right to a provisional ballot and should NEVER be turned away from the poll, the provisional ballot is the voter's protection. We will not be turning people away from the polls due to lack of id, ever. In every human activity, there will be someone trying to "work the system". Voter ID may add to the confidence in the system, but it important to realize that we already have multiple layers of security procedures and it will add to those layers. Voter ID provides challenges and enhancements to the system and the result of whether it provides confidence is up the citizens of our state.
Moderator:
Switching gears... to talk a bit about this election, coming up April 5.
Hi Jamie:
How is advance voting turnout so far?
Chad Lawhorn
Journal-World
Jamie Shew:
We keep daily statistics and are able to compare advance voting numbers with prior elections. Advance voting in this election is comparable to the 2007 election which had a 20% turnout and is well ahead of the 2009 election which had a 12% turnout. You can advance vote in person until noon on Monday April 4. We will have Saturday advance voting from 9-1 at Douglas County Courthouse, Baldwin Fire State, Eudora City Hall, and Lecompton City Hall, so come out this weekend to advance vote. If you want a ballot by mail it must be request by this Friday and the forms are on-line or you can call our office to send you a form.
Moderator:
Advance voting, in person, is at the County Courthouse... What are the hours? Do you need to bring anything?
Jamie Shew:
This week we will vote at the Courthouse from 8-5 and I mentioned the Saturday voting in the prior response. You need to bring your willingness to participate in these vital elections. If you are a first time voter in Douglas County and we have not verified your ID, you may need to show your ID...but that is only for first time voters as we have conducted elections in the past. Also, sample ballots are on-line at www.douglascountyelections.com I encourage voters to view a copy of their sample ballot to come prepared to vote, just log in with your registration and your ballot is attached or you can see all of the ballots on-line. There are over 40 different ballot styles in the county because we have 7 school districts, so check you ballot before you go.
Hi Jamie--
With the new census data in hand — I know you've been waiting for it! — should we expect any changes to our precinct boundaries in Douglas County? I don't mean precinct locations, but the actual boundaries that say which precinct number I'm in.
Thanks,
Jonathan Kealing
Jamie Shew:
Redistricting is always a fun time for our county and yes I have been anxiously waiting for the new data. Do you know that the population mean location has moved again and is outside of Plato, MO? There are potential changes, we have some precincts that at last election had 400 voters and now have almost 3000 voters, we are reviewing how to change those precincts into a more manageable size. There may also be a few changes as the population has also resulted in some precincts with only a few hundred voters. We have already started working on those issues in anticipation of the census numbers. The big changes will be in district lines and movement of Congressional, State Rep, State Senate, County Commission, etc boundaries. One of our projects over the next year will be to look at polling sites and I will be asking for public participation to help us identify places that we have grown out of or have challenges. I do not like to make a lot of changes, but some of our facilities we have outgrown. Later this year we will be launching a drive to collect public input on their polling sites...so stay tuned.
How easy or hard is it to recruit election judges? What do you look for in an election judge?
Jamie Shew:
We have an amazing group of election board workers, I call them the unsung heroes and heroines of the election process. We are always looking for people wanting to be part of that process. As we prepare for the 2012 Presidential Election we will use hundreds of more people than normal to help facilitate lines. There are a number of ways to get involved, contact us and we will get you started in a rewarding career as a poll worker. We are looking for people willing to dedicate the time, likes working with the public, is able to help facilitate the process, and is willing to provide a safe, secure, unbiased place for people to vote.
Moderator:
Time for one last question...
Are any qualifications, educational background, and/or experience required and/or helpful for the position of County Clerk? What drew you to this position in the first place?
Jamie Shew:
Serving as County Clerk is the fulfillment of a life long dream of mine to be elected into a position of public service. Everyday (no matter how hard the day) I remind myself that this is a privilege to serve the citizens of Douglas County. When the position became an open seat with the retirement of Patty Jaimes, I was interested to use my background in the administrative portion of the position but what really drew me was the ability to administer elections. I felt there was an opportunity to really make a difference in this office, especially with elections management. As an elected position, there really is not a requirement other than convincing the citizens that you are qualified. I have finished my MPA at KU and I can tell you this position is very administrative and requires skill sets in public management, administration, human resources, policy implementation, and customer service. Finally, a love of service to the public is vital. Thanks for the question.
Moderator:
That's all the time we have. Our thanks to Jamie Shew for visiting us today to answer questions about the upcoming election, and other election-related issues...
Jamie Shew:
Thanks for the opportunity to do this chat, I had fun. Remember to vote in this election, there races are vital to our community. If you have questions always feel free to contact us or go to our website. If you want to follow up with me on any of these topics please contact me at jshew@douglas-county.com or 832-5267. Have a great day.
Moderator:
And thanks to everyone who followed along for this and other chats.
Also, remember to visit LJWorld.com to keep up with all the latest election news and information.