Lawrence Police Chief Tarik Khatib live chat
March 28, 2011
This chat has already taken place. Read the transcript below.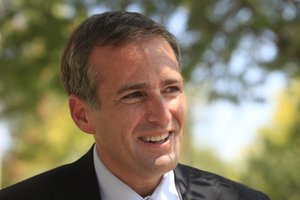 New Lawrence Police Chief Tarik Khatib will join us for a live chat with LJWorld.com users Monday, March 28, at 10 a.m. Submit your questions in advance below.
Moderator:
Welcome to our chat with Tarik Khatib, Lawrence's police chief. Thanks for joining us this morning, Tarik.
Tarik Khatib:
Thanks for having me. I look forward to participating.
Moderator:
We have a quite a few questions, so we will get started.
Please tell us how to pronounce your name.
Tarik Khatib:
Tarik (say it like "Erik") and Khatib (silent "h").
flux:
Do you think the crime rate in Lawrence has risen as a result of the slump in the economy?
Tarik Khatib:
The are quite a few criminologists/sociologists who would debate both sides of this issue. Nationally, crime trends do not appear to have changed due to the economy; but often we don't see a change until several years after a worsening trend. Locally, our crime rate is higher than some communities due to demographics and also I would argue, officer workload. Addressing crime is going to take three components: Education of the community on how not to be a victim, smart environmental design, and police resources dedicated to incapacitation of the criminals; a concept called perpetrator oriented policing.
Do you plan on naming an assistant chief in the future?
Tarik Khatib:
The Lawrence Police Department used to have an Assistant Chief Position. I believe at some point in the future, this may again be something to explore for the purpose of unifying the operations (patrol and detectives) portion of the department. For right now, I think an Assistant Chief position would be something that may actually hurt my direct interaction with employees. From a personal perspective, I would do not want to have to filter my message through another command position - not yet anyway.
There seems to be an increasing amount of gang graffiti around town. What would you say about gang activity in Lawrence?
I have called community corrections to paint over graffiti in my neighborhood, but they seem to have difficulty getting it done. Is there another department to call?
Tarik Khatib:
Gang activity is still prevalent within Lawrence. It may not be as obvious as in the past. Many gangs have taken a less visible stance within the community due to public and police notice of them. Graffiti is one way in which a gang can mark its "territory". It could also be "tagging" by individuals not involved in a gang. Either way, this should be reported to the police department. An officer will respond, take a picture of the graffiti, and complete a report. In this manner, the police department can keep track of these things to stay on top of any trends or issues developing. From a removal aspect, the property owner is responsible for removal. If the graffiti is on public property, then the entity becomes involved. Community Corrections is one agency that utilizes people on probation for crimes to participate in community service by removing graffiti. If you would like, contact our Neighborhood Resource Officer(s) at: 830-7408; and we'll see if we can help with the process.
Moderator:
I will summarize this next question from Kendall Simmons, director of the Hope and Recovery Network in Lawrence. It's about crisis intervention training (CIT) on how officers interact with people "having a mental health crisis."
"Do you plan to finally institute CIT training for Lawrence police officers? Or will you at least seriously consider it?"
Tarik Khatib:
Thanks for the question. This is a topic that is effecting law enforcement more every year. Especially in the face of tightening budgets for many social service and mental health agencies. Often, the police officer is placed in the role of mental health professional when not always equipped to do so. Several years ago, department personnel attended a training session hosted by the National Alliance on Mental Illness (NAMI) with the hopes of locally partnering. This plan never made it to fruition, partly due to the local chapter disbanding. At the Department, we do provide training on crisis intervention to the officers and how to interact with mentally ill individuals. We also have begun to train other City employees on how to interact with individuals having similar problems. I would welcome partnering with the Hope and Recovery Network to increase positive outcomes in this area. If you could contact our Training Division at: 830-7410, we can get it on the schedule. Also, I would appreciate the opportunity to speak with you further in person concerning this topic.
Have you done any LPD personnel house cleaning since your hire?
Tarik Khatib:
Smitty, thanks for the question. Certainly, anytime a new Chief is appointed, this represents an opportunity for new leadership and direction. I intend to hold myself and members of the department to the highest standards of conduct, not only in interactions with the community, but among ourselves as well. I am proud of the level of commitment and service department personnel provide to the community on a daily basis. Do officers make mistakes? Of course they do. And most of the time, they can learn from those mistakes and continue to be productive in the community and organization. You have much invested in them. There are, of course, situations that occur that will preclude an employee from continuing on in law enforcement. I believe we generally do a good job of staying on top of that. If you have specific concerns you would like to address, I encourage you to meet with me.
Moderator:
Before our next question, I need to apologize for incorrectly listing the name of Recovery and Hope Network Inc. when I summarized the earlier question from Kendall Simmons.
And here is our next question.
Do you have plans to address retention of officers, the psychological impacts of the job and the work/home life balance?
Tarik Khatib:
Great question, thanks. Law enforcement is a very demanding profession - more so psychologically than physically sometimes. I have given much thought to this issue over my career. What I conclude is that officers need to "decompress" (before going home as well) and otherwise have non-confrontational interactions with the community. Being call-driven, our interactions usually take the form of interacting with a victim, a suspect, or issuing a citation for some law violation. This is not healthy for the officer or the community. The key is to more fully (and fund) engage community policing concepts that allow officers to stop in for that cup of coffee or the conversation with the school children at lunch. As far as retention goes, we lose approximately 8 officers a year. This has been the average for the last eleven years. There are many reasons why they leave. Part of it could be workload, or they discover this is not a career for them, or they fail to meet our standards. Either way, we need to have good strategies in place to make sure the number being hired and retained keeps up with the number leaving. This has not always been the case any has contributed to the workload, as it has to be accomplished by fewer personnel. This is something the City Commission and the City Manager's Office has recognized and made a priority. It is notable that in 1999 we had 79 officers assigned to patrol. In 2011, this number remains at 79. So clearly the addition of some resources can help with this issue.
Moderator:
We have time for a final question. We apologize for not being able to get to all questions that were submitted during this hour. Thanks to everyone who submitted questions for the chief.
When do you plan to open up the hiring process for police officers? Will you use the old method of training new cops at the Lawrence training center? I would think that method previously worked well training them the right way.
Tarik Khatib:
Thanks for question. We plan to open the hiring process for the traditional academy in April. When we look at recruiting/training, we have to look all the tools at our disposal. In our history, we have hosted our own full academies, sent some officers to the state academy in Hutchinson, and hired experienced officers. Each method has advantages and disadvantages. The most recent experienced hiring academy allowed us to bring in six officers who were already certified to quickly fill open positions. This is something that I think can be done on occasion, but will not provide, in sufficient numbers, a large enough pool for recruiting that refreshes frequently. What I would like to do is hold an academy starting each spring (to coincide with school graduations) and have this be a predictable schedule. In this manner, we can hire on a schedule, and hopefully over-hire in sufficient numbers to span the attrition rate referenced in the previous question. I still believe a full academy hosted locally at our department is the way to go as the default. I think the way our officers interact with the community, their capabilities, and commitment all speak to the success of an internal academy.
Moderator:
This is moderator George Diepenbrock again. That question concludes today's chat with Tarik Khatib, Lawrence's police chief. Once again sorry to everyone who submitted questions that we were unable to get to. Thanks, Tarik, for taking more than an hour to chat with LJWorld.com readers, and we hope to have you back again in the future.
Tarik Khatib:
George, I appreciate the opportunity to be involved. To everyone else, thank you for the questions. I would like to have answered more, but my obviously poor typing skills most likely slowed me down. Good thing a tying test was not part of the chief job test.! If you do have questions that I did not get to, please contact my office at: 830-7400.