Lawrence school board candidate Jim Clark live chat
March 22, 2011
This chat has already taken place. Read the transcript below.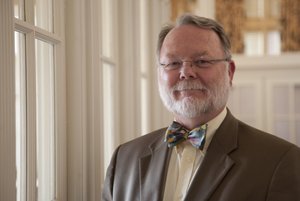 Lawrence school board candidate Jim Clark will chat live with LJWorld.com users Tuesday, March 22 at 12:30 p.m. Submit your question in advance below.
Moderator:
Hello. We are preparing to start our chat with Jim Clark, candidate for Lawrence school board. There's still time to submit questions...
Moderator:
Hello again, everyone. I'm Mark Fagan, schools reporter for LJWorld.com and the Journal-World, and I'll be moderating today's chat with Jim Clark. He's one of nine people campaigning for four seats on the Lawrence school board.
He will be with us for an hour, answering your questions online.
The general election is April 5.
Thanks for coming in today, Jim...
Jim Clark:
Your are quite welcome.
Moderator:
Time for our first question...
What areas of the budget would you cut in order for a higher % of money to remain in the clasroom?
Jim Clark:
There are very few areas that can be safely cut. Since my emphasis is on grade schools, I would look at extracurricular activities in the high schools, perhaps through sharing of coaches, instructors, etc. The one area I would not consider is cutting teacher salaries.
rrh:
Jim, what made you want to run for this position? What do you "bring to the table" with you ??
Jim Clark:
While I have considered the idea several times in the past, the most immediate stimulus was that there were only three candidates for four open positions. Fortunately or unfortunately, I was promptly joined by five additional candidates. The longer version is that I was trained to be a teacher, and have always had concerns about our education system. I have been involved with the the Kansas Legislature for many years, and am very concerned about the lack of interest, even hostility, that many legislators have toward public education. I view the job of a school board member is to deal with this attitude, specifically the lack of funding, without lowering the expectations of our children.
Moderator:
A quick follow-up on the first question (the one about making budget cuts): District administrators and current board members have said they expect to face a cut of $3 million heading into next year's budget. Do you see that number as realistic? If so, do you think you can find $3 million in such items as "extracurricular activities in the high schools, perhaps through sharing of coaches, instructors," etc? If you don't consider $3 million as realistic, how much do you think the district will face in cuts for next year?
Jim Clark:
I am participating in this chat from Topeka, right across the street from the Capitol. In reading about the actions of the House Appropriations Committee yesterday, I would expect greater cuts in all forms of state spending, if not this fiscal year, then certainly the next. I do not have the figures for all extracurricular activities, so cannot give a more definitie answer. But that would be the first place I would look.
Moderator:
You mentioned looking across at the statehouse... Do you have any strategies for addressing the — as you describe it — "hostility" within the Kansas Legislature toward public education? I know you've worked as a lobbyist in the past, so perhaps you have some specific strategies for dealing with this attitude...
Jim Clark:
I do have some strategies, unfortunately, some will not be appropriate for a local school board member. While the people of Lawrence elect legislators that are very pro-education, unfortunately, some of our surrounding districts do not have such legislators. So, we do need some form of pro-school outreach, through our state and area civic groups, business and professional associations,both in encouraging legislators to support schools, but also in selecting candidates that are pro-school. The "pro" label has been in vogue for several years, i.e. "pro-choice" or "pro-life". From my perspective, when asked, my answer is "I am pro-school"
Moderator:
Here's a question regarding STEM — the acronym for science, technology, engineering and math...
What are your views regarding a STEM program in schools? How would you go about implementing such a program into the schools?
Jim Clark:
Obviously, it's a great program. One of my concerns with the "No Child Left Behind" legislation is that it emphasizes reading and math, possibly at the expense of other areas of the curriculum. The STEM program does fill some of these other areas. While it is difficult for an English major to admit, the STEM program will do the most good for keeping America productive and competitive in a world market.
rrh:
Jim, as an attorney, can you tell us how this professional background will help you on the school board ?
Jim Clark:
Well, I hate to think I spent those three additional years in school, and the last 36 years of practice for nothing. Much of what a board member does involves critical reading and analysis, as well as familiarity with legislation and constitutional questions. Hopefully, the legal skills I have acquired will be beneficial in that regard. And it was through being a lawyer that I have been able to view the workings of the Kansas Legislature, and to discover what I perceive as being, if not hostility, at least deliberate neglect of public education by that body.
Moderator:
Here's a question from a chat earlier today, regarding an issue that's led to plenty of discussion both within and outside the district... ksbeast:
Do you support the Task Force recommendations including consolidating six school into four with major reconstruction?
Moderator:
And a little background from earlier, as well: That would be the Lawrence Elementary School Facility Vision Task Force, which was formed more than eight months ago by the board to come up with a vision for the district's elementary school sites and buildings, while recognizing both the community's vision and the district's limited resources... The task force eventually recommended closing one school next year — Wakarusa Valley School — and then recommended pursuing consolidation options for turning a list of six schools into either three or four within three to five years. Schools the task force recommended for consideration for consolidation: Cordley, Hillcrest, Kennedy, New York, Pinckney and Sunset Hill.
Jim Clark:
I do not want to second guess the Task Force, as the people who were in it worked long and hard. However, as a general rule, I do not favor consolidation of schools for several reasons. 1. The brunt of the burden of consolidation will fall on grade school children. With the moving of 6th graders into middle school, and with the addition of all-day kindergarten, grade schools will have lowered there average/mean age by a full year. I disapprove of having the more vulnerable school population being shunted into larger facilities.
2. Consolidation creates problems for neighborhoods, not only those surrounding a closed school, but on those where consolidated schools are relocated, i.e. increased traffic, light pollution. One area I would be critical of the Task Force is that it did not include more input from neighborhood associations.
3. Finally, where consolidations may increase some efficiency, i.e. one athletic filed versus two or more, there seems to be an underlying theme that class sizes can be increased, and fewer teachers needed. I disagree with that line of thinking.
Moderator:
That question raises a point that's been discussed by the current board: the potential for proposing a bond issue, one that would be used to address capital needs at all (remaining) elementary schools while also including the potential for construction of expanded or even new schools. The talk is that such a bond issue (if approved) could be implemented while holding current tax rates steady, or even reducing them (because earlier bond issues would be going off the books in the next several years). Any thoughts on what a future bond issue should look like, if at all?
Jim Clark:
I think any bond issue should have clear objectives in mind, and should not be ventured unless it can be a success. Since we are asking voters to risk a tax increase, there needs to be a clear objective about what the issue would do. I do favor a bond issue if targeted to specific physical plant needs of existing schools, but at the present time, since I am not convinced of the need for consolidation, would not favor one for construction of new or expanded schools. As a practical matter, a bond issue with more than one objective is difficult for voters to grasp, and floating one in a recession, or whatever you dub the current economy, will be a hard sell.
What are views on teaching creationism and/or the theory of evolution and/or any other theories of the origin of life?
Jim Clark:
I am reluctant to discuss personal views, and would hope that such views of board members would not become part of the school board agenda. However, I am persuaded that the theory of evolution has a place in our scientific curriculum, and for students to go on in the study of science requires a familiarity with that theory. On the other hand, I am open to including discussion of other theories of the origin of life, but not as part of science course.
Moderator:
We're about out of time for this chat, so I'll close it out by posting a question (for you to answer) that I've been asked (and answered) about you by at least three different people since you entered the race: Is he the "Jim Clark" of Jim Clark Motors?
Jim Clark:
No. The Jim Clark of Jim Clark Motors, a veteran of D-Day and the Battle of the Bulge in WW II, died a few years ago. I did know him briefly, and admire his service to his country, and the Lawrence community.
Moderator:
Well, we're out of time.
Thanks to Jim Clark — the one who did not found the former Jim Clark Motors in Lawrence — for connecting with us today during his lunch hour in Topeka...
Jim Clark:
Thank you Mark, and the Lawrence Journal World for this opportunity. For more information on my candidacy, go to
http://jimclarkforschoolboard.intuitwebsites.com/index.html
Moderator:
Thanks also to readers who forwarded questions, and who continue to follow this and other chats online.
We have one more chat left, for the ninth candidate for school board: Tyler Palmer, scheduled to be answering questions from here in The News Center at 1 p.m. Wednesday.
For that and all other chats, feel free to log in and submit questions ahead of time. Transcripts from the eight completed chats also are available for review. Either way, just follow the links.
Another reminder: The general election is April 5.