U.S. House of Representatives (District 3) Candidate Jean Ann Uvodich chats about upcoming Republican primary
July 15, 2010
This chat has already taken place. Read the transcript below.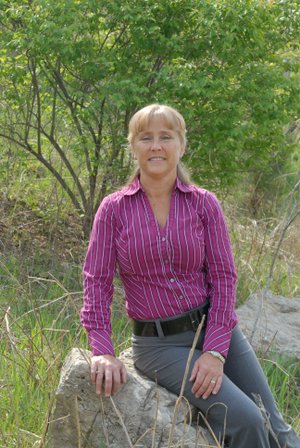 Jean Ann Uvodich, a candidate from Shawnee, is running in a field of nine for the right to appear on the ballot as the Republican nominee for the Third District U.S. House seat in the November general election. The third district covers parts of Lawrence mostly east of Iowa Street, Eudora and Johnson and Wyandotte Counties. She'll take your questions on the upcoming election.
Moderator:
Hello and welcome to this LJWorld.com Election 2010 chat. I'm Jonathan Kealing and I'll be your moderator. With us today is Jean Ann Uvodich, candidate for 3rd Congressional District. Welcome Jean Ann.
Jean Ann Uvodich:
Thank you for inviting me. I look forward to answering your questions so that you can get to know more about who I am, what I am about, and why I am running.
Moderator:
Just a reminder that you can submit questions the entire time the chat is going on. So if you have questions, get them in now.
Moderator:
Now let's get to our first question:
Illegal immigration is a hot topic these days. Without engaging in a dodge of the question or canned talking points, please explain what laws you propose be enacted to reduce the ability or incentive of American employers employing illegal immigrants?
Jean Ann Uvodich:
I propose a law that requires all employers to verify their employees through the Federal I-9 system. This will place a burden on employers that is minimal while allowing them to determine the validity of employees that they hire. In addition, I believe the laws that we have on the books need to be enforced. Enforcing the laws through penalizing employers that violate the immigration laws and hire illegal immigrants will eliminate jobs and create incentives to go home. Those jobs will then be available to legal workers.
Arizona recently passed legislation regarding illegal immigration. What is you position on the Arizona law and what should Congress do with regard to illegal immigration?
Jean Ann Uvodich:
I believe that Arizona did the right thing in passing their law. I have reviewed the text of the statute and find it to be not only aligned with the federal law but to have additional protections against racial profiling. Arizona took responsibility for their problems and took steps to solve them themselves rather than relying on the federal government who is not responding. Congress needs to insist on enforcement of the existing laws to prevent any further immigration. They also need to work to complete the fence and support all states with their border issues. The federal government wasting taxpayer dollars to contest the Arizona law is another example of their lack of understanding of the issues facing the people.
Do you believe Obama was born in the U.S.A.?
Jean Ann Uvodich:
No I do not. I believe that his refusal to provide a copy of his birth certificate shows the deception that has occurred.
The American economy continues to struggle and unemployment contines to be an issue. What can Congress do to get things back on track?
Jean Ann Uvodich:
Congress needs to remove the barriers that it is placing on business. The passage of the health care bill places an unnecessary burden on business. Any business with 49 employees is not going to consider going to 50 or more employees because the cost of health care could be insurmountable and not sustained by the additional employees. The threat to pass Cap and Trade creates an environment of uncertainty which discourages new hiring. Congress does not need to pass any more stimulus bills as it creates additional national debt which is unsustainable. We need to allow our free market economy to do its job by allowing the citizens to reap the benefit of their hard work.
Should the Constitution be amended to effectively overrule Roe v. Wade (right to abortion) and Griswold v. Connecticut (right to contraception)?
Should the Constitution be amended to expressly prohibit abortions?
Jean Ann Uvodich:
I believe that the constitution of the United States already provides protections for life. It is the interpretation of those rights that becomes the issue. As it relates to abortion, I am pro life and will vote as such. I also believe that this is an issue for the states. The federal government needs to only act within the specific areas assigned to it and everything else needs to be left to the states. The 10th Amendment to the Constitution is clear that the federal government is only allowed to act within its enumerated powers.
Moderator:
What made you decide now was the time to run for Congress?
Jean Ann Uvodich:
With my background in Accounting and practicing as a CPA for a number of years I looked at the financial disaster that this country is in and decided now is the time for me to step up. As a CPA I looked behind the numbers on the financial statements and I believe this is what we need to do now to streamline our government and begin running it like a business. I own a small business and have been operating it for the last 2 1/2 years. I took over operating it because our managers could not seem to understand that you cannot spend more than you bring in. This is experience that none of the other candidates have.
When congress decided to bully through the health care bill, I decided that was enough. We need people that are willing to stand up and say no. People who will bring new and different ideas to the table. People who are not beholding to special interests or their party. As a republican, I have felt betrayed by my own party through the passage of the various stimulus bills. I believe that true fiscal and financial conservatism has been lost and we need to get back to our roots. I know that I can make a difference and bring people to my way of thinking. As an attorney, I do this every time that I am in the court room.
Now is the time to VOTE UVODICH
Would you support Sarah Palin for President?
Jean Ann Uvodich:
I would support Sarah if she is the Republican nominee.
jrk:
The third district isn't particularly large, but it covers a very diverse type of communities: some rural, a college town, affluent Kansas City suburbs. How would you balance the needs of your different constituents?
Jean Ann Uvodich:
I understand the diversity of this district as I practice law in all of the courts in the area. I represent clients in every spectrum. One thing that I believe they all have in common is the need for this economy to turn around. Jobs is the number one concern for most of the constituents and removing the barriers for business success is extremely important. Small businesses are prominent throughout this district and the burdens that our government is placing on those businesses wrong. I grew up in a college town and understand the dynamics that this young and exciting population presents. Those future college graduates bring new and provocative ideas and hopes for a brighter future. We need to give them the opportunity to succeed by turning the Country around and allowing our free market economy to do its job.
Should the Second Amendment be interpreted to grant a right to carry firearms outside of one's home?
Jean Ann Uvodich:
Absolutely. The Second Amendment is an individual right to bear arms. This includes inside your home or outside your home.
Would you agree that we live in a moronocracy?
Jean Ann Uvodich:
In many respects I do. Unfortunately, the current government does not seem to understand the consequences of their actions. They also do not seem to understand that they were elected to represent the people of this country, not their own interests. It is difficult to understand their actions and the people who support their actions.
Moderator:
We are out of time. I would like to thank Jean Ann Uvodich for taking your questions and the readers for their submissions.
Jean Ann Uvodich:
Thank you for your questions and your time. If you have any further questions, feel free to email me at uvodichforcongress@gmail.com. My website is uvodichforcongress.com.
Remember to Vote Uvodich on August 3rd.