Health director to talk about swine flu, immunization clinics
October 27, 2009
This chat has already taken place. Read the transcript below.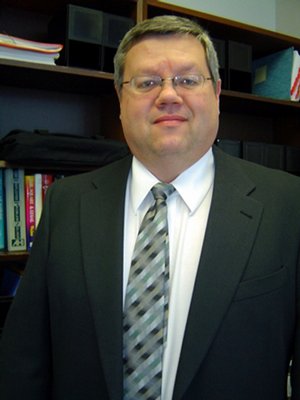 Dan Partridge, director of the Lawrence-Douglas County Health Department, will answer questions concerning the H1N1 virus, commonly known as swine flu, as well as the vaccine and the community immunization clinics.
Moderator:
I am Karrey Britt, health reporter, and I will be moderating this chat with Dan Partridge, director of the Lawrence-Douglas County Health Department. Thanks for taking time out of your busy schedule to participate in this chat.
Dan Partridge:
Hi Karrey, I am glad to be here with you it's important to try and answer everyone's questions.
Moderator:
We have quite a few questions, so let's get started. Here's your first question.
I will be taking care of a newborn child starting in about two months. At the first clinic I was told (by the workers there) to wait until all the other priority groups got their vaccine and there would be plenty for people in my situation in a couple of months. Now it seems there very well may be shortages or perhaps none available at all at that time, yet the flu season will still be very active. I want to protect this infant. What can I do?
Dan Partridge:
With this short supply of vaccine we (the public health community) have had to come up with a process to try and assure that what vaccine we have goes to those most at risk. It sounds like you are a healthy adult and fell outside any of the priority groups for our first clinic. Household contacts and daily caregivers of infants less than six months are a priority population for us but unfortunately you are 2 months away from qualifying. My advice is that you should contact your physician or the Health Department in a couple of months
1. Why don't health workers wear gloves when administering the vaccine? Or at least why didn't they at the first clinic?
2. For the children's vaccine injection (for infants)...is it a large needle or a small one like the seasonal flu vaccine?
Dan Partridge:
Unless gloves are changed between each individual they are not helpful. It is accepted standard practice to not wear gloves. Our staff had hand sanitzer available and used it frequently.
The needle we use is a 1 inch needle which is the same as what we use for seasonal flu.
My children received 1 dose at the clinic last week and we were told we need one more in 30 days. Are you sure that the supply will be there when the time comes? Will you be holding supply back for these 2nd doses?
Dan Partridge:
Our window of knowledge on vaccine supply is week to week. Each week we are told how much we can draw down and so I can't say with any certainty what the vaccine supply will be like in 3-4 weeks. The recommendation we have been given by the State Health Department is to not hold vaccine in reserve for those second doses.
When do you expect to resume H1N1 clinics after Wednesday's clinic?
Dan Partridge:
Our focus after Wednesday will shift to children and health care workers using a smaller clinic model. Having another clinic in Lawrence similar to Haskell and the Fairgrounds is contingent upon an improved vaccine supply.
Moderator:
Does just one dose of vaccine provide some protection for children if they don't receive a second dose? Why are the two doses required?
Dan Partridge:
Yes one dose does provide some immunity. A second dose is helpful in boosting the immune response in younger children. The recommendation is based on clinic trials and the measurement of immune responses across the age spectrum. One dose will help your child!
Moderator:
How many doses does the Lawrence-Douglas County Health Department have? Did you receive a shipment this week?
Dan Partridge:
After receiving 200 additional doses on Monday we have 1,570 nasal doses and 1,320 injectable doses. Douglas County received 1,400 doses total this week but our decision was to direct most of it to private providers.
Does it matter if we get the nasal spray or shot if we are breastfeeding?
Dan Partridge:
If you are healthy we strongly encourage you to receive the nasal spray. Breastfeeding should not preclude you from receiving the spray.
Hello Mr. Partridge.
I am allergic to eggs and I also have Asthma. I can't get the H1N1 vaccine due to my allergy to eggs, and I cant use the flu mist due to my asthma. Are there other options that would be available for a case like mine?
Dan Partridge:
More would need to be known about the nature of your reaction to definitively answer your question. I recommend you consult your physician as he know your medical history.
If the clinics are still planned at the elementary schools in a couple of weeks, when will the second shot be offered to those 8 and under?
Dan Partridge:
We are following the guidance that we not hold doses back as one dose is still beneficial. The age for needing a second vacinnation for H1N1 is slightly different than for seasonal at 9 and under rather than 8.
Dan Partridge:
School clinics are still on the books but as I said earlier we only have week to week knowledge of supply. Having said that I believe the odds are that clinics at schools will still happen this month
gma:
My daughter age 7 has had flu like symptoms for the last 7 days. The Dr. could not test for H1N1 but said to treat it as if it is. My question is should I vaccinate her for H1N1 since we do not know for sure if she has had it and if so how long should we wait?
Dan Partridge:
Yes vaccination is still recommended.
Dan Partridge:
Also, she should be fever free before receiving the vaccination.
How many assumed vs confirmed cases of H1N1 have there been in Douglas County?

Dan Partridge:
There are approximately 11confirmed cases but we have no mechanism to monitor assumed (suspect) cases.
Since there is a shortage of the H1N1 vaccine is it true that those with certain medical conditions will not be considered in the priority group?
Dan Partridge:
The priority groups have been narrowed down and adults with chronic health conditions and Health care workers with no direct contact with ill patients are no longer in the groups we are targeting. We will follow this new guidance until production picks up.
Can you explain why there is a shortage of the H1N1 vaccine?
Dan Partridge:
I wish I knew.
Any idea what to expect at tomorrow's clinic? Do you expect to have enough vaccine for all in line?
Dan Partridge:
For Wednesday's clinic we will vaccinate the following groups:
Household contacts and daily caregivers of infants 0-6 months
Children ages 6 months to 18 years
Health care workers who have direct contact with ill patients
and
Pregnant women
If you are in one of these groups come to our clinic if you are not we ask that you be patient and wait for another opportunity. Unless we run out of vaccine earlier we will stay until 6pm or until everyone who was in line by 5 pm has been seen.
Would the vaccine possibly go to ALL schools in the area? public and private? I'm trying to decide whether to pull her from school tomorrow to make it to the clinic in time for vaccination.
Dan Partridge:
We do plan to work with all schools public and private if the vaccine supply will allow. At best this will probably take 3 weeks,
Moderator:
As a side note, I will be at the clinic tomorrow and posting live updates through Twitter. So, you can find out how long the line is and whether there is still vaccine, by clicking on www.ljworld.com.
Has the health department received the seasonal flu vaccine yet?
Dan Partridge:
We have received most of our order and have already administered all of that first shipment. We did receive word recently that another partial shipment will be coming.
Moderator:
This will be the last question.
It feels like development and testing of the H1N1 vaccine was "rushed" - pushed-through the system very quickly. How can we as parents feel comfortable that the vaccine does not pose a significant risk? Considering all of the other required child vaccinations, what level of certainty is there that drug interations won't cause future problems with our children's health?
Dan Partridge:
There is no risk free option but the risk of complications from the flu are much higher than the risk of an adverse reaction to the vaccine. The H1N1 vaccine is produced by the same manufacturers using the same processes as seasonal flu. Millions of people receive the seasonal flu shot each year and it has a very safe track record.
Moderator:
Thanks for taking time to participate in this chat and answer some questions. See you tomorrow afternoon.
Dan Partridge:
Your welcome. I know there are lots more questions and I recommend you visit our website www.ldchealth.org for more information.