Congressional candidate Moore chats about issues in Kansas' third district
October 23, 2008
This chat has already taken place. Read the transcript below.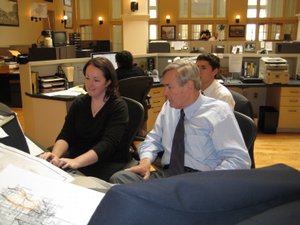 U.S. Rep. Dennis Moore, a Democrat, chats about his run for re-election in Kansas' 3rd U.S. House District. He faces a challenge from Republican Nick Jordan.
Moderator:
Welcome to our chat with Rep. Dennis Moore. We have a lot of questions to get to and we'll be taking questions throughout. I'm reporter Lindsey Slater and I'll be moderating this chat -- and online editor Jonathan Kealing may take over later. Thanks for coming in today, Congressman Moore.
Dennis Moore:
Thanks, Lindsey. Great to be with you today. I look forward to hearing from your readers and talking about the issues facing our country.
Dennis Moore:
Thanks, Lindsey. Great to be with you today. I look forward to hearing from your readers and talking about the issues facing our country.
Gas prices are way down from earlier this year. How will the fact that gas is cheaper change our future energy policy that we need to help stop global warming?
Dennis Moore:
It won't. We need a comprehensive energy plan. 30 years ago, we had long lines at the gas pumps and President Carter talked to the American people on television about the need for a comprehensive energy policy. Unfortunately, when the lines went down, everyone forgot about it. If we had addressed this problem then, our nation and our world would be in a much better position now. I've suggested to President Bush that he appoint a bipartisan group of House and Senate members, experts on energy production and some citizens to a national commission and ask that they come back to him within four to six months with a comprehensive proposal to address our energy needs and global warming. Unfortunately that was two years ago and he still hasn't done anything. I intend to go to the next President, either Sen. Obama or Sen. McCain, and ask that he do that. We need to develop a comprehensive energy policy.
As a recent college graduate, I have experience the implications of the increased cost of higher education in this country. At the same time, I believe the opportunity to attend a college or university is invaluable.
What plans do you have, or what have you done in the past, to make higher education more accessible to the students of Kansas? How does this differ from your opponent?
Dennis Moore:
Congress recently increased the availability of Pell Grants and cut the interest rates on student loans. Making higher education more affordable for our students is incredibly important so that they can remain competitive in our global economy. It's an investment in our future.
What would you do to address our insane budget deficit? The Republicans wants a ton of money for tax cuts, want to fight two wars at once, want tax cuts for health insurance, want to get rid of the gas tax and estate tax...but they do not feel the need to pay for any of it. Everyone is for tax cuts and spending increases, as long as we can pay for it. Your thoughts?
Dennis Moore:
Our nation presently has a national debt of more than $10.2 trillion. When I came into office in January 1999, the national debt stood at approximately $5.6 trillion. The last surpluses that our nation had in its budget were the last two years of the Clinton administration. We've had deficits and more debt ever since then. This is a horrible legacy to pass on to our children and grandchildren. I am the Policy Co-Chair for a group called the Blue Dog Coalition. The one thing that holds us together is our belief in fiscal responsibility and trying to live within a budget, like most American families do. We believe in a principle called PAYGO, which simply means "Pay As You Go." If a member has a new tax cut proposal or a new program proposal that will cost money, Section One is "here's my proposal" and Section Two is "here's how it will be paid for so that it will be revenue neutral and not add to our deficit and debt." It's paid for by either eliminating and existing program or raising a tax someplace else. This rule expired in 2002 and the Blue Dogs pushed to have the rule reinstated, which happened in 2007. Right now, we are spending more than $400 billion a year in interest on our national debt. That's money that could be used for education, health care, for anything worthwhile besides interest on our national debt. This is common sense and we need to do this for our people. If we can afford new tax cuts, fine. But, they must be paid for and not add to our deficit and debt. I am a strong supporter of responsible, targeted tax cuts, such as reform of AMT, extension of the child tax credit and other middle class tax cuts.
Moderator:
You mentioned that you are a member of the Blue Dog Coalition. This next question goes right along with that.
Congressman Moore, can you explain more about being a Blue Dog Democrat?
Dennis Moore:
I joined the Blue Dog Coalition as a new member of Congress in 1999. This is a group of 49 moderate to conservative Democrats who believe in fiscal responsibility and living within a budget. We do not even discuss social issues because we are all over the board on those issues. Again, a balanced budget and starting to pay down our national debt is one of the greatest gifts we can give to future generations in our country.
I am studying to be a social worker and am obviously concerned about creating environments where children can be safe and flourish. What have you done in the past to create healtheir and safer communities that help our children reach their full potential?
Dennis Moore:
I was elected District Attorney in Johnson County and served from 1977 to 1989. During those twelve years, I had too many opportunities to work with child protection workers from SRS whose job was to intervene in families where there was child abuse. I saw horrible cases of child abuse and even cases that resulted in the deaths of children. I think the work that I did was very important and I learned so much from child protection workers. But, in that time, I saw things that people should never see. I am forever grateful for the work that social workers do in our community to protect children and have worked in Congress to make their jobs safer. A social worker named Teri Zenner was killed while performing her duties. I worked with Teri's husband, Matt, on a program he wanted to start to provide training for social workers to recognize dangers and protect themselves. This will be a lasting tribute to Teri Zenner, the wonderful work she did and to other social workers. Also, while I was District Attorney I was the founder of a group whose mission was to protect victims of domestic violence in Johnson County. Our group established a shelter for domestic violence victims, now called SafeHome.
Moderator:
We have quite a few questions on health care. This next one sums most of them up.
After the overall health of the economy, the biggest domestic issue is health insurance. When the Clinton overhaul was shot down, people were critical that you might not be able to see your doctor of choice. Now, the problem is just seeing a doctor period! The decision to remain at a job is often made based on availability of medical insurance. How will you change health care? Will there be greater portability? How will the federal government help keep costs down?
Dennis Moore:
You're right. We need a comprehensive overhaul of our health care system in this country. While I believe that we live in the greatest nation in the world, our nation falls far behind others in providing an opportunity for quality health care to our people. In fact, other nations in Europe and around the world have better health care delivery systems. This is not intended in any way to be a criticism of our health care providers. But, we could have a better system to make sure that 44 million people in this country don't go without health insurance or adequate insurance. Both coverage and affordability must be a major consideration in any reform. Last year, I filed a bill to establish a nationwide system of electronic medical records. If enacted, this could, according to one study, reduce medical costs by over $100 billion a year and reduce medical errors. Patient privacy would also be protected in my bill. This is must be part of an overall solution to health care in our country.
Last year Congress passed reauthorization of a program called SCHIP, the State Childrens Health Insurance Program. This would provide medical care to children living in poor families. While I believe that adults in our country have a responsibility to provide for themselves, unless they have a disability or some other compelling circumstance, we must make sure that children have an opportunity for quality health care. After this bill passed Congress, it was vetoed by President Bush. A reporter contacted my opponent, Mr. Jordan, and asked him how he would have voted on the President's veto, had he been in Congress. Mr. Jordan said that he wasn't familiar with the program (even though he's been in the State Senate for twelve years and should know) and when the reporter explained to him what SCHIP was, he said he would have voted to sustain the President's veto. If we can't take care of children in this circumstance, what are we about as a nation?
Now that we have learned the production of coal-based power plants are politically infeasible in our state, do you see any future for the expansion of nuclear power plants in our state? Especially, considering the support for the Wolf Creek facility in Burlington.
Dennis Moore:
I understand that production of energy from nuclear sorces may be the cleanest way to produce energy. But the big problem is how do we deal with the nuclear waste? If we're able to answer that question in a way that will protect our people and our environment, then we should move forward with production of nuclear energy. Until that happens, we need to move forward with a comprehensive plan to address our energy needs, including renewables, alternative sources of energy, expanding our domestic energy supply and conservation.
I emailed you sometime ago asking you NOT to vote for any bail out deal for any public financial intuitions, to which you never responded. Despite this you are the ONLY federally elected representative from Kansas to have voted for it? How do you justify your vote considering several leading economist, not capital investors like Warren Buffet, including three here at KU, have said that this would be counter productive to solving the real financial problems? On a side note why don't you answer your constituents input . . . you do represent us, right?
Dennis Moore:
As a member of the Financial Services Committee and the Budget Committee in Congress, I had an opportunity to hear from Chairman Bernanke and Treasury Secretary Paulsen. I heard from the experts in Washington and from constituents at home that they were concerned about our economy sliding into a recession or worse if Congress didn't take appropriate action. I heard from bankers and small business owners that if credit were not available, this would adversly affect their business. I also heard from seniors and other people that they were concerned about the downturn in the market that would adversely affect their retirement savings or 401K plans. This was not a 'bailout' for Wall Street, but to protect people on Main Street in Kansas and around our country. This economic rescue plan was supported by Senators McCain and Obama, the President, the leadership in both parties, the Chairman of the Federal Reserve, Secretary of the Treasury and Warren Buffett. The easy political vote would have been to vote against the proposal. But, the right thing to do for our people and our country was to vote for this rescue plan. The continued instability of the market in our country and in Europe and Asia shows that this is a worldwide problem that must be addressed. I had to do this regardless of political consequences. It was the right thing to do for our people and our country.
Moderator:
We're quickly running out of time. I know we've talked a little about higher education, but what about K through 12? No Child Left Behind is a big topic of discussion in education circles. Your thoughts?
Dennis Moore:
I have had many meetings with teachers in our district who have expressed great concern about NCLB. I think that the intentions of NCLB were good, but there are substantial problems that need to be addressed. The first and most obvious is full funding. The President has failed to request full funding and the program is billions of dollars short of what was promised. That must be corrected. I don't know any teacher who wants to leave any child behind -- that's not why they're in teaching. But, there are other issues with this law as well. A special needs or learning disabled child who is put into class with so-called "regular education" children, cannot be expected to compete on written exams with those children. It's not right to make the special needs child feel bad because he's not able to compete under these circumstances. If this program is going to be reauthorized, it needs to be fully funded and several other problems need to be addressed and corrected. Otherwise, it should not be reauthorized.
I believe that an opportunity for a quality public education is one of the greatest gifts we can give our children. In the state legislature, my opponent has voted 19 times against funding for our public schools. That's not the kind of leadership our students deserve in the state legislature or in Congress.
Moderator:
That's all the time we have today. Thanks for joining us today, Congressman Moore. Any final thoughts for our readers?
Dennis Moore:
It's been my honor to serve the people of the Third District of Kansas in Congress for the past 10 years. I ask for your vote and continued support. Together we can ensure that we take our strong Kansas values back to Congress!
Moderator:
Rep. Moore is being challenged by Republican Nick Jordan. To read Jordan's chat transcript and any other political chat transcript, log on to ljworld.com/chats.