38th House District candidate Stephanie Kelton to chat
October 22, 2008
This chat has already taken place. Read the transcript below.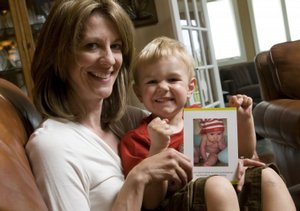 Stephanie Kelton, a Democrat running to represent the 38th District in the Kansas House, will chat about the upcoming general election.
Moderator:
Hello and welcome to this LJWorld.com Election 2008 chat with Stephanie Kelton. She's running for the 38th district Kansas House seat current held by Anthony Brown. Thanks Stephanie for joining us today.
Stephanie Kelton:
Hello. It's nice to be here.

Moderator:
We have several questions already but we're still taking more. If you have a question, feel free to submit it during the chat.
Moderator:
We'll be getting started here in just a few minutes, so stay tuned.
Moderator:
It's a few minutes early, but let's go ahead and get this chat started.
Do you think the US Government should be participating in bank ownership?
Stephanie Kelton:
This is obviously not something state legislators can influence, but I'm happy to give an opinion. As an economist with a background in finance and monetary theory, I understand how important it is to maintain liquidity in the banking system. I also understand how important it is to increase investor confidence. The US Government's decision to buy shares in private banks is intended to improve both liquidity and confidence. (It would take me more space and time than I have been provided to deal with this question sufficiently.)

Mrs. Kelton, I have heard that you are full time professor at UMKC...Do you currently lease an apartment in Kansas City? If so, what percentage of your time do you live in KC and what percentage of your time do you actually live in the district?
I noticed online you have published a number of articles. I also noticed you maintain an address in Kansas City Missouri. My question is how much time do you actually spend in the district if you teach full time AND maintain an apartment in KCMO.
Stephanie Kelton:
I'm not sure where you found a KC address. I have lived in Kansas for about four years. I commute to Kansas City, but I live in the district full time.
During a debate with your opponent, you said you promised your Mom you wouldn't get into negative campaigning and dirty politics. Doesn't that seem what you did with a recent mailer you did about Mr. Brown? Didn't you go against your word? Negative campaigning always turns off voters and seems so cheap.
Stephanie Kelton:
To be clear, I never mentioned a promise to my mother -- the debate is available on-line www.kansans4kelton.org ) and you will hear no such promise. What I said, is that my mother was concerned about me entering the political sphere because she has seen politicians engage in extremely dirty politics, and she didn't want me to suffer the slings and arrows of an attack campaign. I haven't sent out anything negative about Mr. Brown and have no intention of doing so. I will certainly point out shortcomings in his legislative record. But, surely, that is fair game.
Your opponent, incumbent representative Anthony Brown, recently earned a failing grade from an independent group studying how Kansas finances its higher-education system. Tell us a little about how your views and plans for funding Kansas' community colleges and universities differ with the incumbent's record. Why should voters in Dist 38 care about their state representative's voting record on higher education? What new will you bring to the higher-education policymaking debate?
Stephanie Kelton:
As an economist who studies economic development, I understand how vital our institutions of higher education are. We are able to attract cutting-edge industries (bio-science, high-tech, etc.) to our state in large part because of our highly educated workforce. Mr. Brown was recently ranked the single least supportive member of the entire Kansas Legislature (worst out of 165 members of the Senate and House) when it comes to supporting our Kansas colleges and universities (see www.kansashighereducation.org). I place a high premium on education and will serve as a strong advocate for education.
Moderator:
This question might qualify as a follow-up to the last one. The difference here seems to be Harry wants to know how you'll improve Kansas schools.
Dr Kelton,
It is well-documented that your opponent has the WORST Record in the Kansas House of Representatives when it comes to support for higher education. Since you have Extensive Experience as a University Professor, would you please identify your recommendations for making our Colleges & Universities more competitive in this challenging environment?
Thanks,
Harry Mullins
Olathe
Stephanie Kelton:
To make our colleges and universities more competitive, we must commit resources to them. Faculty salaries are just below average when we look at peer institutions, and that makes some of our best professors "ripe for the picking". We also have problems with maintenance, and we need to address those problems (we cannot defer maintenance indefinitely). Too much of the burden has been shifted onto the student (in the form of higher tuition) as a result of the Legislature's decision to underfund our institutions of higher learning.
Moderator:
And here's another follow-up from someone else who posted earlier
I did receive a mailer with a big baby on it and on the reverse side it had his picture "darkened" and negative things to say about him. It was sent from your campaign office. Maybe you didn't authorize it?
Stephanie Kelton:
Again, you have not shown me to be engaged in negative campaigning. A "fuzzy" picture???
Perhaps you also received Mr. Brown's first mailer. I know I did. It featured a quote in which he told voters that his opponent "will be unleashing a very negative campaign" against him. This came out before I sent a single piece of mail. Is that appropriate? It was certainly untrue, and I maintain that I have (and will continue to) run a positive campaign.
Do you have an energy plan?
Stephanie Kelton:
Yes. I would like to see Kansas develop a comprehensive energy plan that includes efficiency, conservation, and greater reliance on renewables. Right now, Kansas relies on coal to meet a whopping 75% of its electricity needs. You do not need to be an economist to understand that our energy portfolio is not well diversified. Diversification is the key to risk-reduction. I would like to reduce our reliance on out-of-state coal and tap into our tremendous potential to develop energy from clean, renewable sources that are growing (or blowing) right in our backyard.
Mrs. Kelton, thank you for willingness to run for office. Two quick questions: What is your stance on abortion? Are you pro-life or pro-choice? Second, do you support the definition of marriage as between a man and a woman? Or do you support some other definition?
Stephanie Kelton:
First, thank you for saying that. I have stood on a lot of doorsteps during the past six months, and many people have thanked me for running. I do appreciate hearing it.
On abortion: I am personally opposed to abortion. But I do worry about the consequences of an outright ban. I suppose I agree with John McCain, who, in 2006 pointed to our history and said that if Roe were overturned, "thousands of women will undergo illegal and dangerous operations". My opponent has stated that he opposes the procedure except in the event that the life of the mother is in danger. I find this stance too restrictive.
Yes, I believe that marriage is defined as bond between a man and a woman.
Moderator:
We have one last question for Stephanie:
You're an economist. What type of special knowledge will you bring to the State House if you're elected?
Stephanie Kelton:
My primary objective is to ensure that the people of the 38th District are represented by someone who will support sound legislation that is in the long-run economic interest of our communities. This will be an extremely tough legislative session. Our10-year transportation plan is going to expire next year, the number of Kansas without health insurance continues to rise, the coal plants will be an issue again, and the state faces a projected shortfall in revenues. I have spent 10 years studying the economy and government finance, and I have expertise in the area of health care reform. In short, I believe I have the experience that will be needed to craft policies that will protect and grow the Kansas economy so that we can address the many challenges we face.
Moderator:
Let me sneak in one more:
You mention your support for more funding for higher education and alternative energy sources. I'm sure you're aware solar energy and wind, etc. costs far more than clean coal or any coal. how do you propose in this current economic climate to increase all these costs without overburdening the economy and kansas taxpayer? Thanks.
Stephanie Kelton:
Here's what I am aware of: Sunflower has refused to reveal the financial details of the Holcomb deal and has refused to update projected costs for over 2 years, even though investor-owned utilities (like Westar and KCP&L) would have to make this information public, and even though all costs related to the project have increased by at least 25% annually. Additionally, the price of coal is increasingly rapidly -- China is building a coal plant every week, and they are buying coal from our only supplier in Wyoming, which is placing tremendous pressure on coal prices. Finally, neighboring states all around us are benefiting from thousands of jobs and millions of dollars in revenue (to build schools, lower taxes, etc.) and investment from the booming wind energy industry. Meanwhile, Kansas is being left in the dust . . .
Moderator:
Thanks everyone for submitting questions and thank you Stephanie for joining us. Just a reminder, we have several more chats scheduled over the next week and half. If you'd like to submit a question for any of those - or if you'd like to read transcripts of past chats - log onto LJWorld.com/chats. We're still trying to schedule a chat with Stephanie's opponent, Anthony Brown.
Stephanie Kelton:
Many thanks for the questions. I'm always available to field more questions through my website: www.kansans4kelton.org