Chat about KU Homecoming 2007
October 25, 2007
This chat has already taken place. Read the transcript below.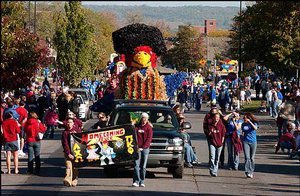 Bill Walberg and Meghan Easter, co-directors of this year's KU Homecoming, will take your questions about this year's events, which kick off Saturday and run through the home football game against Nebraska Nov. 3.
Moderator:
Hi, everybody. Terry Rombeck from the J-W here to moderate a chat with Bill Walberg and Meghan Easter, co-directors of KU Homecoming 2007. Welcome!
Bill Walberg and Meghan Easter:
Thanks Terry for having us. We're really excited to be here.
Moderator:
First off, give us a little overview of Homecoming this year -- is there a theme, etc.?
Bill Walberg and Meghan Easter:
The theme this year is Jayhawk Nation. The Homecoming Committee's goal this year was to come up with a theme that not only encompassed just the KU campus, but alumni and fans around the country. Our big events this year include our annual Spirit Sprint which is a run through the KU campus this Saturday, in which all proceeds go to United Way. We also have a Pep Rally on Tuesday, and then culminate the week on Saturday with a Parade down Jayhawk Boulevard featuring our Grand Marshal Governor Kathleen Sebelius.
Do you find that students still get into the hype of homecoming, or has it become an outdated idea?
Bill Walberg and Meghan Easter:
Yes students still are getting hyped up about homecoming. This year we've had a record turnout for groups participating in the homecoming compeition. We'll be honest, it does help when the football team is doing well, so we expect a record turnout in individual competitions as well. The Homecoming Committee has also added new events this year to reach out to the different interests of students. On Wednesday we have the Jayhawk Nation Money Station, where participants step inside of one of those game show-like booths and they have to grab a ticket. Prizes range from homecoming t-shirts to $250. Another event we added is Stuff the Bus where we position different KU buses around campus and Lawrence and student groups or Lawrence residents can donate non-perishable food items to a local food organziation. That event will be this weekend. On Saturday the bus will be on 23rd and Dillons and Downtown Lawrence. On Sunday, the bus will be on Daisy Hill. So yes students are excited about homecoming...and I'm already seeing facebook posts to prove it.
Are Homecoming t-shirts available again this year? If so, where can I buy one?
Bill Walberg and Meghan Easter:
yes jennyd...T-shirts are available this year! The t-shirts feature our logo on front with a map of the US with a Jayhawk on it on the back. They are $10 and we will be selling them on Wescoe Beach on the KU campus from 10-2 tomorrow and Monday thru Friday next week. They're also available on the KU alumni association (www.kualumni.org) Web site or our Web site(homecoming.ku.edu).
Moderator:
Tell me a little about the corndog-eating competition. I had a big lunch, and the idea of it sort of makes me a little sick right now. What's it take to do well in that contest?
Bill Walberg and Meghan Easter:
Well that's a good question. Well Meghan just ate and I haven't eaten yet, so it sounds a little good to me right now, but there is a strategy: eat as many corndogs as possible without getting sick. You need to go into that contest on an empty stomach, so eat early in the day. There will be prizes available for the winners of both divisions, guys and girls.
Moderator:
I saw the parade was scheduled for 10 a.m. -- does the early 11:30 kickoff time affect the parade at all?
Bill Walberg and Meghan Easter:
Yes...the parade will actually be starting promptly at 9:30 down Jayhawk Boulevard. It should end no later than 10:30 so everyone can head over to Memorial Stadium to watch the Hawks beat the Cornhuskers.
I've heard rumors about some special appearances at the Pep Rally on Tuesday... Can you announce who will be there?
Bill Walberg and Meghan Easter:
Yes those rumors have started to spread around campus. I can tell you head women's basketball coach Bonnie Henrickson will be there. Depending on how the A&M game goes, there could be other special appearance on Tuesday from some of your favorite KU athletes.
Moderator:
How did you convince the Governor to come back to be Grand Marshal?
Bill Walberg and Meghan Easter:
Well...we sent her people a few emails and we sent her a few letters. We also had an inside source to the governor's office to speed the process up for us. When her scheduler saw she had an opening, we booked her. It's awesome to have the leader of our state lead the 2007 Homecoming Parade. Her appearance has been brought up everywhere on campus...everyone's just really excited.
Moderator:
One final question -- what are your predictions for the Homecoming game?
Bill Walberg and Meghan Easter:
Meghan's prediction: KU wins 45 to 21. My prediciton is that KU wins 52 to 3. Nebraska is just pitiful this year. Thanks Terry for having us. Don't forget to check our Web site at www.homecoming.ku.edu. Rock Chalk!
Moderator:
Thanks, Bill and Meghan, for coming in today. Good luck with all the Homecoming events!