The snow plows are on, the salt-and-sand spreaders equipped and personnel in place.
Now all Tom Orzulak needs is the snow to stick.
Or not.
"If anything happens, we're already on shifts. Everybody knows what to do," said Orzulak, the city's street division manager. "We just have to wait and see."
As rain turned to snow by late Monday morning, Orzulak's crews were in place and poised to launch their street-clearing forces should they become necessary.
The division has 16 street-clearing routes in all, with 16 trucks assigned.
Half of Orzulak's 40-member staff has been on duty since 7:30 a.m., when employees started hooking up plows to some of the trucks and getting other equipment in place to mobilize within 15 minutes of the call to clear. Other staffers will report to work at noon and go until 8 p.m.
"We haven't had any overtime yet," Orzulak said.
The city has 2,500 tons of salt-and-sand mixture ready to apply on streets, backed up with 4,000 tons of salt and another 1,000 tons of sand.
The outside temperature was holding at 39 degrees at the public works yard at 11th Street and Haskell Avenue, but Orzulak knows better than to reach any conclusions about the likelihood of precipitation accumulating or not.
"If it starts snowing heavy, it'll start sticking," Orzulak said. "Then we'll have to treat. If get more than 3 inches of snow, obviously we'll plow."
His approach: It's best to be prepared, then react.
"People just need to realize that it's slick when it snows," Orzulak said. "I don't have any high confidence that this is going to be a major deal for us ... but it's wait and see."
Count Michael Johnston, president and CEO of the Kansas Turnpike Authority, among those who will be following Sunday's scheduled turnpike bridge blast online at LJWorld.com.
Explosions are scheduled for 12:30 p.m. Sunday, to drop a 250-ton stretch of original steel bridge structure along the turnpike onto a temporary sandbar below, along the east bank of the Kansas River. While spectators will be kept 1,000 feet from the blast, anyone with an Internet connection will be able to get an up-close view at LJWorld.com, where streaming video will be shown live.
Johnston plans to join the online crowd early Sunday afternoon, as he monitors communications from officials on the scene.
"I'll call it up," Johnston said.
The blast is the first of several planned along the turnpike's original Kansas River bridges, built in 1954. The spans have been stripped of their concrete tops in preparation for the blasts. The first explosive demolition is set for 12:30 p.m. Sunday. The second, for an identical section on an adjacent original bridge, is scheduled for 10 a.m. Thursday. The remainder of the bridges, stretching west across the river, will be designated for demolition sometime in early December. Schedules for the blasts are considered tentative, as rain could force delays ranging from a few minutes to hours or even days, officials said.
"I hope it doesn't rain," Johnston said Thursday. "I hope it goes as planned."
Johnston also is hoping that people adhere to the safety-first approach of the turnpike authority and its hired contractors. Onlookers are welcome to gather in Burcham Park — which is accessible from Second and Indiana streets — or elsewhere outside the 1,000-foot blast area, he said.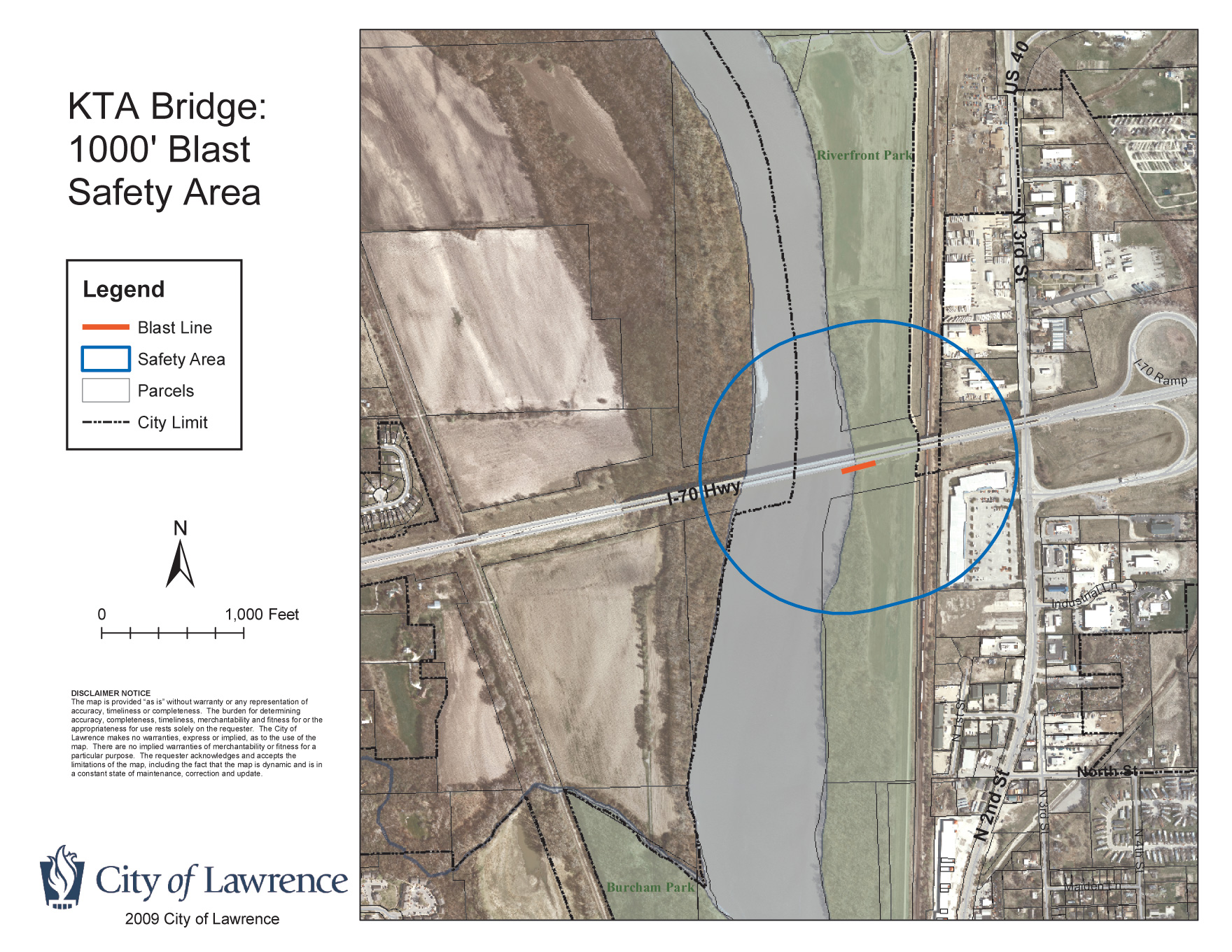 Watching the video online — as he will Sunday — is another option, Johnston said.
"Safety first," he said.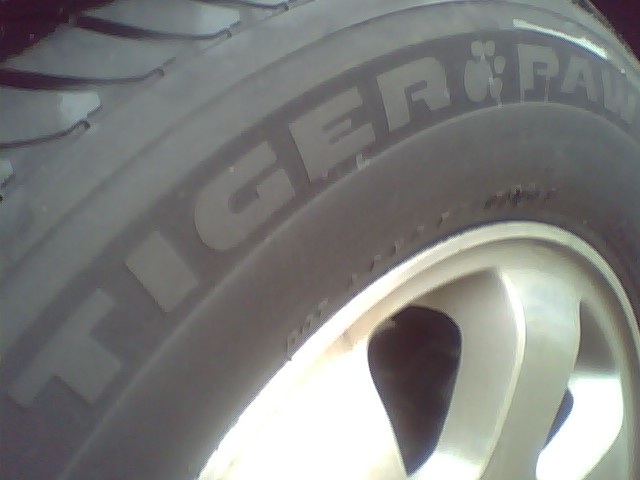 Having to buy four new tires for my minivan was bad enough: more than $500, including alignment. But it got even worse when I finally looked over the new Uniroyal AWP II tires that I'll be living with for the next 70,000 miles.
Standing out, in raised rubber on the side walls of each tire, is the name of a certain undesirable mascot, plus a logo that bites even more:
TIGER PAW (check out the pictures; the paw logo is in the middle).
For a second-generation Kansas University graduate, married to a third-generation KU graduate, with two children who are KU fans and could one day be KU graduates, all living in the hometown of KU — well, the idea that our family truckster now rides on black-rubber reminders of the Missouri Tigers is enough to make me want to hurl.
"How can they do that — here?!?!" my wife exclaimed, upon seeing the physical evidence.
The folks at D&D Tire hadn't said anything about the tires being TIGER PAWs. All I knew is they'd come at a reasonable price, for desirable performance, from a reputable manufacturer. And I'd be buying local, from a place I could get the new automotive shoes rotated every 5,000 miles on my way in to work.
As long as I wasn't getting whitewalls, I figured, I'd be OK.
I didn't see the sides until after I'd paid the bill and headed out to the curb.
Then I looked on p. 233 in my Owners Manual: "WARNING Installing improper tires on your vehicle can affect handling and stability. This can cause a crash in which you can be seriously hurt or killed."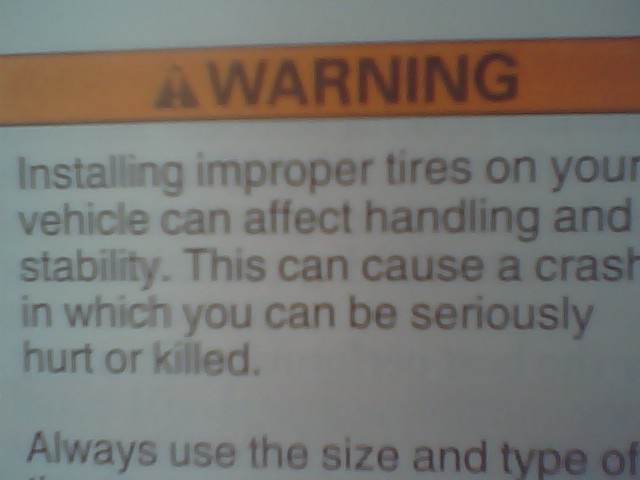 Yikes. What could be more improper than Mizzou tires?
But I couldn't be alone. I figured that folks over in Columbia, Mo., must be getting their paws on such Uniroyals, so I checked in with Brandon at Big O Tires, about 2.5 miles away from MU's Faurot Field.
Turns out they don't sell many TIGER PAWs, or at least not because of the Mizzou factor.
"We don't push them or anything," Brandon told me. "I'm surprised we don't. I've never thought about making a sale out of it. I'm probably going to use that in my next sales pitch." You're welcome.
"I'll have to give you 10 percent of my next sale," he said.
Some consolation.
So I called Pat, over at D&D here in Lawrence. Nice guy. He said I was the first one to make the TIGER PAW/Mizzou connection. Got a good laugh about it.
Pat says he sells plenty of Uniroyals these days. The ones I bought actually used to be known as BF Goodrich Control Plus tires, until Michelin bought out BF Goodrich and Uniroyal awhile back.
"They just changed the sidewall and kept the tread, because it was a good tire," Pat told me.
But what am I supposed to do now that I'm stuck with TIGER PAWs?
Uniroyal doesn't make JAYHAWK tires, he told me, and half-joked that I could brand a Jayhawk into a reinforced area on the sidewall, to show my collegiate allegiance.
Or I could bring the Uniroyals back in, and opt for another brand of tires. Uniroyals generally carry the TIGER PAW designation, he said, while Bridgestone tires use DUELLER, Cooper tires go with DISCOVER, etc.
Thanks, I said, but I think I'll stick with the TIGER PAWS. I'll just wear them down over long drives, just as I'm sure Todd Reesing, Kerry Meier and Jake Sharp will do this November at Arrowhead — and future Jayhawks will continue to do throughout the long lives of my tires.
Not that I'll have to wait that long.
"After you rub against a few curbs," Pat said, "that TIGER PAW will be good and gone." Rock Chalk.
A volunteer effort to count the number of pedestrians and cyclists using sidewalks and streets in Lawrence is being postponed until Thursday, because of rainy weather.
The project had been scheduled for 10 a.m. to noon and 5 p.m. to 7 p.m. today, but persistent rains would have skewed the count to the point that results would not have been reliable, said Bart Rudolph, a city/county transportation planner coordinating the effort.
Most the 40 volunteers who had been lined up to cover 11 locations in Lawrence will be able to do so Thursday, he said. It's possible that a single location may be dropped, because of a potential decline in qualified volunteers.
By counting pedestrians and cyclists during anticipated "peak hours," planners anticipate being able to tap into a growing national database of such data to help enhance transportation planning in the Lawrence area. Such data would allow planners to make recommendations for transportation projects, both now and in the future.
The data also could be used to support applications for financial assistance from state and federal sources, Rudolph said.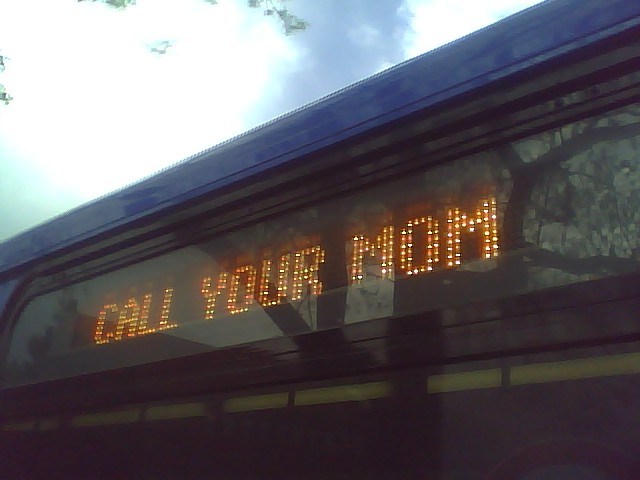 KU students can't say they didn't know.
Across campus today, KU on Wheels buses are rolling down Jayhawk Boulevard with a not-so-subtle reminder for students, faculty and staff:
CALL YOUR MOTHER
That's the message adorning the electronic message boards on the fronts and sides of many of the system's buses, splitting viewing time with other notifications such as DOWNTOWN, 21 McCOLLUM, or RIDE FREE W/KUID.
The command to call home is a Mother's Day special.
"That's one of the codes on the bus," a driver told me this morning "They let us use it once a year."
Then he scooted off to keep up with his scheduled stops, not wanting to fall back on his official job duties. Among his informal responsibilities: Help his riders and others keep up with what's really important. And for that everyone should be thankful.
"Hopefully this'll help make some moms happy," he said, pulling back onto Jayhawk Boulevard.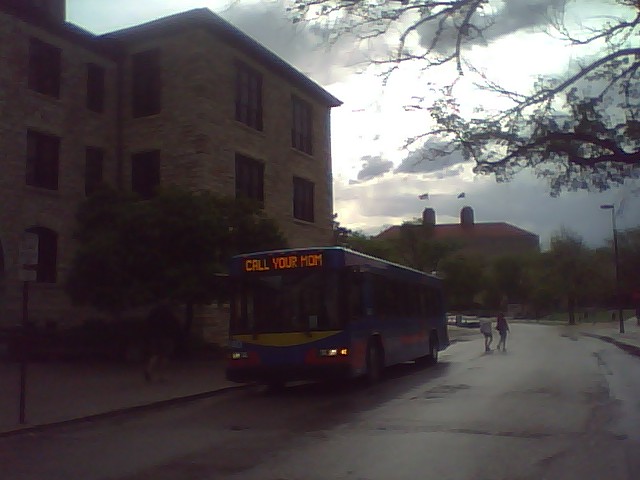 A new regional distribution center for Home Depot is set for opening this fall in Topeka.
The 465,000-square-foot center is slated for 74 acres in the Central Crossing Commerce Park, according to USAA Real Estate Co., which is partnering with Seefried Industrial Properties Inc. to develop the property.
The project — described as a "tri-docked, industrial distribution warehouse" — bolsters an area that already has a Target Distribution Center (completed in 2004), plus the Forbes Industrial Park and Topeka Air Industrial Park. Goodyear Tire, Frito-Lay and Hill's Pet Nutrition also operate centers in the area.
Earlier this month, Home Depot signed a 20-year lease for the build-to-suit center.
"The site's location within Topeka's most industrially prosperous region brings great opportunity for both Home Depot and our investors," said Pat Duncan, chairman and CEO of USAA Real Estate Co., in a statement. "We are equally pleased to work with Seefried, who has completed several similar build-to-suit projects, and we look forward to future Home Depot collaborations with this national developer."
USAA Real Estate, with about $5 billion of assets under management, is a subsidiary of USAA, a leading financial services company that's been serving military families since 1922. For more information, visit www.usrealco.com.
All that salt and sand that helped keep traffic moving during winter storms now will cause traffic delays Tuesday and Wednesday along Interstate 470 in Topeka.
The left lane will be closed for traffic headed west on the interstate, from the Kansas Turnpike's toll plaza in southern Topeka to the interstate's interchange with Interstate 70 in western Topeka.
The closure, described as intermittent by the Kansas Department of Transportation, is set for 9 a.m. to 3:30 p.m. both Tuesday and Wednesday. Crews intend to sweep the barrier walls on bridges, starting for traffic headed west and then switching to the other side, for traffic headed east.
Drivers should expect minor delays and should be alert for people in the work zones, said Kimberly Qualls, a department spokeswoman.
The Kansas Department of Transportation reports that, as of 10:45 a.m. today, all lanes had reopened on U.S. Highway 75 near the Kansas Turnpike's South Topeka interchange, where an accident had occurred about 10 a.m.
Traffic headed north had been stopped for more than 30 minutes, as crews worked to clear the area.
Hearing a report of 17 deer rambling around along and aside Folks Road, north of Sixth Street, comes as no surprise to Sgt. Steve Lewis of the Douglas County Sheriff's Office.
Especially at sundown, when he spies plenty of others, too.
"I've seen 'em myself," Lewis said. "Just out of my kitchen window two days ago, I saw seven deer jumping over the gravel road I take every day."
So perhaps now is a good time for everyone to review their approaches to driving, when it comes to encountering deer:
• Look ahead. "The best thing to do is keep scanning the horizon, left and right, left and right," he said. "Be especially attentive, especially around sunup and sundown."
• Don't overreact. If you see a deer in the road, slow down and stop, if you can. Otherwise, "brake as rapidly as you can and honk your horn a lot," Lewis said. "Serious accidents do happen occasionally when someone swerves to avoid a deer and they lose control of the vehicle — either heading into oncoming traffic or leaving the roadway and having a rollover accident, into a ditch or something. It's imperative that you at least try to maintain your lane."
Lewis saw a report from an accident Wednesday that illustrates the car-deer clashes that never seem to go away: About 6 a.m., a driver ran into a deer on Douglas County Road 458, east of U.S. Highway 59.
The driver wasn't injured.
"Typical car-deer," Lewis said. "Front-end damage and a deceased deer."
Some updates and new projects that could affect your driving Tuesday in the area:
• The right lane for traffic headed south on U.S. Highway 75, on the Westgate bridge in Topeka, will be closed from 9 a.m. to 3 p.m. Tuesday for work to repair concrete pavement.
• The left lane for traffic going east on Kansas Highway 10, from Woodland to Ridgeview roads in Johnson County, is set to be closed from 9 a.m. to 3:30 p.m. Tuesday for guardrail repairs.
• The two left lanes for traffic headed west on Interstate 70, at Park Drive in Wyandotte County, are scheduled to be closed from 9 a.m. to 3 p.m. Tuesday for work on signs.
• The left lane for traffic headed north, and the right lane for traffic headed south, on Interstate 35 will be closed from 9 a.m. to 6 p.m. Tuesday from 175th Street to the interchange of 151st Street, U.S. Highway 169 and Kansas Highway 7 in Johnson County.
• Antioch Road will have intermittent lane closures in both directions, at Interstate 435 in Johnson County, from 9 a.m. to 3:30 p.m. Tuesday for work to install signs.
Prev Next