There was a lot happening on the local blogs this week besides the Sidewalk Sale, so I thought I'd round up those gems - though the sale did make its way in a tiny bit. Here's what's going on:
• As always, Larryville Artists helps keep Lawrencians up on the art scene, local and otherwise. Check out today's post about artists Molly Murphy and Clare Doveton's display at the Landmark Bank on 6th and Wakarusa streets. Also get a little recap on yesterday's Sidewalk Sale.
• Local Italian food gem the Basil Leaf Cafe has been making the Internet rounds, as The Pitch describes the restaurant's latest evolution from tiny, hole-in-the-gas-station-wall to a grown up location (also mentioned in this week's Off The Beaten Plate).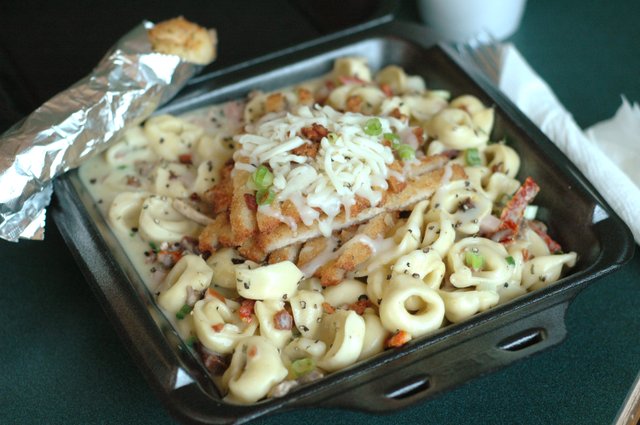 Photo by Sara Shepherd
• Speaking of Lawrence restaurants, amongst the hubbub of the Sidewalk Sale, The Roost opened for breakfast and food photos populated the Lawrence Twitterverse: here, here and here.
• Always wanted to make wax batik? Want to find out what wax batik is? Well, attend this wax batik workshop Saturday at the Percolator (it's a pretty cool form of art).
• The fashion blogs bring us trucker hats and aviators on Style on the Hill and Kansas Couture goes vintage with patriotic square heels.
• In photo blogs, Lawrence-based photographer, Travis Young, posted a beautiful photo of the sky on campus on his blog and Heck Yes Lawrence, Kansas has shots of Free State Brewery (among other locations). Also, Britt Ernst posted this wistful photo taken in Lawrence.
-
Submit it to The Lasso
What's going on around town? Got a blog, or know of a cool event, a Lawrence-related meme, fun facts or generally interesting happenings? Tell me about it! Email me or follow me on Twitter.