It's been busy around the newsroom, what with storms and general newsy busy-ness, but the Lasso is not yet dead. Here's your roundup:
• In case you hadn't caught on, I love cool photos of this town. Here's a few shots of East Lawrence from writer Bobby Myers' Tumblr (Hamm's garbage can, anyone?).
• In case you didn't know, the main characters from the CW show Supernatural (going into its ninth season!) are from Lawrence. So it makes sense that this petition exists.
• Merchant's Pub & Plate opened Saturday. Did you go?
• And as far as Lawrence restaurants go, Mrs. Mass went to Yokohama.
• For your artsy side, Lawrence Percolator has a post on an upcoming exhibition opening during September's Final Friday called High Moon Tide.
• Fashion blog Kansas Couture has been keeping Kansas fashionable for five years.
• In music, I Heart Local Music has a gallery up about Best Coast and Bleached's and Andrew W.K.'s performances at The Granada.
• Twitter tells me that a new Lawrence arts and entertainment site is on the horizon, based on this tweet from @BARR:
• Twitter also tells me that Lawrence legend Dennis is celebrating the holidays a little early. He's also featured in the latest edition of Style on the Hill.
-
Submit it to The Lasso
What's going on around town? Got a blog, or know of a cool event, a Lawrence-related meme, fun facts or generally interesting happenings? Tell me about it! Email me or follow me on Twitter.
Reply
2 comments
from


Remember me? It's been a while since the last Lasso, but let's get back into the swing of things and see what the Lawrence blogosphere is talking about now that it's August.
• A little bit of history repeating? Kind of. The City of Lawrence has a neat Facebook page where it shares historical photos and documents.
• Speaking of Quantrill's Raid, here's something going on next door. It seems the Mizzou bar The Black & Gold Tavern in KCMo is holding a, ahem, "celebration" of the bloody massacre. I think we can all agree that murder is bad, but I guess there's two sides to every story.
• I might be late on this, but here's some Jayhawk love from BuzzFeed.
• The fandom of The Roost continues here and here.
• The Larryville Chronicles and Jeopardy of Contentment blogged about Sleepy Kitty, amongst other things (including lessons learned over the weekend).
• I'm a sucker for local food movements, so I was excited to stumble across this blog today: Lawrence Fruit Tree Project.
• I'll wrap it up with this interview with local artist and podcaster Jason Barr on Larryville Artists (follow him on Twitter - he's funny).
Until next time.
-
Submit it to The Lasso
What's going on around town? Got a blog, or know of a cool event, a Lawrence-related meme, fun facts or generally interesting happenings? Tell me about it! Email me or follow me on Twitter.
There was a lot happening on the local blogs this week besides the Sidewalk Sale, so I thought I'd round up those gems - though the sale did make its way in a tiny bit. Here's what's going on:
• As always, Larryville Artists helps keep Lawrencians up on the art scene, local and otherwise. Check out today's post about artists Molly Murphy and Clare Doveton's display at the Landmark Bank on 6th and Wakarusa streets. Also get a little recap on yesterday's Sidewalk Sale.
• Local Italian food gem the Basil Leaf Cafe has been making the Internet rounds, as The Pitch describes the restaurant's latest evolution from tiny, hole-in-the-gas-station-wall to a grown up location (also mentioned in this week's Off The Beaten Plate).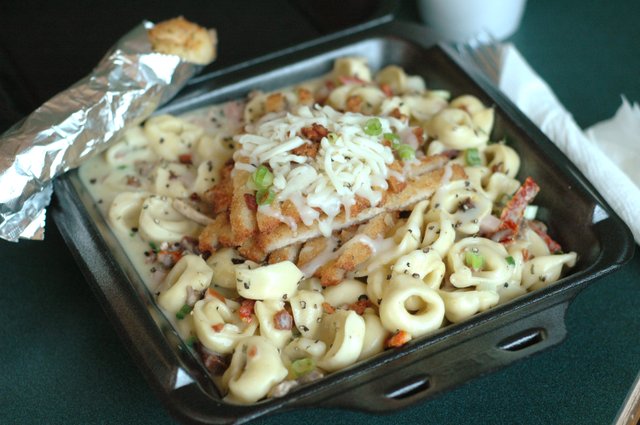 Photo by Sara Shepherd
• Speaking of Lawrence restaurants, amongst the hubbub of the Sidewalk Sale, The Roost opened for breakfast and food photos populated the Lawrence Twitterverse: here, here and here.
• Always wanted to make wax batik? Want to find out what wax batik is? Well, attend this wax batik workshop Saturday at the Percolator (it's a pretty cool form of art).
• The fashion blogs bring us trucker hats and aviators on Style on the Hill and Kansas Couture goes vintage with patriotic square heels.
• In photo blogs, Lawrence-based photographer, Travis Young, posted a beautiful photo of the sky on campus on his blog and Heck Yes Lawrence, Kansas has shots of Free State Brewery (among other locations). Also, Britt Ernst posted this wistful photo taken in Lawrence.
-
Submit it to The Lasso
What's going on around town? Got a blog, or know of a cool event, a Lawrence-related meme, fun facts or generally interesting happenings? Tell me about it! Email me or follow me on Twitter.
This week on the local blogs, the theme seems to be "get out and do something!"
• It's concert season and I Heart Local Music is in overdrive. Check out its latest photo gallery from the Foals concert at the Granada.
• A new gallery, Nesting, opens Saturday at the Lawrence Percolator. Its blog describes how artists take on the idea of a home or nest.
• Larryville Artists picked the brain of local painter David Titterington for a list of summer reads. With titles like "The Time Falling Bodies Take To Light: Mythology, Sexuality, and the Origins of Culture," how could one resist?
• I've been following the Tumblr blog Heck Yes Lawrence, Kansas! for a bit and particularly love its quiet, photographic homage to this city. To me, its latest contribution perfectly captures the spring Lawrence sort of skipped over:



Photo: Flickr/ladylay03
• Speaking of photographs of Lawrence, check out these gorgeous photos from local photographer Trina Baker. She got her hands on a Leica M3 camera and the results are just lovely.
• A couple of events over at the Lawrence Modern blog include defining history... sort of. On Monday evening, there will be a public meeting to discuss modern architecture and plans to preserve it. There's also the open house at Studio 804 on Saturday.
-
Submit it to The Lasso
What's going on around town? Got a blog, or know of a cool event, a Lawrence-related meme, fun facts or generally interesting happenings? Tell me about it! Email me or follow me on Twitter.
Local links from around the web, leaning toward the artistic side:
• While this video may not be a classic medium for a museum, it certainly evokes emotion like art does. Our friends over at KUsports.com (KSHB, too) posted a video about a little girl so incredibly sad that her favorite KU players have graduated, that she "can't even watch KU anymore." But she's just so cute, I had to post it here too:
• Tonight, gather at Fatso's Public House (1016 Massachusetts St.) and learn to draw like the Egyptians (pyramid carving tools not required).
• Lawrence Percolator is calling all artists to submit works expressing modern views of Quantrill's Raid for an exhibit in August.
• Art Tougeau, a yearly celebration of "all things wheeled," rolled through town over the weekend. Larryville Artists has a few photos of parade participants. Plus, there was this Batmobile:

Photo by Richard Gwin
-
Submit it to The Lasso
What's going on around town? Got a blog, a cool event, a Lawrence-related meme, fun facts or generally interesting happenings about town? Tell me about it! Email me or follow me on Twitter.
Your weekly roundup of Lawrence food, art and other items of interest from the web.
Animal guy
Famous animal activist and author of "Farm Sanctuary: Changing Hearts and Minds About Animals and Food" Gene Baur is appearing in Lawrence Saturday at the Burge Union. He's a keynote speaker at the Great Plains Conference on Animals and the Environment.
Brew to Brew
Thousands of runners will tag-team 44.4 miles from Kansas City's Boulevard Brewery to Lawrence's Free State Brewery Sunday for the annual Brew to Brew relay. Beer is an excellent recovery drink, asserts relay ambassador Ashley Austin, who shares her top 10 post-run brews on the relay Website. (I personally feel that running Brew to Brew without at least a little pre-race beer is missing the whole point. It may be 7:30 a.m. but a free pour of Boulevard at the starting line really helps you get in the right spirit.)
Beets are the new...
I picked Teller's Field Favour for this week's Lawrence Libation, thinking a cocktail made with beets was pretty far-out. The Burger Stand also is using the bright red root veggie in its latest special, a burger patty made of beets and rice.
Cake art
Up there with "La Pia de' Tolomei," Wayne Thiebaud's "Around the Cake" is probably one of the best-loved paintings at the Spencer Museum of Art. But that's not his only cake painting. At least one other Thiebaud is featured in a new cookbook from San Francisco Museum of Modern Art baker Caitlin Freeman, "Modern Art Desserts: Recipes for Cakes, Cookies, Confections, and Frozen Treats Based on Iconic Works of Art." Some of her recipes are only conceptually inspired by artworks. But her real-life version of Thiebaud's "Chocolate Cake" is a dead-ringer for the original. (Hat tip to the Spencer's Facebook page for sharing this link!)
"The Story of Luke"
The New York Times reviewed this movie, Lawrence native Alonso Mayo's first feature-length film. It's a story inspired by personal experience that's opening in 18 cities nationwide tonight, including a one-time screening at Liberty Hall.
Burger watch
About 200 people have now weighed in on our "Best Burger" Facebook post — including at least one person who says Burger King serves the best burgers in Lawrence. Cast a vote that actually counts by taking the official 2013 Best of Lawrence online survey.
Your weekly roundup of local art stuff, oddities and — this week only — snow-creatures from the web.
Snow-creatures gone wild
No way to quantify this, but I'm pretty certain Lawrence's higher-than-average population of creative types has something to do with its more-awesome-than-average snow sculptures. With two two major winter storms in less than a week, this phenomenon is worth a photo recap. Last Thursday's storm brought us snow-behemoth, snow-dragon, snow-truck, snow-toad and snow-Yoda. (For obvious reasons, Snowda pretty much went viral.) After Tuesday's storm we got snow bears, snow horse, snow-Hawk, snow-D2 and this weird snow-viking thing. Larryville Artists has at least one creation we didn't but I wish we did — snow-DJ Buddah is truly legit.
Final Fridays on First Friday ... and other days
Because of big snow No. 1, many of last month's Final Fridays events were rescheduled for tonight. Check out the Final Fridays blog for a list. Two events we featured in the paper have been rescheduled for different days. Erika Nelson — purveyor of "The World's Largest Collection of the World's Smallest Versions of the World's Largest Things" — will present "Hucksters, Barkers, and Sideshows," a talk about how sideshow workers of Kansas plied their craft, at 7 p.m. Saturday at the Percolator Artspace, 913 Rhode Island St. To see the chopstick murders and Burroughs footage promised to kick off Wayne Propst's exhibit in the Lawrence Arts Center's new Antecedent Gallery, you'll have to wait until next week, from 7-9 p.m. Thursday, March 7.
Behind the scenes of "Errant Line"
"An Errant Line" doesn't open to the public until tomorrow, but the Spencer Museum of Art offers a sneak peek of behind-the-scenes work involved in realizing the major installation, a new exhibit in which artists Ann Hamilton and Cynthia Schira meld new textile and digital art with objects from the Spencer's deep collection. Very cool images by the Spencer's talented in-house photog's.
A concert for JJ's
When a gas explosion and resulting fire leveled JJ's restaurant on Kansas City's Country Club Plaza Feb. 19, one JJ's employee was killed and numerous others were injured, some critically. KC is banding together for a big benefit concert March 5 at the Uptown.
Inventory No. 12: Giraffes
A lot of weird stuff goes into — and comes out of — the Social Service League Thrift Store trash bin. In January, I wrote about artist David Loewenstein's project to document this alleyway phenomenon. He's been updating the project as he goes on his blog, and his latest inventory is worth the suspense.
Photo gallery! SXSW Fest
I Heart Local Music this week posted band and party pix from Day 1 and Day 2 of the SXSW Fest at Jackpot. The first post kicks off with this quotable quote: "We don't care what chicks think of us, we sing about anime." — Isaiah Radke, one of the three brothers in Radkey.
Reply
2 comments
from
Your weekly round-up of things I found on the web and thought were interesting enough to share. (Okay, I guess one of these things was just cute.)
Final Fridays under the weather
Today's post was going to include a section devoted to all the fun Final Fridays events happening tonight. But thanks to #SnowtoriousBIG it turns out a lot of them aren't happening, or at least not tonight. To find out which events are still on and which have been rescheduled, check out our list. If you want a look at the snow without getting out in it, our staff photographers got some great shots.
Poor Morrissey
Liberty Hall has yet to announce a rain date for the Feb. 2 Morrissey show that was postponed after the musician was hospitalized with a bleeding ulcer, but Morrissey has since cancelled three more shows in addition to those announced earlier. In possibly the most poetic medical update of all time, shared this week on rollingstone.com, Morrissey apologizes for his absence. A snippet: The will to get on with it runs strong... my ulcer is now under reins, even if neither asleep nor dead, but the continued cause for concern is a slightly embarrassing absence of blood – most of which the bleeding ulcer relieved me of.
Baby. Goats.
Lawrence's Red Tractor Farm has kindly been posting ridiculously adorable video clips of the farm's baby goats. New favorite Facebook page.
Big-name beer dinner
Free State Brewing Co. has announced an upcoming beer dinner March 5 at Bluestem restaurant in Kansas City, Mo. Bluestem chefs/owners Colby and Megan Garrelts are hot topics right now (well, they pretty much always are but especially right now). Not only did they recently open another restaurant called Rye, just this week Colby Garrelts was named a semifinalist for the James Beard Award of Best Chef in the Midwest.
Performance in the galleries
This happened at the Spencer Museum of Art. The performing artists' over-the-top costumes are striking against the backdrop of the Spencer's "Empire of Things" exhibit.
Spotted, sharing:
Sweet Bad Religion coasters
Bad Religion plays Granada April 8. If you're on the fence about whether to go, consider this: An Instagram post from the theater promises people who get their tickets early at the box office can get a pair of these "sweet" coasters.
Carolina style barbecue ... burritos?
Frank's North Star Tavern posted on its Facebook page that Mr. Bacon BBQ — the food truck — will be at the bar from 5-8 p.m. tonight. Frank's also is claiming Mr. Bacon serves barbecue burritos with coleslaw. I haven't verified that, but if it's true they sound awesome.
10 alcohol related world records
Have you ever wondered what the world's most expensive cocktail is? I hadn't — until I saw a tease to this article on Twitter (via @kcwineguy). Now I know.
Burlesque drawing with Bunny Baltimore
I love that our local artists and our local burlesque troupe team up for events like this and the "Sketch Teases" at Seed Co. Studios. The Larryville Artists blog this week posted pic's of a few Alphonse Mucha-inspired tableaus from the Thieves Guild's monthly burlesque drawing event at Fatso's.
Get ready for 'Foodie Fiction'
Bon Appetit shares seven novels "for those of us who like to read, eat, and read about eating. Many of them, to my surprise, combine food and history with murder (will the gastro-thriller emerge as the breakway category?). And of course, love."
Feature of the week: "What Love Is"
"She kept not dying. He was born different. Her parents wished for a normal life. This is their love." That was The Washington Post's Twitter tease for this beautiful story. It didn't disappoint.