Posts tagged with
Twitter
If you've ever managed a corporate social media account - or even just a Facebook page for, say, your biking club - you'll already know that one of the most challenging aspects of the job is to be on call 24/7. Sure, your business or organization may not run the sort of account that lends itself to comments or questions at stupid-o-clock in the night, but if you're doing social right, you need to have a contingency plan in place for when that does happen. Because it will happen, and usually the issues that come up after hours or on the weekends are the ones that could potentially do the most harm to your brand. After all, if the subject of that tweet or post really wasn't such a big deal, the sender wouldn't be bothering to nudge you in the middle of the night.
Then again, there's always that one person who just posts to be a curmudgeon, to complain for the sake of complaining or to pick nits about something that even they admit is probably insignificant. Again, if you've managed an online community, you're probably right now picturing specific folks with whom you regularly interact - and chances are, you realize that despite their making you roll your eyes now and then, there's stuff you can definitely learn from this contingent.
All this long-winded introduction aside, here's my little story. A few weeks ago, I went from being on one side of the equation to the other, turning into one of Those People - those complainers who mention something tiny but potentially pretty embarrassing in public rather than quietly sending an email to a name on a Web page somewhere. Even worse, I did it on a federal holiday. But seriously, check this out: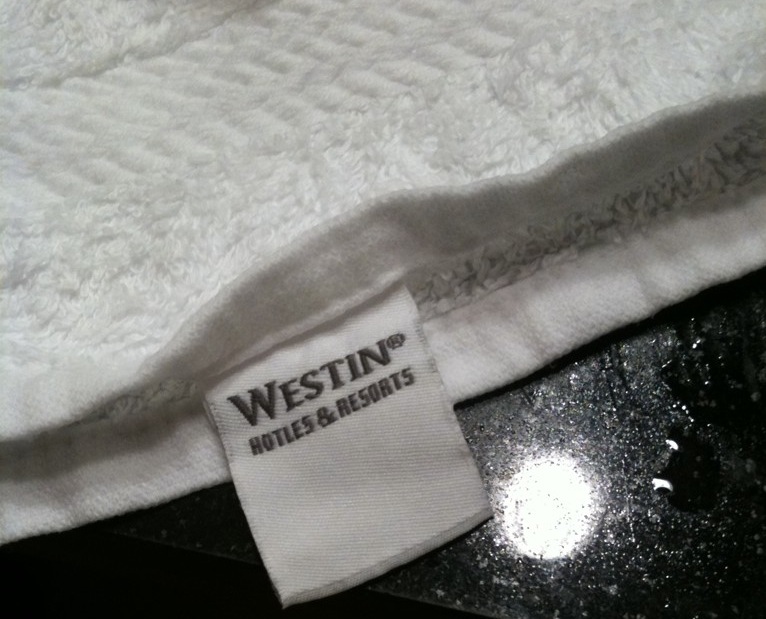 I was in Chicago over the Independence Day weekend, and on the last of three nights in the (really rather nice) Westin O'Hare found the above typo on a bathroom washcloth. Doing what I do for a living, of course the first thing I did after getting out of the shower was run and find my iPhone, snap a photo and tweet the mistake.

My followers LOL'd, a few folks retweeted it - and then came the official corporate reply from @StarwoodBuzz, the social voice of Westin's holding company Starwood:

Really? Via CoTweet, which is email provider ExactTarget's answer to a corporate social media dashboard and a shortcut to some pretty hefty social automation? Enter the curmudgeon. At that moment, I officially became one of Those People.

Now this started to get real. My followers joined in the complaint chorus - after all, the @StarwoodBuzz reply just looked like a poorly-worded automatic response to the #fail hashtag in my original tweet. A few hours later, I received the standard "follow us so we can continue this over DM" reply. No, guys. I wasn't going to take this conversation over to DM. In my newfound complainer's empowerment, I felt @StarwoodBuzz owed it to me and my followers to say something reasonable and very non-automated - in public.
But wait. Here's the thing; all of this was going down on July 4. Some poor guy's phone was probably buzzing in his pocket at a family Independence Day barbecue, and he probably had to excuse himself, go out to his car and fire up a laptop to deal with me. (I say this from experience; it's happened to me enough times that friends and family don't really mention it any more.) But to Starwood's credit, their reps blew off the barbecue and made it right. The conversation continued over the next few days (yes, I gave up and eventually took it to DM), and somewhere along the way, they asked for, among other info, my mailing address. I replied, the conversation died down, the work week continued and I pretty much forgot about it. Until I got home a few days later to find a package on my doorstep. Containing this.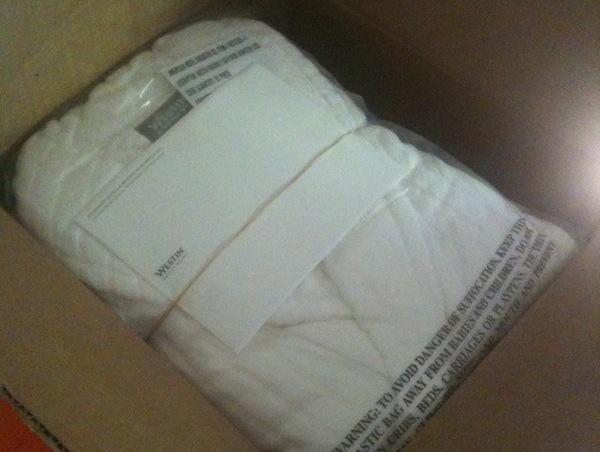 One cushy Westin bathrobe, plus a handwritten note from Brian, whose stationery lists his title as "Global Brand Leader." Normally I might giggle at a title like that, but given how far he'd gone beyond the call of duty, I'll buy it.
So what - as social media marketers and consumers alike - is there to learn from my Great Hotel Towel Typo Incident? The sarcastic answer might be something along the lines of this: Bully a brand enough, and they'll cave in and give you what they want. But that's not totally true; there are plenty of examples out there of brand bullies that have not only failed to receive their ransom from their targets, but been chastised by those brands' supporters for their ill will. (This, of course, assumes that you've built up a solid supporter base, but that's another topic altogether.)
Instead, maybe the answer is that really great social customer service surprises and delights. If you're protecting your brand on social media, you're probably already doing some pretty extensive monitoring to make sure complaints that need intervention are dealt with, and potential problems in brand sentiment are addressed before they become big issues. That latter category leaves a lot of room to play, whether it's just a nice reply to someone who didn't know you were listening or something as elaborate as a bathrobe in a box.
What's the nicest response you've ever received when engaging with a brand on social media? Have you ever received an out-of-the-blue reply from a company you didn't mention by name - and how did it make you feel? Let us know in the comments.
Note: Today's post is from Samantha Schwartz, former "Double Take" columnist for LJWorld.com who's returned for the summer from Grinnell College as our social media intern. Thanks, Samantha!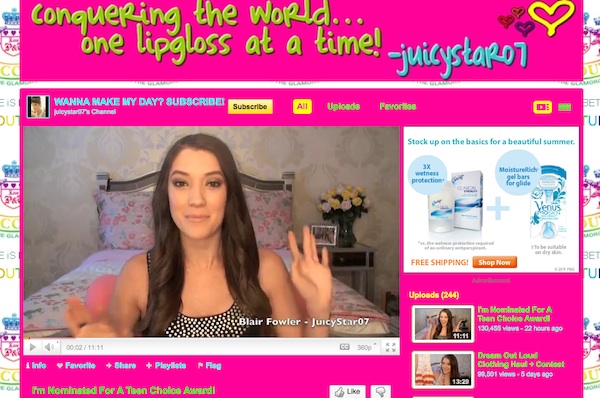 Have you heard of Blair Fowler? Maybe not, but she has a loyal following of 764,871 fans on YouTube, and her videos have been watched upwards of 142 million times. Better known as juicystar07, Blair makes beauty videos on YouTube. She's not one of a kind, but she's certainly one of the more famous "Beauty Gurus" on social.
I was tipped onto the phenomenon by my younger sister, Kendra, who began as a fan of Blair and the other gurus, and now has her own channel. So, what exactly are these girls doing? They post videos of themselves doing hair, nail, makeup and fashion demos, and they share helpful tips with their subscribers. When they get famous enough, (to rattle off a few: Michelle Phan, BubzBeauty, Macbarbie07, meganheartsmakeup) YouTube "partners" with them, allowing them additional features and in turn advertising in 30 second segments before the videos begin. Call it stupid or shallow if you want, but we have a lot to learn from the Beauty Gurus about social media.
Apply their tips to your own social media marketing plan:
Create a social media empire: In addition to her YouTube channel, Blair has her own website, Facebook fan page, online store and vlog channel to document her daily life. She stages meetups with her fans, and she holds contests and giveaways using the free products sent to her by beauty companies hoping for free advertising. She's appeared in Seventeen magazine, met loads of celebrities, and she and her sister Elle were the youngest makeup artists ever to work at New York Fashion Week. In other words, she's everywhere. And while you may not have the time to devote to a detailed social media presence on every channel there is out there, chances are with some research you can find the media that speak to your customers best. Where to start? Ask them where they'd like you to be. It could be as simple as making a tally sheet at your cash register and asking every buyer who comes in, or sending an email or postcard to your existing customer database sincerely asking for their opinions. (If you add a little incentive for responding, even better! You are asking for some of their time and help, after all.)
Be timely: Remember when all you had to do to get the word out about your product or service was stick a sign out on the street? Social media is about as far from that as you can get. The average Facebook user (according to Facebook's own statistics) has 130 friends, which means that every time that person logs on to Facebook they're seeing a whole different set of posts in their news feed. If your carefully-crafted post only sees the light of day at 8:30 on a Monday morning, the user that logs in on Wednesday afternoon won't see it. So in social media, timely means two things: both the relevance of what you're posting in regards to the rest of the day's news for your audience, and when and how often you're posting. Again, ask your audience when they'd like to hear from you; and, if it's easier for you to manage, consider using social scheduling tools to get your audience that info when they want it.
Find your niche: If you still think beauty blogging is silly, look back up there again at Blair's numbers. We all have our niche interests and hobbies, so how can your business or organization make the most of that? Even if you're selling the most generic widget possible, there's still a niche for you; it's just a matter of finding it. Even something as humble and potentially boring as, say, a screwdriver can be used to build an amazing child's playhouse, a deck chair for your grandpa or a Habitat for Humanity house for a homeless family – all of which are stories that can grab the attention of audiences you may have never known you had.
Do you follow any social media beauty gurus - or experts in any other niche interest, for that matter - with an eye toward adapting their strategies for your own? What's the most unlikely source of social media inspiration that you've found? Let us know in the comments.
Back when we all spent a lot more time at the post office, the iconic "Wanted" poster was a particularly effective form of reaching a captive audience hailing from all walks of life - after all, everyone needed to send a letter now and then, and if you were in the business of trying to catch criminals who'd reinvented themselves as who-knows-what, you'd want to reach as broad of a demographic as possible. In 2007, when the FBI started posting wanted notices on digital billboards nationwide, it was a similarly wide-ranging effort: Cast your advertising dragnet over a major highway, and you'll reach people of all ages, interests and backgrounds.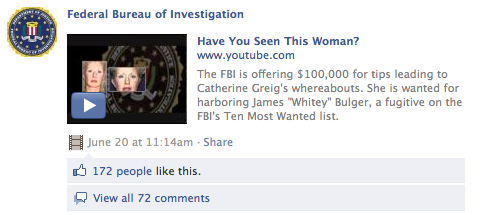 So when it was announced that the 16-year-old search for notorious Massachusetts mobster Whitey Bulger ended less than a week after being reinvigorated by a new tv-and-social-media search campaign, it seemed like a pretty obvious match of need and medium. After all, in an age when it takes most of us months to work through a book of stamps, social media isn't only our new post office - it's our new community center, bingo hall and workplace water cooler.
Except for one thing that didn't make it through the first round of "caught the bad guy" news: It wasn't Twitter or Facebook that alerted a tipster to Bulger's girlfriend (the focus of the FBI's reworked wanted campaign) but a TV spot. A Boston Globe article that ran June 21 didn't even mention social media, concentrating instead on the campaign's push via daytime TV. Said FBI Supervisory Special Agent Richard Teahan in the article: "We're looking for people sitting in a hospital waiting for an appointment with a doctor where there are three or four [television] monitors on the wall, and they are watching these shows . . . or people who are in a beauty salon or barber shop.''
So does that mean the social media prong of the Bulger manhunt was a failure? Not so fast. For one thing, there's "first time for everything" syndrome to consider. While the FBI's two Facebook posts announcing the hunt only have at time of writing 298 "likes" and 72 comments out of the page's 117,931 fans, it's certainly a start. Plus, now we all know that the FBI is announcing fugitives via social media - how many us were aware of this before Bulger's capture?
However, as with any new social media effort, searching for missing persons via social networks may be a difficult battle until the the practice gains critical mass. The National Center for Missing & Exploited Children's Twitter account, @OurMissingKids, has only 209 followers - but @Amber_Alert has 26,763. After the social media search for Indiana University student Lauren Spierer, who went missing early this month, made national headlines, follower counts on the social accounts devoted to finding her skyrocketed; the Twitter account @NewsOnLaurenS has 25,751 followers. In other words, it may simply be a matter of time - but unfortunately, when it comes to finding the missing, time is of the essence.
What do you think about using social to find missing persons, whether the wanted or the disappeared? Is the medium ready to truly make a difference? Let us know your opinions in the comments.
Sure, social media makes it entirely possible to carry on relationships with people without ever even meeting them in person - but it's at its most fun (and its most effective) when it really brings the "social" to life through real-world interaction. That's one reason why we've had so much fun joining in with the social media for this year's Old Shawnee Days, which started last night and runs through June 5. Coming to the event? Bring your smartphone, check in on Facebook or Foursquare and trade photos of your favorite rides, food or entertainment with other folks at the fair. Or, if you're on Twitter, give @OldShawneeDays a shout and hashtag your tweets from the day with #OSDays - they'll appear on the special coverage page on the Shawnee Dispatch, too.
Festival and fair season has always been one of the things that makes the Midwest and Kansas a great place to live, and most of us can probably remember our parents or grandparents taking us to a summertime fair for rides, snacks and shows. And while at first glance all this newfangled social media tech might not seem to be the most likely match for your average down-home summertime festival, it's actually a perfect fit for this kind of family fun. Got friends or relatives who can't join you for the event? Keep them from feeling left out (or make them jealous!) by posting an album of photos from your day. Want to know the best kids' attractions before you head out for the day with your little ones? Use the hashtag and ask everyone who's already there - and who knows, a conversation on Twitter could turn into a real-life play date once you get to the grounds.
We'll be at Old Shawnee Days with @OldShawneeDays this weekend posting Facebook and Twitter updates, photos, news and anything fun that happens at the fair - so send us a note, especially if it's something you'd like us to share! A smartphone in one hand and an ice cream cone in the other - call us a little geeky, maybe, but it sounds like a pretty great weekend. See you there - in real life and on the social Web!
If you're ever promoted an event - via social media or any other means - you've probably struggled with the classic worry: "What if I throw a party and nobody comes?" In the case of pro makeup company NYX Cosmetics, though, the opposite was true: They threw a big anniversary party sale and everyone came - to the point of bringing down their site. And while their site outage was certainly big news for frustrated makeup lovers, how they dealt with the damage via social media is something we can all learn from whether or not we've ever thrown a tube of lipstick into a shopping cart, real or virtual.
Here's what happened. On May 9, the company posted an image to their Facebook page announcing a "12 Hour Sale" in celebration of their 12th anniversary: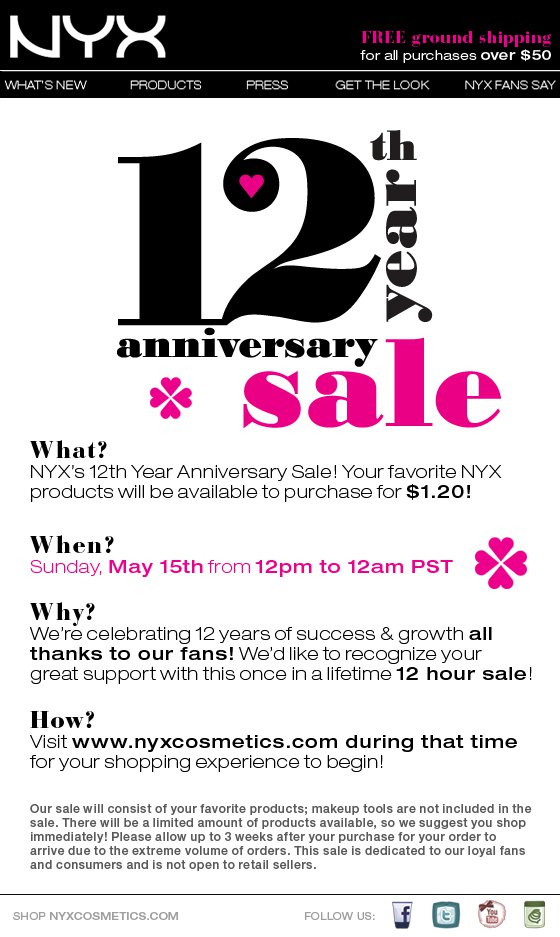 Big news for cosmetics aficionados, as evidenced by the 127 "likes" the photo earned. Note the fine print, though: "There will be a limited amount of products available, so we suggest you shop immediately!" Facebook fans picked it up right away, and the resulting dialogue - which to NYX's credit, was dialogue rather than unattended customer comments - began pretty much immediately. Is the sale 12 hours or until merchandise runs out? What about differences in time zones? What about shipping?
NYX responded to the comments (the majority of them, at least), most folks' questions were answered, buzz built up and everything looked pretty much in place for a highly successful (though perhaps not terribly organized) social campaign.

And then ... the sale started. With such a high volume of traffic, the NYX site went down, apparently, pretty much immediately. With angry consumer contents flooding in, backtracking on the company's Facebook news feed and Twitter posts over the course of the days post-sale starts looking less like an exercise in customer service and more like a four-alarm fire:

Disgruntled customers were promised a make-good, but the terms of that offer kept changing as well: Another 12-hour sale? A coupon code for free shipping or merchandise discounts? By Monday afternoon, customers were being asked to submit their email addresses to receive a half-off discount code with free shipping, but hundreds were still complaining about not receiving the code right away or, if they had, being unable to actually redeem it. And then there was the matter that, for most products, a half-off discount didn't come close to value promised by the original $1.20 sale.
At time of writing this - only four days after the incident - Twitter chatter on NYX is already starting to veer back toward generic comments and product reviews. But the effects, particularly in the blogsophere, will be lasting. One pro makeup artist posts in an open letter to NYX: "First of all, when you got an unestimated amount of traffic due to the large & faithful following of your products, your representatives should have stated that you were not prepared for this amount of a reaction. You do not post things implying that it is your customers fault for overloading the server on your social sites. This only makes your customers feel like you are insulting them for wanting to take part in your sale."
NYX itself hasn't reacted much since giving a brief interview to beauty blog Temptalia on Monday and posting an official statement Tuesday on its Facebook page. The issue remains, then: How long will it take for social discussion on the failed sale to die down, and how much lasting damage was done to the NYX brand? Only time will tell, but in the meantime: What would you have done differently had you been in a brand manager's shoes? Let us know in the comments.
Hey, Twitter users, here's a question for you: When's the last time you used a hashtag in a tweet? And, beyond that: Was it a "real" hashtag (in other words, something well recognized in Lawrence or even further afield, like #ksstorms or #kubball), or just a vaguely related string of characters for the sake of being funny or sarcastic (#icantbelieveiatethewholething)? Hashtags have been around almost as long as Twitter itself - Chris Messina first suggested the syntax in August 2007 - but initially weren't picked up by Twitter's establishment, who preferred to let machine language intelligence sort out trending topics. Today, Twitter acknowledges a combination of both; Twitter's Advanced Search page has a field for searching by hashtag, but their own trending topics list relies on some pretty complicated math. (Still, it overlaps. Have a look at top Twitter topics and you'll usually find that about half of them are hashtagged.)
Hashtags serve a variety of purposes, from bringing people in nearby locations together around a pertinent topic (the weather, the game, the agenda at a conference) to introducing people in far-flung corners of the world to each other via shared interest (Justin Bieber, anyone?) or just something silly and random. Ever taken part in one of those hashtag games, like #hospitalsongs or #vegcelebs?
If you're at a big local event like, say, last weekend's Earth Day parade and party in South Park, a hashtag can add a whole new dimension to the in-person experience. See someone with a party favor and don't know what booth they got it from? Ask Twitter and you'll probably get some crowdsourced help. It's kind of a circular affair, though; if you don't know the hashtag, you're stuck waiting for a friend to bring it up in a relevant tweet - or you just make one up yourself and pass the word along to your own followers, meaning it's easy to get multiple popular hashtags on the same event, even on a level as local as Lawrence. (Plus, let's face it: "Lawrence" takes up a lot of characters. So how do you abbreviate it - "Law" or "Lwc" or "LFK" or "Larry" ... or what?)
We've made an effort to help promote "official" hashtags for Lawrence events and topics on @LJWorld, @KUsports and our other house Twitter accounts (and we also list commonly-used recurring hashtags on our social media directory page), but we understand that folks aren't always glued to our tweets to the point of hearing the memo. Plus, everyone's forgetful - admittedly, over the six hours or so I hung out at the Earth Day festivities over the weekend, I only remembered to hashtag about half my own tweets with #LawEarthDay.
So what do you think? How often do you use Twitter hashtags to aggregate information about local happenings? What do you think the best way is to get the word out about which hashtags to use? Let us know in the comments.
It's been a banner week for the social Internet, and April Fool's Day falling on a Friday doesn't hurt either. Top of the list this week:
Facebook allows profiles to convert to business pages. For anyone who got their business on Facebook in the prehistoric days before Pages, this is a really big deal; now you're no longer faced with the dilemma of choosing between starting a page's fan base from scratch or violating Facebook's terms of service by remaining a "person" (not to mention looking a bit behind the times). It's a one-way street, so anyone making the switch should use Facebook's backup service first and remember that there's no going back to personhood. Plus - at least for the time being, since it's apparently been reported as a bug - you can't presently merge pages, so if you've got both a page and a profile for your business, you'll still have a duplication issue on your hands.
Animal tweeting hits a new high. While @BronxZoosCobra isn't the only zoo critter on Twitter - the Kansas City Zoo's polar bear tweets as @NikitaTheBear, and Sea World star Shamu's tweets were massively popular until the account went silent following an unfortunate incident with a trainer - the viral success of the escaped Bronx Zoo snake was pretty much unprecedented. As of writing, the cobra has 228,297 followers ... over the course of five days of tweets. (It was the subject of its own April Fool's prank, too - sorry, but rumors of the snake getting its own TV show are just that.)
Closer to home and happily no joke, KC-K gets Google Fiber. Topeka may have temporarily renamed itself to Google, Kan. to draw attention to its bid to win ultra high-speed fiber network to the city, but the winning community in Google's national search was Kansas City, Kan. If you haven't watched the official announcement montage yet, it's here - featuring some big names in Kansas City. Warning, geeks: It may bring tears of joy to your eyes.
And the rest of the April Fool's pranks, long an Internet legend? To name a few: YouTube dolled itself up all 1911-style, Grooveshark went 3-D, Google launched Gmail Motion, Angry Birds fanatics got two alternative ways to fuel their addictions and ... the list goes on. (We'll only mention Funny Or Die's Rebecca Black-izing their home page for the purpose of getting that terrible song stuck in your head, too.) Want the full April Fool's roundup? Here's a nice one from PC Mag.
What was your favorite online April Fool's prank this year? Let us know in the comments. (And do you think the advent of Google Fiber in our area will prompt new, larger-bandwidth pranks next year? Maybe that's just wishful thinking.)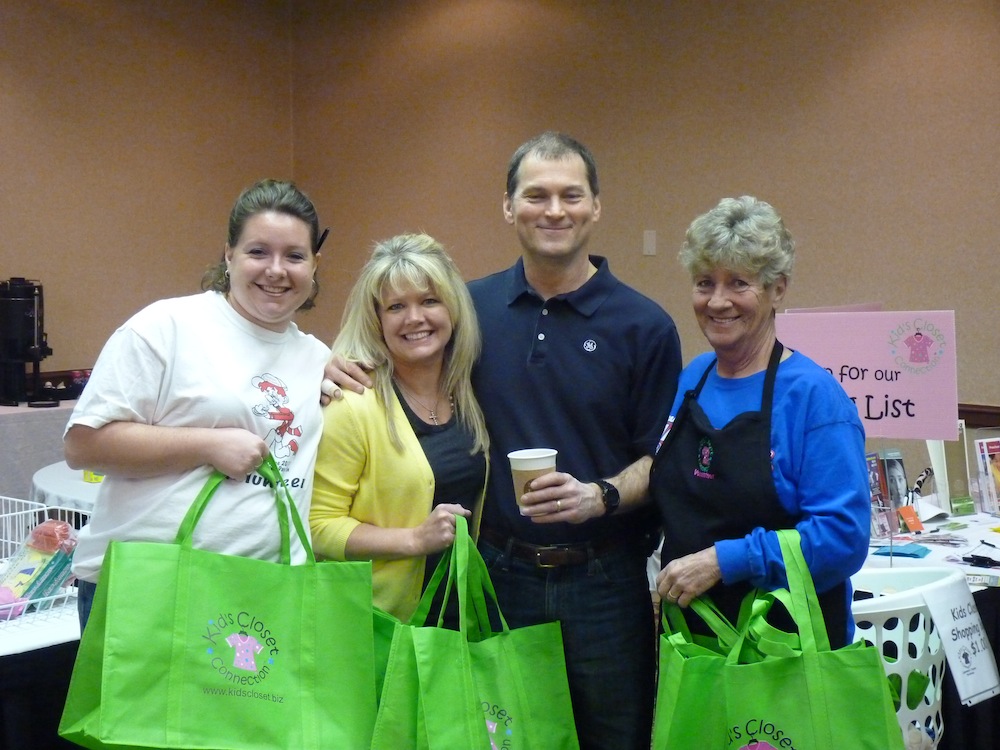 Angela, Tammy, Kelly and Ladonna with some big smiles to match their Monday Cheer - a little pick-me-up during their day manning the Kids Closet consignment sale.
We promised you an update on Lawrence Give Back's March 7 Monday Cheer event, when we hit the streets of Lawrence to deliver free coffee and cocoa from Signs of Life to anyone who asked Lawrence GiveBack (@lawgiveback) on Twitter. So here goes:
Over the nomination period the week before Monday Cheer, we received 57 nominations at 31 separate addresses. (Some of you wanted to spread the cheer to your entire office. We were happy to help!) Due to the volume of response and the fact that there are only (theoretically) eight hours in the work day, we had to stop accepting nominations late that Thursday evening - even then, and with a pretty efficient delivery route, it was a bit tough to squeeze all those deliveries into a single day. (We've got some ideas on how to speed up the delivery process next time. Watch lawrencegiveback.com for more info on future editions of Monday Cheer.)

We made friends with about 100 new Twitter followers and about 50 new Facebook fans during the promotion (hi, everyone!), primarily due to two things: asking for coffee nominations to be submitted via Twitter, and posting our photos, location and other live updates during the course of the delivery day via Twitter and Facebook. (Don't worry, we weren't texting while driving; one of our team spent the journey in the back seat of our coffeemobile armed with a cellphone, laptop and wi-fi card.) For us, hearing a coffee recipient tweet or post on Facebook a few minutes after delivery that they'd received their caffeine fix provided enough positive energy to keep us going forward without having to resort to tapping the coffee reserves in the back of our Jeep.

Seriously, the reaction we received was fantastic, whether from the coffee givers, coffee drinkers or just GiveBack fans who were watching the story unfold on Facebook, Twitter and our live-updated Google map. Some of our favorites:
Closest nomination to our office: Across New Hampshire Street at Heartland Community Health Center. Farthest away: One man heard about us all the way in Arizona, and asked that we deliver a cup of coffee to his sister, who works at Lawrence High.

Total cups of coffee and cocoa delivered: About 70. And we didn't even pinch any for ourselves. Plus, each recipient also was given a shiny new Lawrence GiveBack card and instructions for how to activate the card to pay the Monday Cheer forward to the Lawrence charity of their choice.
In short, we had a great time - but more importantly, we were able to get the word out about Lawrence GiveBack in a way that brought together social media and the "real world." A number of our recipients were newcomers to GiveBack, Twitter or both, and we hope our visits helped introduce them to a few of the things that make Lawrence a great place to live.
How do you put the "social" into social media? Have any suggestions for how to improve the next edition of Monday Cheer? Please let us know in the comments.
All we can really say about the response we've seen to the Lawrence Give Back Monday Cheer coffee giveaway is: Wow. Y'all really like your coffee - and your friends. As of 9:15 Thursday night, we've received enough orders that in order to deliver them on time Monday, we've had to stop accepting new ones. (Those of you who were still hoping to send a coffee or cocoa to a friend, please keep an eye on Give Back's Web site and Facebook page - who knows when Monday Cheer may pop up again?)
Now the next step is to put together a route for Monday's journey around Lawrence - we want to be as fuel-efficient and environmentally friendly as possible (not to mention quick enough to keep your coffee warm!), so planning a good roadmap is essential. We're really looking forward to putting some real-life social into social media on Monday, complete with coffee, cocoa and free Lawrence Give Back cards for everyone. (It's a little bit like playing Santa Claus!)
If you have a few free minutes on Monday, watch for live photos, anecdotes and updates on Lawrence Give Back's Twitter and Facebook accounts. We'll also be live-updating a Google map of our trek on the Monday Cheer home page.
See you all on Monday! Would you like cream or sugar?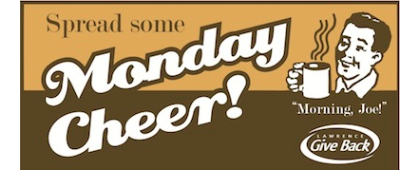 If you're reading this close to its original posting time (on a Friday) you're probably looking forward to the weekend, not looking for a way to make it through the work day. But come Monday - or any other morning of the work week, maybe - if you're like many, there'll be one topic in the front of your mind. Coffee.
That's why we thought we'd help banish the Monday blues a little bit with a social media event we'll be holding in conjunction with Lawrence Give Back on Mon., March 7. We're calling it the Give Back "Monday Cheer" - our way of spreading the Lawrence Give Back love for local business while helping, well, caffeinate anyone in Lawrence who's fighting a case of the Mondays.
Here's how it works:
Follow Lawrence Give Back on Twitter, if you don't already.

Send @LawGiveBack the name and location of someone who could use some Monday cheer. Here's an example: "Hey @LawGiveBack! My friend Susie works as a cashier at Checkers and loves coffee!" (Need to give a full street address to help the delivery team, or want to be a little more secret? Send the info to @LawGiveBack in a direct message.) On Mon., March 7, our crew will deliver to their door a cup of coffee or hot cocoa from Lawrence Give Back merchant Signs of Life.

Tweet in your orders by noon on Friday, March 4. We'll fill orders until we run out of cocoa and joe, so don't wait!

Watch our progress March 7 as we post updates and photos to lawrencegiveback.com/monday (where we'll also be live-updating a map of our progress in the Give Back Monday Cheer van) and our Facebook page.
Sound like fun? We think so, and we're looking forward to seeing the coffee orders come in. We'll also check back soon with a recap of the day - once we calm down from the caffeine buzz, that is. Questions or thoughts? Let us know in the comments below.
Prev Next