Posts tagged with
Technology
In 1981, people were just starting to experiment with the Web. You may have seen both of the videos below, but (for me at least) watching them back-to-back is powerful. It boldly illustrates how much technology has grown in just a few decades.
What is your reaction? It's a little overwhelming, isn't it?
Facebook has rolled out yet another version of privacy settings for users with personal profiles.
This simplified version of settings makes it "easier to share exactly how you want" on the overwhelmingly large social network. You now pick who sees what based on the type of content and if the person is a friend, friend of a friend, or "everyone."
http://worldonline.media.clients.ellingtoncms.com/img/blogs/entry_img/2010/Jun/02/Screen_shot_2010-06-01_at_10.07.42_PM.png
After reading the explanation of the new settings (which you all should do if you're a Facebook user), two parts stand out to me:
1) Basic Directory Information -- By default, Facebook now makes the following information available to everyone:
Name
Gender
Profile picture
Networks (like "Kansas" or "Kansas City, MO")
So if you think you've blocked potential employers from searching your name and finding your sketchy profile pic (the one of you doing your third beer bong at last year's Homecoming tailgate), you haven't.
Might want to rethink those profile photos.
2) Apps with access -- Under the "Applications and Settings" section in the lower-left corner, it is now easier to delete any unwanted applications that have access to your profile information. These can be anything from games like Mafia Wars and Farmville to the CBS bracket challenge, Jayhawk football trivia or Twitter for iPhone.
I went through and deleted 21 apps I haven't used in quite some time.
Why delete them? They have access to almost all of the personal data on your profile. If you don't use them, your data is still being fed to those applications.
http://worldonline.media.clients.ellingtoncms.com/img/blogs/entry_img/2010/Jun/02/Screen_shot_2010-06-01_at_10.14.04_PM.png
What do you think of the new privacy settings?
The traditional news cycle is dead. Take a moment of silence.
...
OK, now let's move on.
My friend Ellyn Angelotti, Interactivity Editor at the Poynter Institute (@ellynangelotti), developed this diagram of the "new" news cycle. It integrates social technology tools like blogs, Facebook, Twitter, comments and e-mail into the "traditional" news cycle to show how information flows through the Internet.
http://worldonline.media.clients.ellingtoncms.com/img/blogs/entry_img/2010/May/28/new_news_cycle809.jpg
If you're a journalist, it shows you that information sharing doesn't start with you anymore (come on - did it ever?)
While this is the news cycle now, we know we need to look ahead. We have to innovate on what currently exists so we don't get left behind like many news organizations have been the past few years. WellCommons, a health-focused open forum/niche news site, is the first step in executing our vision of the future of online news.
We took the "new" news cycle and cut out the middle man, giving increased real estate and control to community members. Our "newer" news cycle looks like this:
http://worldonline.media.clients.ellingtoncms.com/img/blogs/entry_img/2010/May/28/modifiednewscycle.jpg
We're all one big, happy, content-sharing family. There is one community, with multiple resources, exchanging information all over the place. Publishers on social networks become part of the flow naturally without having to pass through a news org's filter.
WellCommons is simply a way to organize this chaos and make a safe, trusted environment that is:
Available
Easy to find
Useful
Here's the catch: This new approach requires users to step up and provide valuable content. We still have a reporter who posts blogs/stories, but we rely heavily on users to post, share, comment, link and interact with each other ... or the community fails. Live together, die alone. R.I.P. LOST!
It's a big gamble, but the alternative is staying complacent and accepting the death of our industry.
Our plan is to integrate this model into our sites, giving you the opportunity to share information in niche communities relevant to your interests. To get started on WellCommons, watch this video. If you already have an LJWorld.com account, you don't have to re-register. Just sign in and poke around.
If you really like basil plants, I suggest you read my WellCommons blog series for the summer on trying to eat local + keeping the first plant I've ever owned alive. It's ... riveting.
http://worldonline.media.clients.ellingtoncms.com/img/blogs/entry_img/2010/May/24/Screen_shot_2010-05-24_at_3.13.08_PM.png That's not a star map. It's a chart published by Information Architects displaying Twitter's 140 most influential users. Called the Cosmic 140, it uses some kind of data special sauce to determine who the most influential people are on the network of millions. Download your own PDF of the map and read how it works. (Credit - I found this via Mashable.)
I follow some of these people, but not all of them. Should I be following all of them? Perhaps, considering my line of work, but I find more useful, influential information from accounts that originate closer to home. (Plus, if anything these people tweet out makes news, I'll know about it asap via Mashable, TechCrunch or someone else retweeting their information.)
What accounts impact my daily life?
Another powerful form of influence that Twitter has over me is the random feedback I get from followers. I can tweet a question about anything to just over 1,400 people and get a variety of responses in a few minutes -- heck, sometimes in a few seconds.
Example: I want to upgrade the Twitter app on my iPhone. I tweeted asking what app people would recommend. I got about 20 responses in 10 minutes, most of them telling me to hold off until Tweetie 2 (a paid app) was re-released as Twitter for iPhone (a free app). End result? I'm waiting. Those people influenced where I spend my cash in the app store.
It's not just about purchasing power, either. It's about building a personal information network that I trust. While some of the accounts I follow are globally popular, most originate in the communities where I live my daily life.
What accounts are most influential to you? List a few in the comments - I bet some of them are the same as mine.
To mobile users, Foursquare is more than a childhood playground game. It's one of many new social networks that integrate location-based mobile technology into their everyday routine.
Add Gowalla, Yelp, Whrrl, My Town and SCVNGR to the list and you have a few of the players in a new frontier in social networking that is gaining thousands of followers every day (no, seriously).
There are a few networks distancing themselves from the rest.
Since we've started using them in news coverage (Relay For Life of Douglas County, KU graduation and Bike to Work Day to name a few), I thought I'd break down the basics for each.
How they work: The networks function like games. Mobile users download the network's application onto their iPhone, BlackBerry or Android device (most of them are free). The application locates the user via GPS technology and then let's them "check in" when they physically go to a location. The more check ins you have, the more rewards, points, badges, stamps, or virtual cash you earn on that specific network. You can also follow your friends' check ins, leave reviews/recommendations meet new folks and get sweet freebies along the way.
The trick: You actually have to be near a location in order to check in. It prevents false leaderboards.
Remember: You control your network. If you don't want strangers to know your location, don't add them as friends and don't push check ins to your Twitter and Facebook feeds!
And big thanks to friend Laura who helped me with the Yelp section.
Questions? Leave 'em in the comments for me.
---
FOURSQUARE
History:
Foursquare
launched in New York City in 2009 after its creators sold Foursquare's predecessor,
Dodgeball
, to Google in 2005. In January 2010, the network was opened up to users worldwide. CEO Dennis Crowley
recently stated
that Foursquare is adding 15,000 users per day.
Cost: Free
Devices Supported: iPhone, Android, Palm (thanks, Ryan, for the link) and BlackBerry.
Features:

Ability to add venues via app and on their website.
Add events as new "venues" to track check ins
Unlock badges. Some are novelty, some give you access to new parts of the game
See recommendations and feedback about businesses close to you
Interact with businesses to get deals/specials
Check in at a certain location more than anyone else and you become the "mayor" of that place. Mayors sometimes get perks from businesses
Add tips/to-dos that pop up when another user checks in near a venue
Benefits: Starbucks recently signed a deal where the mayor of each location gets $1 off their drink. Small businesses can use it to track their most-loyal online fans and create deals for customers. Lawrence has a fairly active Foursquare community.
Bummers: Users can't create their own badges.
Below are screenshots of what Foursquare looks like on iPhone: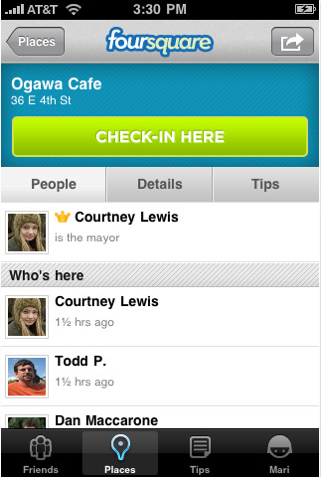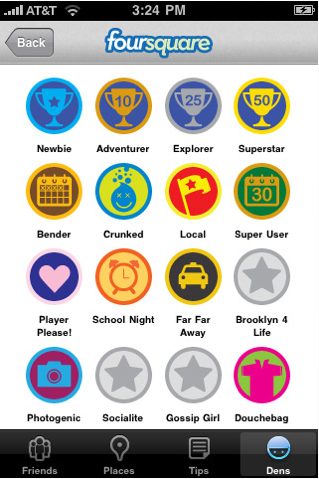 ---
GOWALLA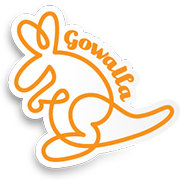 History:
Gowalla
is based out of Austin, Texas, but CTO and co-founder
Scott Raymond
is a Kansas University graduate. Raymond recently spoke at the
Free State Social
about his philosophy on location-based networking and debuted the Gowalla iPad app. The network recently secured $8.4 million in venture capital and won the mobile category at 2010 South by Southwest.
Cost: Free
Devices Supported: iPhone, iPad, Android and Palm. BlackBerry users must use the mobile site
Features:
Must be on-location to add a spot
You can edit a spot once it's been added
Allows users to add events, which are spots that only stay "live" for 12 hours
You can create trips (gives the user a special stamp once they check in at all the places on a trip)
Pick up cute stamps and items, some of which can be worth prizes in real life, as you check in at different locations
Benefits: Local connection aside, Gowalla gives its users a little more freedom to create and play with locations than Foursquare. Also, businesses can submit requests to have their logos Gowalla-ized for the site (good news for branding!)
Bummers: The Gowalla user base is much smaller -- 150,000 compared to Foursquare's 1 million. Sometimes the GPS acts wonky placing you too far away to check in at your desired location.
Below are screenshots of what Gowalla looks like on iPhone: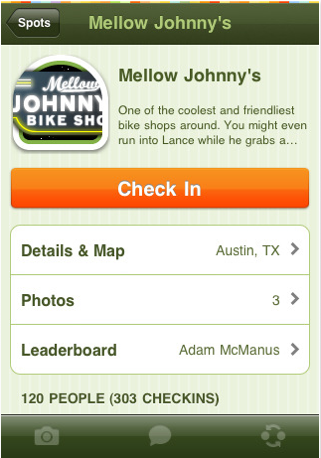 ---
YELP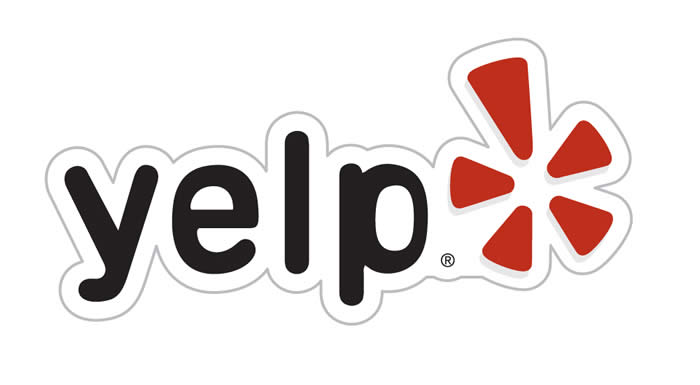 History:
Yelp
combines social networking, reviews and local search. It was founded in 2004 with the goal of helping people find great local businesses. The network claims over 31 million users visit per month, with over 10 million published reviews across the country.
Cost: Free for reviewers and businesses, but not advertisers
Devices Supported: iPhone, BlackBerry, Android, Palm and a mobile site.
Features:
Add reviews for any business via mobile or online
Check in at locations
Start discussions on community bulletin boards
Become an "elite" user if you post enough reviews
Business owners can respond to comments on their own business' profile
Benefits: A lot of different people with in-depth opinions and experiences. Community building (Elites get to attend parties together). Potential interaction with business owners. Post basic specials or announcements (as a business owner).
Bummers: Word on the street is Yelp has an aggressive sales team. Also, business owners can comment on reviews, so there is some snarky behavior between local entrepreneurs from time to time.
Below are screenshots of Yelp for iPhone: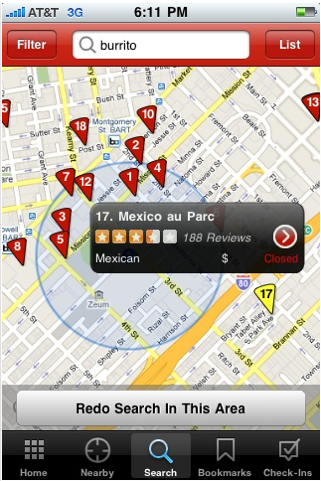 If you're participating in or attending the annual walk down the hill on KU campus this Sunday, we have some ways you can participate in our news coverage via social media:
Tweet, tweet with #kugrad
We'll be tracking Twitter for the #kugrad hashtag from now until Sunday. We even have a live stream of tweets using #kugrad set up on LJWorld.com. Let's make it a trending topic!
Submit your pics & vids
Send us your commencement pictures so we can share them with the world (and on Facebook, too!) Use our submission form on LJWorld.com and we'll continue posting them throughout the week. For videos, upload or share them on the LJWorld.com Facebook wall. We may use them on 6News and LJWorld.com if we find some gems!
Become the mayor of graduation
With all those people in one place, we're bound to get the coveted swarm badge on Foursquare, right? We created a special venue for graduation so you can check in at Memorial Stadium and the event itself. Search for "KU Graduation" if it doesn't pop up automatically.
http://worldonline.media.clients.ellingtoncms.com/img/blogs/entry_img/2010/May/12/Screen_shot_2010-05-12_at_4.13.34_PM.png
When I'm consulting with all types of businesses, I often hear two concerns about integrating social media:
1) I already have a wonderful Web site (which can be true)
2) How can social media bring me more "eyeballs" (aka customers, viewers, people)
We have the same concerns for all of the World Company divisions. How can social media grow what we already have going (some of our sites are already Web traffic behemoths) and how can it bring us more pageviews (which plays into relationships with advertisers)?
What I've found is these two concerns are more related than I initially thought.
Chris Brogan, one of our Free State Social speakers, summed up social networks back in February at the KCIABC Business Communications Summit, saying your Web site should function as a home base, and Facebook and Twitter accounts are like outposts that bring business back to your main destination.
For our purposes, we began treating each outpost as an amuse-bouche -- a bite-size appetizer that offers a glimpse of the main course. The social media content satisfies a certain amount of hunger for information, but we hope that it makes people want the full meal available on our Web sites. This is done via all forms of media (creating photo galleries, uploading videos and embedding audio clips).
We were initially pretty bad at this. Our philosophy of sharing content was only posting links back to our site, but the graph below shows that as we increased multimedia posts - often duplicating content from KUSports.com - this year on the KUSports.com Facebook page, it drove more traffic back to the actual Web site.
http://worldonline.media.clients.ellingtoncms.com/img/blogs/entry_img/2010/Mar/28/Screen_shot_2010-03-28_at_12.52.07_PM.png
We're only three months into this approach, but it addresses both initial concerns. We're sharing bits of our good content and it's resulting in more referrals.
Additionally, I can't emphasize enough that keeping track of statistics is the only way to know if what we're doing is working. I may not be a jack-of-all-trades, but I can make a mean spreadsheet... so that's just what I did. I have a Google Doc that tracks a variety of social media statistics for our sites like LJWorld.com, KUSports.com, Sunflower Broadband, Lawrence.com and the Free State Social. I keep track of this vital info:
Total Facebook fans, new Facebook fans
Facebook interactions
Facebook pageviews (and unique pageviews)
Facebook media consumption (views on photos and videos)
Total Twitter followers, new Twitter followers
Visitor referrals to sites and % of total site visitors from Facebook & Twitter (via Google Analytics)
It also includes the amount of traffic both Facebook and Twitter are driving back to these Web sites and compares the stats over time. By updating the spreadsheet once each week, I know exactly how our networks are growing and can set goals based on that progress. I also know quickly if something is failing miserably.
And it really helps to be able to have this information handy when your boss asks "how is that Twitter thing going?"
I know there are plenty of local businesses involved in social media - how do you guys monitor your progress?
http://worldonline.media.clients.ellingtoncms.com/img/blogs/entry_img/2010/Mar/04/Screen_shot_2010-03-03_at_3.45.46_PM.png
It's no secret that Wednesday was unofficially "Sherron Collins Day" on KUSports.com. Videos, photos and stories of Collins' four years as a Jayhawk were shared over the Web by fans across the country as we all prepared for Senior Night at Allen Fieldhouse.
Members of the Twitter community took it upon themselves to celebrate Collins in their own way by attempting to make his name a trending topic. As of last count (at 8:55 a.m.) the effort had generated 2,262 shout outs to No. 4.
The first tweet using #sherroncollins came at 7:57 a.m. from 610 Sports, followed by the idea to make the hashtag a trending topic at 8:48 a.m. The graph below shows how the hashtag's use skyrocketed throughout the day, peaking in the 9 p.m. hour with 449 tweets. The image above is from trendsmap.com (a fun Web site for checking local trending topics). The screenshot was taken at 3:45 p.m. on Wednesday, long before #sherroncollins saw its heaviest use.
http://worldonline.media.clients.ellingtoncms.com/img/blogs/entry_img/2010/Mar/04/1267714585873.png
The hashtag grew so popular, it rivaled the use of #kubball and crushed #rcjhgku. The graph below shows the use of #kubball, #rcjhgku and #sherroncollins in the past 24 hours.
http://worldonline.media.clients.ellingtoncms.com/img/blogs/entry_img/2010/Mar/04/1267713814113.png
It's also worth noting that Twitter activity related to KU basketball is growing fast. Last night we saw thousands more tweets than we have seen the entire season. The graph below (showing only the last 30 days) proves this.

http://worldonline.media.clients.ellingtoncms.com/img/blogs/entry_img/2010/Mar/04/1267716240617.png
Are fans starting to rally because March Madness is nearly here, or are more people using Twitter? Our data shows that individual accounts tweeting about KU basketball have increased 270% since Saturday's game against Oklahoma State.
Throughout the Big 12 and NCAA Tournaments, we'll be looking for more ways to get fans involved with our Twitter and Facebook accounts, as well has posting fan photos on KUSports.com. Don't hesitate to @reply us with links to photos/videos and to post content on our Facebook wall throughout the tournaments. We're looking for them, and we'd love to share them. Look for more details on these projects in the next few days!
Prev Next