Posts tagged with
Social Media
U.S. Senator Jerry Moran (R-Kan.) took the stage at SXSW on March 11 to discuss The Startup Act, a bill authored with Sen. Mark Warner (D-Va.) to promote entrepreneurship. His presentation, "Encouraging Innovation and Empowering Entrepreneurs" was targeted to get the tech community talking on social media channels about this new bill.
In an article from Silicon Prairie News, Sen. Moran referenced the enormous social media response to SOPA and PIPA as a key element of his strategy in going forward to promote The Startup Act. While he said he didn't expect to get the same level of response that SOPA did, he said that social media communities have piqued the interest of congress members and messages are in fact, being heard.
What do you think of politicians using social media to encourage conversation in order to leverage their initiatives? After the huge response that SOPA and PIPA received, do you think it's possible for other bills or issues to receive similar outpourings in social media?
Do you have a Pinterest account? The better question may be: How many times have you heard this question in the past few weeks? Pinterest has become the fastest growing standalone site in history with 11.7 million unique visitors recorded in January. It now drives more traffic than LinkedIn, Google+ and YouTube combined. Pretty impressive, right?
So, just what is Pinterest? The company calls it a virtual pinboard. Well, OK, but that doesn't really spell it out.
I explain it to people this way: Remember your junior high days when you would cut out pictures you loved from magazines and pin them on cork boards or the walls of your bedroom? Pinterest is kind of like that. Only, it's an online pinboard that lets you pin images you love that you find online. It also keeps links attached to the images you find so you can easily refer back to the site you found them on. You can also organize your pins into different categories by having a pinboard for various topics. Many users usually have a recipe pinboard, a home decor pinboard, a favorite product pinboard, and so on.
Perhaps the most interesting recent development of Pinterest is the inclusion of brands and companies within the social media platform. Once reports of the high traffic numbers started to surface, it was a no-brainer that businesses would need to make themselves visible to their potential customers. But how does a business fit into this platform that most people are using for dinner and home decorating inspiration?
With a little creativity.
Businesses, companies and brands have revamped their social media approach to fit into this image-heavy social media platform. In doing so, we've seen some really great ways to engage and foster a new online community. From promoting a certain lifestyle to calling followers to pin photos of themselves holding various products, there are a lot of very cool ways you can join the pinterverse.
Some of our favorite brand pinboards are:
Are you on Pinterest? Check out our pinboards at http://pinterest.com/worldcosocial/.
If anyone doubts the ubiquity of social media, this week's news certainly begs to differ - specifically, the death of Libyan dictator Moammar Gaddafi and the resulting global rush of tweets, posts and other social commentary documenting the incident. If you've been on the social web at all this week, there's no need to reiterate the key points; you likely already know them, and you probably heard first notice of the news in your Facebook feed, Twitter stream or other social network of choice.
That may itself be the interesting thing, though: Even though it's only been a few months since Twitter made headlines as the main vehicle for reporting the death of Osama bin Laden, the fact that word of Gaddafi's death was a primarily social-media affair now almost seems like a given. Mashable actually did a splendid job illustrating how comfortable we are with social breaking news with this slideshow of key tweets from the day, with moods ranging from ecstatic to cautious to irreverent. Since it's Friday, we'll sign off with one that, while it didn't have much to do with the actual news, made copy desk editors everywhere nod their heads in sympathy: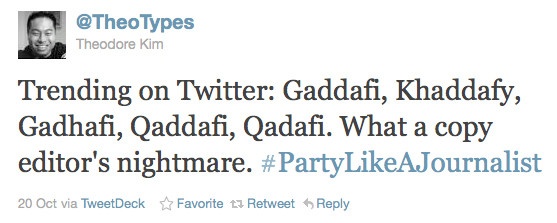 How did you hear about Gaddafi's death this week? What sources - social media, newspapers, websites, TV - do you turn to in a breaking news situation, and what's the medium that usually alerts you to that news in the first place? Let us know in the comments.
Social media and privacy: Are the two mutually exclusive, or is it still possible to keep areas of your life private online? And what happens when law enforcement, the media or both get involved?
That's what we examined last night at a community roundtable here at the News Center, and the discussion was lively. And while we're of course interested in this issue on a local level for its own sake (the discussion continues next Wednesday, Sept. 21, at the weekly Social Media Club of Lawrence breakfast), our roundtable served a national purpose, too. The summit was part of a credibility study by the Associated Press Media Editors (newly renamed) that will cover several facets of social media. LJWorld.com and the Lawrence Journal-World, as well as KnoxNews.com and the Knoxville News-Sentinel, are the two newsrooms in this study looking at the intersection of social media and privacy.
At the bottom of this post are a few examples of where someone's life was changed — or they felt it was changed — because of information shared via social media. During our roundtable, we examined the examples and discussed what we or another news organization might have done right or wrong under the circumstances, and what could have gone differently. We had some fantastic feedback from those in attendance both in person and via Twitter; thanks to everyone who came to the News Center last night, or joined @WorldCoSocial in a Twitter chat on hashtag #socialprivacy. (Click the link to search the hashtag for items discussed, or watch this space for a more definitive summary soon.)
If you didn't make it to our roundtable, we'd still like to hear your thoughts on social media and privacy, particularly regarding the situations outlined below. Or, if you'd prefer to make your opinions known in a more private forum, send an email to Jonathan Kealing (via Gmail at jkealing@gmail.com, not his old LJWorld.com address); he'll be helping wrap up this project from his new post in Minnesota). If you have any other examples of ethical dilemmas in the intersection of social media and reporting, we'd like to hear them as well.
Once everyone's opinions are gathered in the same place, we'll share a summary here in this blog. Thanks for weighing in!
Here are the discussion items:
1) Over the police scanner, a reporter hears a report of a "Code Black" (dead body) at a home in the area. A quick phone call to emergency dispatchers advises it's being treated as a medical — an unattended death. A quick tweet is put out saying that an ambulance and police are investigating an unattended death, but it's believed to be a medical. No other action is taken by the reporter, but a competing news organization goes to the house later and bangs on the door, disturbing a grieving spouse. The spouse calls the original news organization and complains.
2) A father kills his estranged wife and two children before killing himself. The man's Facebook page is public. It includes numerous pictures of himself with his children and wife, and frequent wall posts on how much he misses his children and the fun they used to have together, with other posts from friends and relatives trying to console him. He does not mention that he is legally barred from seeing his children because he had been charged with holding the family at gunpoint as he threatened to kill his wife. The wife has a Facebook page, but hers is restricted to only be viewable by her friends, so there's no way to see what, if anything, she was saying.
3) Two reporters are covering a public forum where community members are speaking with elected officials about the closure of the local social services office. Many speakers are identifying themselves by name and as the reporters are tweeting about the meeting, they are identifying the speakers. There are numerous cameras and hundreds of people in the room. A few days later, one of the speakers calls the newsroom and is upset that her name was listed in the tweet.
4) A man is arrested and charged with killing his wife. We find the Facebook page of the woman's daughter, who is about 14. On her profile, which is public, she expresses her grief and shock and says repeatedly that she is sure that her stepfather killed her mom and makes allegations that he had previously abused her mother.
We're always happy to see a new business start up and succeed in Lawrence, and even happier when we have the opportunity to help with that process. If you've been browsing LJWorld.com in the last few weeks, you've probably seen banner ads for the new Orange Leaf Frozen Yogurt at 6th and Wakarusa, which has been up and running for about a month but had its official grand opening Friday, Dec. 3.
A December opening for a fro-yo shop? You bet. Between the location (within walking distance from Free State High School, and next door to the new Lawrence Smashburger) and a solid opening-day deal (fill-to-the-brim yogurt cups for 99 cents), Orange Leaf had a great vantage point for a launch promotion. Then it was just a matter of getting the word out to folks - and that's where social media came in.
During the course of a 10-day campaign, we ran banner ads across World Company sites that, when clicked upon, sent users to Orange Leaf's Facebook page. When they got there, we made sure folks saw photos of the new shop - very bright and cheery with winter looming on the horizon - as well as a custom landing tab with some general info on how the whole build-your-own-yogurt concept works. Finally, we let prospective fro-yo friends know that if they stuck around on Facebook and Twitter until the store's opening day, they'd have the chance to win free yogurt the day of the big party.
Similar strategy for Twitter, but with a few additions: Our research means we know a lot of Lawrence tweeters with an interest in food and drink, so we followed some key influencers with the hope that they'd see the value in our message and follow us back - or even retweet and recommend us to others. (Those of you who did, thanks, and we hope you like the fro-yo!) Twitter's immediacy also made it possible to run some fun "respond right away and win free-yo" contests, which we also promoted via our house channels of @CraveLawrence (daily lunch specials), @LJWMarketplace (local events, deals and contests) and @KUSportsDeals (area game day offers). Additionally - and this is the most critical aspect of any social media campaign - we monitored Twitter, Facebook and Foursquare closely during the 10-day promo period, making sure to respond as quickly as possible to any questions or comments about or directed to Orange Leaf.
So how did it work? Check out this opening-day video we posted on Facebook to see footage from the day-long party, or have a look at @benasmith's photo of lines out the door as the sun went down. (Our favorite feedback from opening day? @into_the_beams' statement of "About to leave work and head to @OLFYLawrence for my free cup of froyo. Been looking forward to this all day :)")
Of course, you can't chalk all that success up to social media promotion, but a little monitoring reveals that a lot of folks were talking about fro-yo online the week after Thanksgiving. It goes to show that, depending on how you use it, social can be just as important in your overall promotions plan as other traditionally-valued ways of getting the word out - particularly when all those channels work together. In other words, social media doesn't just have to be the cherry on top - whether you're talking about frozen yogurt or any other product or service.
If you haven't already seen this video from relationship site YourTango, you probably aren't at risk - after all, it's probably been reposted the last few days on as many Facebook walls as the tackiest FarmVille gameplay plea. But just in case, here's a tongue-in-cheek caution against social media overuse (complete with tips of the hat to cheesy after-school specials of the '80s and '90s - how many can you spot?)
And with that, we might just sign off for an hour or two. Maybe.