Posts tagged with
Facebook
No, the asterisk in the headline doesn't point down to a disclaimer at the bottom of this page. It's actually in the name of the latest Facebook challenger, this one grounded on two ideas: That users should be able to own the information they post to social networks, and that users should be able to segment audiences for their posts into unique channels (Diaspora* calls them "aspects").
Except for one major problem. In the months it's taken Diaspora (sorry, dropping the silly asterisk) to go from Kickstarter poster child to a real live product - a huge batch of invites to the service went out last week - Google+ has pretty much taken care of the audience segmentation problem with its Circles. Or more to the point, Facebook took cues from Google+ Circles and spiffed up their friends list functionality somewhat. As for owning your own information, while that's still a tricky issue with Facebook (here's a nice explanation of how intellectual property rights interlock with Facebook TOS), this spring's status-post memefest of "Facebook owns your photos!" has largely died down.
In other words, there may not be any room left in our social landscape for Diaspora. Which is a shame in some ways, because it's a beautiful site. Check it out:
The interface is clean and easy to use, doesn't carry any ads (yet), and unlike Google+ or Facebook, has built-in support for hashtags - allowing you to discover people based on shared interests, not just shared geography or social groups. You can follow tags just like you can follow individuals, leading to a user experience that's personalized by interests as well as by social connections. It's a fantastic idea ... with no content. In fact, you can almost hear #crickets singing in Diaspora's vacant corners right now.
So is this a case of Diaspora throwing a magnificent party, but no one coming? Perhaps. If nothing else, it's a compelling illustration of how it's going to take more than just a single killer feature to draw people away from Facebook - let alone pry early adopters away from Google+.
Are you on Diaspora yet? Connect with me - I'd love to hear what you think of the new service. Or just leave a comment below.
After months of buzz and speculation, after an oh-so-trendy promo video that made the rounds on YouTube, after months of waiting for an invite, we're finally in to the beta rush for new "liberated" social network Unthink!
Well, kind of. Actually, not really. But we did get to play with the long-anticipated, much-maligned alternative social net before it collapsed under its own weight this afternoon. For about 15 minutes, much of which was spent watching Firefox spin its little "Loading" icon. And here you have it: the social network that is going to Fix Everything. Maybe.
All sarcasm aside, it's got to be said that Unthink's got a pretty messy user interface, particularly compared to the early days of Facebook. (Let's ignore the current Facebook-in-transition UI mess for the time being; if we assume that a new social network will start simple and grow in interface complexity from there, well, Unthink has some issues already.) The whole modular "portal" layout feels a lot like iGoogle, which itself never really took off but is reflected in hundreds of dashboard-style welcome screens for every web-based app imaginable. But what's this "Lifestyle Tree"? And what's with the old-school news ticker at the bottom of the screen? Oh, and apologies that the ticker in the image above is obscured by my Mac OS dock; when I went to snap another screenshot, it was too late. All I got was this:
Looks like exploring Unthink may have to wait a little while until they get some server load issues worked out. Not exactly an auspicious start.
That said, it sounds like Unthink might hold some promise. Privacy controls are out in the open - everywhere, almost to the point of repetition. Default sharing settings lean toward the private rather than the public, a contrast from Facebook's tendency toward releasing privacy updates that require manual user action to return to previous settings. And if nothing else, there are bound to be new features included in Unthink that, if they don't give Big Blue a run for their money, will at least inspire Facebook to ape something similar in a future rollout. (Google+ circles, anyone?)
We're curious to see if anyone else has played with Unthink yet. Got a screenshot you can share, or just general opinions? Let us know in the comments.
When you log in to Facebook on Saturday (and if you're reading this, you probably will), you might notice things are a little different. Quieter, even. And if your News Feed is clogged with notifications about what your friends are doing in apps you don't care about - well, that might get a bit better too.
Why? As of Oct. 1, Facebook is requiring that all apps move over to SSL authentication - in short, the sort of secure browsing that you see when you're, say, paying your credit card bill online. (You can recognize secure browsing in a variety of ways: a little padlock icon or a change of color in your browser address bar's background, as well as a site address that starts with the prefix https://.) For the most part, this is a good thing; after years of being plagued by security issues, Facebook's system-wide switch to SSL browsing is a major acknowledgment that we're living more and more of our lives, including the high-security parts, online.
The Facebook developer community has actually been prepared for the shift for several months, which is pretty rare when it comes to Facebook announcements. Most users have been using facebook.com over a secure connection for months now; the ability to access Facebook via SSL was launched in January, and users have been slowly auto-urged to upgrade. So why is it anticipated that thousands, if not tens of thousands, of apps will go silent on Saturday morning? (Any app not using SSL will be relegated to "sandbox" mode, which means its developers can see it but no one else can.) Chalk it up, maybe, to the conceptual shift developers have to make when Facebook actually gives advance notice of a change. Or, perhaps, delays in changes to apps as a result of devs waiting for all the shiny new features announced last week during f8. Or it could just be the laziness factor of creating something and failing to support it. After all, browsing abandoned apps in Facebook's erstwhile App Directory gave off ghost town vibes; maybe that's why Facebook axed the directory earlier this summer.
We're curious. Will your Facebook user experience be different with fewer apps to contend with, or will you notice the difference? And if you're an app developer, how have you coped with the shift? Let us know in the comments.
Well, f8 came and went - and we'll probably be shifting through this most recent round of Facebook changes for the next few weeks, if not longer. This year's annual Facebook developer conference introduced what's undoubtedly the biggest shift Facebook's ever taken, and on a few different fronts. Here's the Cliffs Notes version of the two biggest changes.
1. Revamped Timeline profile view. Since it's what everyone really wants to know about immediately, here goes: my own (slightly anonymized) profile in the new layout. Pretty? Definitely. A major usability improvement? Not entirely sure yet.
Right now, the new Timeline view is only available to folks who have Facebook "developer" credentials, and even if you're listed as a dev, you can only see the revamped profiles for folks who are also devs and have enabled their new layout. (Lest this make me sound impressive, a Facebook developer for this purpose is anyone who's ever built a FB app, no matter how simple.) In his speech today, Zuckerberg said full rollout would happen over "a few weeks," though who knows what that really means. (I did note that when invited to upgrade my profile, Facebook stated it'd be pushed live September 29 even if I hadn't approved changes; not sure if that's a dev-only rollout, or for everyone.)
2. A renewed Open Graph with better app integration. What's Open Graph? It's Facebook's protocol for communicating with third-party sites and apps that want to use your profile info. If you've ever commented on a post on a third-party site using your FB login, or shared a link to your profile directly from a web page, you've used it. The next-generation Open Graph introduced today at f8 is much, much more flexible and capable - and for the average user, this means apps like Spotify, Foodspotting and Netflix will play considerably nicer with Facebook in general and your profile posts in particular. And this, in turn, means you'll be exposed to much, much more of what your friends are listening to, watching, eating and doing. Watch Facebook's video of how this works and how it'll eventually appear in the News Feed and elsewhere. A core set of apps are already live, though your mileage may vary; for example, I've been trying to launch Spotify for the last hour or so with no success. (Network choke, anyone?)
And that brings us to the Ticker: What seemed at its launch two days ago to be an exercise in redundancy (why would we want that sitting right next to the News Feed?) suddenly makes a lot more sense. If my in-app activities (listening to a song, photographing my meal) live in that region of my friends' Facebook screens, those tiny updates become less of an interruption and more of a quick-and-easy sharing option. In other words, for a while at least, the News Feed is where friends and brands tell us about stuff; the ticker is where we see what they're doing and whether we want to do it, too.
There's a lot more to today's announcements, but until all the various bits and pieces are rolled out system-wide, we're all peeking through a bunch of tiny windows. What bits of the new Facebook are you seeing already? What do you think of them? Share in the comments below.
The social Web has been all abuzz the last few days about the next big wave of changes that are coming to Facebook, and for once the reaction doesn't seem terribly negative. At long last, Big Blue seems to have largely straightened out the increasingly tangled maze of privacy settings that users have had to fight their way through over the last few years; one of the biggest disadvantages of Facebook's adding layer upon layer of functionality to their product is the result it's had upon the average user's opt-in/opt-out privacy checklist. (In other words, figuring out how to share only what you want to share can be frustrating at best, impossible at worst.)
According to screenshots in Facebook's official teaser of the changes (we're still waiting on the rollout ourselves), gone is the multi-layered sharing checklist that until now has lived under Account -> Privacy Settings. Instead, sharing options will primarily go inline. Visit your profile's Info screen, and you'll be able to control public visibility section by section. (Don't want to tell the world, let alone your friends list, you're into Britney Spears? There you go.) As a big bonus, the "Preview Profile As ..." button that's been buried under several screens of privacy navigation will now appear at the top of your profile, making it easy to step into someone else's shoes and double-check exactly who sees what info.
This approach carries through to your Wall, too, which is where it gets really interesting. Now every time you post, you're given an easier-to-use dropdown that lets you choose visibility (with a promise that the list of options will grow more granular over time, a la Google+) - as well as edit that visibility later. And here's the game-changer: You can tag each post, whether you're accessing Facebook on your phone or on a computer, with a location. This functionality actually completely replaces Facebook Places as we've known it for the last year. Mobile versions of Facebook will lose the Places menu option, instead encouraging you to geo-identify whenever you post content.
So what does this actually mean - particularly for businesses like Starbucks, who've deeply integrated Facebook check-in deals into their overall marketing plans? (If you're curious, Starbucks stores actually top the list of where Facebook users check in, followed by Buffalo Wild Wings.) According to Facebook's own estimate, an "old-style" place check-in reaches an average of 130 people, which is pretty effective free marketing if harnessed correctly. Facebook promises that check-in deals won't go away; instead, they'll surface in the user's News Feed after that particular user has checked in (here's a flow diagram of how it'll look on the iPhone). But will people remember to look for them, let alone redeem them? And once our personal news feeds are clogged with inline geoposting by our friends, how long before that info gets passed over by our eyes while we're scanning for the details that really matter to us?
So while Facebook's new privacy settings are being pretty well received so far, the verdict really seems to be out on the revamped Places from the point of view of both marketer and consumer. Will this truly be a threat to big-name location-based services like Foursquare, or will it actually be the final nail in the Places coffin? We'd love to hear what you think once you get the new rollout. Post your thoughts in the comments.
Note: Today's post is from Samantha Schwartz, former "Double Take" columnist for LJWorld.com who's returned for the summer from Grinnell College as our social media intern. Thanks, Samantha!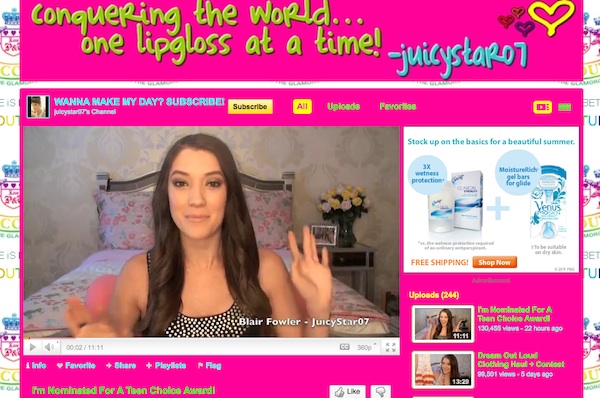 Have you heard of Blair Fowler? Maybe not, but she has a loyal following of 764,871 fans on YouTube, and her videos have been watched upwards of 142 million times. Better known as juicystar07, Blair makes beauty videos on YouTube. She's not one of a kind, but she's certainly one of the more famous "Beauty Gurus" on social.
I was tipped onto the phenomenon by my younger sister, Kendra, who began as a fan of Blair and the other gurus, and now has her own channel. So, what exactly are these girls doing? They post videos of themselves doing hair, nail, makeup and fashion demos, and they share helpful tips with their subscribers. When they get famous enough, (to rattle off a few: Michelle Phan, BubzBeauty, Macbarbie07, meganheartsmakeup) YouTube "partners" with them, allowing them additional features and in turn advertising in 30 second segments before the videos begin. Call it stupid or shallow if you want, but we have a lot to learn from the Beauty Gurus about social media.
Apply their tips to your own social media marketing plan:
Create a social media empire: In addition to her YouTube channel, Blair has her own website, Facebook fan page, online store and vlog channel to document her daily life. She stages meetups with her fans, and she holds contests and giveaways using the free products sent to her by beauty companies hoping for free advertising. She's appeared in Seventeen magazine, met loads of celebrities, and she and her sister Elle were the youngest makeup artists ever to work at New York Fashion Week. In other words, she's everywhere. And while you may not have the time to devote to a detailed social media presence on every channel there is out there, chances are with some research you can find the media that speak to your customers best. Where to start? Ask them where they'd like you to be. It could be as simple as making a tally sheet at your cash register and asking every buyer who comes in, or sending an email or postcard to your existing customer database sincerely asking for their opinions. (If you add a little incentive for responding, even better! You are asking for some of their time and help, after all.)
Be timely: Remember when all you had to do to get the word out about your product or service was stick a sign out on the street? Social media is about as far from that as you can get. The average Facebook user (according to Facebook's own statistics) has 130 friends, which means that every time that person logs on to Facebook they're seeing a whole different set of posts in their news feed. If your carefully-crafted post only sees the light of day at 8:30 on a Monday morning, the user that logs in on Wednesday afternoon won't see it. So in social media, timely means two things: both the relevance of what you're posting in regards to the rest of the day's news for your audience, and when and how often you're posting. Again, ask your audience when they'd like to hear from you; and, if it's easier for you to manage, consider using social scheduling tools to get your audience that info when they want it.
Find your niche: If you still think beauty blogging is silly, look back up there again at Blair's numbers. We all have our niche interests and hobbies, so how can your business or organization make the most of that? Even if you're selling the most generic widget possible, there's still a niche for you; it's just a matter of finding it. Even something as humble and potentially boring as, say, a screwdriver can be used to build an amazing child's playhouse, a deck chair for your grandpa or a Habitat for Humanity house for a homeless family – all of which are stories that can grab the attention of audiences you may have never known you had.
Do you follow any social media beauty gurus - or experts in any other niche interest, for that matter - with an eye toward adapting their strategies for your own? What's the most unlikely source of social media inspiration that you've found? Let us know in the comments.
Back when we all spent a lot more time at the post office, the iconic "Wanted" poster was a particularly effective form of reaching a captive audience hailing from all walks of life - after all, everyone needed to send a letter now and then, and if you were in the business of trying to catch criminals who'd reinvented themselves as who-knows-what, you'd want to reach as broad of a demographic as possible. In 2007, when the FBI started posting wanted notices on digital billboards nationwide, it was a similarly wide-ranging effort: Cast your advertising dragnet over a major highway, and you'll reach people of all ages, interests and backgrounds.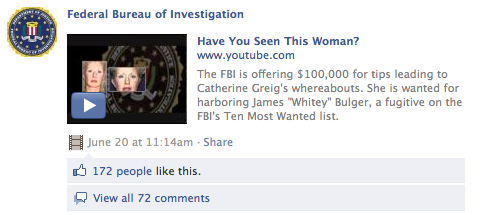 So when it was announced that the 16-year-old search for notorious Massachusetts mobster Whitey Bulger ended less than a week after being reinvigorated by a new tv-and-social-media search campaign, it seemed like a pretty obvious match of need and medium. After all, in an age when it takes most of us months to work through a book of stamps, social media isn't only our new post office - it's our new community center, bingo hall and workplace water cooler.
Except for one thing that didn't make it through the first round of "caught the bad guy" news: It wasn't Twitter or Facebook that alerted a tipster to Bulger's girlfriend (the focus of the FBI's reworked wanted campaign) but a TV spot. A Boston Globe article that ran June 21 didn't even mention social media, concentrating instead on the campaign's push via daytime TV. Said FBI Supervisory Special Agent Richard Teahan in the article: "We're looking for people sitting in a hospital waiting for an appointment with a doctor where there are three or four [television] monitors on the wall, and they are watching these shows . . . or people who are in a beauty salon or barber shop.''
So does that mean the social media prong of the Bulger manhunt was a failure? Not so fast. For one thing, there's "first time for everything" syndrome to consider. While the FBI's two Facebook posts announcing the hunt only have at time of writing 298 "likes" and 72 comments out of the page's 117,931 fans, it's certainly a start. Plus, now we all know that the FBI is announcing fugitives via social media - how many us were aware of this before Bulger's capture?
However, as with any new social media effort, searching for missing persons via social networks may be a difficult battle until the the practice gains critical mass. The National Center for Missing & Exploited Children's Twitter account, @OurMissingKids, has only 209 followers - but @Amber_Alert has 26,763. After the social media search for Indiana University student Lauren Spierer, who went missing early this month, made national headlines, follower counts on the social accounts devoted to finding her skyrocketed; the Twitter account @NewsOnLaurenS has 25,751 followers. In other words, it may simply be a matter of time - but unfortunately, when it comes to finding the missing, time is of the essence.
What do you think about using social to find missing persons, whether the wanted or the disappeared? Is the medium ready to truly make a difference? Let us know your opinions in the comments.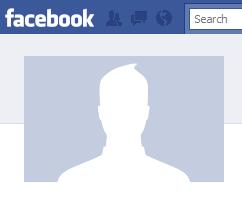 Used to be, the only time you'd have to worry about coming back from some wild party to find embarrassing photos of yourself plastered all over the place was if you were a bona fide celebrity, the sort of person regularly stalked by folks hauling expensive cameras with enormous lenses.
Then came MySpace and Facebook, and we all got a little bit worried about our personal paparazzi.
Then came Facebook photo tagging, and we got a little more worried.
This week, Facebook announced a full-scale rollout of the automatic photo tagging suggestions that have been quietly available to a number of international users for months, and we ... freaked out, really. I'm hedging a bet that not one person reading these words hasn't seen a post on their Facebook news feed along the lines of "OMG FACEBOOK IS STEALING YOUR FACE NOW!!1!" But before we all adjust our tinfoil hats to obscure our faces, let's pause for a second. Exactly what's going on here?
Up until this week, Facebook photos worked like so: Fred goes to a party, takes a bunch of photos (embarrassing or not), uploads them to Facebook and - if he has the time, and the desire to do so - tags people from his personal friends list in those photos. Those people receive notifications from Facebook that they're tagged in a photo, and have the chance to take a look at the picture and remove their tag if they don't want to be database ID'd in the image. (We're saying "database ID'd" because untagging a photo of yourself doesn't mean there isn't still a potentially embarrassing photo of you floating around the Internet. The other social photo scandal of the week can demonstrate that.) If Fred tags Mary and Mary thinks the photo makes her look fat, that's the end of it. Fred can't force-tag Mary, and a mutual friend of them both who runs across the photo and tries to tag Mary gets notified that she's already requested not to be identified in the image. And if Fred wants to tag Jane, who's also in the party photo but isn't his Facebook friend, he's out of luck; Facebook won't let you tag strangers. (There's a caveat, though, one that anyone who's gone to a convention or other large special event can confirm: Group photos and the tagging they inspire also foster explosive microbursts of new friend activity. In other words, if you're tagged in a group event photo along with a bunch of other people you met in passing but didn't have time to connect with at the event, you'll probably try to friend them. And they'll friend people. And so on.)
So what's different now? Nothing, except that when Fred first goes to upload those party pics, he gets suggestions about which of his friends might be in the images - suggestions that are based on some heavy-duty math and database analysis. Here's how Facebook explains the process in its photo help docs:
When you're tagged in a photo, we associate the tags with your account, compare what these tagged photos have in common and store a summary of this comparison. If you've never been tagged in a photo on Facebook or have untagged yourself in all photos of you on Facebook, then this summary information hasn't been created or stored for you ... When you or your friends upload photos, they may be compared automatically to the summary information we've stored about what your tagged photos have in common. The results of this comparison may also be used to group photos or suggest that photos look like you. You and your friends always have the option to ignore these suggestions. We only associate the photo with you if your friend saves these suggestions. If friends do tag you, you'll be notified automatically and can untag yourself if you don't like the photo or don't want to be tagged.
The thing is, though, Facebook isn't automatically tagging people in your photos; it's suggesting faces, and asking for your confirmation. In the case of Fred's party photos, he's still got to approve every suggestion Facebook makes before the photos get associated with his friends. There's still a human intermediary, although admittedly it might be an easy, lazy thing just to hit "confirm, confirm, confirm" and let Facebook do its (not always accurate) thing.
So should we be on edge about this and, if so, why? Being tagged in more photos - which, certainly, this new feature will encourage - is generally a positive thing, unless you're worried about unwanted friend requests from people you've interacted with in real life. (If that's the case, you'll want to take a serious look at your privacy settings regardless of photo tagging, including controlling how searchable your profile your is by the general public.)
There is, however, one thing to perhaps keep in mind, something that doesn't really have anything to do with photo recognition at all: database correlation. If there's anything scary going on here, it's the hardcore database-mining that's going on whenever Facebook identifies potential names for photos. There really hasn't been any example anywhere, at any time, of demographic and behavioral information being stored in this much detail at an individual level. Facebook's been collecting data for years about how our photo-taking and photo-tagging behavior coincides with that of the people around us, and now we're some pretty targeted results from all that data. Of course, it's not just photo behavior that Facebook's got access to - who's to say what the next correlation-based nugget mined from our user patterns will be?
The only thing to do may be to watch and wait. (But if you've got any ideas, wish-list items or otherwise, let us know in the comments.)
Sure, social media makes it entirely possible to carry on relationships with people without ever even meeting them in person - but it's at its most fun (and its most effective) when it really brings the "social" to life through real-world interaction. That's one reason why we've had so much fun joining in with the social media for this year's Old Shawnee Days, which started last night and runs through June 5. Coming to the event? Bring your smartphone, check in on Facebook or Foursquare and trade photos of your favorite rides, food or entertainment with other folks at the fair. Or, if you're on Twitter, give @OldShawneeDays a shout and hashtag your tweets from the day with #OSDays - they'll appear on the special coverage page on the Shawnee Dispatch, too.
Festival and fair season has always been one of the things that makes the Midwest and Kansas a great place to live, and most of us can probably remember our parents or grandparents taking us to a summertime fair for rides, snacks and shows. And while at first glance all this newfangled social media tech might not seem to be the most likely match for your average down-home summertime festival, it's actually a perfect fit for this kind of family fun. Got friends or relatives who can't join you for the event? Keep them from feeling left out (or make them jealous!) by posting an album of photos from your day. Want to know the best kids' attractions before you head out for the day with your little ones? Use the hashtag and ask everyone who's already there - and who knows, a conversation on Twitter could turn into a real-life play date once you get to the grounds.
We'll be at Old Shawnee Days with @OldShawneeDays this weekend posting Facebook and Twitter updates, photos, news and anything fun that happens at the fair - so send us a note, especially if it's something you'd like us to share! A smartphone in one hand and an ice cream cone in the other - call us a little geeky, maybe, but it sounds like a pretty great weekend. See you there - in real life and on the social Web!
If you're ever promoted an event - via social media or any other means - you've probably struggled with the classic worry: "What if I throw a party and nobody comes?" In the case of pro makeup company NYX Cosmetics, though, the opposite was true: They threw a big anniversary party sale and everyone came - to the point of bringing down their site. And while their site outage was certainly big news for frustrated makeup lovers, how they dealt with the damage via social media is something we can all learn from whether or not we've ever thrown a tube of lipstick into a shopping cart, real or virtual.
Here's what happened. On May 9, the company posted an image to their Facebook page announcing a "12 Hour Sale" in celebration of their 12th anniversary: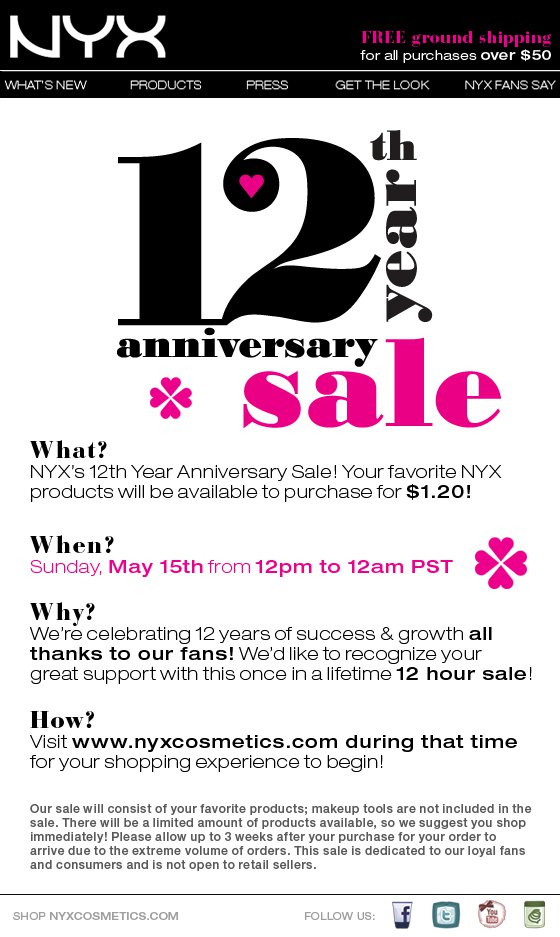 Big news for cosmetics aficionados, as evidenced by the 127 "likes" the photo earned. Note the fine print, though: "There will be a limited amount of products available, so we suggest you shop immediately!" Facebook fans picked it up right away, and the resulting dialogue - which to NYX's credit, was dialogue rather than unattended customer comments - began pretty much immediately. Is the sale 12 hours or until merchandise runs out? What about differences in time zones? What about shipping?
NYX responded to the comments (the majority of them, at least), most folks' questions were answered, buzz built up and everything looked pretty much in place for a highly successful (though perhaps not terribly organized) social campaign.

And then ... the sale started. With such a high volume of traffic, the NYX site went down, apparently, pretty much immediately. With angry consumer contents flooding in, backtracking on the company's Facebook news feed and Twitter posts over the course of the days post-sale starts looking less like an exercise in customer service and more like a four-alarm fire:

Disgruntled customers were promised a make-good, but the terms of that offer kept changing as well: Another 12-hour sale? A coupon code for free shipping or merchandise discounts? By Monday afternoon, customers were being asked to submit their email addresses to receive a half-off discount code with free shipping, but hundreds were still complaining about not receiving the code right away or, if they had, being unable to actually redeem it. And then there was the matter that, for most products, a half-off discount didn't come close to value promised by the original $1.20 sale.
At time of writing this - only four days after the incident - Twitter chatter on NYX is already starting to veer back toward generic comments and product reviews. But the effects, particularly in the blogsophere, will be lasting. One pro makeup artist posts in an open letter to NYX: "First of all, when you got an unestimated amount of traffic due to the large & faithful following of your products, your representatives should have stated that you were not prepared for this amount of a reaction. You do not post things implying that it is your customers fault for overloading the server on your social sites. This only makes your customers feel like you are insulting them for wanting to take part in your sale."
NYX itself hasn't reacted much since giving a brief interview to beauty blog Temptalia on Monday and posting an official statement Tuesday on its Facebook page. The issue remains, then: How long will it take for social discussion on the failed sale to die down, and how much lasting damage was done to the NYX brand? Only time will tell, but in the meantime: What would you have done differently had you been in a brand manager's shoes? Let us know in the comments.
Prev Next