Hey, Twitter users, here's a question for you: When's the last time you used a hashtag in a tweet? And, beyond that: Was it a "real" hashtag (in other words, something well recognized in Lawrence or even further afield, like #ksstorms or #kubball), or just a vaguely related string of characters for the sake of being funny or sarcastic (#icantbelieveiatethewholething)? Hashtags have been around almost as long as Twitter itself - Chris Messina first suggested the syntax in August 2007 - but initially weren't picked up by Twitter's establishment, who preferred to let machine language intelligence sort out trending topics. Today, Twitter acknowledges a combination of both; Twitter's Advanced Search page has a field for searching by hashtag, but their own trending topics list relies on some pretty complicated math. (Still, it overlaps. Have a look at top Twitter topics and you'll usually find that about half of them are hashtagged.)
Hashtags serve a variety of purposes, from bringing people in nearby locations together around a pertinent topic (the weather, the game, the agenda at a conference) to introducing people in far-flung corners of the world to each other via shared interest (Justin Bieber, anyone?) or just something silly and random. Ever taken part in one of those hashtag games, like #hospitalsongs or #vegcelebs?
If you're at a big local event like, say, last weekend's Earth Day parade and party in South Park, a hashtag can add a whole new dimension to the in-person experience. See someone with a party favor and don't know what booth they got it from? Ask Twitter and you'll probably get some crowdsourced help. It's kind of a circular affair, though; if you don't know the hashtag, you're stuck waiting for a friend to bring it up in a relevant tweet - or you just make one up yourself and pass the word along to your own followers, meaning it's easy to get multiple popular hashtags on the same event, even on a level as local as Lawrence. (Plus, let's face it: "Lawrence" takes up a lot of characters. So how do you abbreviate it - "Law" or "Lwc" or "LFK" or "Larry" ... or what?)
We've made an effort to help promote "official" hashtags for Lawrence events and topics on @LJWorld, @KUsports and our other house Twitter accounts (and we also list commonly-used recurring hashtags on our social media directory page), but we understand that folks aren't always glued to our tweets to the point of hearing the memo. Plus, everyone's forgetful - admittedly, over the six hours or so I hung out at the Earth Day festivities over the weekend, I only remembered to hashtag about half my own tweets with #LawEarthDay.
So what do you think? How often do you use Twitter hashtags to aggregate information about local happenings? What do you think the best way is to get the word out about which hashtags to use? Let us know in the comments.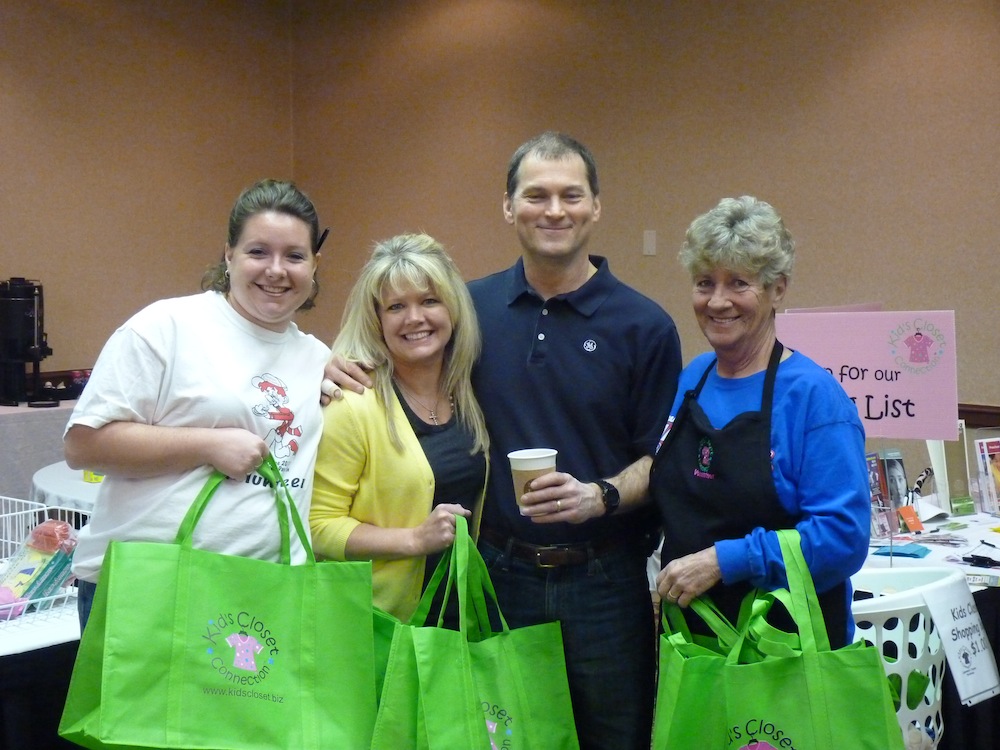 Angela, Tammy, Kelly and Ladonna with some big smiles to match their Monday Cheer - a little pick-me-up during their day manning the Kids Closet consignment sale.
We promised you an update on Lawrence Give Back's March 7 Monday Cheer event, when we hit the streets of Lawrence to deliver free coffee and cocoa from Signs of Life to anyone who asked Lawrence GiveBack (@lawgiveback) on Twitter. So here goes:
Over the nomination period the week before Monday Cheer, we received 57 nominations at 31 separate addresses. (Some of you wanted to spread the cheer to your entire office. We were happy to help!) Due to the volume of response and the fact that there are only (theoretically) eight hours in the work day, we had to stop accepting nominations late that Thursday evening - even then, and with a pretty efficient delivery route, it was a bit tough to squeeze all those deliveries into a single day. (We've got some ideas on how to speed up the delivery process next time. Watch lawrencegiveback.com for more info on future editions of Monday Cheer.)

We made friends with about 100 new Twitter followers and about 50 new Facebook fans during the promotion (hi, everyone!), primarily due to two things: asking for coffee nominations to be submitted via Twitter, and posting our photos, location and other live updates during the course of the delivery day via Twitter and Facebook. (Don't worry, we weren't texting while driving; one of our team spent the journey in the back seat of our coffeemobile armed with a cellphone, laptop and wi-fi card.) For us, hearing a coffee recipient tweet or post on Facebook a few minutes after delivery that they'd received their caffeine fix provided enough positive energy to keep us going forward without having to resort to tapping the coffee reserves in the back of our Jeep.

Seriously, the reaction we received was fantastic, whether from the coffee givers, coffee drinkers or just GiveBack fans who were watching the story unfold on Facebook, Twitter and our live-updated Google map. Some of our favorites:
Closest nomination to our office: Across New Hampshire Street at Heartland Community Health Center. Farthest away: One man heard about us all the way in Arizona, and asked that we deliver a cup of coffee to his sister, who works at Lawrence High.

Total cups of coffee and cocoa delivered: About 70. And we didn't even pinch any for ourselves. Plus, each recipient also was given a shiny new Lawrence GiveBack card and instructions for how to activate the card to pay the Monday Cheer forward to the Lawrence charity of their choice.
In short, we had a great time - but more importantly, we were able to get the word out about Lawrence GiveBack in a way that brought together social media and the "real world." A number of our recipients were newcomers to GiveBack, Twitter or both, and we hope our visits helped introduce them to a few of the things that make Lawrence a great place to live.
How do you put the "social" into social media? Have any suggestions for how to improve the next edition of Monday Cheer? Please let us know in the comments.
All we can really say about the response we've seen to the Lawrence Give Back Monday Cheer coffee giveaway is: Wow. Y'all really like your coffee - and your friends. As of 9:15 Thursday night, we've received enough orders that in order to deliver them on time Monday, we've had to stop accepting new ones. (Those of you who were still hoping to send a coffee or cocoa to a friend, please keep an eye on Give Back's Web site and Facebook page - who knows when Monday Cheer may pop up again?)
Now the next step is to put together a route for Monday's journey around Lawrence - we want to be as fuel-efficient and environmentally friendly as possible (not to mention quick enough to keep your coffee warm!), so planning a good roadmap is essential. We're really looking forward to putting some real-life social into social media on Monday, complete with coffee, cocoa and free Lawrence Give Back cards for everyone. (It's a little bit like playing Santa Claus!)
If you have a few free minutes on Monday, watch for live photos, anecdotes and updates on Lawrence Give Back's Twitter and Facebook accounts. We'll also be live-updating a Google map of our trek on the Monday Cheer home page.
See you all on Monday! Would you like cream or sugar?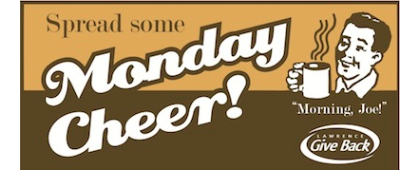 If you're reading this close to its original posting time (on a Friday) you're probably looking forward to the weekend, not looking for a way to make it through the work day. But come Monday - or any other morning of the work week, maybe - if you're like many, there'll be one topic in the front of your mind. Coffee.
That's why we thought we'd help banish the Monday blues a little bit with a social media event we'll be holding in conjunction with Lawrence Give Back on Mon., March 7. We're calling it the Give Back "Monday Cheer" - our way of spreading the Lawrence Give Back love for local business while helping, well, caffeinate anyone in Lawrence who's fighting a case of the Mondays.
Here's how it works:
Follow Lawrence Give Back on Twitter, if you don't already.

Send @LawGiveBack the name and location of someone who could use some Monday cheer. Here's an example: "Hey @LawGiveBack! My friend Susie works as a cashier at Checkers and loves coffee!" (Need to give a full street address to help the delivery team, or want to be a little more secret? Send the info to @LawGiveBack in a direct message.) On Mon., March 7, our crew will deliver to their door a cup of coffee or hot cocoa from Lawrence Give Back merchant Signs of Life.

Tweet in your orders by noon on Friday, March 4. We'll fill orders until we run out of cocoa and joe, so don't wait!

Watch our progress March 7 as we post updates and photos to lawrencegiveback.com/monday (where we'll also be live-updating a map of our progress in the Give Back Monday Cheer van) and our Facebook page.
Sound like fun? We think so, and we're looking forward to seeing the coffee orders come in. We'll also check back soon with a recap of the day - once we calm down from the caffeine buzz, that is. Questions or thoughts? Let us know in the comments below.