Posts tagged with
Branding
If you're ever promoted an event - via social media or any other means - you've probably struggled with the classic worry: "What if I throw a party and nobody comes?" In the case of pro makeup company NYX Cosmetics, though, the opposite was true: They threw a big anniversary party sale and everyone came - to the point of bringing down their site. And while their site outage was certainly big news for frustrated makeup lovers, how they dealt with the damage via social media is something we can all learn from whether or not we've ever thrown a tube of lipstick into a shopping cart, real or virtual.
Here's what happened. On May 9, the company posted an image to their Facebook page announcing a "12 Hour Sale" in celebration of their 12th anniversary: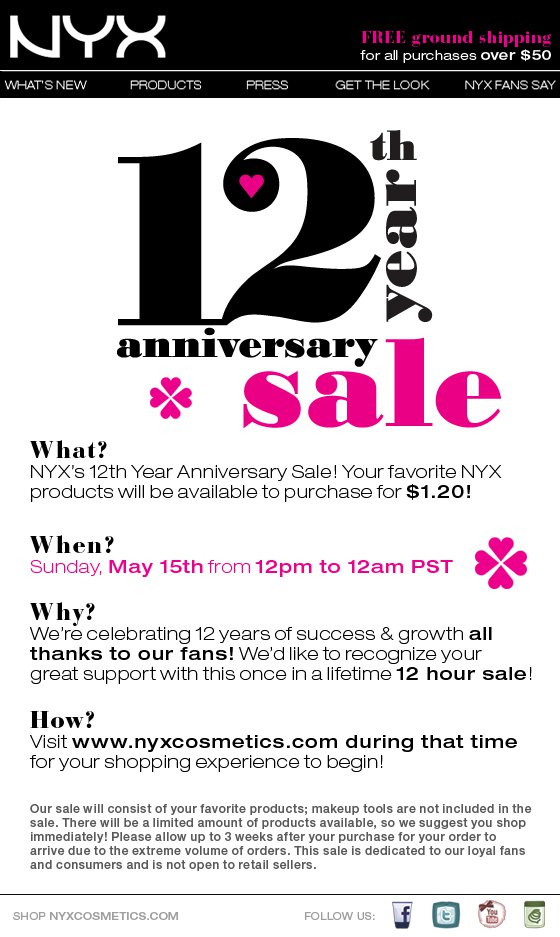 Big news for cosmetics aficionados, as evidenced by the 127 "likes" the photo earned. Note the fine print, though: "There will be a limited amount of products available, so we suggest you shop immediately!" Facebook fans picked it up right away, and the resulting dialogue - which to NYX's credit, was dialogue rather than unattended customer comments - began pretty much immediately. Is the sale 12 hours or until merchandise runs out? What about differences in time zones? What about shipping?
NYX responded to the comments (the majority of them, at least), most folks' questions were answered, buzz built up and everything looked pretty much in place for a highly successful (though perhaps not terribly organized) social campaign.

And then ... the sale started. With such a high volume of traffic, the NYX site went down, apparently, pretty much immediately. With angry consumer contents flooding in, backtracking on the company's Facebook news feed and Twitter posts over the course of the days post-sale starts looking less like an exercise in customer service and more like a four-alarm fire:

Disgruntled customers were promised a make-good, but the terms of that offer kept changing as well: Another 12-hour sale? A coupon code for free shipping or merchandise discounts? By Monday afternoon, customers were being asked to submit their email addresses to receive a half-off discount code with free shipping, but hundreds were still complaining about not receiving the code right away or, if they had, being unable to actually redeem it. And then there was the matter that, for most products, a half-off discount didn't come close to value promised by the original $1.20 sale.
At time of writing this - only four days after the incident - Twitter chatter on NYX is already starting to veer back toward generic comments and product reviews. But the effects, particularly in the blogsophere, will be lasting. One pro makeup artist posts in an open letter to NYX: "First of all, when you got an unestimated amount of traffic due to the large & faithful following of your products, your representatives should have stated that you were not prepared for this amount of a reaction. You do not post things implying that it is your customers fault for overloading the server on your social sites. This only makes your customers feel like you are insulting them for wanting to take part in your sale."
NYX itself hasn't reacted much since giving a brief interview to beauty blog Temptalia on Monday and posting an official statement Tuesday on its Facebook page. The issue remains, then: How long will it take for social discussion on the failed sale to die down, and how much lasting damage was done to the NYX brand? Only time will tell, but in the meantime: What would you have done differently had you been in a brand manager's shoes? Let us know in the comments.
Breathe easy, folks - Gapgate is officially over.
By now, we've all probably seen the new Gap logo - introduced on the clothing retailer's Web site last week without much (read: any) fanfare - but it's still not clear whether the botched rebrand was a fake, a fail, a bad idea or a brilliant crowdsourcing campaign. After a week of Internet buzz (and, presumably, scads of clicks to Gap's Web site, Facebook page and other assets), company president Marka Hansen blogged last night on Huffington Post that the old blue box logo will officially stay.
"While last week I mentioned that we'd be tapping into the outpouring of passion from customers for design ideas and feedback, we realized this wasn't going to work," she writes. "It wasn't the right project for crowd sourcing. In fact, all roads were leading us to the classic blue box."
Regardless of whether Gap pulled a Blair Witch Project on us, the flood of publicity that ensued from the announcement and ensuing retraction has definitely brought the brand into the center of the spotlight. If you're of the "any PR is good PR" school of thought, this is the sort of attention money can't buy - although the same could be said if you're of the persuasion that an ill-executed branding move is equivalent to corporate suicide.
The question remains, though: How much of the whole Gap rebranding episode was legit? Corporate crowdsourcing is everywhere these days, from Pepsi's Refresh Everything campaign (a well-received reaction by the company to the indulgence of ever-pricier Super Bowl ads) to clothing retailer Uniqlo's online ads encouraging buyers to tweet about specials in order to lower the price for everyone. In the case of Gap, though, if the crowdsourcing effort was genuine, no one took into account the backlash from the creative community, many of whom saw the invitation to redo the Gap logo as a call to work for free on something that was poorly executed in the first place. (Global design guru Erik Spiekermann merely commented "It's sad that I have to keep quoting that old advertising dictum: 'It's not enough to have no ideas, you also have to be unable to express them.'")
If it all sounds like New Coke to you, you're not alone - comparisons to the benchmark for botched rebranding abound. However, the rules have changed in the 25 years since New Coke was on again, then off again - back then, we couldn't tweet, blog or bombard Facebook with angry comments on the soda switch. With Gapgate, the moral of the story (so far) seems to be that while the immediacy of social media reaction can derail your corporate plans, it also provides an opportunity to quickly and accurately gauge what your next steps should be. After all, it took three months for New Coke to become Old New Coke - Gapgate, a little more than a week in, is now a non-event.
What have you done, as an individual or company, to scope out potential social media reaction to a big move? Has what you've heard changed your mind? Let us know in the comments.