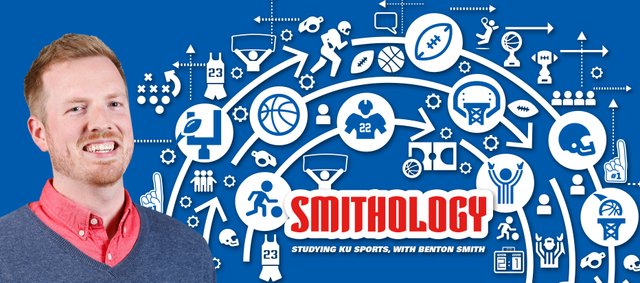 Posts tagged with
Ku Basketball
The more you think about it, the more you realize the college basketball world should have seen a Michigan State "upset" of Kansas coming at the Champions Classic.
Sure, the No. 4 Jayhawks headed to Chicago with a higher ranking than No. 13 Michigan State. And, yes, KU had more recognizable returning players on the floor than MSU.
But Tom Izzo's players — senior guard Denzel Valentine in particular — had winning experience on their side.
Look at the core of Kansas veterans — senior forwards Perry Ellis and Jamari Traylor, and junior guards Frank Mason III and Wayne Selden Jr. This is their third season together, playing key roles in KU's rotation. While all of them have produced their share of memorable moments and helped Kansas continue its string of regular-season Big 12 titles, they haven't done much damage in big non-conference games away from Allen Fieldhouse.
Facing Michigan State at the United Center is on par with a Sweet 16, Elite Eight or even Final Four matchup in March. This group has yet to learn how to win on that stage.
Freshmen in 2013, Ellis and Traylor played a combined 20 minutes in KU's Sweet 16 loss to Michigan at Cowboy Stadium.
Mason and Selden, of course, have never gone any deeper in the NCAA Tournament than the Round of 32. And the past two years, Ellis and Traylor played much larger roles for KU teams that flamed out in the first weekend of March Madness.
As for Valentine — you know, the guy who put the Spartans on his back and delivered a monster triple-double of 29 points, 12 rebounds and 12 assists? He helped guide Sparty to the Final Four this past spring. Valentine and company knocked off Virginia, Oklahoma and Louisville on the way to the national semifinals.
KU's core of veterans has wins over Eastern Kentucky and New Mexico State in the past two postseasons, and losses to Stanford and Wichita State.
Valentine, like Ellis and Traylor, played in a Sweet 16 as a freshman. But he and MSU followed that up with a trip to the Elite Eight his sophomore year and a 2015 Final Four appearance.
Twice Tuesday night, down 13 in the first half and trailing by 11 in the second half, it seemed the Spartans didn't have the depth or size to knock off Kansas. What they did have, though, was a talented star who knows what it takes to win those type of games.
Shot selection and defensive mistakes led to KU blowing its double-digit lead, but being unfamiliar with how to prevail in those types of games — away from Allen Fieldhouse — had to contribute to those mental errors.
The Jayhawks have four months to keep evolving and improving (and, who knows, maybe KU wins that game if Cheick Diallo is available) but this core of veterans has to find stability and consistency on both ends of the floor for Kansas to achieve all of its goals, come March of 2016.
The college basketball season is less than a week old, but thanks to the Champions Classic, in Chicago, fans don't have to wait any longer to see some of the nation's top programs going head to head.
Bill Self's No. 4-ranked Kansas Jayhawks take on Tom Izzo's No. 13-ranked Michigan State Spartans Tuesday (approximately 9 p.m., on ESPN) at United Center, right after No. 2 Kentucky takes on No. 5 Duke.
Self and Izzo, of course, are plenty familiar with each other. Izzo has a 6-5 edge facing Self (1-0 when Self was at Tulsa, 2-3 when Self coached Illinois and 3-2 since Self took over at KU).
Michigan State has won three of the last four matchups with the Jayhawks, who beat the Spartans in Orlando last Thanksgiving weekend, at the Orlando Classic.
Kansas ran into little resistance in its season-opening, 109-72 thumping of Northern Colorado on Friday, but points won't be nearly as easy to come by in game No. 2. Michigan State, which opened with an 82-55 home victory over Florida Atlantic limited FAU to 33.9% shooting and blocked 12 shots.
As usual, Izzo's team dominated the glass in its debut. FAU only secured 5 offensive rebounds on its 39 missed field goals, and MSU snatched 35 defensive rebounds (53 total).
"We did enough work, but we know we're nowhere near where we're going to be," Izzo said afterward, "and yet I think there were enough bright spots. At times, we showed we could be pretty good."
Considering Izzo has taken MSU to seven Final Fours, opponents can always expect a fight out of the Spartans. And that's exactly what a KU team with Final Four aspirations of its own will get Tuesday night.
Here are the Spartans the Jayhawks should be worried about headed into the early-season showdown.
SPARTANS STARTERS
No. 45: G Denzel Valentine | 6-5, 220, sr.
Easily the most complete player this season for the Fightin' Izzos, senior guard Denzel Valentine led MSU with nine assists in the season opener against Florida Atlantic. Oh, yeah. he scored 13 points and pulled down 8 rebounds, too.

Valentine is the leading returning scorer (14.5 points), rebounder (6.3) and passer (4.3 assists) from MSU's 2015 Final Four team.

One of four unanimous selections to the Preseason All-Big Ten Team, Valentine messed around and got a triple-double (14 points, 10 rebounds, 10 assists) in MSU's first exhibition, against Northern Michigan.

Valentine is a threat behind the 3-point line, too. He made 102 from deep last season, connecting on 41.6%.

Valentine might not seem like one of Izzo's all-time great players (yet), but with 114 career games played at MSU, Valentine is on pace to become the program's all-time leader in games played — 32 more will do it….

… He also needs 46 assists and 184 rebounds to become the only Spartan in program history to finish in the top 10 in both categories. Plus, Valentine's 163 career 3-pointers currently ranks him 7th in school history.

While the Jayhawks spent part of their summer winning the World University Games, Valentine played for USA at the Pan American Games, where the U.S. won bronze.
No. 11: G Lourawls "Tum Tum" Nairn Jr. | 5-10, 175, soph.
Sophomore point guard Lourawls "Tum Tum" Nairn only averaged 2.2 points, 2.4 assists and 1.6 rebounds in 19.4 minutes as a freshman, but is bound to play a much larger role for the Spartans in his second season.

MSU went 13-4 when Nairn started last year. His addition to the starting unit helped in the NCAA Tournament, as the Spartans advanced to the national semifinals.

Not your typical college basketball guard, Nairn is more of a driver than shooter. He only took 10 3-pointers in 758 minutes as a freshman, making 3.

Nairn scored 8 points for his career high at Rutgers, as a freshman. He scored 7 points and passed out 4 assists (with 2 turnovers) vs. FAU on Friday.
No. 5: G Bryn Forbes | 6-3, 190, sr.
Likely Michigan State's most dangerous 3-point shooter, senior guard Bryn Forbes drained 3 of his 4 attempts in the season opener, giving him at least 1 made 3-pointer in 93 of his 104 career appearances in a MSU uniform.

If you include the Spartans' two exhibition games, Forbes has made 14-of-21 3-pointers in three appearances (two don't count) this season.

Forbes started 24 games last season, and averaged 8.5 points in 26.2 minutes.

By hitting 42.7% from 3-point range last season, Forbes ranked fourth in the Big Ten.

In his career, the senior has knocked down 212 of his 512 3-point tries (41.4%).
No. 2: F Javon Bess | 6-5, 220, soph.
An injury to his right foot shortened Javon Bess' freshman season, when he only got to play in 12 games.

Bess averaged 2.7 points in 12.3 minutes while trying to acclimate himself to the college game.

Izzo thought enough of Bess to start him in three Big Ten games — vs. Maryland, Penn State and Nebraska — before the injury derailed the forward's freshman season. Bess averaged 5.0 points and 3.0 rebounds in 18.3 minutes in those starts.

With 9 points against FAU, Bess matched his career high.
No. 10: F Matt Costello | 6-9, 245, sr.
More of a shot-blocker and rebounder throughout his Michigan State career, senior big man Matt Costello led Sparty with 15 points in the season opener against Florida Atlantic. That was just 2 shy of his career high of 17.

With 2 more blocks, Costello (105 career denials) will move into No. 5 in the Michigan State record books. If Costello can block 38 more before the season ends (he blocked 48 last season), he'll sit alone at the top, and surpass Branden Dawson's mark of 142.

Costello only started six games last season, and averaged 7.0 points and 5.2 rebounds in 20.4 minutes.

An effective scorer inside, Costello made 59.8% of his shots as a sophomore and 57.9% of his field goals last year.
SPARTANS BENCH
No. 23: F Deyonta Davis | 6-10, 240, fr.
A big man with the skills and toughness that just scream Michigan State basketball, freshman forward Deyonta Davis became the third Spartan in team history to post a double-double (13 points, 11 rebounds) in his college debut, vs. FAU.

When KU gets the ball inside, it likely will have to worry more about Davis than Costello. The freshman swatted away five blocks in his first game with MSU.

Davis' monster wingspan of 7 feet, 2 and 1/4 inches, and max vertical jump reach of 12 feet and 1/2 inches make him an absolute terror around the rim.
No. 14: G Eron Harris | 6-3, 185, jr.
If the name Eron Harris sounds familiar to Kansas basketball fans, it's not because the junior guard played well in recent MSU-KU meetings. This is Harris' first season with the Spartans after transferring from West Virginia.

Another 3-point threat for Michigan State, in his last season at West Virginia, Harris scored 17 points and made 3 of 9 from downtown in a loss at Allen Fieldhouse (in 2014). Later that season, he torched KU for 28 points and nailed 5 of 7 from deep in win at WVU.

In that 2013-14 season, his most recent after sitting out last year as a transfer, Harris started 32 games for West Virginia, averaging 17.2 points per game (fourth in the Big 12).

Harris ranked third in the Big 12 in both 3-point shooting (42.2%) and free-throw percentage (85.6%) before transferring.
Believe it or not, college basketball has almost arrived. Kansas coach Bill Self met with the media for his first weekly press conference of the 2015-16 season Monday afternoon at Allen Fieldhouse.
As the Jayhawks begin their year with an exhibition Wednesday night against Pittsburg State, Self discussed the health of his players, how preseason practices have gone, and what kind of expectations KU has for the months to come, with depth and talent all over the court.
Here are some of the highlights from the Q&A:
• After about a month of practices, Self is encouraged by the team's experience, as well as flashes of KU playing the way they want to play. Discouraging, though, has been the players' overall consistency and how they've handled the ball.
• From the end of last season to right now, both Perry Ellis and Frank Mason III have really improved. But Self hasn't seen a big jump from an individual standpoint from a lot of KU's players. Some of that could be health-related — Wayne Selden Jr.'s ankle and Brannen Greene's hip. Fans will probably view Hunter Mickelson as very improved.
• Selden would tell you his ankle is fine, but you can tell it isn't 100 percent yet. He hasn't shown the same explosion as he did this summer.
• They don't get together and meet about specific goals, but Mason is the kind of competitor that his goal would be to win every single game. Self's goal, as always, is to get the team to reach its ceiling, potential wise.
• If Self were to split hairs with Ellis, he'd say Ellis could be more vocal. But the senior forward really gives KU almost all you could want out of a veteran player.
• Self hasn't been thrilled with practices and he thinks some of it is boredom. The players are eager to play games (or exhibitions).
• Self is curious to see how the Jayhawks respond in their preseason opener, and if they can play aggressively and smart defensively, with a new emphasis on defense and more fouls getting called for contact.
• The coaches knew freshman big man Carlton Bragg would be terrific. He will be really good some nights and look bad other nights. Bragg is talented. He won't play at KU four years.
• KU has six big guys, and they're massaging them all and giving them all the same reps, mostly. That includes freshman Cheick Diallo, who still hasn't been cleared to play college basketball. Self was hoping to hear the news by Wednesday night, but now he's hopeful it'll be before the regular-season opener the following week. Diallo won't play in the exhibitions if KU hasn't heard any news. "I think there's a lot of processing going on right now."
• "We've got as good a guard in the country," (in Mason) to take advantage of the new rules emphasis. Mason's quickness will make him harder to guard as more fouls are called.
• If there is no touching allowed on the perimeter, you can really drive the ball better, and that should be the case for KU with Mason, Selden and Devonté Graham.
• Senior big man Jamari Traylor has actually played better the last two weeks than he has at any point in his career. His energy will get him minutes, even with the depth KU has in the front court.
• KU needs Greene and Svi Mykhailiuk to come off the bench and knock down shots. But they need to be more than just shooters. Greene, in particular, needs to do more than just make three-pointers, because teams will guard him to get him out of his comfort zone.
• Svi has shot the ball well, showed an understanding on defense and had a good camp. But carelessness has been an issue. That might keep him from being completely confident in the sophomore's play.
— Listen to the complete press conference: Bill Self on KU's health, state of mind entering season
Kansas City, Missouri — When new Iowa State coach Steve Prohm arrived in Ames, Iowa, he inherited a top-10 quality roster with loads of potential.
In order to maximize the Cyclones' success in 2015-16, Prohm knew he'd have to completely understand how best to utilize multi-talented senior forward Georges Niang. So the former Murray State coach watched a lot of video from the past few seasons, and figured he might as well call up a Niang expert: his ISU predecessor, Fred Hoiberg.
Given Niang's success under Hoiberg — 15.3 points, 5.4 rebounds, 3.4 assists, 40-percent three-point shooting last season — Prohm said Tuesday at Big 12 Basketball Media Day, at Sprint Center, he doesn't want to wreck a good thing.
"He knows how important he is to this team," Prohm said of Niang. "I do want to challenge him on the defensive end to become a better rebounder, to rebound out of his area and do some things defensively that we need. But offensively, I don't see it changing at all. I just hope he can even excel it even more."
Learning the league
First-year Texas basketball coach Shaka Smart hasn't spent too much time considering detailed game plans for the rest of the Big 12. Smart said with the non-conference schedule getting things started, he has focused more on that and establishing a new culture in the first couple weeks of practice.
The former VCU coach admitted, though, there will me an adjustment period for him once league play begins.
"Obviously, the stakes are higher, the crowds are more loud, they're more into the game," Smart said of road venues he said of conference venues he'll visit for the first time in 2016. "And certainly, as a new coach in the Big 12, I'm going to have to get to know what this league's all about, particularly on the road."
Sooners matching experience with youth
Lon Kruger enters this season with the luxury of returning some of the most talented senior guards in the Big 12 — preseason player of the year Buddy Hield and running mate Isaiah Cousins. But the OU coach won't hesitate to rely on some freshmen in spots, too.
On the wing, Kruger likes promising, versatile rookies Rashard Odomes (6-foot-6) and Christian James (6-4).
"They're very aggressive, physical on the boards," the OU coach said of the duo. "They rebound the ball well from the wing. They can score. For incoming freshmen, they've been well-coached. They have a good feel for the game, great enthusiasm for working every day, and the real benefit, too, from having Buddy and Isaiah, from a work ethic standpoint, in the gym all the time. And those guys come in and see what they do and fall in line and they'll benefit from that a great deal, too."
Don't poke the Bear
As if Baylor forward Rico Gathers wasn't already enough of an imposing presence on the court, Bears head coach Scott Drew said the 6-foot-8, 275-pound senior has refined his offensive skill set since last season.
Gathers averaged 9.6 points and 10.6 rebounds as a junior, but only made 42.7 percent of his field goals and 57.8 percent of his free throws. As a result, Drew said the big man spent a lot of the offseason in the gymnasium.
"So first and foremost, if he can become a 75-, 80-percent free-throw shooter, his production is going to go way up," Baylor's coach said.
"Second thing," Drew added, "because we have a lot of length in practice, him finishing over length every day is something that will help. His jump shot has improved. It's a lot softer, a lot better rotation."
Who are these Wildcats?
With eight players gone form last season's roster and seniors Justin Edwards and Stephen Hurt, along with junior Wesley Iwundu, the only readily recognizable players left, Kansas State coach Bruce Weber hasn't lost all hope.
In fact, Weber, whose Wildcats finished 15-17 a year ago, is having fun coaching the mostly overhauled Wildcats.
"They haven't been perfect by any means, but I'd say nine out of the first ten days we just coached them," Weber said. "We didn't have to beg them to go hard or get after them to go hard, so that makes it a lot easier.
"Now you can worry about the stuff you're supposed to worry about, you know, setting up the angle on the screen, the defense, getting in the right position or how you're going to guard something and you're not wasting as much time."
No defensive adjustments necessary at WVU
College basketball rules changes dominated much of the discussion at media day, and Bob Huggins — whose West Virginia teams have become known for their assertive defense and pressure — isn't quite sure yet what to make of the removal of the five-second closely guarded rule.
"I'd like to sit here and give you a very intelligent answer, but obviously I can't. So I don't know," the WVU said, with a wry grin.
Huggins, whose pants decorated with WVU logos were a hit, said he'll still ask his guards to defend on the ball with pressure, like always.
"Everybody's going to run a quick-hitter into a ball screen anyways, and that's what everybody did against us for the last 30 years, because we tried to not let people run offense," Huggins said. "So we ended up guarding ball screens or sprints, and that's what's going to happen. I don't think that changes much."
Forte can't do everything
There is no question which Cowboy's name will appear on the proverbial marquee every time Oklahoma State plays this season. However, OSU coach Travis Ford said senior guard Phil Forte III, admittedly a "leading man," can't be expected to do it all.
"I think last year we relied way too much on just (LeBryan) Nash and Forte, and that was my fault," Ford said.
Ultimately, the lack of balance made the Cowboys a less effective team.
"We had a lot of big wins and probably overachieved in a lot of areas," the OSU coach added of the 18-14 season, "but it caught up to us at the end of the year. It caught up to us."
Shooters and scorers?
Often sarcastic in entertaining dealings with the media, TCU coach Trent Johnson didn't disappoint Tuesday morning at Sprint Center.
When a reporter began a question by referencing Johnson's team full of shooters and scorers, the coach had to stop him right there.
"My team's full of good shooters and good scorers this year? I don't know about that," Johnson said, straight-faced. "Depends on what practice you're watching."
Eventually, the coach admitted the Horned Frogs have some experience — juniors Karviar Shepherd and Chris Washburn enter their third year of contributing — and some nights "the ball goes in."
He said TCU's ability to get back on defense and limit opponents' good scorers and shooters would probably determine how successful a season 2015-16 turns out to be.
Rebuilding Red Raiders
Texas Tech hasn't finished a season with a winning record since 2009-10. So third-year coach Tubby Smith realizes rebuilding the program won't be easy in the Big 12.
Smith said the Red Raiders' annual struggles mean they have to change the culture.
"Although we have great fans and great student support on our campus, and in Lubbock in general, there are a lot of great fans, we still have to continue to grow the program when it comes to recruiting to keep improving," Smith said, "whether it's facilities or other areas. We know that the competition is stiff no matter where in trying to influence or persuade down the middle to attend the university."
Bill Self kicked off his 13th season at Kansas Thursday afternoon at Allen Fieldhouse with KU basketball media day.
After players posed for photos and answered questions from reporters, Self sat down for a Q&A. Here are some of the highlights:
• Self is impressed every time he goes over to the new dorm, McCarthy Hall, which players should move into next week. Every time he is in there it looks better.
• Perry Ellis should be as good as or better than any player in the Big 12. He played at an All-American level for a stretch last season and he could do that all season long as a senior.
• "We've kind of got a crowded house" in the backcourt. But NBA people think Svi Mykhailiuk is as good as anybody on the team from a prospect standpoint. Self expects Mykhailiuk to challenge for a starting position and be as good as any reserve in the country if he doesn't start. The Ukraine native, now in his second season at KU and living in the U.S., has far more maturity and strength now.
• Now that former KU point guard Aaron Miles is a part of the program as the new assistant director of student-athlete development, it will be really good for Devonté Graham and Frank Mason III. Self knows players respect him and Miles will be nothing but a huge positive.
• Wayne Selden Jr. played really well in Korea by using his athletic ability and strength. He drove and didn't rely on jump shots, and that will make him a more impactful player if he continues in that style his junior season.
• Freshman big man Cheick Diallo (6-foot-9) has a wingspan of 7-foot-5, and has a motor, but he doesn't know how to play yet. Diallo will keep balls alive and do important things, and he should be a good rim protector. Surprisingly, he's a good shooter, too, which is exciting.
• KU struggled to score inside last year, and the coaches need to do a better job. But guards need to improve at feeding the post and playing angles. The Jayhawks should be a better passing team and better at scoring inside because of that.
• Freshmen Carlton Bragg and Lagerald Vick are a lot better off having traveled to Korea and being a part of KU winning gold at the World University Games. Bragg ia a "Marcus Morris type" offensively. He has a chance to be a "special" guy.
• This KU team is deeper than what they've had recently. "It's gonna be hard this year figuring out who to play." KU has 12 pretty good players and the 12th man isn't going to play. The 10th-best player might not be in the rotation. Hopefully they'll be much better defensively and tougher because of that depth and the flexibility it gives Self. There's gonna be more competition at practices.
• Senior big man Hunter Mickelson has learned to compete more. He plays hard in a manner that uplifts his teammates and creates energy more than he used to.
• They haven't even talked about red shirting right now in terms of what first-year guard Vick will mean for the team. He could be as good a defender as they have with his athleticism.
• Diallo's situation isn't complicated. He has been cleared to practice. It doesn't mean that it's permanent. KU is still waiting for a ruling on his eligibility. Self is excited he can practice, because that means he won't fall behind in terms of conditioning and learning.
KU is still gathering information for the Diallo case to present to the NCAA. It's frustrating for Diallo. He has goals and dreams based on playing this season. There's a lot of stress involved for him because of that.
— Hear the complete press conference: Bill Self discusses upcoming season, Cheick Diallo's situation
When Kansas University junior forward Landen Lucas contemplates the quantity and quality of big men in KU's basketball program right now, he almost can't believe it.
The Jayhawks rarely lack in the depth department down low. Now entering his fourth season in Lawrence, Lucas (who red-shirted his first year) has played alongside or practiced with interior contributors such as Tarik Black, Joel Embiid, Kevin Young and Jeff Withey in the past. Still, the 6-foot-10 Lucas said the 2015-16 KU roster is more crowded in the front court than any he has seen.
"It's weird to say that," Lucas admitted earlier this summer, "because I feel like the last couple years we've had that kind of depth. But this year there will be an insane amount of people who have either started here, started at other schools — Hunter (Mickelson) started at Arkansas — mixed in with (high school) All-Americans."
Indeed, KU seniors Perry Ellis (71 career starts), Jamari Traylor (19 starts) and Mickelson (25 starts in two seasons at Arkansas), like Lucas (14 starts), know what it's like to be one of the first five on the court. Even 6-9 junior Dwight Coleby, who will sit out this season after transferring from Ole Miss, has seven career starts.
Plus, Kansas coach Bill Self and his staff brought in highly touted freshman big men Cheick Diallo (Rivals.com's No. 5 recruit in the Class of 2015) and Carlton Bragg (ranked No. 21 by Rivals).
If the NCAA Eligibility Center clears Diallo to play, upon completing its review of his academic records from Our Savior New American High, in Centereach, New York, the Jayhawks will have six players available to use at power forward and center.
Lucas said just four big men in a rotation allows for aggressive play in the paint. He thinks the collective assertiveness of the front court should only improve with more options.
"Hopefully it will get people to go out there and play hard," Lucas said. "If you go out there and you don't, there's somebody who's ready to come in and do that."
Each available big figures to bring something a little different to the floor.
The 6-foot-8 Ellis can score in a variety of ways.
Also 6-8, Traylor is quicker than most big men and has shown the ability to use that to his advantage.
Thus far a backup at KU, 6-10 Mickelson looked like a steady rim protector, as well as an effective scorer and passer as the Jayhawks won gold medals at the World University Games this summer.
And Lucas might be the best defensive rebounder among the veterans.
Without Bragg and Diallo making an immediate impact, though, the Jayhawks will only have a comparable version of last season's front court. If the two rookies prove game-ready, KU could drive opposing teams mad inside.
While playing in South Korea this summer, the 6-9 Bragg showed he can run the floor, play with toughness and knock down open jumpers.
Diallo, meanwhile, might be the exact kind of player KU lacked this past season. The 6-9 big man is expected to play with manic energy on the defensive and offensive glass, protect the rim and compliment Ellis's scoring inside.
Mickelson said transitioning from the high school ranks to high-major college basketball is different for every player, and although getting acclimated can be difficult, Bragg and Diallo shouldn't have too much trouble. Freshmen, Mickelson added, usually can pick up drills and plays quickly enough, but KU's veterans will be sure to remind them about other aspects of the game, such as body language or how to approach different situations.
"There's just little tweaks and stuff like that that you can point out to help them," Mickelson said.
In June, before playing in the World University Games, when asked what his weaknesses were, Bragg replied "everything." The humble freshman's point: he wanted to improve as much as possible every day. Bragg said KU's veterans help him stay positive and let him know what to expect.
"They're getting me ready, mentally," the young big from Cleveland said. "Going through what they went through their freshmen, sophomore years, how coach was getting on you."
Traylor already seems convinced Bragg will fit right in at KU, noting Self has said as much in complimenting Bragg's feel for the game.
"But as far as natural stuff and natural athletic ability and instinct," Traylor added, "he's gonna be great for us."
Because KU only has two newcomers inside, Traylor said it will be easy for the veteran Jayhawks to take Bragg and Diallo under their wings. It won't be like the past couple seasons, when KU had first- and second-year players all over the floor — inside and out.
"We're pretty much an old team now, so things are pretty much going quick," Traylor said, snapping his fingers for emphasis.
After spending a good chunk of his summer preparing for the World University Games, in South Korea, and then leading Kansas/Team USA to a gold medal, Wayne Selden Jr.'s basketball journeys continued with a trip to the adidas Nations event, near Los Angeles, in early August.
It was there that DraftExpress.com caught up with Selden, a junior guard at KU, for a quick interview. Though he has played two seasons in the Big 12, Selden described the competition level at adidas Nations as high, too.
"You know, it's basically everybody that's left in college, that's been around for a few years, and it's a lot of guys that just know how to play basketball," Selden said.
According to SBNation.com, Selden played on one of the four teams there that featured college players, and he teamed up with Iowa State's Monté Morris and Gonzaga's Kyle Wiltjer. At one point, they lost to a team led by Indiana's Yogi Ferrell.
It sounds like a worthy training ground, and Selden told DraftExpress.com he plans to be a better player this coming season for Kansas.
"Last year I had times where I was timid, I would shy away — not shy away. Timid's not even the right word," Selden said, deciding to re-characterize his sophomore struggles. "But I wouldn't always be locked in. That's probably a better word. I wouldn't always be locked in. This year I've got a different mindset. I'm a lot more focused and I'm working. I'm out here having fun and just playing basketball."
Offensively, Selden's had issues during the 2014-15 season with his shooting inside the arc. Look at these numbers from hoop-math.com:
Selden only made 35 of 69 attempts at the rim (50.7%)

Selden converted on just 28 of 89 2-point jumpers (31.5%)
Often, Selden would reach the paint — or even the rim — and fail to finish off a solid drive with a bucket. By the end of the season, the guard hit a better percentage of his 3-pointers — 46 of 124 (37.1%) — than his 2-pointers. He said he wasn't an efficient scorer because he would get to the lane and make things more difficult than they had to be.
"But I feel like I really improved on that, just in the short time since the season ended," Selden said. "Over in Korea and here I've been doing pretty well with it."
In fact, at the World University Games Selden made 59.7% of his 2-point shots — 40 of 67 — as his offense carried the Jayhawks to an 8-0 record. He was almost unstoppable in the first seven games, making 36 of 50 (72%) of his 2-pointers, before KU played its eighth game in 10 days, everybody's legs looked dead and he shot 4-for-17 inside the arc in a double-overtime victory over Germany in the gold-medal game.
Selden's 3-point shooting didn't suffer in South Korea, either. He made 18 of 48 from deep for 37.5%, just above what he shot for KU as a sophomore. But he hopes to improve upon that clip as a junior.
"I see myself shooting over 40 percent from three this year, much improved jump shot, and I'm real confident with it right now," Selden said. "I feel like I can make every shot. Even if I miss a shot, I feel like the next one's going in."
If he can follow through with that goal and continue finishing inside, the Jayhawks should have no trouble getting back to at least the Sweet 16 for the first time since 2013. Plus, the junior will see his stock rise.
And Selden knows Bill Self needs the junior guard in an effective, assertive role, to compliment junior point guard Frank Mason III and senior forward Perry Ellis. The trio figure to carry the Jayhawks and trade off leading the team in scoring from game to game.
"Basically, me and Frank, we the real bulldogs," Selden said. "We're gonna run the squad this year. Perry's gonna get buckets, obviously, because that's what Perry does. But me and Frank, we're the heart of the team. We're gonna have to take over and run the show."
In case you were wondering, DraftExpress.com's mock NBA Draft for 2016 doesn't include Selden. The website actually has him as a second-round pick — 52nd — in the 2017 draft (after what will be his senior season).
KU freshman big man Cheick Diallo is listed as the No. 15 pick in the first round for 2016, and sophomore wing Svi Mykhailiuk is two spots behind him, at No. 17. Jayhawks senior forward Perry Ellis isn't listed in the top 60 for the 30-team, two-round draft.
From time to time during Devonté Graham's freshman season at Kansas, the young point guard exhibited the shooting, passing and decision-making of a veteran.
The 6-foot-2 lead guard from Raleigh, North Carolina, scored a team-high 14 points in his debut, came away with three steals against Florida in a comeback victory, didn't miss a shot on his way to a career-high 20 points against TCU and got KU to overtime by hitting two clutch free throws late against West Virginia.
The floor general in the making, though, made his most lasting impression in the Jayhawks' season-ending loss to Wichita State in the NCAA Tournament's Round of 32. Graham led KU with 17 points, pilfered five takeaways and knocked down three 3-pointers.
For a program that has suffered two consecutive early exits in March Madness, optimism abounds for Kansas heading into the 2015-16 season. The Jayhawks are expected to be just as good as — if not better than — any of the nation's projected top teams, such as North Carolina, Kentucky, Duke, Maryland, Iowa State, Virginia and Arizona. The return of Graham, Perry Ellis, Frank Mason III, Wayne Selden Jr., Brannen Greene, Jamari Traylor, Landen Lucas, Svi Mykhailiuk and Hunter Mickelson to go with another highly regarded recruiting class brings on those expectations.
At Kansas, one comes to expect significant individual improvements from season to season, and Graham has heaps of potential as a point guard. Just ask his coach, Bill Self.
"Devonté's gonna be our next Aaron Miles," Self proclaimed at KU's end-of-season team banquet. "That's what Devonté is. He's Aaron, but can actually shoot it better than Aaron. A lot better than Aaron."
Miles could be considered the last true point guard to start at Kansas. Most of Self's primary ball-handlers through the years have played more like combo guards or scoring point guards.
How does Graham compare to Miles and other former KU ball-handlers? We've only seen one season of Graham, so it helps to narrow down the sample size for all the players in the discussion. Check out the NCAA Tournament numbers for Miles, Graham and every other lead Kansas guard to play a significant role during his freshman season in the past 15 years.
Each Jayhawk point guard is listed with the season of his tourney debut and the seed KU earned that year.
Kirk Hinrich — 2000, No. 8 seed
• vs. No. 9 seed DePaul — 81-77 win (OT):
8 points, 3/4 FGs, 2/2 3s, 4 assists, 5 turnovers, 4 rebounds in 29 minutes
• vs. No. 1 seed Duke — 69-64 loss:
12 points, 4/7 FGs, 3/5 3s, 1/3 FTs, 6 assists, 3 turnovers, 2 rebounds in 28 minutes
— Averages: 10 ppg, 63.6% FGs, 71.4% 3s, 33.3% FTs, 5.0 assists, 4.0 turnovers, 3.0 rebounds in 28.5 minutes
Aaron Miles — 2002, No. 1 seed
• vs. No. 16 seed Holy Cross — 70-59 win:
7 points, 3/8 FGs, 0/1 3s, 1/1 FTs, 1 assist, 5 turnovers, 2 steals in 36 minutes
• vs. No. 8 seed Stanford — 86-63 win:
8 points, 2/4 FGs, 0/0 3s, 4/4 FTs, 5 assists, 4 turnovers, 4 rebounds, 1 steal in 25 minutes
• vs. No. 4 seed Illinois — 73-69 win:
13 points, 5/11 FGs, 1/3 3s, 2/2 FTs, 5 assists, 3 turnovers, 7 rebounds, 1 steal in 35 minutes
• vs. No. 2 seed Oregon — 104-86 win:
6 points, 2/10 FGs, 0/2 3s, 2/2 FTs, 8 assists, 3 turnovers, 2 rebounds, in 30 minutes
• vs. No. 1 seed Maryland — 97-88 loss:
12 points, 1/7 FGs, 0/4 3s, 10/12 FTs, 10 assists, 3 turnovers, 3 rebounds, 2 steals in 28 minutes
— Averages: 9.2 points, 32.5% FGs, 10% 3s, 90.4% FTs, 5.8 assists, 3.6 turnovers, 3.2 rebounds, 1.2 steals in 30.8 minutes
Russell Robinson — 2005, No. 3 seed
• vs. No. 14 seed Bucknell — 64-63 loss:
Did not play
— Averages: DNP
Mario Chalmers — 2006, No. 4 seed
• vs. No. 13 seed Bradley — 77-73 loss:
15 points, 6/11 FGs, 2/4 3s, 1/2 FTs, 0 assists, 5 turnovers, 3 steals, 3 rebounds, 5 fouls in 34 minutes
— Averages: 15.0 points, 54.5% FGs, 50% 3s, 50% FTs, 0.0 assists, 5.0 turnovers, 3.0 steals, 3.0 rebounds in 34.0 minutes
Sherron Collins — 2007, No. 1 seed
• vs. No. 16 Niagara — 107-67 win:
15 points, 4/9 FGs, 2/3 3s, 5/6 FTs, 6 assists, 0 turnovers, 4 steals, 1 rebound in 20 minutes
• vs. No. 8 Kentucky — 88-76 win:
8 points, 4/11 FGs, 0/2 3s, 2 assists, 3 turnovers, 1 rebound in 26 minutes
• vs. No. 4 Southern Illinois — 61-58 win:
2 points, 1/3 FGs, 0/1 3s, 1 assist, 3 turnovers, 2 steals, 3 rebounds in 23 minutes
• vs. No. 2 UCLA — 68-55 loss:
0 points, 0/4 FGs, 0/1 3s, 2 assists, 1 turnover, 1 rebound in 15 minutes
— Averages: 6.3 points, 33% FGs, 29% 3s, 83% FTs, 2.8 assists, 1.8 turnovers, 1.5 steals, 1.5 rebounds in 21.0 minutes
Tyshawn Taylor — 2009, No. 3 seed
• vs. No. 14 seed North Dakota State — 84-74 win:
8 points, 4/9 FGs, 0/1 3s, 0/1 FTs, 1 assist, 2 turnovers, 2 rebounds in 27 minutes
• vs. No. 11 seed Dayton — 60-43 win:
3 points, 1/5 FGs, 0/1 3s, 1/3 FTs, 3 assists, 6 turnovers, 1 steal, 3 rebounds in 27 minutes
• vs. No. 2 seed Michigan State — 67-62 loss:
8 points, 2/4 FGs, 0/1 3s, 4/4 FTs, 2 assists, 3 turnovers, 1 steal, 1 rebound in 28 minutes
Averages: 6.3 points, 38.8% FGs, 0% 3s, 62.5% FTs, 2.0 assists, 3.7 turnovers, 0.7 steals, 2.0 rebounds in 27.3 minutes
Elijah Johnson — 2010, No. 1 seed
• vs. No. 16 seed Lehigh — 90-74 win:
0 points in 1 minute
• vs. No. 9 seed Northern Iowa — 69-67 loss:
Did not play
— Averages: 1 GP, 0.0 points in 1.0 minutes
Josh Selby — 2011, No. 1 seed
• vs. No. 16 seed Boston — 72-53 win:
4 points, 2/6 FGs, 0/2 3s, 2 assists, 1 turnover, 2 rebounds in 15 minutes
• vs. No. 9 seed Illinois — 73-59 win:
0 points, 0/0 FGs, 2 assists, 0 turnovers, 1 rebound in 10 minutes
• vs. No. 12 seed Richmond — 77-57 win:
9 points, 3/9 FGs, 3/5 3s, 0 assists, 1 turnover, 3 rebounds in 17 minutes
• vs. No. 11 seed VCU — 71-61 loss:
2 points, 1/5 FGs, 0/3 3s, 0 assists, 0 turnovers, 1 rebound in 15 minutes
— Averages: 3.8 points, 30% FGs, 30% 3s, 1.0 assists, 0.5 turnovers, 1.8 rebounds in 14.3 minutes
Naadir Tharpe — 2012, No. 2 seed
• vs. No. 15 seed Detroit — 65-50 win:
0 points, 0/3 FGs, 0/1 3s, 1 assist, 2 turnovers in 13 minutes
• vs. No. 10 seed Purdue — 63-60 win:
3 points, 1/3 FGs, 1/3 3s, 0 assists, 1 turnover, 1 rebound in 4 minutes
• vs. No. 11 seed North Carolina State — 60-57 win:
Did not play
• vs. No. 1 seed North Carolina — 80-67 win:
Did not play
• vs. No. 2 seed Ohio State — 64-62 win:
Did not play
• vs. No. 1 seed Kentucky — 67-59 loss:
Did not play
— Averages: 1.5 points, 17% FGs, 25% 3s, 0.5 assists, 1.5 turnovers, 0.5 rebounds in 8.5 minutes
Conner Frankamp — 2014, No. 2 seed
• vs. No. 15 seed Eastern Kentucky — 80-69 win:
10 points, 3/6 FGs, 0/2 3s, 4/4 FTs, 4 assists, 0 turnovers in 25 minutes
• vs. No. 10 seed Stanford — 60-57 loss:
12 points, 4/8 FGs, 4/7 3s, 0 assists, 0 turnovers, 2 rebounds, 1 steal in 18 minutes
— Averages: 11 points, 50% FGs, 44% 3s, 100% FTs, 2.0 assists, 0.0 turnovers, 1 rebound, 0.5 steals in 21.5 minutes
Frank Mason III — 2014, No. 2 seed
• vs. No. 15 seed Eastern Kentucky — 80-69 win:
2 points, 1/1 FGs, 0/2 FTs, 4 assists, 1 turnover, 4 rebounds in 9 minutes
• vs. No. 10 seed Stanford — 60-57 loss:
2 points, 0/4 FGs, 0/3 3s, 2/2 FTs, 2 assists, 1 turnover, 2 rebounds, 1 steal in 22 minutes
— Averages: 2 points, 20% FGs, 0% 3s, 50% FTs, 3.0 assists, 1.0 turnover, 3.0 rebounds, 0.5 steals in 15.5 minutes
Devonté Graham — 2015, No. 2 seed
• vs. No. 15 seed New Mexico State — 75-56 win:
8 points, 2/6 FGs, 2/2 3s, 2/2 FTs, 4 assists, 3 turnovers, 2 rebounds in 25 minutes
• vs. No. 7 seed Wichita Stte — 78-65 loss:
17 points, 5/13 FGs, 3/8 3s, 4/4 FTs, 3 assists, 1 turnover, 1 rebound, 5 steals in 29 minutes
— Averages: 12.5 points, 37% FGs, 50% 3s, 100% FTs, 3.5 assists, 2.0 turnovers, 1.5 rebounds, 2.5 steals in 27 minutes
Now let's throw all those stats in one place to make things easier, and see which KU freshman point guards/combo guards truly performed the best.
Key: BLUE NUMBERS = Best in the group; RED NUMBERS = 2nd-best
KU Freshman PGs NCAA Tournament Numbers — 2000 to present
Player (year)
GP
PPG
FG%
3%
FT%
APG
TOPG
RPG
SPG
MPG
Kirk Hinrich ('00)
2
10
64%
72%
34%
5.0
4.0
3.0
--
28.5
Aaron Miles ('02)
5
9.2
33%
10%
90%
5.8
3.6
3.2
1.2
30.8
Russell Robinson ('05)
0
--
--
--
--
--
--
--
--
--
Mario Chalmers ('06)
1
15
55%
50%
50%
0.0
5.0
3.0
3.0
34.0
Sherron Collins ('07)
4
6.3
33%
29%
83%
2.8
1.8
1.5
1.5
21.0
Tyshawn Taylor ('09)
3
6.3
39%
0%
63%
2.0
3.7
2.0
0.7
27.3
Elijah Johnson ('10)
1
0
--
--
--
0.0
0.0
0.0
0.0
1.0
Josh Selby ('11)
4
3.8
30%
30%
--
1.0
0.5
1.8
0.0
14.3
Naadir Tharpe ('12)
2
1.5
17%
25%
--
0.5
1.5
0.5
0.0
8.5
Conner Frankamp ('14)
2
11
50%
44%
100%
2.0
0.0
1.0
0.5
21.5
Frank Mason III ('14)
2
2.0
20%
0%
50%
3.0
1.0
3.0
0.5
15.5
Devonté Graham ('15)
2
12.5
37%
50%
100%
3.5
2.0
1.5
2.5
27.0
When you stack the numbers together, four guys stand out as the clear-cut leaders: Kirk Hinrich, Aaron Miles, Mario Chalmers and Devonté Graham.
Hinrich led in FG% (64%), 3-point % (72%) and took second place in assists (5.0) and rebounds (3.0).
Miles played in the most games (5), dished the most assists (5.8) and pulled down the most boards (3.2), while posting the second-best free-throw numbers (90%) and minutes played (30.8).
In his one tournament game as a freshman, Chalmers scored 15 points, swiped 3 steals and played 34 minutes to lead the group, and finished second in FG% (55%), 3-point % (50%) and rebounds (3).
Graham's numbers look just as good as the ones posted by any of those other three guys. By the way, Hinrich, Miles and Chalmers all became some of the best Kansas players in recent memory. Graham hit 100% of his free throws to tie the departed Conner Frankamp for first, and had the second-best numbers among the 12 freshman point guards in points (12.5), 3-point % (50%) and steals (2.5).
Limiting the turnovers-per-game numbers to those who played at least 20 minutes, Graham's 2.0 giveaways were only bettered by Frankamp (0.0) and Sherron Collins (1.8).
After playing in his first NCAA Tournament game this past March, in Omaha, Nebraska, Graham said staying loose keyed his performance on that stage.
"When you have fun," he said, "a lot of good things happen."
Graham didn't didn't just look comfortable, he stood out as someone who could change the flow and make a critical impact.
"As soon as the game started, as soon as I got on the court, after I got up and down, started sweating a little bit, I just felt like it was another normal game," Graham said. "I'm not thinking about how big it is and all the pressure. You've just gotta be calm in that situation."
Whether Graham starts or remains a key backup in his sophomore season has yet to be determined. KU's summer play at the World University Games should heavily play into that decision for Self.
After averaging 18.1 minutes, 5.9 points and 2.1 assists as a freshman, all those numbers figure to increase in Graham's second season at KU. Self likes what he has in Graham, and even if Mason keeps his starting spot the two easily could could play side-by-side for long stretches to give KU a pair of play-makers.
"When we're in a game together, we're always thinking: attack," Graham said of teaming up with Mason. "It's kind of hard to stay in front of both of us at the same time. We try and break the defense down, find the right guys open to pass it to — create for others and also ourselves."
More playing time for a more experienced Graham should mean more success for the Jayhawks next season, as they try to get back to the Final Four for the first time since 2012. That KU team had Tyshawn Taylor and Elijah Johnson as point guards, and neither looked nearly as good his freshman season as Graham did.
The more you hear about Kansas basketball commitment LaGerald Vick, the more impressive he seems.
National analyst Eric Bossi of Rivals watched the 6-foot-5 guard from Memphis this past weekend in New York and came away claiming Rivals.com needs to move his national ranking of No. 137 up "at least 100 spots."
In order to get a better idea about Vick as a player, just check out his highlight videos. The 175-pound guard, who reportedly will re-classify and join the 2015 KU recruiting class with Carlton Bragg and Cheick Diallo, plays for Team Thad AAU, and in the past year or so he has put together quite the YouTube résumé.
Three of his scoring reels are posted below. With each one, I included some quick take-aways about what the clips tell us about this multi-skilled guard. Obviously, not everything we see here will immediately translate to college basketball and the Big 12, but there are plenty of promising signs that this previously unheralded recruit could turn into a go-to scorer for the Jayhawks before his days in Allen Fieldhouse are through.
This latest highlight reel from Courtside Films doesn't capture the correct way to spell Vick's first name, but it does provide an impressive array of highlights
• Vick can pull up for a 3-pointer off the dribble with ease when his defender leaves his hands down or fails to close out.
• His shooting, strength and ability to finish above the rim all look better now than they did in past highlight videos (shown below).
• When Vick's man gets low and really tests him on the perimeter, his ball-handling allows him to not only maintain possession but also get creative and find a way to punish his defender.
• He may be a little too reliant on his right hand at this point, but he does go left off the dribble from time to time, and that's obviously something he can continue to develop.
• No matter where he gets the ball, Vick stands out as an offensive threat in his ability to create better looks for himself, whether that be with a ball fake, jab step, cross-over or hesitation dribble. He appears a real challenge to keep in check.
• By the looks of this highlight reel, Vick is as confident a 3-point shooter as one could hope for. He doesn't overthink things when he's open from downtown, he just rises up and lets it fly.
• Finishing in traffic isn't for everyone. But it looks like Vick enjoys the challenge that taking on multiple defenders provides. Even when the road to the hoop looks treacherous, he doesn't show any fear.
• It's just a bad idea in general to leave him open anywhere on the court. He can either pull up for an easy look from behind the arc or speed through driving lanes to the rim.
• Vick often shows creativity in avoiding potential shot-blockers.
• He has a slight frame, but sometimes uses that to his advantage by slithering between defenders.
• If teams decide they want to take away his shooting ability, he could easily turn into a drive-first player on offense.
• Vick is confident and crafty when he gets into the paint, regardless of what kind of defender flies at him. In this aspect, he kind of reminded me of Manu Ginobili in his prime.
• He can play above the rim when he gets a wide-open lane or someone fails to put a body on him on the offensive glass.
• If you make the mistake of crowding Vick on the perimeter he is fast enough off the dribble to blow by you.
• Obviously his jumper is one of his strengths, enabling him to punish defenses if they leave him open (keep in mind many of these highlights come against teams ignoring basic defensive principles).
• Vick will need to clean up his ball-handling when he's taking on college guards. He is able to play pretty loose in these types of AAU showcases and (in the past at least) carries the ball at times when using his dribble outside.
• The kid has pretty quick hops, and can head skyward in a hurry.
• Vick's now-you-see-it/now-you-don't methods of slashing might be the final ingredient that turns him into a big-time college scorer. He can show defenders the rock, then take it away and finish by utilizing the window he just created for himself.
• His cross-over has a strong burst to it and he's always thinking "attack" when he has the ball in transition.
• Vick can finish with either hand once he has slashed his way into the paint.
• This scoring guard doesn't just rely on floaters, he takes advantage of angles on the floor and uses the glass well, even six to eight feet away from the rim. Not many guys have so many tricks in their bags.
Meet Cheick Diallo.
He's 6-foot-9, 220 pounds. He was MVP of the McDonald's All-American game and co-MVP of the Jordan Brand Classic.
And he just might be the next great big man at Kansas.
Originally from Mali, the five-star post player turned himself into one of the nation's elite college prospects at Our Savior New American High, in Centereach, New York. He joins KU as the No. 5 overall talent in the Class of 2015, according to Rivals.com.
The big man stole the show at the McDonald's all-star game earlier this month, where his name was called repeatedly, bucket after bucket, and he wowed the Chicago crowd with a fast-break spin-move on his way to an 18-point/10-rebound performance.
He even blocked some shots in the offense-oriented showcase and dropped a dime inside.
Diallo appears to have everything you're looking for in a traditional big man: length, toughness, and the ability to finish at the rim on one end of the floor while intimidating the opposition from doing the same on the other end.
The guy even snags defensive rebounds anticipating the ensuing outlet pass he's about to sling down the floor.
That makes him a perfect fit for KU coach Bill Self. Even better, the lean, young big fills a need for next season's roster.
Self continually referenced the Jayhawks' lack of an elite interior presence during the 2014-15 season. Unlike most Kansas teams, this one couldn't throw the ball into the post and get a basket. Even worse perhaps, there was no rim protector waiting in the paint on defense.
That gaping hole in KU's lineup likely is the very reason Diallo will be playing at Allen Fieldhouse next season.
"I felt like Kansas was the best place for me," Diallo told ESPN.com's Paul Biancardi. "I can earn playing time right away. I played against Joel Embiid in high school and watched his development. I need to work on a lot of things and feel coach (Bill) Self can help my game. On my visit, the campus was great and the people were nice. I could see myself there."
Picture Diallo in a Kansas uniform, playing alongside all the returning Jayhawks and fellow freshman Carlton Bragg, and it's easy to envision KU getting past the first weekend of the NCAA Tournament for the first time in three seasons. And back to the Final Four for the first time since 2012.
Here are a few more Diallo highlight reels as your mind wanders about the possibilities.
Blog: Request for tax break on downtown project to create debate; a closer look at supposed parking problem in downtown

November 30, 2015 · 3 comments

Letter: Award questioned

November 30, 2015 · 12 comments

City receives multiple requests for skydiving at Lawrence airport; official cites safety concerns, directed to work with FAA

November 30, 2015 · 1 comment

One-win Greyhounds to visit KU

November 30, 2015 · 1 comment

Editorial: Uncomfortable?

November 29, 2015 · 15 comments

On the street: Where do you do most of your holiday shopping?

November 30, 2015 · 1 comment

KU professor who used n-word in class discussion is placed on leave

November 20, 2015 · 258 comments

Letter: Safer Kansas?

November 27, 2015 · 17 comments

Lawrence City Commission to receive incentives request for Menard Inc. production plant

November 30, 2015 · 9 comments

Opinion: Trump may be wake-up call for nation

November 29, 2015 · 17 comments