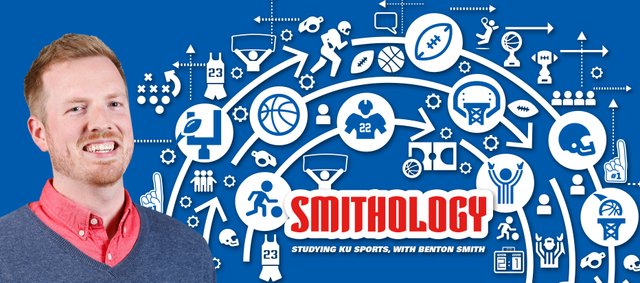 Posts tagged with
Ku Basketball
Things aren't exactly easy in the Big 12 for the Horned Frogs of TCU. They only won two conference games in 2013 and currently sit at 0-6 in the Big 12 (9-9 overall) heading into tonight's home game against No. 8 Kansas (14-4, 5-0).
Of course, that doesn't mean a Bill Self team couldn't go down to Fort Worth, Texas, and lose at Daniel-Meyer Coliseum. It happened last season, when TCU won, 62-55, on its home floor.
Pulling off a second massive upset of Kansas seems unlikely. TCU is 10th (last) in the Big 12 in scoring offense (66.1 points), scoring margin (-2.6), field goal percentage (41.3), three-point field goal percentage (31.2), rebounding (32.7), rebound margin (-5.3) and offensive rebounds.
The Horned Frogs opened conference play this season with home losses to West Virginia (by 15 points), Kansas State (by 18) and Texas Tech (by 11), and road losses at Baylor (by 26), Oklahoma State (by 32) and Oklahoma (by eight).
TCU nearly rid itself of the zero in its conference win column on Wednesday, but ultimately lost, 77-69, to the Sooners.
As reported by Stefan Stevenson of the Fort Worth Star-Telegram, TCU coach Trent Johnson felt good about his team's play at Oklahoma. The Horned Frogs tied the game with less than four minutes to play.
"That's probably as well as we've played in league play," TCU coach Trent Johnson said. "We're a lot better team than what we've shown in the previous five league games. So hopefully this will give us some confidence the remainder of the year so we can play better basketball."
Here are the five Horned Frogs the Jayhawks will have to worry about as they try to keep TCU winless in the Big 12.
Kyan Anderson, No. 5
5-11, 175, jr. guard
If anyone from TCU is capable of getting hot, it's Anderson. He averages 15.1 points and 4.6 assists, and has scored in double figures 13 times this season. He scored 23 earlier this week at OU.
Anderson's 104 free-throw attempts lead the team by far, and he hits 81.7 percent at the foul line. He also makes 36.8 percent of his threes (21-for-57) to lead TCU. Overall, Anderson shoots 47.4 percent from the floor.
His 1.5 steals a game are the third-best average in the Big 12, and he plays 33.5 minutes a game, second overall in the conference.
Amric Fields, No. 4
6-9, 220, jr. forward
TCU missed Fields most of last season, when he only played three games due to a knee injury, and he has only played in 11 games this season, due in part to a broken hand he suffered during non-conference play.
But when he is on the floor, he makes things happen for TCU. Fields averages 13.8 points and 5.5 rebounds. Despite the time he has missed, he is third on the team with 12 tree-pointers made (on 35 attempts, 34.3 percent).
Brandon Parrish, No. 11
6-6, 185, fr. guard
His 24 three-pointers lead the Horned Frogs, and he averages 10.2 points and 3.6 rebounds.
Though just a freshman, he has started every game, scored double digits 11 times and scored a career high 18 vs. West Virginia.
Parrish was the first player to commit to second-year coach Johnson, who is still in the early stages of a major project.
Karviar Shepherd, No. 1
6-10, 225, fr. center
The Star-Telegram's Stevenson recently wrote about how the freshman big man, to whom KU actually offered a scholarship, is starting to make a bigger impact on offense.
Shepherd averaged 14.0 points against Oklahoma State and Texas Tech. He followed that up with 12 points (and 11 rebounds) at Oklahoma. Compare that to his first three Big 12 games, when he attempted a total of 14 shots.
"He's got a better understanding now of good shot/bad shot," TCU coach Trent Johnson said. "I think he's making strides offensively."
On the season, Shepherd averages 8.4 points, 7.6 rebounds and 2.1 blocks.
Jarvis Ray, No. 22
6-6, 195, sr. forward
The only senior in Johnson's rotation, and a steady No. 5 option in the starting lineup, Ray averages 9.6 points and 4.0 rebounds.
He swipes 1.28 steals a game, sixth in the Big 12. Plus, Ray is third on TCU with 21 offensive rebounds.
Fourth-year Iowa State coach Fred Hoiberg doesn't have much to complain about these days.
His Cyclones have shot up through the rankings this season as they won 14 straight games, beating the likes of Michigan, BYU, Iowa, Boise State and Baylor along the way.
ISU, which many figured would enter tonight's Big Monday showdown with Kansas unbeaten, suffered its first setback of the season Saturday at Oklahoma, 87-82.
For a program with legitimate Big 12 title aspirations, a conference loss always stings, but potentially worse for No. 8 ISU (14-1 overall, 2-1 Big 12) heading into its home game against No. 15 Kansas (11-4, 2-0) is how the game at OU ended. The Cyclones' breakout star, senior guard DeAndre Kane, injured his left ankle with 22 seconds left.
Hoiberg said Monday morning Kane will be re-evaluated before tonight's game to see whether he will be able to play. However, it seems more likely that he will play.
For what it's worth, ESPN analyst Fran Fraschilla, who will be part of the Big Monday broadcast, offered his prediction on the situation via Twitter:
I fully expect DeAndre Kane tonight. Be stunned otherwise.

— Fran Fraschilla (@franfraschilla) January 13, 2014
(Update:1:30 p.m.) -- Still no official word, but Kane seems to like his odds of playing tonight, too.
Ankle feeling good pic.twitter.com/j00wNS86WW

— Deandre kane (@King_Kane50) January 13, 2014
Here's another indication that Kane will play against KU, courtesy of CBS's Doug Gottlieb:
Been told from a spy that DeAndre Kane is ok, will play tonight, was jogging (Or Yogging if you like Anchorman) yesterday) #KUvs#ISU

— Doug Gottlieb (@GottliebShow) January 13, 2014
The Cyclones, who have four players averaging double-digit scoring, are far more lethal with Kane. If he can't go against the Jayhawks or isn't at full strength, it could allow Kansas to build an early cushion in the Big 12 standings.
Of course, ISU is far from a one-man show. Here are the guys who hope to harness some "Hilton magic" and give KU its first conference loss of the season tonight.
Melvin Ejim, No. 3
6-6, 220, sr. forward
Even if Kane doesn't play, Ejim leads Iowa State in scoring and is third in the Big 12 with an 18.0 average. The small forward has a nice all-around offensive game and has posted double figures in 17 straight games, dating back to last season. He put up 20-plus in six of those games.
He's shooting 52.1 percent from the field this year and has made 19 of his 55 three-pointers.
The Big 12's active leader with 26 career double-doubles, Ejim averages 7.1 rebounds and 2.1 assists, as well, despite being just 6-foot-6.
DeAndre Kane, No. 50
6-4, 200, sr. guard
The 24-year-old, a transfer from Marshall, arrived at Ames, Iowa, and quickly became one of the nation's stars, as detailed in a feature by Eric Prisbell of USA Today.
The versatile veteran, in his first season at ISU, has posted back-to-back 20-plus point efforts, and averages 16.5 points, 7.3 rebounds and 6.1 assists.
As Bryce Miler of The Des Moines Register puts it, Kane is a "matchup disaster" for opposing guards.
Kane, a 34.5-percent three-point shooter, had 23 points and nine rebounds Saturday at Oklahoma, but the Big 12's assists leader left after injuring his ankle with 22 seconds remaining.
One could try to make a case that another player in the Big 12 has had a better all-around season, but it would be a waste of breath. That's why the injury Kane suffered Saturday could be such a blow to the Cyclones if it lessens his ability or keeps him out of tonight's Big Monday clash.
Georges Niang, No. 31
6-7, 240, so. forward
Every player in Iowa State's starting lineup can knock down three-pointers and the big guy from Methuen, Mass., is no exception. Though Niang has started the season cold (30.2 percent) from deep, his 53 attempts are fourth among ISU players and Hoiberg trusts in the sophomore wherever he touches the ball.
Niang averages 15.3 points, 4.1 rebonds and 3.5 assists (quite a number for a big) and averaged 15.7 points in three meeting with Kansas last season.
He has proven to be confident in clutch situations, too, going 11-for-15 from the floor in last five minutes of games this season.
Dustin Hogue, No. 22
6-6, 215, jr. forward
Just this morning, Bill Self called him "a guy that's as good a rebounder from his spot as any kid in the country."
Another mid-sized ISU forward with huge game on the glass, Hogue leads the Big 12 in rebounding at 9.3 boards a game, while contributing 12.3 points as a 58-percent shooter.
Like every member of the Cyclones' seven-man rotation, Hogue will take three-pointers when he is open. The junior has hit 11 of 32 from three-point land so far.
Matt Thomas, No. 21
6-3, 200, fr. guard
His 65 three-point attempts are second on the team, but Thomas has made just 22 this season (33.8 percent).
He averages 6.8 points and 2.7 rebounds, but Hoiberg has him on the floor for his decision-making. Thomas has 13 assists and no turnovers since Iowa State's win at BYU on Nov. 20.
ISU bench
Naz Long, No. 15
6-4, 205, so. guard
Hoiberg said Long could have the ball in his hands a lot tonight if Kane is out. And Long's shot is the long shot, so if he is behind the three-point arc, expect to see him jack and drain some treys, much to the delight of the home crowd.
Long averages 8.4 points and is a 49.4-percent shooter. His 32 three-point makes and 70 attempts (45.7 percent) lead Iowa State.
Monté Morris, No. 11
6-2, 170, fr. guard
Morris hasn't started once this season, but if Kane doesn't play against Kansas Hoiberg said the freshman will take over a lot of the ball-handling responsibilities.
A guy who figures to be a major part of the ISU program for four years, Morris averages 6.3 points, 2.3 rebounds and 2.9 assists. His most impressive stat, though: just three turnovers in his last 245 minutes of play.
Kansas University basketball coach Bill Self and sophomore forward Perry Ellis addressed the media Friday afternoon at Allen Fieldhouse, less than 24 hours before the Jayhawks' Big 12 home opener, Saturday at 1 p.m. versus Kansas State.
KU (10-4 overall,1-0 BIg 12) is ranked No. 18, and K-State (12-3, 2-0) is No. 25 entering the Sunflower Showdown.
Here are the highlights from the Q & A.
Perry Ellis
Being from Kansas, with two Kansas schools playing, he gets a little fired up, but he tries to take every game the same.

K-State had a good program, good people when he was recruited by them, when Frank Martin was there. But he gladly picked KU.

Ellis played much better at Oklahoma, compared to game vs. San Diego State. It translated from how he practiced.

Wednesday night was great for Wayne Selden. Players have been encouraging him to attack like that and he had a great game.

KU had a couple plays where Jayhawks got on the floor at Oklahoma. "That's Kansas basketball right there." Coaches showed that again yesterday, and it got the players fired up to play that way.

He had a lot of fun on Wednesday, and he wants to continue to play like that.
Bill Self
K-State is guarding and their freshmen are playing more minutes and gaining confidence.

Jayhawks will talk about the rivalry today. Those from outside this region don't know a lot about the in-state rivalry. They'll talk a lot about it today.

Marcus Foster is hungry/thirsty for K-State. He will be an all-league player eventually. The K-State freshman has impressed so far.

Some have compared Foster to Mitch Richmond. Richmond "one of the baddest boys" in the country when he played at K-State. Richmod was an Olympian. But Self can see why the comparisons are made. People are comparing Joel Embiid to Hakeem Olajuwaon.

Flattering to know that the Sunflower State has three programs in the top 25, with K-State and Wichita State joining KU in the rankings. There is no negative to that. Self likes to see that.

Big 12 schedule has a "monster start" for Kansas. "We need to be our best right now." Kansas has been favored several years, but league title has been up for grabs before. But this is a rare season where a lot of teams have a legit chance.

K-State defense at a very high level this season. Right now K-State coaches have them playing about as well as any team in the country on "D."

There is no question the new proposed apartment complex will help recruiting. KU currently "way behind" in terms of current housing, compared to KU's biggest competitors. Location is the best part about current housing. Bells and whistles are very important. Renovations to Allen Fieldhouse and those sort of upgrades are not different from the intent of the housing. New housing also would give athletes better protection from agents, runners, professional autograph seekers, and circumstances that could be used against the program.

Self proud of Joel Embiid just for playing at OU, with goggles. It was comical that he sometimes forgot to keep the protective eyewear down. But coaches have been nothing but pleased with his development. San Diego State gave Embiid space near the free-throw line, and Self wants Embiid to take those open looks when he gets them.

Jayhawks felt really good about themselves after winning at OU. Great for their confidence. Good for coach's confidence, too, he joked. KU obviously didn't play well in loss to San Diego State. That's a pretty big body blow. He hopes players never get comfortable with losing, and they proved they weren't comfortable with the way they played at OU.

Players were very active at OU, and that's contagious. There were seven players diving on the floor on one play. Might have been a result of getting their "butts beat" against San Diego State. Could have been the start of a "new season," Big 12 play.

Naadir Tharpe closed the game the way a point guard is supposed to close at Oklahoma.

Conner Frankamp played well at OU, it wasn't just the two shots he made.

Kansas has missed on some kids in state, made some recruiting mistakes. Local kids, in games like versus K-State, it's nice to have some players that understand the rivalry. KU has had some great local players, such as Tyrel Reed, Travis Releford. "I wish we could get a kid out of here every year."
Complete audio from Bill Self's Friday press conference is available here.