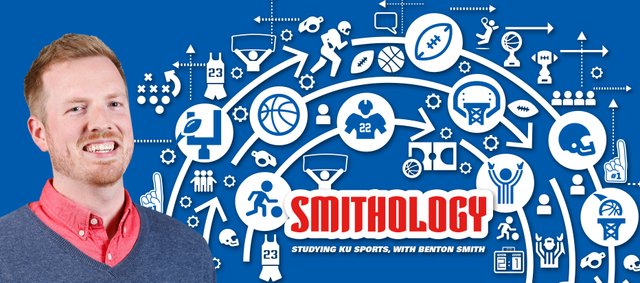 Posts tagged with
Ku Basketball
Known not just for his contributions to the game of basketball, but also for his class and love for his players, Dean Smith's legend continues to grow — even after his death.
Before Smith died, the former Kansas basketball player and legendary North Carolina coach made sure he left a little "thank you" behind for each of his former players.
A photo of a letter sent out from Smith's trust began circulating on social media Thursday afternoon.
The message, as shown in the note sent to former UNC player Dante Calabria, explained that Smith set up his will to give $200 to each Tar Heel he coached during his time in Chapel Hill:
"Each player was important and special to Coach Smith and when he prepared his estate plan, Coach wanted to reach out to each of his lettermen. Accordingly, Coach directed that following his passing each letterman be sent a two hundred dollar check with the message, 'enjoy a dinner out, compliments of Coach Dean Smith.'"
What a cool gesture.
Smith, a native of Emporia, played at KU under Phog Allen, and came off the bench for the Jayhawks when they won the 1952 national championship game against St. John's.
Separated by 161 miles of interstate and rolling plains, Kansas and Wichita State could play basketball against each other every year pretty easily.
Of course, they don't. Which makes Sunday's NCAA Tournament meeting — the first game between the Jayhawks and Shockers since January 6, 1993 — feel even more significant. As if that would be necessary in this scenario: winner moves on to the Sweet 16; loser's season is over.
KU and WSU have squared off 14 times in the past, but Sunday in Omaha marks the first time that will happen with both ranked in the AP Top 25. Kansas entered the tourney at No. 10 and Wichita State is 14th.
The Shockers (29-4) also made it this far into March Madness last season, when they fell in their second game as the No. 1 seed to No. 8 seed Kentucky — the eventual national runner-up. In 2013, WSU went all the way to the Final Four. So it's not as if this stage, hype or playing Kansas will rattle Wichita State.
If WSU can knock off its in-state big brother, that would give Gregg Marshall's program 30 wins for the third season in a row. Since leaving Winthrop (a program he took to seven NCAA Tournaments), Marshall has gone 6-3 in The Big Dance at Wichita State.
Marshall's teams have a reputation for playing tough, even when they are out-sized, as WSU will be against Kansas (27-8). But the Shockers' four perimeter players all rebound, which has allowed Wichita State to average a +5.3 advantage on the glass this season (31st in the nation).
Having all those guards also makes it easier to protect the rock. WSU commits fewer turnovers a game (9.1) than all but three teams in the nation, and the Shockers have a +3.9 turnover margin.
The guy who runs the show, junior point guard Fred VanVleet, said his perimeter running mates Ron Baker, Tekele Cotton and Evan Wessel give WSU a unique look.
"They're all irreplaceable to me," VanVleet said.
One of the most talented point guards in the nation, VanVleet might be the most important player on the CenturyLink Center floor Sunday. So I asked him to give a little info on his teammates after he spoke with various reporters about his own development.
Here are the Shockers Kansas will have to worry about as the Jayhawks aim to survive and advance to the Sweet 16.
SHOCKERS STARTERS
No. 31 — Ron Baker, 6-4, 220 junior G
— Season stats: 15.0 points, 43.7% FGs, 38.4% 3s (76 of 198), 75.8% FTs (91 of 120), 4.5 rebounds, 2.5 assists, 1.4 steals
"Obviously Ron has been our best scorer this year, shooting the ball. And his defense is kind of underrated at times."
— hoop-math.com nugget (stats entering NCAA Tournament): Most of Baker's shots come from downtown: 53.2% of his team-leading 355 attempts. WSU doesn't mind that he takes the most shots, either. He leads their top seven players in eFG%: 54.6%.
No. 23 — Fred VanVleet, 6-0, 195 junior PG
— Season stats: 13.1 points, 43.3% FGs, 36.2% 3s (38 of 105), 79.9% FTs (119 of 149), 4.4 rebounds, 5.3 assists, 1.8 steals
For all he can do offensively, he has made it a point to work himself into a standout defender, as well.
"I think wanting to be a good defender is probably the first step."
One of the assistant coaches his freshman year used to joke he had trouble finding guys VanVleet was capable of guarding when they were going over scouting reports.
"I just didn't want to be that guy."
"Having Tekele on our team, and seeing the respect that he gets for locking people down, I always wanted to be held in that same regard."
"I think paying attention to game plan and scouting and just studying guys that you might guard helps a lot."
"It's tricky, because I try to be aggressive, but being as important as I am to this team … sometimes I got in foul trouble early on in this season being stupid."
"You just want to be sound. If it's a great scorer, try to make it tough on them, try to make every shot contested. If it's a point guard who just runs the show, I just like to deny him and disrupt him, disrupt the timing of the offense and just make life miserable for the other team."
— hoop-math.com nugget: VanVleet operates and scores in every area of the floor. He makes 52.8% of his shots at the rim, 36.8% of his 2-point jumpers and 36.2% of his 3s.
No. 12 — Darius Carter, 6-7, 245 senior F
— Season stats: 11.1 points, 51.8% FGs, 3 of 5 3s, 63.5% FTs, 5.4 rebounds
Carter leads the way inside for the perimeter-oriented Shockers, and they will need him to make his presence felt against a larger KU team.
"He's been real great when he's on the floor, not in foul trouble."
That quote might sound disparaging, but you have to consider the source. VanVleet is the point guard, and a team leader. He wants Carter giving Wichita State all he can.
And Carter was sitting right next to him in the locker room when VanVleet said that. Subtle reminder. Plus, he spent time addressing his own foul issues and overcoming those. He wants his vital teammate to do the same.
— hoop-math.com nugget: Carter makes the most of his touches, converting 66.4% of his shots at the rim and 42.2% of his 2-point jumpers. He also has 21 put-backs on the offensive glass this season.
No. 32 — Tekele Cotton, 6-3, 205 senior G
— Season stats: 9.6 points, 41.2% FGs, 29.6% 3s (32 of 108, 70% FTs, 4.1 rebounds, 2.9 assists
"Tekele, you know, he's known for his defense, but he's been great for us attacking the rim."
— hoop-math.com nugget: There is a reason VanVleet wants Cotton finishing inside. Cotton converts 58.8% of his shots at the rim compared to his sub-par 3-point shooting.
No. 3 — Evan Wessel, 6-4, 218 junior
— Season stats: 4.1 points, 38.1% FGs, 34.2% 3s (27 of 79), 52.9% FTs (9 of 17), 3.4 rebounds
"Evan's just a tough guy, diving on the loose balls, doing dirty work, knocking down open threes, rebounding the ball — playing out of position at the four."
— hoop-math.com nugget: Wessel doesn't often score, and he knows not to waste his attempts. Just 9.3% of his shots are 2-point jumpers. And only 19.6% of his shots come at the rim. If he's shooting, it's likely an open 3. That's where 71% of his shots are taken.
SHOCKERS BENCH
No. 24 — Shaquille Morris, 6-7, 261 freshman F
— Season stats: 5.0 points, 55% FGs, 0 of 1 3s, 64.2% FTs (34 of 53), 2.7 rebounds
The numbers below provide all you need to know on the powerful young big man.
— hoop-math.com nugget: Morris takes 44.4% of his shots at the rim. That's probably not enough, considering he converts 72.7% of his shots there and just 35.2% of his 2-point jumpers.
No. 0 — Rashard Kelly, 6-7, 232 freshman F
— Season stats: 3.0 points, 48.6% FGs, 4 of 9 3s, 52.4% FTs, 3.0 rebounds
— hoop-math.com nugget: His 15 put-backs are second on the team, and that's where 36.8% of his made baskets at the rim come.
New Mexico State hasn't lost a college basketball game since Jan. 17. Winners of 13 straight, the Aggies hope to keep that streak alive Friday in Omaha, Nebraska, against national powerhouse Kansas.
Dancing in March for the fourth season in a row, NMSU (23-10) also has a chance to deal the Big 12 (0-3 on the first day of The Madness) another NCAA Tournament blow — if it can find a way to topple the Midwest's No. 2 seed, KU (26-8).
The WAC regular-season and tournament champion Aggies lost at Baylor, 66-55, back on Dec. 17. But this is March. And upsets rule supreme.
If New Mexico State wants to test — or upset — Kansas, it will have to do so with its defense. The Aggies are:
19th in the NCAA in scoring defense (59.3 points allowed)

10th in 3-point FG% defense (29.3%)

19th in rebound margin: +6.9 boards a game
The Aggies do all of that while playing pressure defense, and an adapting half-court zone that actually specializes in taking away open 3-point looks.
Asked to describe NMSU's defense, sixth man D.K. Eldridge labeled it the ever-popular "40 minutes of hell."
"We try to make it impossible to bring the ball across half court," Eldridge said. "It mostly comes from all our deflections. We keep count of that. Daniel (Mullings) leading in deflections right now. Myself, Ian (Baker) can do it. And our back wall guys, they very athletic and make plays, as well."
In summation: It's the kind of approach that opponents hate.
In order to get to know the Aggies better, I asked senior guard Eldridge to provide his take on each of NMSU's top six players.
AGGIES STARTERS
No. 3 — Remi Barry, 6-8, 225 senior F
— Season stats: 13.3 points, 46.3% FGs, 44.6% 3s (41-for-92), 76.6% FTs, 4.8 rebounds
"Coming off an injury from last year, he's had a very successful year. He brings scoring to the table and he's a part of our defense with his length."

"He knows his role. He don't get outside his box too much."
No. 43 — Pascal Siakam, 6-9, 230 freshman F
— Season stats: 13 points, 57.7% FGs, 0-for-2 3s, 76.3% FTs, 7.7 rebounds (4.4 offensive), 1.8 blocks
"Oh, man. He an animal down low. Only a freshman, though. That's what's crazy about it. He's got a lot left. Hopefully this'll give him experience to have confidence for the future."

"He's very athletic, rebounds, scores the ball really well. He plays hard every possession."
No. 23 — Daniel Mullings, 6-2, 170, senior G
— Season stats: 12.6 points, 43.5% FGs, 36.1% 3s, 70.8% FTs, 5 rebounds, 2.8 assists, 2 steals
"He's the head of the program. A very good player, athletic, very strong competitor."

"Similar to myself, we just go out there and do what we do best: play hard every possession, give it our all for 40 minutes."

"He's a very strong driver, capable shooter, very good defense on the ball and off the ball."
No. 15 — Tshilidzi Nephawe, 6-10, 268, senior C
— Season stats: 10.4 points, 53.1% FGs, 62.1% FTs, 7.6 rebounds
"Just call him 'Chili.' He gets mad if you don't say his nickname."

"Just a big presence down low. Offense, it's hard to stop him. Big, strong kid. A guy you want to get the ball to every time. You know you're gonna get a bucket out of him."

"On the defensive end, he just change shots, rebound, guard. He can get down and guard guards if he want to."

"His conditioning got better. He came off an injury not too long ago (missed 12 games before returning in mid-January)."

"He's a senior, does the right things. Not too many mistakes — on and off the court. He's a guy that you want, and we want. We're lucky to have him on our team."
No. 4 — Ian Baker, 6-0, 180, sophomore PG
— Season stats: 9.5 points, 47.8% FGs, 47.2% 3s (58-for-123), 75.9% FTs, 2.5 rebounds, 2.8 assists, 1.4 steals
"He brings a lot. For being a young player, he's a very experienced guy. He's very mature at his position."

"He can shoot the ball very well. He can lead the team on offense, and when he wants to he can play very good 'D.'"

"He comes from a family with a lot of older brothers, so I think that's why his maturity is so strong. … He's a very good leader. We listen to him. He puts us in the right position to win games, hits a lot of big shots for us… When we're in a deep situation, he'll get us out of it."
AGGIES BENCH
No. 1 — D.K. Eldridge, 6-2, 180, senior G
— Season stats: 8.1 points, 38.6% FGs, 28.1% 3s (34-for-121), 63.3% FTs, 2.7 rebounds, 2.2 assists, 1.1 steals
Eldridge considers himself a defensive-minded guy.
"That's where my offense comes from most of the time — playing good 'D.' I know this team needs me in that category, so I just try my best to come off the bench and bring energy, especially when the starting five's not feeling too energetic."
As the 2015 NCAA Tournament bracket got unveiled Sunday evening, it quickly became clear Kansas University might have one of the most difficult roads to the Final Four in Indianapolis.
KU coach Bill Self discussed his team's Friday matchup with a solid No. 15 seed, New Mexico State, as well as a potential Round of 32 game against Wichita State Sunday evening, following the selection show.
Oh, yeah. One more thing: Kentucky is the No. 1 seed in KU's Midwest region.
Here are some highlights from the press conference:
• Saturday's result against Iowa State in the Big 12 final might not have mattered for KU's seeding. It would have been hard to pass Gonzaga on the 2-seed line. KU got what it should have in ending up in Kentucky's bracket, because the other No. 2 seeds probably had better years.
• New Mexico State (23-10) had some injuries this season and that is why have lost some of the games they did.
KU could face Wichita State in the Round of 32, and Self couldn't believe the Shockers got a No. 7 seed.
• If this KU team gets a chance to play in the Elite Eight game, against Kentucky, "it's been a hell of a year."
The Jayhawks don't even have to talk about that right now. Hopefully they will get to talk about that next week.
• Kansas took Sunday off from practicing. Kansas City was taxing on the team. They are beat up. Playing Friday helps KU. There is an extra day to get healthy, get bodies back fresh.
Perry Ellis isn't close to being where he needs to be, but these four days will be big for him getting that bounce back.
• Self saw New Mexico State while flipping channels last night. He goes through all the teams that could end up being Nos. 15 or 16 seeds, and he had New Mexico State as a No. 13 seed.
"It is a hard first game, and we need to be ready come Friday." When KU is good, it is really good. But it can't afford to take 5 or 10 minutes off like it did against Iowa State.
• Self was pleased to see seven Big 12 teams get into the Big Dance.
• Self told the players: "You know how many bullets we've dodged?" in his time at KU, in terms of potential NCAA Tournament matchups. It isn't guaranteed KU will play Wichita State.
• KU has always had a good crowd in Omaha, Nebraska, and Wisconsin will travel great, too. KU has had some good runs going through Omaha, too: The Jayhawks won it in 2008 and got to the final in 2012 after playing in Omaha.
• Larry Brown and SMU got in, and Self thought that might end up being a Round of 32 matchup for Kansas. Instead it was Wichita State.
• The guys are excited, and one guy who should be more excited than anybody else is Ellis. That is a pretty big potential matchup for him, maybe facing his hometown program in Wichita State next Sunday.
• Kentucky was a lot better than Kansas that day they met in November, but that team is even better now. KU is better, too.
There might not ever have been a team as favored going into the tournament as Kentucky.
• Self thinks KU has had a real good season, but you have to accomplish some things in the next few weeks to make it memorable.
For KU, losing to ISU, there was a little hangover, but that's gone now.
• KU could have an exciting next few weeks potentially, with maybe the chance to play the hottest team in the ACC in Notre Dame and the prohibitive favorite in Kentucky.
• Self doesn't think he should even talk about Cliff Alexander anymore with the media. If new information comes out, then he will.
• Landen Lucas is banged up and at this point in time, they need him and every player as healthy as possible. KU can be as close to whole as it has been in a while very soon.
• Self talked to the entire team after the TCU game on Thursday about how disappointing that was, and part of that was the way Wayne Selden Jr. played. Selden responded perfectly in the next two days.
• KU didn't have the same intensity level in the second half vs. Iowa State, but still had a chance to win it late after being down 7 points.
Another positive came the night before with how KU rebounded and defended against Baylor.
But the bottom line is they need Ellis back playing to his potential.
• The Big 12 didn't do well as a league in the NCAAs last season, after a strong regular season.
This year was another strong campaign, and the seeding reflected that. To validate that you need to have three or four teams get to that second weekend.
— Listen to the complete press conference: Bill Self reacts to Selection Sunday, KU's draw
— Hear from Perry Ellis and Wayne Selden Jr.: Ellis and Selden discuss the NCAA Tournament
Kansas University basketball coach Bill Self and his Jayhawks finally can turn their focus to the postseason.
At a press conference Monday in Allen Fieldhouse, Self spoke plenty about this week's Big 12 Tournament and some about the NCAA madness that follows.
Of course, the status of three guys who didn't play for KU at Oklahoma on Saturday — Perry Ellis, Cliff Alexander and Brannen Greene — came up too.
Here are some of the highlights from the Q&A:
• On being named the Big 12's AP coach of the year: It's nice, but it's a reflection of the fact you have good players and a good team. There were several guys who could've won it.
"For the first time, I think the media actually knows what it's talking about," the coach joked (we assume).
• The mood after KU's loss at Oklahoma was positive. The Jayhawks played hard, and fought and just got beat.
Losing on the last play again, like at West Virginia, made it harder to stomach. KU didn't make shots the first half and did much better in the second half. The Jayhawks played better than they had the week prior, too.
• Perry Ellis will be evaluated tomorrow, as he has been every day. The hope is he will be able to go full speed at practice by Wednesday. If that's not the case, he won't play Thursday.
Ellis will wear a brace the rest of the season, regardless, for precautionary measures.
• Self has never thought it is that important to win the Big 12 Tournament. The Jayhawks want to go and win, just like every team. But it's the only game where you can lose and immediately be recharged and looking to what's next.
As soon as you win it, your whole focus turns. There is no relishing it. You want to win it because you're competitive and it's against your peers, but it's not the end of the earth if you don't.
• One could make a case for seven or eight different teams winning the Big 12 Tournament if they get hot. You could also make a case that if those same teams don't come out ready on Thursday, they will lose.
• Self might watch some other games this week if they're on TV, but he won't study them.
• In terms of preparing for the NCAA Tournament, Self will do something differently this year. Last year the team thought it was going to get Joel Embiid back and prepared for him to play. That was a mistake. The Jayhawks should've prepared not expecting him, and if he came back it would be a bonus.
KU spent too much energy thinking Embiid would come back. So this year, Self won't count on Cliff Alexander coming back. If he gets cleared, KU will plug Alexander in.
• Based on Self's limited information, which he read on the Yahoo! report, he doesn't really know where Alexander's situation stands.
So Self is planning not to have Alexander available.
"He's a stud… He's down.. But his attitude's great," Self said of Alexander. And the freshman big man probably has practiced better than ever.
Every good player in the country has "somebody meet with somebody." It becomes illegal if there are things beyond that. And Self doesn't have enough information on it to comment on that part of it.
• The players feel bad for Alexander, but there won't be a negative situation if they don't get him back. The guys are prepared and focused.
• Landen Lucas, Self thought even before the sophomore's big day at OU, would be good enough to start at Kansas one day. He is a good player and a part of the program's future moving forward.
• Brannen Greene should play on Thursday. He has handled his business since Saturday's suspension. He needs to keep doing that.
• Self hasn't talked to Wayne Selden Jr. since the game at OU, but the report from the trainer is he is fine. He should be 100 percent by Thursday.
Selden also has suffered from the flu.
"We checked everyone's schedule and there is no time for anyone to get sick," Self joked.
• Both Kansas State and TCU — KU's potential opponents on Thursday — guarded Kansas really well in the regular season.
• The play KU ran to get Frank Mason III fouled on a three-pointer at the end of the Oklahoma loss worked out well. They call it "home run," and probably every team in America runs it or something close. It is like the famous Valparaiso play.
• There is so much hype on the NCAA Tournament, it means more in people's minds and you have to deliver. From KU's perspective, you know the difference between some of the seeds is very small, even if some people think of certain outcomes as monumental upsets.
Everybody can beat everybody.
• Kentucky is "really good." They won games where they didn't play well and that's what is impressive about their undefeated mark at this point.
But if something happens and they don't win it all, it won't be monumental. The best team doesn't always win.
• Jamari Traylor's season has been up and down, but the last two games he has been really good. "He's not big enough to do what he does," Self said. Last year the role was easier for Traylor because he had big guys like Embiid and Tarik Black ahead of him.
Self just wishes he would defensive rebound the ball a little better. He's on an uptick right now.
• Nothing that happened Saturday at OU will hurt Kansas, it can only help the team.
• You don't want your guys practicing more than an hour and 10 minutes or so at this time of year to avoid fatigue. You might work on a couple of late-game situations a day and have some refreshers, but you don't necessarily spend more time on those sorts of plays.
• "The Big 12 Tournament should stay in Kansas City." That's not because it is close to KU, it's because it is the best setup. You're guaranteed sellouts. At other conference tournaments there will be tons of empty seats in those early rounds.
Self joked, Fred Hoiberg would rather it be in Des Moines. But other league coaches like it in Kansas City, Missouri, too — not just Self.
• If KU hadn't played such a good schedule the Jayhawks wouldn't have had the same chance at a high seed as they do now, with a 24-7 record. The Jayhawks are used to playing hard schedules.
— Listen to the complete press conference: Bill Self talks Big 12 Tournament, March Madness and more
Lon Kruger's Oklahoma Sooners hoped Saturday's regular-season finale at home against perennial power Kansas would decide the 2015 Big 12 championship.
However, two road losses in OU's previous five games destroyed the Sooners' chances of becoming the team that ended KU's run of regular-season dominance.
Oklahoma lost at Kansas State by 3 on Valentine's Day, and fell victim to a massive Iowa State comeback on Big Monday earlier this week.
Now, it's not as if the No. 15 Sooners (20-9 overall, 11-6 Big 12) have nothing left to play for against the No. 9 Jayhawks (24-6, 13-4). There is the matter of closing down Lloyd Noble Center for the season in style, not to mention the feather in the cap a win over KU brings to a team's résumé just before the start of the NCAA Tournament.
Frankly, OU should feel pretty good about winning this rematch with Kansas. The Sooners recovered from a 20-point deficit at Allen Fieldhouse on Jan. 19 and took a four-point lead in the second half before Kansas won, 85-78.
KU is 5-5 in true road games. Plus, the Jayhawks, have neither Allen Fieldhouse, Perry Ellis nor Cliff Alexander to help them this time.
At home this season, OU has defeated Baylor, Iowa State, West Virginia and Oklahoma State (all ranked at the time).
OU visitors this season have been out-shot:
48.3% to 36.6%, from the field

40.6% to 29.2%, from 3-point land
With that in mind, here is a refresher on the Sooners KU will have to hold back to have a shot at entering the postseason on a three-game winning streak.
SOONERS STARTERS
No. 24 — Buddy Hield, 6-4, junior G
— Jan. 19 at KU: 26 points, 7/19 FGs, 4/13 3s, 8/9 FTs, 5 rebounds, 2 assists, 3 TOs, 2 steals in 37 minutes
The Big 12's leading scorer — his 18.5 points per game in conference are even better than his 17.3 average for the season — is a gunner. Hield already has taken 206 3-pointers, and has made 79 (2.7 makes a game).
In the league, the dynamic junior shoots 44.9% from the floor and 38.3% from 3-point land.
Hield and fellow starting guards, Jordan Woodard and Isaiah Cousins, are active defenders, too. Hield has 26 steals in the Big 12, and the trio of guards all rank in the top eight in the conference in that category.
A strong candidate to be named conference player of the year, Hield torched KU in the first meeting, and now has two fewer interior defenders to worry about when he attacks off the dribble.
In eight league games, he has scored 20 points or more, and did so in each of his last two outings — 21 vs. TCU, 26 at Iowa State.
— hoop-math.com update: Good luck coaxing Hield into taking 2-point jump shots, a range at which he only makes 32.9% of his attempts. He takes 2.5 of those a game and only 18.4% of his 397 shots this season have been 2-point jumpers. Hield basically lives downtown (51.9% of his shots are taken there), and at the rim. … Oh, yeah. Hield also has 20 put-backs on the offensive glass this year.
No. 11 — Isaiah Cousins, 6-4, junior G
— Jan. 19 at KU: 18 points, 7/15 FGs, 3/8 3s, 1/1 FTs, 6 rebounds, 3 assists, 2 TOs, 2 steals in 38 minutes
KU didn't have much success checking Cousins in the first game, either.
On the season, Cousins is the conference's top 3-point shooter at 44.7%. Wouldn't you know it, he's even better in the Big 12: 30-for-65, 46.2%.
Basically, never leave that guy open. Especially at home, where he makes 51% of his 3-pointers.
Cousins averages 11.4 points and 3.9 boards in the conference, and he has 24 steals so far.
He has made 3 or more 3-pointers in 7 Big 12 games this season.
— hoop-math.com update: When he's not taking 3-pointers, 38.2% of Cousins' shots have been 2-point jumpers. He has made 39 of 113 (34.5%), and they primarily come one-on-one. Only 9 of his 2-point jumpers have been assisted.
No. 35 — Tashawn Thomas, 6-8, senior F
— Jan. 19 at KU: 4 points, 1/7 FGs, 2/2 FTs, 4 rebounds, 1 assist, 6 TOs, 3 blocks in 25 minutes
The only OU starter who failed to reach double figures in the first meeting with KU, Thomas might not have a problem doing so this time around, what with the Jayhawks' frontcourt looking so thin right now.
The big man averages 11.2 points and 7.0 rebounds in the league, and makes 47.5% of his shot attempts.
While Thomas has swatted away 24 shots in the Big 12, he also has drawn 8 charges in his last 9 games.
He had 4 offensive rebounds, and 8 total, in each of his last 2 games.
Thomas's 24 points vs. BU and 22 vs. ISU this season keyed big home wins.
— hoop-math.com update: As you likely know by now, Thomas mostly operates inside, with 51.8% of his shots coming at the rim. He shoots 35.3% (41-for-116) on 2-point jumpers.
No. 00 — Ryan Spangler, 6-8, junior F
— Jan. 19 at KU: 13 points, 6/10 FGs, 0/1 3s, 1/1 FTs, 10 rebounds (4 offensive), 3 assists, 1 TO, 1 block in 37 minutes
Just about every KU opponent this season has had at least one guy hurt the Jayhawks on the offensive glass. For Oklahoma, that man was Spangler.
Thanks in part to his work on the boards when OU puts up a shot, he shoots 57.6% from the floor in the Big 12 — which easily makes him the league leader. Only ISU's Monté Morris (51%) and Ellis (50%) are in the same neighborhood.
In league games, he averages 10.6 points, 7.2 rebounds and has denied 24 shots.
For some reason, Spangler has taken 18 3-pointers this season in the league. He has made just 3 — 16.7%.
— hoop-math.com update: Even though most of Spangler's boards come on defense, he averages 2.3 a game on offense, and has a team-leading 25 put-backs this season. 19% of his shots at the rim have been on the offensive glass. Spangler shoots 71.9% at the rim (87 of 121).
No. 10 — Jordan Woodard, 6-0, sophomore G
— Jan. 19 at KU: 10 points, 2/5 FGs, 6/7 FTs, 2 rebounds, 4 assists, 1 TO, 1 block, 1 steal in 38 minutes
OU's point guard averages 3.6 assists in the Big 12, to go with his 9.6 points and 2.9 rebounds.
Woodard isn't quite the shooter — 11-for-32 from 3-point distance in the league — that Hield and Cousins are but he gets easy points at the free-throw line, where he connects 84.9% of the time (62 makes on team-leading 73 attempts).
His 1.59 steals a game also lead OU, and rank him tied for fourth in the league.
— hoop-math.com update: The point guard can get to the rim on his own. Of his 31 field goals at the rim this season, only six came via a teammate's assist.
SOONERS BENCH
No. 1 — Frank Booker, 6-4, sophomore G
— Jan. 19 at KU: 3 points, 1/1 FGs, 1/1 3s, 0 TOs in 3 minutes
Booker's role has increased significantly since the first matchup with Kansas.
He barely played back in January at the fieldhouse, but since then he has registered 15 minutes or more in 9 of the last 11 games (including each of the last 6). Booker now averages 14.4 minutes in Big 12 games, contributing 5.6 points off the bench.
Outside of Hield and Cousins, he is OU's best 3-point shooter. In conference games, Booker has made 20 of 58 3-pointers (34.5%).
Though he went 0-for-5 at ISU on Monday, he made 4 of 8 recently — Feb. 21 at Texas Tech.
— hoop-math.com nugget: Some players take a lot of 3-pointers. And then there is Booker. This season, 79% of his shots have come behind the arc. (For comparison's sake: Brannen Greene takes 71.8% of his shots from downtown.) Look for him to catch and shoot. 24 of his 28 makes from 3-point land have been assisted.
Just one game remains in the regular season for Bill Self's Kansas basketball team, and his Jayhawks (24-6 overall, 13-4 Big 12) already have sole possession of a conference championship sealed up.
Plus, two guys that started for KU just less than two weeks ago — forwards Perry Ellis and Cliff Alexander — don't figure in the plans.
That makes Saturday's game at Oklahoma (20-9, 11-6) unique, but Self still plans on going down to Norman to win.
He talked about that and more Thursday afternoon at his weekly press conference. Here are some of the highlights:
• On monumental rallies in the Big 12 this past week: They've always happened, based on Self's knowledge, and they happen at home, where the crowd plays such a part of it. The Iowa State rally vs. OU was different. The Cyclones went off. KU didn't really hit shots vs. West Virginia; the Jayhawks just rebounded. At Allen Fieldhouse, the crowd gives KU players so much confidence.
• The perception of the Big 12 nationally is it's a great league, and not a top-heavy league, which Self thinks is fair. There is parity in the Big 12. There are only 10 teams in the conference, which is different from the other major conferences. ESPN has promoted the league favorably but the Big 12 still operates in the fly-over states and doesn't get quite the attention that the ACC gets, for example.
• Sometimes the regular season gets overlooked, and sometimes that's unfair. KU has had a good season, but the Jayhawks have to play well in the postseason to make it special.
Everybody in the league has done well at some point or another in the postseason in the Big 12 since Self has been here, too, he said.
If you have good enough players to win the league, you have a good enough team to make a run in the postseason.
• Perry Ellis is responding well to treatment. But he's definitely not going to play at Oklahoma. Hopefully by next week they will know if he can get out there and play in the Big 12 Tournament.
It's a sprained knee.
• There is nothing new on Cliff Alexander, so to Self's estimation, the chances of him playing Saturday are almost non-existent.
• This altered lineup impacts how KU will play at OU, when they should be fine-tuning things. Wayne Selden Jr. has an ankle injury, too. The Jayhawks might tweak some things and "have some fun with it."
Depending on Selden's situation, there won't be anyone who has played a ton of minutes except for Frank Mason III. And Mason wants to play. He doesn't want to rest. Besides, Self says KU is going down to OU to win the game.
• There are probably a lot of things that would have to happen for KU to get in position to be considered for a No. 1 seed in the NCAAs.
If things went in the other direction, the Jayhawks could fall to a 3-seed line.
Self hopes KU has its full complement of players for the Big 12 Tournament, because right now it feels like they are in limbo.
• Oklahoma has a tremendous lineup, and Self thought this game would probably mean a lot more in terms of the league title race.
But now KU is playing for seed lines, that sort of thing, as is OU.
• Now with 11 Big 12 titles in a row, Self can remember certain portions of specific seasons when things sort of clicked or things fell apart.
Self will probably remember this one more than others because it was such a grind to get the championship. This might have been the most difficult season to win the league, in large part because the differential in talent is so small.
• When guys like Hunter Mickelson and Landen Lucas come in ready to play like they did against West Virginia, that is a credit to them more than the coaches.
Mickelson just wants a chance to play, which is a good thing. Self said he, Lucas and Svi Mykhailiuk have as good an attitude as anybody in the program.
• Mickelson can shoot and blocks some shots. He busted his butt against WVU. And Lucas made a "stud play" at the end of regulation to block a shot that could've won it for WVU.
It's kind of a next man up situation, as the football saying goes. Those guys should play well and Self thinks they will.
• KU hit nine 3-pointers in the first half against OU at Allen Fieldhouse earlier this season, but the Jayhawks aren't going to Norman expecting to make that many.
Still, without Ellis, it will behoove Kansas to hit some perimeter shots on Saturday.
Self doesn't talk about missing shots with the team, just with the media.
ISU and OU are the best shot-making teams in the league, so Kansas doesn't want to go down there and get in a game of HORSE. You have to have some shot-makers. But mainly KU needs to get quality shots more than anything else.
• In the race for Big 12 Player of the Year, Ellis might be hurt by missing time at the end. To Self, Ellis putting KU on his back speaks volume. Buddy Hield has been great for Oklahoma, too.
Ellis certainly has played himself onto the first team without question.
— Listen to the entire press conference: Bill Self talks quality of Big 12, seed lines and more
Odds are you vividly remember what happened the last time Kansas and West Virginia squared off. Feb. 16 wasn't that long ago, after all.
The final seconds, in which the Mountaineers' Juwan Staten scored a layup on one end of the floor and the Jayhawks' Perry Ellis missed one on the other end, received a lot of attention. But West Virginia's ability to dominate the offensive glass and create Kansas turnovers throughout proved even more important for Bob Huggins' squad.
In a 62-61 WVU win, the Mountaineers scored 15 second-chance points off 22 offensive rebounds. — Again, 22 offensive rebounds. — Plus, Kansas gave the ball away 14 times, and West Virginia capitalized by scoring 17 points off turnovers.
West Virginia thrived by doing what it does best. Now the question is: Can the Mountaineers replicate that at Allen Fieldhouse? Statistics indicate those specific set of skills travel well.
According to TeamRankings.com, WVU leads the nation in opponents' turnover percentage: 28.2%. In away games, WVU opponents have turned it over on 28% of their possessions.
What's more, WVU retrieves 38.7% of available offensive rebounds — that ranks 8th in the nation. On the road, the Mountaineers get 37.6%.
The tricky part for the No. 20 Mountaineers (22-7 overall, 10-6 Big 12), though, could be maintaining their typical style, aggressiveness and effectiveness without a key piece or two.
Huggins said Monday starting guards Staten and Gary Browne are "day-to-day" with injuries. Staten hurt his knee against Texas and Browne suffered an ankle sprain against Baylor.
Without both of those guys, beating No. 9 Kansas (23-6, 12-4) might prove impossible. WVU lost by 12 at Baylor without Staten and Browne (played just 3 minutes).
Now, as a refresher, here are the Mountaineers KU has to hold back in the final week of the regular season, as the Jayhawks try to clinch their 11th straight Big 12 championship outright.
MOUNTAINEERS STARTERS
No. 3 — Juwan Staten, 6-1, senior G
— Feb. 16 vs. KU: 20 points, 9/18 FGs, 2/3 3s, 4 assists, 0 turnovers, 1 steal in 32 minutes
Will West Virginia's best player be available at Kansas? We might have to wait until just before Tuesday's 8 p.m. tip to find out.
If he suits up and is close to 100%, Staten gives WVU its best shot at pulling off an upset. The Big 12's preseason Player of the Year has scored 20 or more points in three straight games vs. Kansas.
In 14 Big 12 games, Staten has averaged 13.1 points and 5.0 assists, made 10 of 29 3-pointers (34.5%) and hit 40.8% of his field goals overall. He also gets to the foul line with regularity, but has made just 53 of 86 free throws (61.6%).
— hoop-matth.com update: Look for Staten to go one-on-one and take 2-point jump shots. 48.4% of his attempts on the season qualify as such, and while he connects on 41.3% of them, only 10 of his 62 makes have come via a teammate's assist.
No. 5 — Devin Williams, 6-9, sophomore F
— Feb. 16 vs. KU: 8 points, 4/7 FGs, 4 rebounds (1 offensive), 3 assists, 2 TOs, 1 steal in 26 minutes
In WVU's first meeting with the Jayhawks, KU actually did a nice job of negating his presence on the offensive glass, but his teammates more than made up for Williams only grabbing 1.
Williams has cleaned the glass well in the Big 12, averaging 8.9 bards to go with his 11.4 points and 46.2% shooting. He averages 2.7 offensive rebounds a game.
The big man gets to the foul line for 4.9 attempts a game in the league, and he shoots 69.9%.
— hoop-math.com update: Given his size and rebounding ability, it's surprising that Williams only takes 47.1% of his shots at the rim. He gladly takes jumpers from the baseline and elbows. His 34 put-backs on the offensive glass don't even lead the team.
No. 14 — Gary Browne, 6-1, senior G
— Feb. 16 vs. KU: 6 points, 1/6 FGs, 1/2 3s, 3/4 FTs, 3 rebounds (1 offensive), 2 TOs, 1 steal in 24 minutes
Another starting guard described as "day-to-day," West Virginia could really use one of its better 3-point shooters at Allen Fieldhouse.
In Big 12 games, Browne has knocked down 16 of 48 3-pointers (33.3%). That's not outstanding, but he has made the second-most 3s on the team in conference.
Browne averages 8.6 points in the league on 38.9% shooting from the field.
On the season, he has made 26 of 72 from 3-point range.
— hoop-math.com update: More likely to shoot jumpers than attack the rim, Browne makes 35.9% of his 2-point jumpers — the range where 26.4% of his attempts comes from. He doesn't live there as much as he does downtown, but if you can force him there it is to your benefit.
No. 1 — Jonathan Holton, 6-7, junior F
— Feb. 16 vs. KU: 5 points, 2/3 FGs, 1/2 FTs, 9 rebounds (6 offensive), 1 assist, 1 TO, 1 block, 2 steals in 22 mintues
One of many players to destroy KU on the offensive glass just more than two weeks ago, Holton might not have scored much himself, but his 6 offensive rebounds set a tone for WVU's win.
In Big 12 play, 52% of his rebounds come on the offensive glass, and he averages 5.1 boards a game, while scoring 5.3 points and making 41.1% of his shots.
Holton is coming off a performance of 7 offensive rebounds (10 total) at Baylor, where he scored 7 points.
— hoop-math.com update: More than any of his teammates, Holton operates at the rim, where he takes 64.5% of his shots and makes 61% of those looks. He has 46 put-backs via the offensive glass to lead WVU. 29.7% of his shots at the rim are a result of his rebounding.
No. 4 — Daxter Miles Jr., 6-3, freshman G
— Feb. 16 vs. KU: 2 points, 1/5 FGs, 0/3 3s, 3 rebounds (1 offensive), 1 assist, 0 TOs in 15 minutes
The freshman has struggled with his shooting in the Big 12:
38-for-97 FGs, 39.2%

14-for-49 3s, 28.6%

11-for-21 FTs, 52.4%
With Staten and Browne unavailable at Baylor, Miles scored 11 points (4-for-9 shooting, 1-for-5 from 3) and dished 5 assists.
That came after a 12-point, 5-steal showing in a win vs. Texas, in which Miles hit 4 of 8 shots and 2 of 4 from 3-point range.
— hoop-math.com update: Only 11.7% of his shot attempts have been 2-point jumpers. He only shoots 19% from that range, and rightfully prefers scoring at the rim (39-for-71) or taking 3-pointers.
MOUNTAINEERS BENCH
No. 2 — Jevon Carter, 6-2, freshman G
— Feb. 16 vs. KU: 13 points, 4/8 FGs, 3/5 3s, 2/2 FTs, 6 rebounds (4 offensive), 1 assist, 1 TO in 29 minutes
We told you before the game at WVU to watch out for this guy off the bench. But who knew he'd kill it on the offensive glass, too, with 4 boards on that end of the floor?
Carter might get a chance to make an even bigger name for himself if Staten and/or Browne can't play. One of those scenarios would make him a starter, and even more critical to the Mountaineers' offense.
He started at Baylor and basically became Juwan Staten Jr., scoring 25 points on 7-for-13 shooting from 3-point range. — That is correct. Carter made 7 3-pointers his last time out. — He took 16 shots and 13 came from behind the arc.
While WVU's style forces teams to turn it over more often than usual, Carter really forces things as a defender, with a team-leading 28 steals in Big 12 play.
In conference, Carter averages 9.4 points and 3.1 rebounds. Plus, the young guard has made 39.4% of his shots, 40.5% of his 3s and 84% of his free throws.
— hoop-math.com update: Third on WVU in FG attempts, most of those come from 3-point range (58%), but Carter also finds his way to the paint, where he converts 58.6% of his shots at the rim (34-for-58).
No. 00 — Jaysean Paige, 6-2, junior G
— Feb. 16 vs. KU: 3 points, 1/2 FGs, 1/2 3s, 1 rebound (on offense), 3 TOs, 1 block in 6 minutes
He only averages 12.7 minutes in the Big 12, but those obviously could go up depending on the health of WVU's backcourt.
Paige has made 13 of 41 3-pointers in the league and averages 4.7 points.
— hoop-math.com update: A catch-and-shoot guy, each of Paige's 28 3-point makes this season has come off an assist.
No. 11 Nathan Adrian — 6-9, sophomore F
— Feb. 16 vs. KU: 2 points, 1/7 FGs, 0/4 3s, 4 rebounds (3 offensive), 1 assist, 0 TOs, 1 steal in 17 minutes
A big man who spends time on the perimeter on offense, Adrian has taken 2.0 3-pointers a game in the Big 12. Unfortunately for WVU, Adrian has made 5 of his 32 tries.
With a 25.4 field-goal percentage to boot, he averages only 2.8 points in the league.
— hoop-math.com nugget: He'd probably be better off getting more looks at the rim, but Adrian is a big guy who likes to jack 3-pointers (that's where 56.3% of his shots come from). At the rim, he converts 65.4% of his attempts. But only 25.2% of his shots are taken there.
The Texas Longhorns, presumed before the season began to occupy the same air at the top of the Big 12 with Kansas — or perhaps operate at a slightly higher stratosphere — are running out of time to save face.
Rick Barnes, in search of his 400th career win Saturday afternoon at Allen Fieldhouse against the No. 8-ranked Jayhawks (22-6 overall, 11-4 Big 12), would have had that milestone out of the way weeks ago had his team lived up to its preseason No. 10 expectations.
However, after UT went 11-2 in the non-conference — with one of those losses coming at Kentucky — the 'Horns never found their stride in the Big 12. Coming into a rematch with KU, Texas is 6-9 in the league and eighth in the standings.
The Longhorns have one quality win in the league: they beat West Virginia at home on Jan. 17. Their other five wins?
Two against Texas Tech

Two against TCU

One on the road against a Marcus Foster-less Kansas State
While the Jayhawks are working toward earning an 11th straight Big 12 championship, the Longhorns (17-11) might still have work to do just to get into the NCAA Tournament. The latest edition of Joe Lunardi's Bracketology at ESPN.com has Texas among the "first four out." (Kansas is a No. 2 seed in the South, where Duke is No. 1.)
So, yeah, winning at Kansas would kind of be a big deal for UT.
Kansas enjoyed one its best all-around games of the season at Texas, on Jan. 24, when the Jayhawks won 75-62. But the Longhorns, as expected, gave KU issues inside, to the tune of 9 blocked shots.
This group of Longhorns, in fact, already holds the program's single-season record for swats: 207.
In Big 12 play, they lead the conference with 7.4 denials a game. That's also their season average, which ranks No. 1 in the nation.
With all of that in mind, here is a refresher on the Longhorns KU will have to hold back to get one win closer to a regular-season title.
LONGHORNS STARTERS
No. 1 — Isaiah Taylor, 6-1, sophomore G
— Jan. 24 vs. KU: 23 points, 8/17 FGs, 0/1 3s, 7/8 FTs, 5 rebounds, 1 assist, 1 TO, 1 steal in 35 minutes
KU's perimeter defenders had issues staying in front of the speedy point guard, who tied his season high with 23 points against the Jayhawks.
Since returning from a left wrist injury for the start of Big 12 play, Taylor is averaging a team-leading 13.1 points for UT, to go with 3.4 rebounds and 4.7 assists.
Taylor is hitting just 37.5% of his shots in the league and has only connected on 6 of 26 3-pointers (23.1%). But his quickness off the dribble gets him to the foul line: 58 for 71 (81.7%).
The fact that his 12 steals in 15 Big 12 games leads the team shows you how much UT's defensive success is about the length of the front line. You would think he would be able to gamble more and come up with more takeaways.
After a stretch of 3 straight games in single digits, Taylor enters the KU rematch coming off a 23-point showing vs. Iowa State and a 13-point effort at West Virginia (both losses).
— hoop-math.com update: Taylor shoots more 2-point jumpers than he does shots at the rim or 3-pointers. 47.6% of his shots have come in that in-between range (a 6.1% increase since the last time UT played KU), and he's made 33 of 98 (33.7%).
No. 10 — Jonathan Holmes, 6-8, senior F
— Jan. 24 vs. KU: 14 points, 5/9 FGs, 2/5 3s, 2/2 FTs, 3 rebounds, 1 assist, 0 TOs in 30 minutes
One of the team's more talented returning players, and the lone scholarship senior, the inside-outside threat has averaged just 8.4 points in Big 12 play, making 35.7% of his shots and 13 of 49 3-pointers (26.5%).
Holmes, a 1,000-point career scorer, suffered a concussion midway through the second half of a home game vs. Oklahoma State on Feb. 4 and missed the following 2 games.
His offensive numbers since that injury have impacted his conference averages:
5 points, 1/5 FGs vs Tech

5 points, 2/9 FGs, 1/6 3s at OU (still got 11 rebounds)

2 points, 1/5 FGs, 0/2 3s vs. ISU

6 points, 2/3 FGs, 2/3 3s at WVU
— hoop-math.com update: Holmes does not take many shots at the rim (29.8% of his 215 attempts have come at that distance), and he converts 51.6% of the time at point-blank range.
No. 55 — Cameron Ridley, 6-9, junior C
— Jan. 24 vs. KU: 8 points, 3/4 FGs, 2/5 FTs, 4 rebounds, 2 assists, 3 TOs, 2 blocks in 28 minutes
The man who will be easiest to spot on the floor Saturday is listed at 285 pounds, and KU players on offense will be looking for him, because he has 169 career blocked shots (fourth all-time at UT).
In Big 12 play, Ridley swats 1.7 shots a game, scores 8.1 points, hauls in 6.0 rebounds and makes 59.5% of his shot attempts.
His 2.5 offensive rebounds in Big 12 games rank fifth in the conference.
He has gone four straight games, though, without reaching double figures in points or rebounds. And he only has 3 blocks in that stretch.
— hoop-math.com update: Appropriate for his size, 65.3% of Ridley's shots come at the rim, and he has made 73.4% of them this season. His 30 put-backs lead Texas.
No. 2 — Demarcus Holland, 6-2, junior G
— Jan. 24 vs. KU: 6 points, 3/6 FGs, 0/1 3s, 4 rebounds (3 offensive), 3 assists, 4 TOs in 32 minutes
Sixth on Texas in scoring in Big 12 play, Holland averages only 5.9 points a game. But he is coming off a season-high 14 points at West Virginia.
Maybe UT just needs to let him shoot more. In league games, Holland makes 48.6% of his attempts and 45% of his 3-pointers (9 of 20). He made 5 of his 7 shots and 2 of 3 3-pointers at WVU.
However, he had only made 9 of 16 free throws (56.3%) in conference play.
— hoop-math.com update: Keep him mid-range and you should be OK defensively. Holland has only hit 8 2-point jumpers in 35 attempts (22.9%), while he converts 66.2% of his shots at the rim and 46.3% of his 3s.
No. 0 — Kendal Yancy, 6-3, sophomore G
— Jan. 24 vs. KU: 0 points, 0/1 FGs, 1 rebound in 3 minutes off the bench
KU will see much more of Yancy this time, now that he's in the starting lineup.
Barnes changed his role 6 games ago, and the second-year guard has taken off of late. In his last 3 games, Yancy is averaging 17.3 points, 5.0 rebounds, making 48.7% of his shots and has hit 9 of 20 3-pointers (45%).
Since becoming a starter, he put up:
7 points, 5 rebounds at K-State

12 points, 4 rebounds vs. TCU

3 points, 1 rebound vs. Tech

14 points, 6 rebounds at OU

29 points, 9/17 FGs, 6/9 3s, 5/6 FTs, 5 rebounds vs. ISU

9 points, 4 rebounds at WVU
It is clear from the Iowa State game he is explosive. In Big 12 play, he had made 13 of 37 3-pointers (35.1%).
— hoop-math.com update: 18 of his 20 2-point jumpers have been unassisted. Translation: he can score one-on-one.
LONGHORNS BENCH
No. 52 — Myles Turner, 6-11, freshman F
— Jan. 24 vs. KU: 8 points, 4/11 FGs, 0/3 3s, 8 rebounds (3 offensive) 0 TOs, 5 blocks, 5 fouls in 27 minutes
The guy KU wishes would've chosen crimson and blue instead of burnt orange leads Texas with 2.6 blocks and 6.4 rebounds a game in the Big 12, while scoring 10.5 points on 42.4% shooting.
In his last four games, the talented first-year (likely one-and-done) center has posted a pair of double-doubles while averaging 13.8 points and 8.3 rebounds.
Turner came off the bench in the last three games and his recent numbers would've looked even better if not for a dud at WVU: 7 points, 1 rebound, 2/6 FGs in 24 minutes.
— hoop-math.com update: More than half (51.1%) of Turner's attempts are 2-point jumpers. He has hit 49 of 114 (43%).
No. 3 — Javan Felix, 5-11, junior G
— Jan. 24 vs. KU: 0 points, 0/6 FGs, 0/3 3s, 1 rebound, 1 assist, 1 TO in 17 minutes
Not many teams can say they shut down Felix, but the Jayhawks did just that in Austin.
The guy averages 9.1 points in Big 12 play, makes 42% of his shots and shoots 43.9% from deep, but he registered a goose egg against KU. This from a dynamic guard who has led his team in scoring 5 times in conference play.
Felix is the best 3-point shooter in a Texas uniform, with a team-best 25 made in Big 12 play, on 57 attempts.
Is he due for a breakout game? Felix scored just 2 points vs. Iowa State and only played 2 minutes at West Virginia.
— hoop-math.com update: Fourth on the team in field-goal attempts (201), Felix takes the majority of his shots (56.2%) from 3-point range. Only 12.4% of his attempts have come at the rim, where he has made 14 of 25 (56%). He makes 42.9% of his 2-point jumpers.
No. 21 — Connor Lammert, 6-9, junior F
— Jan. 24 vs. KU: 3 points, 1/6 FGs, 1/5 3s, 6 rebounds, 1 blocks, 0 TOs in 20 minutes as a starter
The former Texas starter now joins a talented bench unit. In Big 12 games, he averages 4.6 points and 4.2 rebounds and has made 12 of 39 3-pointers.
Lammert scored a season-high 12 points at K-State earlier this season, and had 8 points at WVU.
— hoop-math.com update: Lammert actually leads UT rotation players in FG% at the rim: 75%. He has made 18 of 24 with 10 coming via assists.
No. 44 — Prince Ibeh, 6-10, junior C
— Jan. 24 vs. KU: 0 points, 0/0 FGs, 4 rebounds, 1 block in 8 minutes
The backup big man only plays 9.3 minutes and scores just 1.7 points a game in the Big 12, but he's the kind of defensive rim protector that can bother KU, swatting shots and forcing misses.
Ibeh blocked 4 shots at K-State (a season high) and swatted away 2 apiece at Baylor, OU and WVU.
— hoop-math.com update: Not exactly an offensive focal point for UT, Ibeh doesn't venture outside of the paint often. 80.5% of his shots come at the rim and he makes 69.7% of them,
With Kansas University back atop the Big 12 basketball standings and one of the league's preseason favorites, Texas, coming to Allen Fieldhouse Saturday, KU coach Bill Self had his weekly press conference Thursday afternoon.
The coach hit on KU's loss at Kansas State this week, what Iowa State's loss to Baylor means for the Jayhawks and just how good the Longhorns (17-11 overall, 6-9 Big 12) are, despite not living up to expectations — among other topics.
Here are some of the highlights from the Q&A:
• Self didn't watch the Iowa State-Baylor game Wednesday night. He watched Duke and Virginia Tech and another one. If he watched it, he'd be nervous and all of that. KU's assistants watched it. … "I followed the score."
ISU was playing well before Baylor went on a run, from what he heard. Kansas knows how good Baylor is — the Bears gave the Jayhawks all they wanted.
• All that matters in the next week-plus is KU (22-6, 11-4) taking care of business. But Self had to be a Baylor Bears fan on Wednesday night. Plus, that ISU loss probably gives the KU players a little bit of extra energy with the Jayhawks back atop the Big 12.
There should be high drama in the Big 12 to close the regular season, and it's a great league. The race deserves to come down to the wire.
• Perry Ellis is probably playing as close to his ceiling as he has in his career and that has gone to an even higher level the past few games.
• KU's offense fell off in the last 10 minutes at Kansas State. The spacing was bad and the screening was poor, as it has been al year. Ellis has been the only offensive threat inside. It would be nice to throw the ball to a big inside and have him get fouled or score.
KU still has players who need to deliver at center. Plus, Frank Mason III needs to drive to the paint.
• Self was really proud of how Jamari Tryalor handled the contact from a K-State fan amid the crowd storming after the game in Manhattan. He didn't talk about that or the storming with players. They need to move on. When you keep talking about something like that you sound like a "whiny brat."
• Texas freshman Myles Turner is playing great. The Longhorns are a lot like the Jayhawks. They can play terrific or take a noticeable step back. Turner is playing a lot of minutes, playing closer to the basket and he is hard to guard because he gets his shot off too quickly.
UT has an imposing a front line as any team in America, probably with the exception of Kentucky. They're still capable of beating anybody.
• KU freshman big Cliff Alexander didn't get a good chance to play at K-State because of quick fouls. He was probably more effective coming off the bench than he has been as a starter. He actually had some "unlucky" fouls at K-State. Keeping him out of foul trouble so he can play with reckless abandon would probably be his best-case situation.
• There will be a spotlight on the state of Kansas Saturday with Wichita State and Northern Iowa playing Saturday afternoon — two top-10 kind of teams playing with the league on the line.
And it will be festive at Allen Fieldhouse for KU and Texas. The GameDay crew will be at both games and that will be cool for the state of Kansas.
• The Big 12 has a lot of guards who can get to the paint, and Isaiah Taylor is one of the dominant point guards. There is Mason, Monté Morris, Juwan Staten, Kenny Chery and Taylor. This is a point guard league right now. Taylor and Staten — the two KU plays next — are probably the best at getting inside.
They say guards win. Self would say there are less marquee big guys in the Big 12 this season compared to year's past. This year, the dominant players are guards, or undersized bigs, like Ellis and Georges Niang.
• Back when Kevin Durant played at Allen Fieldhouse for Texas, Self asked Danny Manning about him and the former KU great said, "That's the baddest man that ever played on this floor."
UT has had some greats, such as Durant and LaMarcus Aldridge. Texas has recovered nicely since losing a bunch of guys in one season early, which probably was anticipated.
• KU assistant Jerrance Howard is happy to be back at work. They haven't made a big deal about it.
• Panic isn't the word, but KU didn't play with poise the final 10 minutes at K-State. There was poor ball and body movement on offense from KU down the stretch. Mason wasn't a factor and they were able to negate Ellis primarily. K-State defended them very well.
— Listen to the complete press conference: Bill Self talks Big 12 race, Texas and more

Find more businesses on Marketplace
Arts & Entertainment · Bars · Theatres · Restaurants · Coffeehouses · Libraries · Antiques · Services