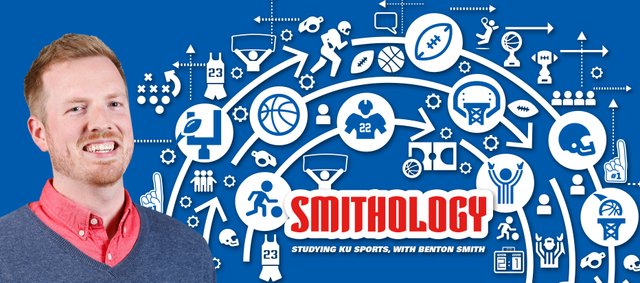 Posts tagged with
Kansas Football
Saturday marks the first Big 12 game of 2015 for both Kansas and Iowa State, and the Jayhawks and Cyclones have some losing streaks they'd like to get rid of at Jack Trice Stadium (11 a.m. kickoff).
Winless through three games this season, KU at least snapped a four-game skid versus Iowa State by winning 34-14 in Lawrence in 2014. But there is that not-so-insignificant matter of the Jayhawks' 34-game losing streak away from Memorial Stadium. ISU accounted for three of those, and Kansas hasn't won in Ames, Iowa, since escaping 35-33 in 2008.
Back then, of course, Mark Mangino was coaching the Jayhawks. Now ISU's offensive coordinator, Mangino wouldn't mind adding to KU's road troubles — with no offense to his former assistant David Beaty.
ISU hasn't won a Big 12 opener since bludgeoning Kansas, 45-3, in 2002. But the streak the Cyclones would really like to snap is a stretch of nine consecutive Big 12 losses.
Iowa State's defense — unlike KU's this season — has shown it can get into the backfield and make plays. The Cyclones (1-2) already have 24.0 tackles for loss — three times as many as KU — ranking third in the Big 12 and 17th nationally.
The Cyclones, who beat Northern Iowa in the opener and have since lost to Iowa and Toledo, have enough play-makers on offense to keep KU's road losing streak alive and well. Here are five ISU players Kansas should be worried about.
FIVE CYCLONES TO WATCH
No. 12: QB Sam Richardson | 6-2, 217, sr.
• Believe it or not this will actually mark senior quarterback Sam Richardson's first career start against Kansas. Injuries kept him out of the KU-ISU game each of the past two seasons. In 2012, though, he came off the bench as a freshman against Kansas and lit up the Jayhawks — 23-for-27 passing, with 250 yards and four touchdowns.
• This season, Richardson is averaging 249.7 yards passing per game and completing 61.3 percent of his throws (65-for-106).
• In each of his first two games this season (vs. Northern Iowa and Iowa), Richardson threw two TD passes, giving him 15 multi-TD games in his career.
• He ranks 28th nationally in completions per game (21.7).
• ISU's QB only threw one TD pass vs. Toledo. He now has 42 in his career, tying for the second-best total in school history (Bret Meyer, 50, 2004-07).
• Richardson is one of five active FBS QBs with more than 5,000 passing yards and 1,000 rushing yards.
No. 5: WR Allen Lazard | 6-5, 223, soph.
• Richardson's favorite target, sophomore receiver Allen Lazard leads ISU in receptions (15) and receiving yards (150).
• He has caught at least one pass in all 15 games of his young career.
• As a freshman in 2014, Lazard had five catches for 70 yards at KU.
• Lazard delivered one of the best rookie seasons from a WR in ISU history last year, with 45 catches for 593 yards and three TDs.
• Also a threat on special teams, Lazard averaged 25.0 yards a punt return against UNI.
• The tall receiver already has two eight-catch games on his résumé. Not surprising when you consider how highly he was thought of coming out of high school.
No. 45: DE Dale Pierson | 6-2, 249, sr.
• Senior DE Dale Pierson ranks second nationally in sacks per game (1.7), trailing only Penn State's Carl Nassib (1.75).
• Pierson also ranks No. 5 in the nation with 2.0 tackles for loss per game. That mark leads the Big 12.
• With nine games left to play, he is 3.5 sacks shy of ISU's single-season record: 8.5, by Shawn Moorehead in 2006. No wonder his Twitter handle is @SACKMAMBA45.
• In ISU's win over UNI, Pierson went for 3.0 sacks and recorded his first career interception.
• Pierson, a former Pasadena CC standout, really began to take off late last season. In his last six games for ISU, he has 37 tackles, 9.5 TFL, 7.0 sacks, two fumble recoveries, a forced fumble and an interception.
No. 2: RB Mike Warren | 6-0, 200, RS-fr.
• After seeing few opportunities in ISU's first two games, red-shirt freshman running back Mike Warren broke out against Toledo. His 126 rushing yards included a career-long 41-yard carry.
• Warren now leads ISU with 154 rushing yards on the season.
• The young RB is averaging 5.1 yards a carry.
• It seems Warren could become the first ISU freshman to lead the team in rushing yards since Alexander Robinson did it in 2007.
No. 12: LB Jarnor "Jay" Jones | 6-3, 209, jr.
• Linebacker Jarnor "Jay" Jones' 20 tackles rank third on ISU, and he has made plays in the backfield, with four 4.0 for loss.
• A former member of North Carolina State's football program who transferred to Georgia Military College after running into some trouble, the transfer now seems to have things figured out.
• Jones had a sack and two tackles for loss in each of his first tow games for ISU, against Northern Iowa and Iowa.
You won't see Rutgers football coach Kyle Flood on the field Saturday at High Point Solutions Stadium, in Piscataway, New Jersey. As you've probably learned by now, the Scarlet Knights' head coach is in the midst of serving a three-game suspension for rules violations and a string of off-the-field issues involving Rutgers players.
An investigation found that Flood emailed and met in person with a RU faculty member even though he knew — or should have known — of the university's policies prohibiting coach-initiated contact with faculty members regarding students' academic standing.
What's more, Rutgers captain and standout wide receiver Leonte Carroo was suspended after facing assault charges in a domestic violence issue. On Sept. 16, Carroo pleaded not guilty to the charge in which authorities say he slammed a woman onto concrete after a football game.
As the AP reported, the Carroo incident "is the latest stain on a program that has seen six other players kicked off the team this month after being arrested on charges that include armed robbery and home-invasion burglary and rioting. One of the former players was also charged in two home-invasion robberies."
All that disarray has led many who follow Kansas football to circle this week's game at Rutgers (11 a.m. kickoff on Big Ten Network) as one of the few winnable dates on the schedule.
But before deciding if that's the case, we should probably get to know the important remaining members of the Scarlet Knights, because those players will be the ones trying to extend KU's 33-game losing streak away from Memorial Stadium.
Leading Rutgers in place of the suspended Flood is interim coach Norries Wilson. RU's assistant head coach and running backs coach opened this unenviable stretch with a 28-3 loss at Penn State this past weekend. The Scarlet Knights never reached the end zone, in part because of meager field position: on average, RU started its first-half drives at its own 16-yard line; that average barely improved in the second half, to its own 20.
But if Kansas blows any special teams coverage, Rutgers (1-2) has just the weapon to flip the field. Here are some play-makers the Jayhawks (0-2) will have to keep in check in order to have a shot at a rare road victory.
FIVE SCARLET KNIGHTS TO WATCH
No. 1: RET/WR Janarion Grant | 5-11, 170, jr.
Washington State had no answers for Janarion Grant on Sept. 12, when the return specialist set a new Rutgers record with 337 all-purpose yards, including a 55-yard punt return for a touchdown (above) and a 100-yard kickoff return for a TD (below). The day made him an easy choice for Big Ten Special Teams Player of the Week.
Grant, who also took a kickoff return to the house in RU's season opener versus Norfolk State, has returned a kick 70 yards or more five times in his career.

So far this season, Grant has 93 receiving yards (10 catches) and 21 rushing yards (one carry). Given KU's defensive issues, the Jayhawks better be aware of him every time he appears in an offensive formation.

Grant had 105 receiving yards on eight receptions late last season against Maryland, and with his speed, he is a threat to burn KU's secondary on any given snap.
No. 3: WLB Steve Longa | 6-1, 225, jr.
If Rutgers is playing, odds are linebacker Steve Longa is leading the team in tackles. In 29 career games with the Scarlet Knights, Longa has finished 20 of them with the most tackles.

Longa's 251 career tackles give him the team lead among active players — by 107.

Averaging 8.7 tackles a game this season, Longa had made 15 tackles on passing plays.

On nine occasions at Rutgers, the linebacker has racked up 10 tackles or more. He had 14 vs. Washington State.

In his career, Longa has broken up seven passes, sacked a QB five times, recorded 12.5 tackles for loss, forced three fumbles and recovered two fumbles

On the Lombardi Award watch list.
No. 5: QB Chris Laviano | 6-3, 210, soph.
The Big Ten's current leader in completion percentage, Rutgers quarterback Chris Laviano has succeeded on 72% of his throws through three games, and has a passing efficiency mark of 148.0, which is fourth-best in his conference.

First-and-10 has been his favorite down-and-distance. Laviano is 25-for-32 on first-down pass plays, with 12 first downs and two touchdowns.

RU failed to score a touchdown in the sophomore's first career road start, at Penn State, but he set new career highs with 27 completions, 42 attempts and 251 yards.

Laviano doesn't appear to have a favorite target. He completed passes to 10 different teammates against both Washington State and Penn State…

… And there is an obvious reason for spreading the ball around. Three of his four touchdown passes in 2015 came to now suspended receiver Carroo in the season opener.

Laviano isn't a huge running threat and can be sacked — good news for KU defensive ends Ben Goodman and Damani Mosby. His net average on rushing attempts (which include sacks in college) is -11.7 yards per game. PSU sacked the RU QB five times.
No. 31: FS Anthony Cioffi | 6-0, 200, jr.
KU quarterback Montell Cozart might not want to test Anthony Cioffi. The free safety already has two interceptions this season and four in his career.

Cioffi broke up a career-best three passes on Sept. 12 vs. WSU.

The free safety hasn't had to do too much cleaning up on defense, with 11 solo tackles through three games.

In his 27-game career, Cioffi has nine pass breakups, three forced fumbles and two fumble recoveries.

In 2013, Cioffi blocked a punt for a touchdown against Central Florida.
No. 8: RB Josh Hicks | 5-10, 215, soph.
Sophomore running back Josh Hicks leads Rutgers with 16 first downs gained, and is a perfect 5-for-5 in third-down rushes in that category (average of 5.6 yards on third-down carries).

Hicks ran for 118 yards vs. Norfolk State, marking his third 100-yard game, and scored two touchdowns (his only two this season to date).

Through three games, Hicks is picking up yardage in chunks, averaging 6.3 yards per rush. His 41 carries and 258 rushing yards lead Rutgers, which also uses RBs Paul James (31-112) and Robert Martin (24-150) a great deal.

Finished off his 2014 season with 202-yard performance and MVP honors at the inaugural Quick Lane Bowl, where RU handled North Carolina, 40-21.
With the help of a big, mobile quarterback who can command a versatile offense, Memphis football coach Justin Fuente is leading the kind of turnaround David Beaty hopes to pull off at Kansas.
Fuente took over a downtrodden Tigers program in 2012. After a 3-9 mark in 2013, Memphis went 10-3 last season, won the American Athletic Conference title for the program's first league crown in more than 40 years and beat BYU in double overtime at the Miami Beach Bowl.
Entering Saturday night's game at KU's Memorial Stadium, Memphis has won its last eight games, dating back to the 2014 season — the fourth-longest win streak in FBS Football. Heading into this week, only Ohio State (14), Boise State (10) and TCU (nine) have longer win streaks. You might have heard of those programs.
Fuente's teams are known for having creative offenses that can fool and burn defenses in a number of ways. The bad news for the Jayhawks: Memphis didn't have to show much of anything in its season-opening, 63-7 dismantling of Missouri State.
The Tigers utilized six running backs who helped account for 317 rushing yards. Memphis' 63 points against Missouri State ranked seventh in the nation, while the Tigers' defense also put up some stellar numbers, nationally: rushing defense (18 yards, sixth), total defense (125 yards, fifth), turnover margin (+3, fifth)
Although Memphis put up 519 yards of total offense (35th) in its opener, KU actually fared better, with 576 yards (19th).
While Memphis and Kansas are in very different places as programs right now, Memphis has lost 19 straight games to schools which currently reside in the so-called Power 5 or BCS conferences. The Tigers' last victory over a program from a major league came in the 2004 season opener against Ole Miss.
Fifteen of the Tigers' 19 such losses in the past 11 seasons came against either ACC, SEC or Pac-12 opponents — six to Ole Miss and four to Tennessee. Four more came against current ACC program Louisville.
Interesting note: Memphis assistant head coach Darrell Dickey played QB for Kansas State from 1979-82
FIVE TIGERS TO WATCH
No. 12: QB Paxton Lynch | 6-7, 245, jr.
Pulled from the opener late in the first half, Memphis star quarterback Paxton Lynch completed eight of his 12 passes for 78 yards and a touchdown vs. Missouri State.

In his career, Lynch has started 26 consecutive games, completed 60.7% of his 774 throws, racked up 5,165 yards and 32 touchdowns through the air and rushed for 15 more scores.

At the Miami Beach Bowl, Lynch played a part in seven total touchdowns (four passing, three rushing) — tying an NCAA bowl game record — and was named MVP.

On watch lists for Maxwell Award and Davey O'Brien National QB Award.
No. 11: RB Sam Craft | 6-0, 210, jr.
Though Jarvis Cooper led Memphis with 102 rushing yards and a pair of touchdowns last week, he was one of many backups to see extensive playing time. No. 1 RB Craft still went for 72 yards on 12 carries.

Last week's 12-touch game figures to be an anomaly this season for the junior, and Craft as recently as last season against Cincinnati tallied 38 carries in one game. He rushed for a career-high 170 yards against Cincy.

The speedy junior also serves as a kickoff returner for Memphis.
No. 39: FS Reggis Ball | 5-11, 210, sr.
The Tigers' leading returning tackler has 95 in his career — 68 unassisted — in 38 games.

Ball is capable of doing a bit of everything on defense and will be counted on to do so as a senior defensive back. He has 3.0 tackles for loss, two sacks, two interceptions, two pass breakups, three fumble recoveries, one forced fumble and two blocked kicks during his time at Memphis.

Returned an interception 93 yards in 2013 vs. SMU.
No. 40: TE Alan Cross | 6-1, 235, sr.
Don't let the 0 receptions vs. Missouri State fool you. Cross earned first-team all-AAC honors in 2014 for a reason.

The tight end caught three passes for 69 yards and a TD in the Tigers' bowl win over BYU to close 2014.

On the John Mackey Award watch list for the nation's top tight end.
No. 46 : PK Jake Elliott | 5-10, 165, jr.
Not many college programs are fortunate enough to have a real weapon in their place kicker, but Memphis does in Jake Elliott.

In 2014, Elliott made 21 of 32 field goals. Of the 11 he missed, eight came from more than 45 yards out.

The kicker set a new school record by hitting 57 extra points, going perfect in the process.

Eight of Elliott's 10 kickoffs went for touchbacks in the season opener.

Named the American Athletic Conference Special Teams Player of the Year in 2014.
South Dakota State football coach John Stiegelmeier has built his program into one of the most respected in the Football Championship Subdivision since moving to that level in 2004.
In 18 seasons, Stiegelmeier has gone 120-86, and the Jackrabbits really have come on of late, with three straight FCS playoff appearances and a No. 15 ranking in this year's preseason coaches' poll.
When SDSU lines up against Kansas on Saturday at Memorial Stadium, Stiegelmeier and company will do so knowing that a victory against the Jayhawks would put another major bullet-point on the Jackrabbits' résumé. Since moving to Division I, SDSU is 0-7 against FBS opponents — including a loss at KU to open the 2012 season.
Beating one of the big boys would mean the world to everyone who calls himself or herself a Jackrabbit — even if KU's program is way down right now.
In the previous two seasons, the Jackrabbits lost at Nebraska and at Missouri. But they have registered nine wins in each of the previous three years, and have 15 returning starters — six on offense and nine on defense.
SDSU went 9-5 in 2014, including a 5-3 record in the Missouri Valley Football Conference, which is stacked with ranked FCS teams. The Jackrabbits lost to eventual champ North Dakota State (the Alabama of FCS), 27-24, in the second round of the playoffs last season.
While the Jackrabbits might be picked No. 5 in the preseason Valley poll, keep in mind the four teams ahead of them — NDSU, Illinois State, Northern Iowa and Youngstown State — are all top 16 teams.
FIVE JACKRABBITS TO WATCH
No. 33: T.J. Lally | MLB - 6-0, 225, sr.
Saturday's game will mark middle linebacker T.J. Lally's 42nd consecutive start. That streak began in 2012 at Kansas.

A preseason All-Valley selection, Lally led SDSU with 117 tackles in 2014, including 9.5 for loss.

A captain, he set an SDSU Division-I era record with 20 tackles against powerhouse North Dakota State last season.

The fourth-year starter already has two 100-tackle seasons.
No. 16: Zach Lujan | QB - 6-2, 190, jr.
An injury forced quarterback Zach Lujan into a starting role last season, and he responded by going 5-2.

Lujan also played unexpectedly in the 2014 season opener at Missouri because of an injury, and completed 21 of his 28 pass attempts for 239 yards (one interception).
In his first year at SDSU, the QB completed 61 percent of his passes — 147-for-241 — and threw for 1,943 yards, with 13 touchdowns and 10 interceptions.

Now a team captain, Lujan is not a running threat: 62 attempts, 14 yards, 0 touchdowns in 2014.
No. 19: Jake Wieneke | WR - 6-4, 205, soph.
Lujan's No. 1 target, wide receiver Jake Wieneke exploded onto the Valley scene in 2014, earning Freshman of the Year and First-Team All-Valley honors.

The long and reliable receiver caught 73 passes for 1,404 yards and a program record-setting 16 touchdowns last season.

Wieneke caught a TD pass in all eight Valley games and had seven different outings in which he racked up at least 100 yards.

The receiver was the runner-up for the Jerry Rice Award — top FCS freshman — in 2014. Fordham running back Chase Edmonds took the honor.
No. 22: Je Ryan Butler | RET/CB - 5-11, 180, sr.
A senior corner back and return specialist, KU will have to worry about Je Ryan Butler most of the game.

The preseason All-Vally returner Butler averaged 13.2 yards on punt returns and 18.1 yards on kick returns in 2014.

Since taking over punt-return duties in mid-2013, the speedy Butler has 617 return yards (49 attempts) in that category, and is 182 away from breaking the SDSU record of 798 career punt-return yards (Paul Aanonson, 2004-07).

As a starting corner, Butler leads current SDSU players with eight career interceptions.

He broke up eight passes in 2014.
No. 54: Cole Langer | DT - 6-2, 285, jr.
A preseason All-Valley selection as a defensive tackle, Cole Langer had 49 tackles, 1.5 sacks and blocked two kicks in 2014.

Jackrabbit wins might mean more to Langer than just about anybody in the program. The Dell Rapids, South Dakota, native is a third-generation SDSU athlete. His grandfather, Jim Langer, is in the Pro Football Hall of Fame and was the starting center for the undefeated Miami Dolphins in 1972. His father, Tracy, was an all-conference catcher for SDSU baseball.
It wasn't the regular season, so none of the stats count and everything that transpired will soon only register as footnote-worthy, but former Kansas linebacker Ben Heeney looked like he'll fit in at the NFL level just fine in his preseason debut Friday night.
Heeney led Oakland with eight tackles in the Raiders' 18-3 victory over St. Louis, and even picked up a sack by chasing Rams quarterback Case Keenum out of bounds for a short loss early in the second quarter.
"That counted as a sack?" Heeney asked a reporter in a story posted on the Raiders' website.

"That's what's up. We were just in man coverage and I was manned to the (running back). The back went into the flat and Keenum kept the ball, and I just got off my man coverage and chased him out of bounds. I didn't know it was a sack at all, so that's what's up."
Raiders coach Jack Del Rio left the exhibition impressed with his fifth-round pick from KU. In a CSNBayArea.com report, Del Rio said Heeney flies around at practices the same way he did in his unofficial Oakland opener.
"He's very, very active. His speed showed up," Del Rio said. "I know that one time the quarterback tried to break contain and he laid him down for a sack. That was his speed. That's one of the reasons we have him."
Heeney told CSNBayArea.com's Scott Bayer hustling and getting dirty is in his football DNA. He just doesn't know any other way of playing the game.
"That's what I've staked my game on," Heeney said.
The rookie from Kansas hoped to take his stained, game-worn jersey home with him after his successful night, but the Raiders' equipment personnel told him he couldn't, because that was the only black, No. 51 Heeney jersey they had available at the moment.
"I definitely want to get it back once they get the next jersey made," Heeney said. "I wish they wouldn't wash it, but I guess it has to look good for next game."
The defensive play-calling and in-game adjustments made his first NFL game feel a lot different than his college days, Heeney said, but he thought he handled it pretty well. Moving forward, the 6-foot linebacker from Hutchinson just wants to make sure he attacks more.
"There were a couple of plays I could have shot a gap and got a tackle for loss that I didn't do, but I think for the most part I'm happy with my performance," Heeney said. "I have a couple of things I need to clean up."
Thanks to Naveed Chowdhury of Cover32.com, we can watch every defensive snap Heeney played on Friday night.
Along with his eight tackles and one sack, Heeney read one pass over the middle well enough to either disrupt the intended receiver or deflect the ball (it was hard to tell on the video whether he got a finger on it). It was just another example of how the former KU star can begin making an impact immediately for Oakland this season.
As Heeney posted on Instagram following his first preseason game in silver and black, the NFL is finally a reality for him: "No more dreaming, just living!"
When Montell Cozart arrived at Kansas in 2013, the true freshman didn't have all the answers.
Cozart had to figure out then-head coach Charlie Weis's pro-style offense. For him, the transition was far from seamless, because the system wasn't like the spread format he had success in at the high school level, at nearby Bishop Miege, in Kansas City, Missouri.
Cozart said Monday he doesn't think KU's incoming quarterbacks will have as many issues as they adapt to offensive coordinator Rob Likens' Air Raid attack. Plus, true freshmen Carter Stanley (from Vero Beach, Florida) and Ryan Willis (also from Bishop Miege) have impressed the junior with their approaches.
"You can see those guys coming in ready to work," Cozart said. "They both have ran similar offense to what we're running now when they were in high school."
KU's new offense actually benefits every quarterback fortunate enough to play in it, according to Cozart.
"Now that we're back to this offense," Cozart said, "it gives all of our quarterbacks a lot of confidence, because we all can be successful in it."
A few days into preseason camp, Kansas has eight quarterbacks on its roster:
Cozart (jr., 6-2, 193)

Keaton Perry (RS-fr., 5-10, 186)

Stanley (fr., 6-2, 188)

T.J. Millweard (jr., 6-4, 219)

Willis (fr., 6-4, 205)

injured Michael Cummings (sr., 5-10, 212)

Deondre Ford (jr., 6-1, 200)

Frank Seurer, Jr. (jr., 5-11, 190)
Cozart said there are "all sorts" of players in KU's quarterback room, and their various skill sets are on display when the QBs go over practice video.
"We've got guys with cannons. We've got guys with good feet that can run a little bit," he said. "This offense just helps everyone be successful and puts you in a great position."
Both Willis, whom Cozart knows a little from their Miege connection, and Stanley, Cozart's camp roommate, figure to be his primary competition in the race to become KU's starter. The junior said every time he leaves a quarterbacks meeting, he comes away impressed with the true freshmen.
"When we're watching film, you see them jotting down things, trying to get better and get to where me, T.J. and Mike are in this offense," Cozart said. "They're trying to catch up, and you can see those guys working great."
For Cozart, it's fun to have younger QBs around looking up to him. When each day of preseason camp ends, the quarterbacks throw the ball around and talk about "everything" as they all get to know each other.
"We're always talking about football," Cozart said. "Just little things around the nation, what's happening in the sports world, getting to know one another."
Sharing a room with Stanley for camp has allowed Cozart to discover a lot about him quickly. Cozart said they often watch video and bounce ideas off one another when they see certain things pop up on the screens in front of them. He said Stanley (freshmen and program newcomers can't speak with media, per team rules) has fewer questions each day, a sign he is learning the offense and getting comfortable.
Likens wants all of the QBs making strides in those areas. Cozart said the coordinator and quarterbacks coach has harped on the importance of recognizing defensive structure at the line of scrimmage, a key component of the Air Raid offense for the signal-callers.
"You want to know the answer to the test before it even comes," Cozart said.
At this point, it seems the junior might have more solutions this season than he did in the past, which is good news for the QB whom head coach David Beaty referenced as having the inside track on the starting gig.
Dexter McDonald's life changed earlier this month, when Oakland snagged him in the final round of the 2015 NFL Draft.
"When I finally got the call it was just a blessing," McDonald said in a profile posted on the Raiders' website. "It was a relief. And I was happy to say I would have the opportunity to become an Oakland Raider and join the Raider nation."
McDonald, a rookie cornerback out of Kansas, took another step in that direction Tuesday, when the seventh-round pick signed with Oakland. Referencing spotrac.com, SilverAndBlackPride.com reported the contract is for four years and $2.37 million.
You can watch McDonald, a Kansas City, Missouri, native, arrive in California, pose for photos and wear his No. 21 Raiders uniform for the first time in a Raiders.com video feature. The 6-foot-1 corner describes himself as a team player with a lot of energy.
"I'm one of those guys who is gonna be the same every day. I'm a physical corner — I'm gonna get on those wide receivers and jam them, disrupt the timing between the quarterback and the receiver to make it hard on them to pass," McDonald said.
Back in late March, an amazing pro day propelled McDonald into the realm of draftees. The physical, 200-pound corner stood out with a 4.42-second 40-yard dash, a vertical leap of 40 and 1/2 inches and a broad jump of 11 feet, 2 inches.
"It allowed teams to see what I was capable of, athletic wise," McDonald said the day he was drafted.
Now, McDonald can't wait to prove he can compete at the next level. The 23-year old defensive back finds himself with a unique opportunity, too, playing for and alongside some legendary names. Rod Woodson coaches Oakland's defensive backs and 18-year NFL veteran Charles Woodson plays safety for the Raiders.
"It's a blessing," McDonald said, "and I have an opportunity to be like a sponge and soak up as much knowledge as I can from those guys. And I'm definitely gonna do that."
Levi Damien of SilverAndBlackPride.com speculated McDonald has a chance to earn playing time as a rookie. Oakland's starting corners figure to be D.J. Hayden and T.J. Carrie, but the nickel spot is "very much up for grabs," and the Raiders proved last season with Carrie (also a seventh-round pick) that young guys can work their way onto the field and play crucial roles. Damien also projected McDonald's size could make him an option at safety eventually.
McDonald and his former KU teammate, Ben Heeney (drafted by Oakland in the fifth round), will play in Kansas City, against the Chiefs, on the final day of the regular season, Jan. 3, 2016.
When JaCorey Shepherd arrived at Kansas four years ago as a wide receiver, his transition to college football included plenty of teaching moments.
Now that the All-Big 12 cornerback is with the Philadelphia Eagles, who drafted him in the sixth round and this past week signed him to a four-year contract, Shepherd said his initial introduction to the NFL has been less based in instruction. After all, the players are all professionals now, as the 5-foot-11 defensive back pointed out in a video interview for Philadelphia's website.
But that's not to say Shepherd's experience thus far has been devoid of learning. At the Eagles' rookie mini-camp, the corner said, he found himself picking up new techniques at a fast pace. While playing press coverage — something he did at KU, too — he got too "handsy" on a few plays by doing things that were fine in college. He discovered he'll have to get rid of some of those habits he picked up in his first three seasons of playing defensive back.
"It's definitely a challenge," Shepherd said, "but I'm good at learning and going with the flow as I get more reps."
Eagles defensive backs coach Cory Undlin, who just joined the staff this offseason after working for Denver in the same role, wants his corners playing assertive press coverage at the line of scrimmage.
"To actually learn the proper way to press is actually gonna benefit me," Shepherd said.
Plus, Shepherd knows some guys who just played for Undlin last season, with the Broncos. He brought up their names when asked if he had anybody he could lean on for guidance while finding his way in the NFL.
"Previous corners from the University of Kansas, Aqib Talib and Chris Harris, they kind of helped me," Shepherd said, "and they told me they'll be there for me if I've got a question about the process going forward."
Excited that he could graduate from KU and embark on his NFL career this spring, the newly minted Eagle, who can be seen practicing in his No. 36 jersey in the video, said it felt good going "full out" at mini-camp for the first time since suffering a tear in his left hamstring prior to KU's pro day.
Now Shepherd can just enjoy himself on the field while playing the game he loves.
"It's a great relief off your shoulders," he said. "You don't have to think about that stuff, as far as where you're gonna be, where you're gonna end up. You can just go out there and do what you do."
Shepherd said he can tell Chip Kelly's staff is comprised of player-friendly coaches, which he likes. Now that he is in the league, the rookie corner wants to make sure he enjoys every moment, because he realizes not everybody gets the opportunity that is in front of him right now.
Back before Ben Heeney became a star football player at Hutchinson, or an All-BIg 12 linebacker at Kansas or a draft pick of the NFL's Oakland Raiders, he was just a 12-year-old kid who seriously loved football.
In 2004, Heeney laid out his goals for becoming a football lifer by mapping them all out with a pencil and paper. A fifth-round pick in the NFL Draft 11 years later, the linebacker shared the list of goals from his childhood on Twitter.
Complete with a table of contents, the script for the rest of his life included goals for middle school, high school, college and beyond.
HIGH SCHOOL GOAL
"In high school I want to make varsity on the football team. I want college coaches to come to the games and scout me for the team. I will play hard."
TRAINING / COLLEGE
"I would like go go to the University of Kansas or a better team in football. My parents went to KU. I want a football scholarship."
CAREER
"I want to play in the NFL. It would be fun and I would make a lot of money. I would train hard. After the NFL I would like to be the head coach for a college football team."
Pretty impressive stuff when you consider all of it has come true so far and Heeney still has plenty of football to play before he chases that coaching goal, post-retirement.
The Raiders profiled the former KU star on their website, in a video that includes Heeney going through drills at rookie mini-camp in his No. 51 Oakland jersey.
The new member of Raider Nation said he has quickly adapted to wearing the silver and black.
"Since I've been drafted by the Raiders, I can just tell they have the best fan base in the nation," Heeney said. "People comment on my Instagram and stuff. I'm just really excited to be a part of it."
Heeney hopes to break through as an on-field contributor immediately with Oakland, in the upcoming 2015 season.
"I think I bring leadership, and I'm always all over the field making plays," Heeney said. "You know, I'm just looking to bring that and help any way I can — special teams, defense, put me on offense. I'll play anything."
For the first time in his life, Hutchinson, Kansas native Ben Heeney is in California.
The Bay Area is the former Kansas linebacker's new home now, thanks to the Oakland Raiders, who took him in the fifth round of the NFL Draft.
Heeney thought heading into this past Saturday he might end up down in Tampa Bay or with one of the other handful of organizations with which he had the most pre-draft contact. But he landed on the opposite coast, in part, because he grabbed the attention of Oakland head coach Jack Del Rio.
Some say real recognize real. Well, linebackers recognize linebackers, too.
At the NFL Scouting Combine, Del Rio — the former Vikings, Cowboys, Chiefs and Saints linebacker — received a text from an old teammate. As reported by the San Francisco Chronicle's Vic Tafur, Oakland's coach said the message read something like: you have to check out Ben Heeney.
"So it kind of piqued my attention and (I) started watching him in the drills; of course he had that crazy hairdo going at the Combine," Del Rio said. "We get back and start watching the tape, and the guy is all over the place. He flies around, makes plays, very productive, has a great mindset in terms of special teams and linebacker play. We're excited to add him."
Clearly, the Raiders coach sees potential in the KU standout.
"He plays with his hair on fire," Del Rio said.
Heeney arrived out west Thursday, and a Raiders video production crew greeted him and his KU teammate, seventh-round pick Dexter McDonald, at the airport.
"I just tweeted out that I landed in Oakland, and the fans are crazy," Heeney says in the video posted on the Raiders' website. "They continue to just show me love."
Oakland's rookie mini-camp begins today for Heeney, McDonald and the rest of the Raiders' draft picks and undrafted hopefuls.

Find more businesses on Marketplace
Arts & Entertainment · Bars · Theatres · Restaurants · Coffeehouses · Libraries · Antiques · Services