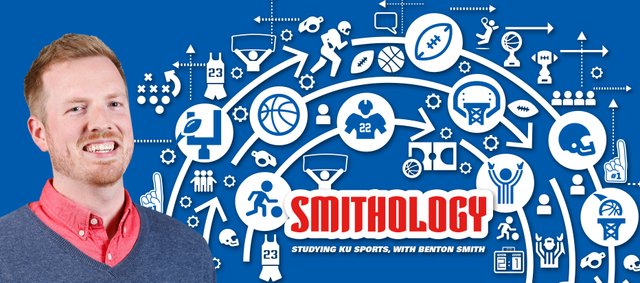 Posts tagged with
Kansas Football
It wasn't the regular season, so none of the stats count and everything that transpired will soon only register as footnote-worthy, but former Kansas linebacker Ben Heeney looked like he'll fit in at the NFL level just fine in his preseason debut Friday night.
Heeney led Oakland with eight tackles in the Raiders' 18-3 victory over St. Louis, and even picked up a sack by chasing Rams quarterback Case Keenum out of bounds for a short loss early in the second quarter.
"That counted as a sack?" Heeney asked a reporter in a story posted on the Raiders' website.

"That's what's up. We were just in man coverage and I was manned to the (running back). The back went into the flat and Keenum kept the ball, and I just got off my man coverage and chased him out of bounds. I didn't know it was a sack at all, so that's what's up."
Raiders coach Jack Del Rio left the exhibition impressed with his fifth-round pick from KU. In a CSNBayArea.com report, Del Rio said Heeney flies around at practices the same way he did in his unofficial Oakland opener.
"He's very, very active. His speed showed up," Del Rio said. "I know that one time the quarterback tried to break contain and he laid him down for a sack. That was his speed. That's one of the reasons we have him."
Heeney told CSNBayArea.com's Scott Bayer hustling and getting dirty is in his football DNA. He just doesn't know any other way of playing the game.
"That's what I've staked my game on," Heeney said.
The rookie from Kansas hoped to take his stained, game-worn jersey home with him after his successful night, but the Raiders' equipment personnel told him he couldn't, because that was the only black, No. 51 Heeney jersey they had available at the moment.
"I definitely want to get it back once they get the next jersey made," Heeney said. "I wish they wouldn't wash it, but I guess it has to look good for next game."
The defensive play-calling and in-game adjustments made his first NFL game feel a lot different than his college days, Heeney said, but he thought he handled it pretty well. Moving forward, the 6-foot linebacker from Hutchinson just wants to make sure he attacks more.
"There were a couple of plays I could have shot a gap and got a tackle for loss that I didn't do, but I think for the most part I'm happy with my performance," Heeney said. "I have a couple of things I need to clean up."
Thanks to Naveed Chowdhury of Cover32.com, we can watch every defensive snap Heeney played on Friday night.
Along with his eight tackles and one sack, Heeney read one pass over the middle well enough to either disrupt the intended receiver or deflect the ball (it was hard to tell on the video whether he got a finger on it). It was just another example of how the former KU star can begin making an impact immediately for Oakland this season.
As Heeney posted on Instagram following his first preseason game in silver and black, the NFL is finally a reality for him: "No more dreaming, just living!"
When Montell Cozart arrived at Kansas in 2013, the true freshman didn't have all the answers.
Cozart had to figure out then-head coach Charlie Weis's pro-style offense. For him, the transition was far from seamless, because the system wasn't like the spread format he had success in at the high school level, at nearby Bishop Miege, in Kansas City, Missouri.
Cozart said Monday he doesn't think KU's incoming quarterbacks will have as many issues as they adapt to offensive coordinator Rob Likens' Air Raid attack. Plus, true freshmen Carter Stanley (from Vero Beach, Florida) and Ryan Willis (also from Bishop Miege) have impressed the junior with their approaches.
"You can see those guys coming in ready to work," Cozart said. "They both have ran similar offense to what we're running now when they were in high school."
KU's new offense actually benefits every quarterback fortunate enough to play in it, according to Cozart.
"Now that we're back to this offense," Cozart said, "it gives all of our quarterbacks a lot of confidence, because we all can be successful in it."
A few days into preseason camp, Kansas has eight quarterbacks on its roster:
Cozart (jr., 6-2, 193)

Keaton Perry (RS-fr., 5-10, 186)

Stanley (fr., 6-2, 188)

T.J. Millweard (jr., 6-4, 219)

Willis (fr., 6-4, 205)

injured Michael Cummings (sr., 5-10, 212)

Deondre Ford (jr., 6-1, 200)

Frank Seurer, Jr. (jr., 5-11, 190)
Cozart said there are "all sorts" of players in KU's quarterback room, and their various skill sets are on display when the QBs go over practice video.
"We've got guys with cannons. We've got guys with good feet that can run a little bit," he said. "This offense just helps everyone be successful and puts you in a great position."
Both Willis, whom Cozart knows a little from their Miege connection, and Stanley, Cozart's camp roommate, figure to be his primary competition in the race to become KU's starter. The junior said every time he leaves a quarterbacks meeting, he comes away impressed with the true freshmen.
"When we're watching film, you see them jotting down things, trying to get better and get to where me, T.J. and Mike are in this offense," Cozart said. "They're trying to catch up, and you can see those guys working great."
For Cozart, it's fun to have younger QBs around looking up to him. When each day of preseason camp ends, the quarterbacks throw the ball around and talk about "everything" as they all get to know each other.
"We're always talking about football," Cozart said. "Just little things around the nation, what's happening in the sports world, getting to know one another."
Sharing a room with Stanley for camp has allowed Cozart to discover a lot about him quickly. Cozart said they often watch video and bounce ideas off one another when they see certain things pop up on the screens in front of them. He said Stanley (freshmen and program newcomers can't speak with media, per team rules) has fewer questions each day, a sign he is learning the offense and getting comfortable.
Likens wants all of the QBs making strides in those areas. Cozart said the coordinator and quarterbacks coach has harped on the importance of recognizing defensive structure at the line of scrimmage, a key component of the Air Raid offense for the signal-callers.
"You want to know the answer to the test before it even comes," Cozart said.
At this point, it seems the junior might have more solutions this season than he did in the past, which is good news for the QB whom head coach David Beaty referenced as having the inside track on the starting gig.
Dexter McDonald's life changed earlier this month, when Oakland snagged him in the final round of the 2015 NFL Draft.
"When I finally got the call it was just a blessing," McDonald said in a profile posted on the Raiders' website. "It was a relief. And I was happy to say I would have the opportunity to become an Oakland Raider and join the Raider nation."
McDonald, a rookie cornerback out of Kansas, took another step in that direction Tuesday, when the seventh-round pick signed with Oakland. Referencing spotrac.com, SilverAndBlackPride.com reported the contract is for four years and $2.37 million.
You can watch McDonald, a Kansas City, Missouri, native, arrive in California, pose for photos and wear his No. 21 Raiders uniform for the first time in a Raiders.com video feature. The 6-foot-1 corner describes himself as a team player with a lot of energy.
"I'm one of those guys who is gonna be the same every day. I'm a physical corner — I'm gonna get on those wide receivers and jam them, disrupt the timing between the quarterback and the receiver to make it hard on them to pass," McDonald said.
Back in late March, an amazing pro day propelled McDonald into the realm of draftees. The physical, 200-pound corner stood out with a 4.42-second 40-yard dash, a vertical leap of 40 and 1/2 inches and a broad jump of 11 feet, 2 inches.
"It allowed teams to see what I was capable of, athletic wise," McDonald said the day he was drafted.
Now, McDonald can't wait to prove he can compete at the next level. The 23-year old defensive back finds himself with a unique opportunity, too, playing for and alongside some legendary names. Rod Woodson coaches Oakland's defensive backs and 18-year NFL veteran Charles Woodson plays safety for the Raiders.
"It's a blessing," McDonald said, "and I have an opportunity to be like a sponge and soak up as much knowledge as I can from those guys. And I'm definitely gonna do that."
Levi Damien of SilverAndBlackPride.com speculated McDonald has a chance to earn playing time as a rookie. Oakland's starting corners figure to be D.J. Hayden and T.J. Carrie, but the nickel spot is "very much up for grabs," and the Raiders proved last season with Carrie (also a seventh-round pick) that young guys can work their way onto the field and play crucial roles. Damien also projected McDonald's size could make him an option at safety eventually.
McDonald and his former KU teammate, Ben Heeney (drafted by Oakland in the fifth round), will play in Kansas City, against the Chiefs, on the final day of the regular season, Jan. 3, 2016.
When JaCorey Shepherd arrived at Kansas four years ago as a wide receiver, his transition to college football included plenty of teaching moments.
Now that the All-Big 12 cornerback is with the Philadelphia Eagles, who drafted him in the sixth round and this past week signed him to a four-year contract, Shepherd said his initial introduction to the NFL has been less based in instruction. After all, the players are all professionals now, as the 5-foot-11 defensive back pointed out in a video interview for Philadelphia's website.
But that's not to say Shepherd's experience thus far has been devoid of learning. At the Eagles' rookie mini-camp, the corner said, he found himself picking up new techniques at a fast pace. While playing press coverage — something he did at KU, too — he got too "handsy" on a few plays by doing things that were fine in college. He discovered he'll have to get rid of some of those habits he picked up in his first three seasons of playing defensive back.
"It's definitely a challenge," Shepherd said, "but I'm good at learning and going with the flow as I get more reps."
Eagles defensive backs coach Cory Undlin, who just joined the staff this offseason after working for Denver in the same role, wants his corners playing assertive press coverage at the line of scrimmage.
"To actually learn the proper way to press is actually gonna benefit me," Shepherd said.
Plus, Shepherd knows some guys who just played for Undlin last season, with the Broncos. He brought up their names when asked if he had anybody he could lean on for guidance while finding his way in the NFL.
"Previous corners from the University of Kansas, Aqib Talib and Chris Harris, they kind of helped me," Shepherd said, "and they told me they'll be there for me if I've got a question about the process going forward."
Excited that he could graduate from KU and embark on his NFL career this spring, the newly minted Eagle, who can be seen practicing in his No. 36 jersey in the video, said it felt good going "full out" at mini-camp for the first time since suffering a tear in his left hamstring prior to KU's pro day.
Now Shepherd can just enjoy himself on the field while playing the game he loves.
"It's a great relief off your shoulders," he said. "You don't have to think about that stuff, as far as where you're gonna be, where you're gonna end up. You can just go out there and do what you do."
Shepherd said he can tell Chip Kelly's staff is comprised of player-friendly coaches, which he likes. Now that he is in the league, the rookie corner wants to make sure he enjoys every moment, because he realizes not everybody gets the opportunity that is in front of him right now.
Back before Ben Heeney became a star football player at Hutchinson, or an All-BIg 12 linebacker at Kansas or a draft pick of the NFL's Oakland Raiders, he was just a 12-year-old kid who seriously loved football.
In 2004, Heeney laid out his goals for becoming a football lifer by mapping them all out with a pencil and paper. A fifth-round pick in the NFL Draft 11 years later, the linebacker shared the list of goals from his childhood on Twitter.
Complete with a table of contents, the script for the rest of his life included goals for middle school, high school, college and beyond.
HIGH SCHOOL GOAL
"In high school I want to make varsity on the football team. I want college coaches to come to the games and scout me for the team. I will play hard."
TRAINING / COLLEGE
"I would like go go to the University of Kansas or a better team in football. My parents went to KU. I want a football scholarship."
CAREER
"I want to play in the NFL. It would be fun and I would make a lot of money. I would train hard. After the NFL I would like to be the head coach for a college football team."
Pretty impressive stuff when you consider all of it has come true so far and Heeney still has plenty of football to play before he chases that coaching goal, post-retirement.
The Raiders profiled the former KU star on their website, in a video that includes Heeney going through drills at rookie mini-camp in his No. 51 Oakland jersey.
The new member of Raider Nation said he has quickly adapted to wearing the silver and black.
"Since I've been drafted by the Raiders, I can just tell they have the best fan base in the nation," Heeney said. "People comment on my Instagram and stuff. I'm just really excited to be a part of it."
Heeney hopes to break through as an on-field contributor immediately with Oakland, in the upcoming 2015 season.
"I think I bring leadership, and I'm always all over the field making plays," Heeney said. "You know, I'm just looking to bring that and help any way I can — special teams, defense, put me on offense. I'll play anything."
For the first time in his life, Hutchinson, Kansas native Ben Heeney is in California.
The Bay Area is the former Kansas linebacker's new home now, thanks to the Oakland Raiders, who took him in the fifth round of the NFL Draft.
Heeney thought heading into this past Saturday he might end up down in Tampa Bay or with one of the other handful of organizations with which he had the most pre-draft contact. But he landed on the opposite coast, in part, because he grabbed the attention of Oakland head coach Jack Del Rio.
Some say real recognize real. Well, linebackers recognize linebackers, too.
At the NFL Scouting Combine, Del Rio — the former Vikings, Cowboys, Chiefs and Saints linebacker — received a text from an old teammate. As reported by the San Francisco Chronicle's Vic Tafur, Oakland's coach said the message read something like: you have to check out Ben Heeney.
"So it kind of piqued my attention and (I) started watching him in the drills; of course he had that crazy hairdo going at the Combine," Del Rio said. "We get back and start watching the tape, and the guy is all over the place. He flies around, makes plays, very productive, has a great mindset in terms of special teams and linebacker play. We're excited to add him."
Clearly, the Raiders coach sees potential in the KU standout.
"He plays with his hair on fire," Del Rio said.
Heeney arrived out west Thursday, and a Raiders video production crew greeted him and his KU teammate, seventh-round pick Dexter McDonald, at the airport.
"I just tweeted out that I landed in Oakland, and the fans are crazy," Heeney says in the video posted on the Raiders' website. "They continue to just show me love."
Oakland's rookie mini-camp begins today for Heeney, McDonald and the rest of the Raiders' draft picks and undrafted hopefuls.
Zach Yenser doesn't claim to be on the cutting edge of social media usage, nor the inventor of some fantastic, never-before-seen concept. But Kansas University's new offensive line coach and run-game coordinator knows what he likes and what works when it comes to using Twitter to his advantage.
Of late, like all of head coach David Beaty's assistants, Yenser has been hitting the recruiting trails hard. You can tell by checking in on his tweets.
During spring football, when the former Cal and Louisiana Tech assistant could most often be found on KU's practice fields or in the offices at the football complex, he used Twitter from time to time to highlight the work and technique of his offensive linemen.
While examining and critiquing video footage from practices, Yenser would grab his phone, take a video of something he liked and make it a Vine he could tweet out to his followers.
"It's just a way to publicly recognize your guys up front," the O-line coach said. "People watch the offensive line and are like, 'Oh, that's cool, ya know. Fun.' I tell my guys, 'The only way you're gonna get noticed is if you give up a sack.' Nobody knows what you do."
Yenser hopes to educate and put a spotlight on his big men in the trenches when he sends out a highlight to the masses — an idea the coach said he stole from Penn State O-line coach and run-game coordinator Herb Hand, who started posting short clips as a Vanderbilt assistant.
Former Kansas tight end Jordan Shelley-Smith became the first Jayhawk to show up in one of Yenser's videos. The coach liked the footwork he saw from his junior left tackle.
Of course, Yenser received positive feedback from his players upon debuting the idea. He could tell they appreciated the love, and said it goes back to the core of his interaction with the linemen. He tells them: "We're in it together. I'm here to serve you guys.
"If they take that and listen," he added, "we'll all get better."
Senior center Keyon Haughton and sophomore guard Junior Visinia also starred in Yenser's tweets this spring.
The concept brings some added benefits with it, too.
"I think recruits like it," Yenser said. "I think a lot of people like just to see what's going on."
The O-line clips also provide the KU assistant with another avenue for discussions with high school coaches. He gets questions from them about how he teaches certain techniques, and prep coaches also tweet out some of the clips for their players to see.
Yenser said whenever he has time while watching video footage, he'll throw a clip up and tweet it out. He can tell how much the idea is working every time he posts a new one, looking each time for the ultimate sign of praise:
"How many retweets and likes can you get?"
Kansas offensive coordinator Rob Likens walked into his office at Anderson Family Football Complex in early April and found an unexpected gift of sorts waiting for him.
There, placed on a shelf sometime in Likens' absence, sat a framed photograph of KU's co-defensive coordinator, Kenny Perry.
This would have caught Likens off guard had Perry not established himself as the unpredictable instigator on new coach David Beaty's staff.
"He embraces that role," Likens said. "He loves it."
At Kansas practices this spring, Perry's intensity while coaching the cornerbacks leads one to think he might not have a light-hearted cell in his DNA. That's on-the-field Perry. The one ambling around the coaches' office quarters, playing Elf on the Shelf with a framed photo of his own mug helps his fellow staffers retain their sanity while embarking of the arduous mission of turning around a downtrodden program.
"I like to bring a lot of different energy," Perry explained. "I love coaching, and it's so stressful you've gotta add some light to it."
That's why not long after Perry received a framed photo of himself from Beaty on his birthday, the assistant decided he could have some fun with it.
"It's gonna be Coach Perry on the Shelf," the former TCU corners coach declared. "It's gonna show up in different offices."
Wearing a wry grin, Perry said he will decide who "deserves" the photo, which doubles as a trophy.
"It's a memento of my appreciation for the job they're doing," Perry said.
Countered a laughing Likens: "Yeah, I was a 'winner,' right, to have his photo? Exactly. That's the way he looks at it."
Perry got his start as a high school assistant coach in 1994 and worked his way through the ranks, eventually landing at TCU as director of high school relations in 2013. Along the way, he decided to take on the practical joker route with his fellow coaches to alleviate the stress.
KU running backs coach Reggie Mitchell said he has worked on some staffs in the past and he didn't want to be around his co-workers once practice ended. But he's having a blast with this group assembled by Beaty, thanks in part to Perry's ability to catch other assistants off guard with his wisecracks.
"You can put him in any circle of people and he's gonna fit right in," Mitchell said. "He has the kind of personality to make you feel like you've known him all your life."
Beaty's staff, the coaches hope, are building a foundation through their camaraderie. Likens said they have more fun together than any staff he has worked on in 23 years. There is something to that, he added, because this can be a trying time for them as they attempt to build Kansas into a successful program.
"Coaches are perfectionists, and we get very, very frustrated. There's days I come off that practice field. 'Wooo,'" Likens reenacted, letting his head hang low to mimic the end of a rough day. "And it's hard. And (Perry's) there to lift me up.
"He comes off the practice field some day and his corners had a bad day and he's down, I'm there to lift him up," Likens added. "We all encourage each other, because we all understand the vision. We all know it's going to get there. It's not there yet, and it's gonna take some time."
One benefit of that chemistry is that it can trickle down to the players — Likens has seen that happen before. It may not show up immediately, he added, because the Jayhawks wearing helmets and pads are still in the feeling out process with their new coaches, seeing how they will react on good days and bad ones.
The more the players and the guys in charge can build strong relationships in the midst of this restoration phase, they're betting it will pay off in the years to come.
"God hoping, we win a lot of games," Perry said. "But there's gotta be a happy medium. You spend so much time together, if you're not having fun you're not happy together, and it doesn't create a good house. Right now we got a great house. You'll go through some growing pains, and you've gotta have a solid foundation. I think that's what David's built."
Kansas football assistant head coach and defensive coordinator Clint Bowen knows this spring will be critical in the overall development of the 2015 Jayhawks, even if there are more things on his to-do list than can possibly be accomplished for a young, rebuilding unit.
After going through just four practices, Bowen — also the safeties coach — sat down with the media Wednesday to discuss the state of the defense.
Here are some of the highlights:
• The up-tempo approach of KU's new Air Raid offense also benefits the defensive side of the ball.
With NCAA rules dictating how much time players can spend on the field, coaches have to find ways to get in as many plays as possible in the short amount of time they are out there.
"With what they're doing offensively, it allows it to just play out naturally."
• When installing the defense this spring, there are one of two ways to approach it:
No. 1: Put in a few things and master those.
No. 2: Examine as much of it as you can "real fast" and hope enough of it sticks.
The Jayhawks went with the latter, and are putting in as much as they can early, teaching it and getting it all on video. They recycle through that install again so the players can retain more each time through.
"It allows you to practice situational football a lot faster — right away, going into your first scrimmage."
The Jayhawks will get into these kind of situations in the next few practices: third downs, red zone, two-minute drills.
• Through four practices, Bowen wasn't ready to say any particular individuals have stood out, because the defense really has to start over as a group with the talent it lost from the 2014 season (see: Ben Heeney, JaCorey Shepherd, etc.).
The players that are here need to take pride in giving the unit an identity.
"At this point in time, I think they're all in the same boat of trying to figure it out."
Bowen just wants them being physical, playing hard and learning.
• On the roster as a whole, and on the defensive side of the ball, KU lacks depth. Bowen feels pretty good about what kind of 2-deep chart they will have, but the trouble comes beyond that.
Sub-packages, like nickel or dime defenses?
"Those things are out right now."
Bowen says you don't want to wear out all of your top players by making them play different packages.
So this is the mindset they ned to embrace:
"Only 11 of them can play at one time, so as long as we've got 11, we're good."
• With the new defensive coaches on the staff, they are all getting used to each other's approaches and tendencies.
"We've got a great group of guys on the staff, and everyone's working for the common goal."
• Bowen and new co-defensive coordinator Kenny Perry were acquaintances before, knew each other. Now that they're working together they're meshing.
Bowen said defensive back coaches have an "alligator hunter mentality": There's no such thing as a "pretty good" alligator hunter.
"That's where you live as a DB coach. I think we always live on edge."
Perry is intense because a mistake in the secondary means a TD for the opponent. You have to coach with a paranoia about yourself when working in the secondary.
• Junior corner Brandon Stewart, who just arrived on campus before the spring semester started, seems to have some skills: good feet, awareness, instincts and "can run a little bit."
• The departure of would-be senior safety Isaiah Johnson was "a disappointment, but not a surprise."
• Now that David Beaty is here leading the program, it's easier to communicate with high school coaches in Texas.
A lot of those high school coaches in Texas are legitimate friends of Beaty's. That helps in recruiting.
• As new coaches get to know each other, that's usually an easy transition because they're all in this profession to improve their program and help the players develop.
A lot of KU coaches are still in the process of relocating their families to Lawrence, buying houses and those types of things, so more of that camaraderie that comes with the job will show up even more once everyone is settled.
New Kansas football coach David Beaty almost couldn't believe at his national signing day press conference Wednesday afternoon he already had been at KU two months.
The timing of getting hired and putting together a coaching staff, of course, was nothing easy to pull off. And that's one reason Beaty seemed so excited about the 24 signees the team added in the Class of 2015.
"We were behind just a tad bit when we got here," Beaty said.
The former Texas A&M assistant said Kansas addressed a lot of needs with the class, including "much-needed" depth, improved length and speed, and more. The new man in charge said the players the staff went after not only had to be talented, but also good kids.
"We found the right guys," Beaty added. "Men who fit the Kansas way."
He spoke about all 24 signees at the press conference.
Dorance Armstrong
The coaches are extremely excited about the DE's burst, and he defends well in the run game
Shola Ayinde
The DB can run, he's long and has instincts that always put him around the ball. KU will man up outside, and corners have to be able to play on an island. Could help in the return game, as well, and he's a competitor.
D'Andre Banks
The "big ole" lineman is already on campus. The staff thinks he can play guard or center, and he has played all five positions in his time.
Bazie Bates IV
Another DB, this one from the junior college ranks, does a good job of causing turnovers "because of where he puts his hat."
Jeremiah Booker
A big WR out of Texas. Beaty had him at camp when he was working at Texas A&M. "He was not an easy get." He should be able to help near the red zone.
Jacky Dezir
The DL can line up outside or on the nose. He doesn't stay blocked and he finds the ball.
Denzel Feaster
A DB who stands 6-foot-3, the staff found him late, with the work of Klint Kubiak. "He will come downhill and he will knock the fire out of you." And he is just learning the position.
Aaron Garza
An O-lineman who had already committed to KU before Beaty and his staff arrived, he has good work ethic and he addresses an area of need.
Chase Harrell
The 6-4 WR already is on campus, and has been recruited by Beaty "since he was just a pup." Harrell reminds Beaty a lot of Texas A&M standout Mike Evans. He plays the ball at its highest point and has a lot of speed.
Ke'aun Kinner
The juco RB is "a talented dude" who has vision and great burst, with the ability to finish long runs in the end zone.
Taylor Martin
A RB from the high school ranks, he was "extremely hard to hold on to" because other programs showed a lot of interest in the explosive back from Fort Worth, Texas. He's a track guy and "a pretty big dude" for 5-10.
Clyde McCauley III
Another Dallas area recruit. "Skinny as a rail" for 6-5, 275 pounds. Just chose KU this weekend. He has a huge frame and has the ability to put on a lot of weight to help him.
Tyrone Miller Jr.
The DB came to KU late due to Regie Mitchell doing some recruiting work. He has speed to make big plays off turnovers, can really run.
Emmanuel Moore
A 6-0 WR from the Dallas/Fort Worth area, it took Beaty about 5 minutes of watching video on him to decide to make an offer. Has terrific balance and built like a RB. Also runs like a RB after he catches the ball.
Osaze Ogbebor
A 6-1 LB, a "bunch of schools" tried to get him after he committed to KU. He can run, "and he will strike you." He doesn't run around blocks, he sheds them.
Marnez Ogletree
Another DB, he called Beaty at about 5:05 a.m. Wednesday morning because he was so excited to sign.
Jayson Rhodes
An O-lineman from the juco ranks, he's originally from the Houston area. Beaty saw him this morning, and "this is a big dude." The coach "was a little bit shocked" he was still available.
Shaquille Richmond
A prep DB, he committed quickly after Beaty got the job. "Shaq can run, Shaq can tackle… and if that ball gets close to him, he's probably going the other way to return it." He got a lot of picks playing man coverage.
Steven Sims, Jr.
Beaty has been recruiting the WR since he was at Texas A&M. The coach loves the "run-after-the-catch factor" from him. He has long arms and can make contested catches. Has a little "swagger" to him.
Will Smith
A junior college O-lineman who played in high school at Shawnee Mission Northwest, he has a lot of size to him at 6-3, 315, and he has really good feet for a guy that size.
Carter Stanley
The QB from Vero Beach, Florida, is a guy the staff "did not think we would find." They got a tip to look at his tape and they went after him. He's a dual-threat QB and has an understanding of what KU's offense will do, because he ran it in high school.
Jace Sternberger
A 6-4 TE from Oklahoma, Beaty and the staff think he addresses a lot of needs. He's a great basketball player and he can do it all on the football field, too. Can really run for a guy with his length and build (225 pounds). And he's a hard-working, blue collar guy.
Brandon Stewart
The seventh DB in the recruiting class, the 6-0 junior-to-be was recruited by Beaty when he was in high school at Cedar Hill, Texas.
Ryan Willis
The other QB in Beaty's first recruiting class, the 6-4 product of nearby Bishop Miege didn't waver when KU started recruiting another QB in Stanley. He can sling the football.
— After talking about all 24 signees, Beaty fielded questions from the media. Here are some of the highlights.
• Most of Beaty's staff has a background in the state of Texas, and that has a lot to do with the 17 Texas kids signing with Kansas.
• They would've liked to have signed more than two kids from Kansas. But Beaty is glad they already are building relationships with high school coaches here.
• All that is written in the world of recruiting websites isn't always all that is there. Beaty and his staff are really excited about these guys. The staff looked at techniques of the players they were recruiting. It's hard to teach those.
• High school coaches in the state of Kansas are helping KU by identifying potential walk-on players. Beaty can only speak about the guys they signed today but there is progress on that walk-on front, too.
• The best players will separate themselves before next season starts. KU will go with the best guy at each position, including QB. So the true freshmen will have a shot at playing QB. "It's extremely difficult to play as a freshman," he added.
• When Willis visited, Beaty and the staff told him and his family that they were recruiting another QB. It doesn't matter where you go, there is going to be competition at every position. Willis never balked, and Beaty loved that.
Stanley wasn't worried about competition, either. Those are the types of guy who help you win.
• On the differences between the two QBs: Willis wasn't asked to run as much and Stanley was.
• The new staff addressed all the guys who had previously committed to KU.
• Length is important to Beaty. Over the past few years, guys are breaking up passes in man coverage a lot more. There are fewer small corners out there now. KU also needed more length. The profile of the roster needed more length and speed to it.
• You need length at the tackle position on the offensive line, too. KU is trying to find as many athletic big guys as it can find. Those defenders coming off the edge are lean and fast. You need big, long guys who can move their feet to protect the QB.
• In the recruiting process, the staff made it clear KU will be an up-tempo, throw-the-ball around offense that will be exciting to play in. On defense, they want to be aggressive, too. And that helps in selling the program.
• KU is always looking to improve its roster and is looking for ways to do that all the time. You need depth. (Beaty said that after being asked if there will be more additions to the recruiting class.)
• Building a staff is a lot harder than people think. Timing is important and it is not a deep market. Next year, when they can completely focus on recruiting and not have to worry about hiring a staff, things will go so much smoother.
• In the recruiting scramble, Beaty saw staff members come through and help him and the top assistants out. It was fun to get to know his assistants better and see what they are capable of.
• Reggie Mitchell and Clint Bowen "literally" kept this recruiting class together. They did a great job.

Find more businesses on Marketplace
Arts & Entertainment · Bars · Theatres · Restaurants · Coffeehouses · Libraries · Antiques · Services