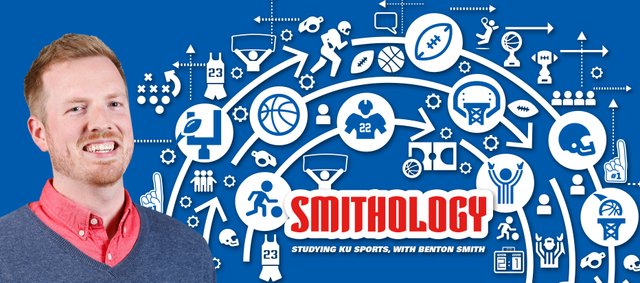 Posts tagged with
Kansas Football
Kansas offensive coordinator Rob Likens walked into his office at Anderson Family Football Complex in early April and found an unexpected gift of sorts waiting for him.
There, placed on a shelf sometime in Likens' absence, sat a framed photograph of KU's co-defensive coordinator, Kenny Perry.
This would have caught Likens off guard had Perry not established himself as the unpredictable instigator on new coach David Beaty's staff.
"He embraces that role," Likens said. "He loves it."
At Kansas practices this spring, Perry's intensity while coaching the cornerbacks leads one to think he might not have a light-hearted cell in his DNA. That's on-the-field Perry. The one ambling around the coaches' office quarters, playing Elf on the Shelf with a framed photo of his own mug helps his fellow staffers retain their sanity while embarking of the arduous mission of turning around a downtrodden program.
"I like to bring a lot of different energy," Perry explained. "I love coaching, and it's so stressful you've gotta add some light to it."
That's why not long after Perry received a framed photo of himself from Beaty on his birthday, the assistant decided he could have some fun with it.
"It's gonna be Coach Perry on the Shelf," the former TCU corners coach declared. "It's gonna show up in different offices."
Wearing a wry grin, Perry said he will decide who "deserves" the photo, which doubles as a trophy.
"It's a memento of my appreciation for the job they're doing," Perry said.
Countered a laughing Likens: "Yeah, I was a 'winner,' right, to have his photo? Exactly. That's the way he looks at it."
Perry got his start as a high school assistant coach in 1994 and worked his way through the ranks, eventually landing at TCU as director of high school relations in 2013. Along the way, he decided to take on the practical joker route with his fellow coaches to alleviate the stress.
KU running backs coach Reggie Mitchell said he has worked on some staffs in the past and he didn't want to be around his co-workers once practice ended. But he's having a blast with this group assembled by Beaty, thanks in part to Perry's ability to catch other assistants off guard with his wisecracks.
"You can put him in any circle of people and he's gonna fit right in," Mitchell said. "He has the kind of personality to make you feel like you've known him all your life."
Beaty's staff, the coaches hope, are building a foundation through their camaraderie. Likens said they have more fun together than any staff he has worked on in 23 years. There is something to that, he added, because this can be a trying time for them as they attempt to build Kansas into a successful program.
"Coaches are perfectionists, and we get very, very frustrated. There's days I come off that practice field. 'Wooo,'" Likens reenacted, letting his head hang low to mimic the end of a rough day. "And it's hard. And (Perry's) there to lift me up.
"He comes off the practice field some day and his corners had a bad day and he's down, I'm there to lift him up," Likens added. "We all encourage each other, because we all understand the vision. We all know it's going to get there. It's not there yet, and it's gonna take some time."
One benefit of that chemistry is that it can trickle down to the players — Likens has seen that happen before. It may not show up immediately, he added, because the Jayhawks wearing helmets and pads are still in the feeling out process with their new coaches, seeing how they will react on good days and bad ones.
The more the players and the guys in charge can build strong relationships in the midst of this restoration phase, they're betting it will pay off in the years to come.
"God hoping, we win a lot of games," Perry said. "But there's gotta be a happy medium. You spend so much time together, if you're not having fun you're not happy together, and it doesn't create a good house. Right now we got a great house. You'll go through some growing pains, and you've gotta have a solid foundation. I think that's what David's built."
Kansas football assistant head coach and defensive coordinator Clint Bowen knows this spring will be critical in the overall development of the 2015 Jayhawks, even if there are more things on his to-do list than can possibly be accomplished for a young, rebuilding unit.
After going through just four practices, Bowen — also the safeties coach — sat down with the media Wednesday to discuss the state of the defense.
Here are some of the highlights:
• The up-tempo approach of KU's new Air Raid offense also benefits the defensive side of the ball.
With NCAA rules dictating how much time players can spend on the field, coaches have to find ways to get in as many plays as possible in the short amount of time they are out there.
"With what they're doing offensively, it allows it to just play out naturally."
• When installing the defense this spring, there are one of two ways to approach it:
No. 1: Put in a few things and master those.
No. 2: Examine as much of it as you can "real fast" and hope enough of it sticks.
The Jayhawks went with the latter, and are putting in as much as they can early, teaching it and getting it all on video. They recycle through that install again so the players can retain more each time through.
"It allows you to practice situational football a lot faster — right away, going into your first scrimmage."
The Jayhawks will get into these kind of situations in the next few practices: third downs, red zone, two-minute drills.
• Through four practices, Bowen wasn't ready to say any particular individuals have stood out, because the defense really has to start over as a group with the talent it lost from the 2014 season (see: Ben Heeney, JaCorey Shepherd, etc.).
The players that are here need to take pride in giving the unit an identity.
"At this point in time, I think they're all in the same boat of trying to figure it out."
Bowen just wants them being physical, playing hard and learning.
• On the roster as a whole, and on the defensive side of the ball, KU lacks depth. Bowen feels pretty good about what kind of 2-deep chart they will have, but the trouble comes beyond that.
Sub-packages, like nickel or dime defenses?
"Those things are out right now."
Bowen says you don't want to wear out all of your top players by making them play different packages.
So this is the mindset they ned to embrace:
"Only 11 of them can play at one time, so as long as we've got 11, we're good."
• With the new defensive coaches on the staff, they are all getting used to each other's approaches and tendencies.
"We've got a great group of guys on the staff, and everyone's working for the common goal."
• Bowen and new co-defensive coordinator Kenny Perry were acquaintances before, knew each other. Now that they're working together they're meshing.
Bowen said defensive back coaches have an "alligator hunter mentality": There's no such thing as a "pretty good" alligator hunter.
"That's where you live as a DB coach. I think we always live on edge."
Perry is intense because a mistake in the secondary means a TD for the opponent. You have to coach with a paranoia about yourself when working in the secondary.
• Junior corner Brandon Stewart, who just arrived on campus before the spring semester started, seems to have some skills: good feet, awareness, instincts and "can run a little bit."
• The departure of would-be senior safety Isaiah Johnson was "a disappointment, but not a surprise."
• Now that David Beaty is here leading the program, it's easier to communicate with high school coaches in Texas.
A lot of those high school coaches in Texas are legitimate friends of Beaty's. That helps in recruiting.
• As new coaches get to know each other, that's usually an easy transition because they're all in this profession to improve their program and help the players develop.
A lot of KU coaches are still in the process of relocating their families to Lawrence, buying houses and those types of things, so more of that camaraderie that comes with the job will show up even more once everyone is settled.
New Kansas football coach David Beaty almost couldn't believe at his national signing day press conference Wednesday afternoon he already had been at KU two months.
The timing of getting hired and putting together a coaching staff, of course, was nothing easy to pull off. And that's one reason Beaty seemed so excited about the 24 signees the team added in the Class of 2015.
"We were behind just a tad bit when we got here," Beaty said.
The former Texas A&M assistant said Kansas addressed a lot of needs with the class, including "much-needed" depth, improved length and speed, and more. The new man in charge said the players the staff went after not only had to be talented, but also good kids.
"We found the right guys," Beaty added. "Men who fit the Kansas way."
He spoke about all 24 signees at the press conference.
Dorance Armstrong
The coaches are extremely excited about the DE's burst, and he defends well in the run game
Shola Ayinde
The DB can run, he's long and has instincts that always put him around the ball. KU will man up outside, and corners have to be able to play on an island. Could help in the return game, as well, and he's a competitor.
D'Andre Banks
The "big ole" lineman is already on campus. The staff thinks he can play guard or center, and he has played all five positions in his time.
Bazie Bates IV
Another DB, this one from the junior college ranks, does a good job of causing turnovers "because of where he puts his hat."
Jeremiah Booker
A big WR out of Texas. Beaty had him at camp when he was working at Texas A&M. "He was not an easy get." He should be able to help near the red zone.
Jacky Dezir
The DL can line up outside or on the nose. He doesn't stay blocked and he finds the ball.
Denzel Feaster
A DB who stands 6-foot-3, the staff found him late, with the work of Klint Kubiak. "He will come downhill and he will knock the fire out of you." And he is just learning the position.
Aaron Garza
An O-lineman who had already committed to KU before Beaty and his staff arrived, he has good work ethic and he addresses an area of need.
Chase Harrell
The 6-4 WR already is on campus, and has been recruited by Beaty "since he was just a pup." Harrell reminds Beaty a lot of Texas A&M standout Mike Evans. He plays the ball at its highest point and has a lot of speed.
Ke'aun Kinner
The juco RB is "a talented dude" who has vision and great burst, with the ability to finish long runs in the end zone.
Taylor Martin
A RB from the high school ranks, he was "extremely hard to hold on to" because other programs showed a lot of interest in the explosive back from Fort Worth, Texas. He's a track guy and "a pretty big dude" for 5-10.
Clyde McCauley III
Another Dallas area recruit. "Skinny as a rail" for 6-5, 275 pounds. Just chose KU this weekend. He has a huge frame and has the ability to put on a lot of weight to help him.
Tyrone Miller Jr.
The DB came to KU late due to Regie Mitchell doing some recruiting work. He has speed to make big plays off turnovers, can really run.
Emmanuel Moore
A 6-0 WR from the Dallas/Fort Worth area, it took Beaty about 5 minutes of watching video on him to decide to make an offer. Has terrific balance and built like a RB. Also runs like a RB after he catches the ball.
Osaze Ogbebor
A 6-1 LB, a "bunch of schools" tried to get him after he committed to KU. He can run, "and he will strike you." He doesn't run around blocks, he sheds them.
Marnez Ogletree
Another DB, he called Beaty at about 5:05 a.m. Wednesday morning because he was so excited to sign.
Jayson Rhodes
An O-lineman from the juco ranks, he's originally from the Houston area. Beaty saw him this morning, and "this is a big dude." The coach "was a little bit shocked" he was still available.
Shaquille Richmond
A prep DB, he committed quickly after Beaty got the job. "Shaq can run, Shaq can tackle… and if that ball gets close to him, he's probably going the other way to return it." He got a lot of picks playing man coverage.
Steven Sims, Jr.
Beaty has been recruiting the WR since he was at Texas A&M. The coach loves the "run-after-the-catch factor" from him. He has long arms and can make contested catches. Has a little "swagger" to him.
Will Smith
A junior college O-lineman who played in high school at Shawnee Mission Northwest, he has a lot of size to him at 6-3, 315, and he has really good feet for a guy that size.
Carter Stanley
The QB from Vero Beach, Florida, is a guy the staff "did not think we would find." They got a tip to look at his tape and they went after him. He's a dual-threat QB and has an understanding of what KU's offense will do, because he ran it in high school.
Jace Sternberger
A 6-4 TE from Oklahoma, Beaty and the staff think he addresses a lot of needs. He's a great basketball player and he can do it all on the football field, too. Can really run for a guy with his length and build (225 pounds). And he's a hard-working, blue collar guy.
Brandon Stewart
The seventh DB in the recruiting class, the 6-0 junior-to-be was recruited by Beaty when he was in high school at Cedar Hill, Texas.
Ryan Willis
The other QB in Beaty's first recruiting class, the 6-4 product of nearby Bishop Miege didn't waver when KU started recruiting another QB in Stanley. He can sling the football.
— After talking about all 24 signees, Beaty fielded questions from the media. Here are some of the highlights.
• Most of Beaty's staff has a background in the state of Texas, and that has a lot to do with the 17 Texas kids signing with Kansas.
• They would've liked to have signed more than two kids from Kansas. But Beaty is glad they already are building relationships with high school coaches here.
• All that is written in the world of recruiting websites isn't always all that is there. Beaty and his staff are really excited about these guys. The staff looked at techniques of the players they were recruiting. It's hard to teach those.
• High school coaches in the state of Kansas are helping KU by identifying potential walk-on players. Beaty can only speak about the guys they signed today but there is progress on that walk-on front, too.
• The best players will separate themselves before next season starts. KU will go with the best guy at each position, including QB. So the true freshmen will have a shot at playing QB. "It's extremely difficult to play as a freshman," he added.
• When Willis visited, Beaty and the staff told him and his family that they were recruiting another QB. It doesn't matter where you go, there is going to be competition at every position. Willis never balked, and Beaty loved that.
Stanley wasn't worried about competition, either. Those are the types of guy who help you win.
• On the differences between the two QBs: Willis wasn't asked to run as much and Stanley was.
• The new staff addressed all the guys who had previously committed to KU.
• Length is important to Beaty. Over the past few years, guys are breaking up passes in man coverage a lot more. There are fewer small corners out there now. KU also needed more length. The profile of the roster needed more length and speed to it.
• You need length at the tackle position on the offensive line, too. KU is trying to find as many athletic big guys as it can find. Those defenders coming off the edge are lean and fast. You need big, long guys who can move their feet to protect the QB.
• In the recruiting process, the staff made it clear KU will be an up-tempo, throw-the-ball around offense that will be exciting to play in. On defense, they want to be aggressive, too. And that helps in selling the program.
• KU is always looking to improve its roster and is looking for ways to do that all the time. You need depth. (Beaty said that after being asked if there will be more additions to the recruiting class.)
• Building a staff is a lot harder than people think. Timing is important and it is not a deep market. Next year, when they can completely focus on recruiting and not have to worry about hiring a staff, things will go so much smoother.
• In the recruiting scramble, Beaty saw staff members come through and help him and the top assistants out. It was fun to get to know his assistants better and see what they are capable of.
• Reggie Mitchell and Clint Bowen "literally" kept this recruiting class together. They did a great job.
In the final week of his interim run as head coach of Kansas University football, Clint Bowen had plenty to address at his weekly press conference Tuesday afternoon.
Of course, the Jayhawks (3-8 overall, 1-7 Big 12) close their season this holiday weekend with the Sunflower Showdown in Manhattan, versus their rival, No. 11 Kansas State (8-2, 6-1).
But Bowen also took the time to show his appreciation for this experience — or audition, if you will — following the removal of former head coach Charlie Weis.
Here are the highlights from Bowen's Q&A with the media:
• The Jayhawks needed "over-the-top" type effort to win and didn't get it at Oklahoma… A lot of times KU didn't play very smart reading keys on defense.
• KU got a good start to this week early Monday morning (5:30 a.m.) with its first practice of KU-K-State week.
• Bowen has tremendous respect for Bill Snyder and his staff. K-State has an offense that is challenging to defend, with a "gamer" quarterback in senior Jake Waters and a big-time receiver in senior Tyler Lockett.
• K-State has adapted the QB run game into its offense in a creative manner. They use designed QB runs instead of reads a lot. The tailback even blocks for the QB. They also have options to throw out of the QB run plays. The wrinkles create conflicts for defenses.
• Importance of the rivalry game: In the state of Kansas you're on one side or another for the most part. Through the years, KU fans and non-KU fans take shots at each other. For the program, it's also about fighting for the same recruits.
• The 1992 KU-K-State game stands out for Bowen, in his memories of playing, but KU was dominant up front defensively. For him, playing in the back, it was pretty boring, with little action getting to his position.
• The Bowen family is a Lawrence group, and pretty much always focused on KU as fans. Definitely not Missouri.
• Senior CB JaCorey Shepherd, a former WR, adapted to switching and jumped right in. He has physical skills but he had a lot to learn and took pride in his craft.
• Bowen spoke with Snyder about a job a few years back, after Mangino's staff was let go. He considers himself fortunate to have had that interview "so to speak." Bowen said he didn't get an offer for the assistant position so he didn't have to make that choice.
• This is the last game of the season, so there is a senior day feel to it for KU, even on the road. It can be a motivating factor with the last time the Jayhawks' seniors put their helmets on. The coaches don't talk about this week as their own bowl game or anything, but the coaches will teach the players about the rivalry today.
• A lack of stability at the head coaching position, on both sides of this rivalry, through the years have made the rivalry game streaky — with one team dominating the series for years on end.
• This game definitely means a little more to "Kansas kids," who grew up in this state.
• Freshman defensive lineman D.J. Williams, freshman offensive lineman Jacob Bragg and sophomore tight end Kent Taylor are some talented young guys who have stood out this season without getting a chance to play a major part on Saturdays.
• KU feels good about its red-zone defense because the whole field shrinks. Once they hit the red zone, the Kansas defense feels like that's an advantage. KU has had success forcing field goals.
• Bowen and the staff will be out on the road recruiting early next week to sell all the positives about Kansas "regardless of the head-coaching situation."
• In these nine weeks as an interim coach, Bowen has learned a lot about himself and dealing with people. It is a leadership position. That part has been rewarding, because you realize you can impact a program and people's lives. You learn how to make decisions and rely on the people around you. The last eight weeks went by pretty fast.
• The biggest lesson Bowen has learned: It's virtually impossible to be the defensive coordinator and head coach. There is too much time required of both positions. Guys that have those dual roles have some help behind the scenes with that work.
• Regarding this interim tenure: It's always about KU and the program. That's what he has always believed.
• Bowen closed the press conference by thanking chancellor Bernadette Gray-Little and athletic director Sheahon Zenger for the opportunity to represent Kansas football. He also thanked the assistant coaches and football support staff for working hard and doing what was right for the program through a difficult time. The players deserve credit, he said, for fighting and battling, too.
• On the head-coaching search: Bowen has never made it a secret that he would like to have this job. But it is never about him. Dr. Zenger has a "great plan" to find the best person for the program. When the selection is made, it is time for everybody to put their full support behind the choice. … KU football is a program that can be and should be successful in a power conference. Everyone has to work together as a team for that to happen.
— Listen to the press conference in its entirety: Clint Bowen talks K-State, his desire to become KU's permanent head coach
The last two weeks have done wonders for confidence and morale within the Kansas University football program.
Interim head coach Clint Bowen detailed some of the team's progress of late at his weekly press conference Tuesday, as the Jayhawks (3-7 overall, 1-6 Big 12) prepare for a weekend trip down to No. 23 Oklahoma (7-3, 4-3).
Here are some of the highlights:
• Bowen commended KU's players for a tough preparation week leading up to TCU. Their perseverance showed on game day, as they came out of the locker room ready to play.
• It doesn't get any easier this week, at OU. Bowen has a tremendous amount of respect for Bob Stoops' body of work, first as a D-coordinator and now as the Sooners' head coach.
• The OU defense will get after you and make you have a bad day… This will be a tremendous challenge for the Jayhawks.
• The bottom line is KU lost to TCU. A loss is "never acceptable." Their expectations are they have Big 12 football players and they take the field to win. The improvement and preparation continues each week and players are seeing positive results on the field. Losing is never easy, though.
• You would like to know what your opponent is going to do. OU announced QB Trevor Knight won't play this week. Last week against Texas Tech they came out in the second half and ran the ball a ton. It shows the diversity of OU's offense. They were losing that game and changed the game plan to build a comfortable lead.
• Now Oklahoma has a QB run game, with replacement Cody Thomas. The Sooners brought in a guy who can do similar things to Knight, as well.
• KU's offensive line did a nice job against TCU's front. They're all starting to play better as a group, communicate better as a group. They didn't have any TCU guys running free to the quarterback. That allowed Kansas QB Michael Cummings to look down the field.
• The Jayhawks have confidence after the past couple of weeks. They know now if they show up in the week and prepare, the system brings results. There also is confidence from hanging around with a good TCU team that many outside of the program expected to steamroll Kansas.
• Bowen has said KU has to match opponents' physical play. Big 12 teams will "big boy" you if they can. Players are starting to grasp they need to fight back and win the physical part of games.
• WR Nigel King has had more success of late, and some of that is a plan to get him the ball more. Also, King has gone out and made some special plays.
• Cummings' toughness is underrated. If you're playing at this point in the season your body doesn't feel good. Cummings can be counted on to battle through the game's discomfort.
• TE Jimmay Mundine has had a "tremendous" year. It's been fun to watch him have the kind of games the staff knew he was capable of. A lot of his runs after catches show his athleticism. Guys who can do more than one thing have a chance to play at the next level, and Bowen hopes Mundine gets that opportunity… They knew the senior TE had talent and now he is a bigger part of the game plan.
• Senior offensive lineman Ngalu Fusimalohi will be out for the remainder of the season.
• O-lineman Junior Visinia went in and handled the game well, mentally and physically, as a true freshman. He hasn't let the game get too big for him.
• When other coaches praise Bowen, that means something to him. For someone of Gary Patterson's stature to talk him up, it meant a lot to Bowen.
— Listen to the entire press conference: Clint Bowen: 'A loss is never acceptable'
Kansas University interim football coach Clint Bowen certainly isn't calling it this, but Mark Mangino Week is here.
The beloved former KU head coach who went 50-48 in his seven seasons here returns to Lawrence Saturday as Iowa State's offensive coordinator.
Both the Cyclones and Jayhawks enter the game as co-occupants in the Big 12 cellar, at 2-6 overall and 0-5 in the league.
At Bowen's weekly press conference Tuesday afternoon, he didn't seem overly eager to talk about his former boss or his time working on Mangino's staff, but he didn't shy away from the inquiries, either.
Here are some of the highlights from the Q&A:
• ISU has beaten KU two years in a row. Coach Paul Rhoads' guys play hard, play physical.
• KU's 60-14 loss at Baylor takes a little while to bounce back from. As soon as the game ended the coaches told players it was time to put it behind them. There is plenty they can get done with the rest of the season, and that began with Sunday's practice.
• On ISU offensive coordinator Mangino: Bowen spent eight years with him and he has a lot of respect for him. Bowen took a few things from Mangino, especially work ethic and attention to detail. It's been a while since Bowen has spoken with him.
• On gamedays there are so many other things to think about. You don't have time to talk to the coaches on other staffs that you know. Bowen made it sound like he isn't planning on catching up with Mangino this weekend or anything like that.
• College football has changed since Mangino was at KU. ISU runs a similar offense to what Mangino ran at Kansas, but there are lots of different, updated parts to it.
• Rhoads' teams usually don't beat themselves, and that showed up when they played Kansas the past two years.
• KU junior QB Michael Cummings has good pre-snap awareness and he uses that to see some things from opposing defenses. He makes those reads efficiently in situations where the Jayhawks have the choice of going with a pass or run play.
• Cummings had good numbers on paper at Baylor: 21 of 30, 288 yards, 2 TDs. There were a few plays he'd like to get back, such as the fumbles. He is a tough young man with a strong arm, and WRs Nigel King and Nick Harwell are making some plays for him, as well.
• KU would like to do more scheming offensive plays to confuse defenses. They can do that by taking rules defensive players live by and using those against them. Examples: a tight end releases on a run play; a guard pulls on a passing play.
• Freshman return specialist Derrick Neal will be out on Saturday, but KU is hopeful senior DT Keon Stowers and junior RB DeAndre Mann will be able to play vs. Iowa State.
• On having a new co-offensive coordinator: It's always a collective effort to improve the offense, as a staff. It isn't just up to WRs coach Eric Kiesau to change everything.
• When Mangino was here at Kansas there was a lot of attention to detail: Guys wearing specific things at practices, everybody touching a certain line in drills. They asked players to do something and do it right. Players were held accountable.
• Bowen has always done a little bit of advance work on Fridays for the following weekend's game. The game plan for Saturday is set by Thursday night. Fridays are used to prep for Sunday's practice, with some attention to the next week's opponent.
• ISU junior QB Sam Richardson is throwing the ball better now that he's an upperclassman, and he has speed and the ability to run the zone-read option. He looks comfortable and doesn't panic.
• On senior LB Ben Heeney playing RB on 4th and short at Baylor: Heeney has a history of playing effectively at RB in high school at Hutchinson. The coaches thought he might be a guy who could be a tough back in those short-yardage situations.
• Iowa State has good players. "All of us are hunting for the mega-stars," but unfortunately there aren't a lot of those guys out there. It's about developing the young men you have on your roster. There is only a handful of star-type players and everybody else has solid Big 12 players.
• The O-line is about playing fundamental football and having chemistry and communication. Those fundamentals truly come into play on every snap. Guys have to have some toughness, too, physically and mentally.
• As a young player, O-line is the toughest position to come in and play at. Development is critical. The longer you can keep them in your system, the better.
• John Reagan has worked the O-line hard all season, even before he split coordinator duties with Kiesau.
— Hear the entire press conference: Clint Bowen discusses ISU, former boss Mark Mangino
After a welcome break from the grind of the Big 12, Kansas University's football team, led by interim head coach Clint Bowen, is back at it this week, with a Saturday trip to Waco, Texas, on the horizon.
No. 12 Baylor (6-1 overall, 3-1 Big 12) now routinely ranks among the nation's top offenses and this season is no different. The Bears average 6.5 yards per play and have scored 45 or more points in five of their seven games.
Naturally, the challenge of facing that kind of offense proved to be a popular topic Tuesday, as Bowen met with media for his weekly press conference, before KU (2-5, 0-5) heads south for Saturday's 3 p.m. game.
Here are some of the highlights:
• Though the Bears are coming off their first loss of the year (Oct. 18 at West Virginia), BU coach Art Briles obviously has done a very good job this year. The Bears are an offensive juggernaut and a well coached team with a good plan and good players.
• From KU's perspective, you're a Big 12 football player, and this is the kind of game you came to Kansas to play in.
• With a team like Baylor, you look at the TCU game (a 61-58 Bears win) and both teams had so many possessions, so many plays. There are ways in a tempo game to control the clock and KU will have to execute to make that happen and limit Baylor's plays.
• Every game comes down to personal battles, as does every play. What is six inches in front of your face? That's what you worry about, not the numbers Baylor is putting up.
• Baylor keeps adding to its offense every year. Briles and his staff have recruited very good players, which allows them to run their scheme effectively.
• Junior QB Michael Cummings gives KU an added advantage in the passing game it didn't have when sophomore Montell Cozart started. Cummings' ability to hit a few of those deep shots the past few weeks has helped.
• It isn't easy to play Baylor tight, but West Virginia and TCU have shown some ways to make that possible.
• Tempo has taken over the Big 12. The challenge is playing with urgency. KU has to match its opponent's tempo and Bowen thinks the Jayhawks have reached a point where the defense isn't effected by uptempo offenses.
• Junior KU WR Rodriguez Coleman had a good spring, has been through some things and will be a part of the game plan going forward.
• It's good for coaches and players to get away from each other a little bit in an off week. It's a competitive/intense gig and it is nice to get a fresh breath every now and again.
• Baylor has had a system in place for a while. That brings familiarity to players in the program and makes it easier to recruit specific types of players.
• Bears senior QB Bryce Petty does some things — read-wise — that you have to admire. Defenses try to confuse him but he is able to break things down and make quick decisions.
• On KU offense's third- and fourth-and-short situations: A lot of times it comes down to, Can you knock a guy back and create the push you need? You have to be tough/physical.
• Kansas senior TE Jimmay Mundine is talented and can make plays for KU in a lot of different ways. They even can line him up in the backfield as a fullback.
• In the past off week, Bowen self-scouted KU's defense. They've been good on first downs but they need to address red-zone defense and a few other issues
• The week off was important for Cummings because he has truly settled in. His leadership improves each day, and so do his decisions with the football. He's a competitive guy who has been through ups and downs in the program.
— Hear everything Bowen had to say during the press conference: Clint Bowen on coming off a bye week to face Baylor
Back in the day, Kliff Kingsbury was setting passing records as Texas Tech's quarterback. Now the second-year head coach runs the Red Raiders.
Kingsbury is just one of two college football coaches who can say he finished in the top 10 in Heisman Trophy voting and played in the NFL — the other is South Carolina's Steve Spurrier.
At 35, Kingsbury is the youngest head coach in the five power conferences.
Texas Tech is 10-9 in the still-young Kingsbury coaching era, and like Kansas, the Red Raiders (2-4 overall, 0-3 Big 12) have had their struggles this season.
Kansas (2-4, 0-3), though, hasn't won a road game in 29 tries, and will try to snap that skid at 2:30 p.m. Saturday at Jones AT&T Stadium, in Lubbock, Texas.
While KU, Texas Tech and Iowa State all sit at the bottom of the Big 12 standings with no conference wins, the Red Raiders are 14-1 all-time against Kansas and haven't lost to the Jayhawks since 2001.
Tech averages 30.3 points and 486.2 total offensive yards a game, compared to KU's 15.8 points and 331.8 yards.
With those numbers in mind, here our five Red Raiders the Jayhawks better keep their eyes on.
No. 7 — Davis Webb, sophomore QB
When you're talking Texas Tech, you have to start with the quarterback.
Davis Webb averages 325.2 passing yards a game this fall. He has completed 62 percent of his throws for 1,951 yards, with 19 touchdowns and 11 interceptions.
The second-year starter ranks in the top 10 of Tech's career records in passing TDs (No. 8, with 39) and completions (No. 10, with 394). He'll also crack the top 10 in career yards against KU — probably before the end of the first quarter. Webb has thrown for 4,669 yards in his time at Texas Tech, which puts him 19 shy of Ron Reeves at No. 10.
Through the first 16 games of his career, Webb has thrown at least one TD pass in each outing — which is a Tech record.
He hit Devin Lauderdale for a 76-yard TD pass in the first quarter last week against West Virginia.
Webb capped last season with 403 passing yards and four touchdowns in Texas Tech's Holiday Bowl win over Arizona State.
No. 11 — Jakeem Grant, junior WR
http://www.youtube.com/watch?v=jeJWg2McTnQ
Even when he trips up, he can haul in a catch.
Webb's favorite target this season, Grant has led Texas Tech in receiving for four games in a row. At Oklahoma State a few weeks back, he caught 12 passes for 100 yards.
On the year, Grant has a team-leading 44 receptions for 557 yards and a touchdown. The undersized 5-foot-6 receiver has caught 142 passes in his career for 1,640 yards.
Grant also leads the Big 12 in all-purpose yards this year, with 163.8 a game, and he has 1,044 kickoff return yards in his career (25.5 yards per return).
No. 4 — Brad Marquez, senior WR
The senior captain leads Texas Tech with six touchdowns this fall. With a season-long of 70 yards, Marquez has caught 35 passes for 447 yards.
His 12.8 yards per catch just edge Grant's 12.7.
Marquez opened the season with a 184-yard performance against Central Arkansas, and the next week against UTEP he caught three TD passes.
In 35 of his 37 career games, he has caught at least one pass.
If the game is close late, expect Webb to look his direction. Marquez has two game-winning receptions this season and three in his career.
No. 21 — DeAndre Washington, junior RB
Sure, Texas Tech is known for slinging the pigskin around the field, but the Red Raiders' go-to running back ranks second in the Big 12 with 5.1 yards per carry, behind only Oklahoma's Samaje Perine (5.2).
Washington got to that clip, in part, through a pair of 100-yard rushing games this season. Last week against West Virginia, the Red Raiders handed him the ball 29 times for 132 yards.
On 89 carries this season, the junior has gone for 458 yards and a touchdown. The Red Raiders occasionally incorporate Washington into the passing game, too. He has 15 receptions for 89 yards, with a season-long of 14 yards.
No. 10 — Pete Robertson, junior LB
The 6-foot-3, 236-pounder leads the Red Raiders with five sacks this season. With 45 total tackles, he is just one behind defensive back Keenon Ward's team-leading 46.
Robertson also has been credited with a pass-breakup, a quarterback hurry and a forced fumble through six games.
He had a sack against both Oklahoma State and West Virginia, and set a personal career mark with two QB takedowns against Kansas State.
The linebacker will be coming after KU quarterback Michael Cummings. The question is: how many times will Robertson get to him?
Last week, he made eight tackles and forced a fumble of WVU QB Clint Trickett.
With the Kansas University football team's best performance of the season, to date, behind him, interim coach Clint Bowen indicated Tuesday afternoon that the program is making tangible progress in multiple areas.
The Jayhawks (2-4 overall, 0-3 Big 12) hope to continue that trend this Saturday at Texas Tech (2-4, 0-3), and Bowen addressed that, among many other topics, at his weekly press conference.
Here are some of the highlights:
• From now on, things should be pretty consistent as far as who is playing. Guys like sophomore defensive lineman Tyler Holmes, freshman defensive back Derrick Neal and junior defensive back Ronnie Davis are getting more reps. That gives KU more depth.
• It's probably too soon to say if Neal will remain a defensive back his entire time at Kansas. "I can see him doing a few things for us." One of those includes special teams returns.
• Bowen talks to players about day-to-day stuff. They don't address the ongoing road struggles (the 29-game losing streak).
• On Texas Tech: They run an offensive system that can put you in stressful situations. They run the ball as much as they throw it, which is what they do best, and they spread out their personnel. It's hard to hit the QB.
• On KU's progress since he took over: The first thing the team needed was an identity. Players have bought into what the coaches talked about along those lines. They're not completely there yet but they're headed in the right direction. When people leave a game, they will say Kansas played extremely hard.
• At practices players are understanding the importance of urgency more.
• On new starting quarterback Michael Cummings: He made good, decisive reads and showed leadership with the offense against Oklahoma State. He displayed toughness and he's not afraid to be vocal.
• Junior QB Cummings, with the way he played, earned the right to be the starter. The hope is he can now truly take control of the offense. His skill set is different from former starter Montell Cozart's. Offensive coordinator John Reagan and the offensive coaches will form game plans around Cummings' strengths.
• KU will continue to find ways to get senior receiver Tony Pierson the ball. (He lined up as a running back often against OSU). Bowen also was happy KU got senior receiver Nick Harwell and senior tight end Jimmay Mundine more involved, too, this past week. It was a game-plan decision.
• On senior "buck" Michael Reynolds: He is one of the guys for KU who has the ability to get to the QB, and it's critical that Kansas does that. His ability changes a lot of things for the defense, such as in coverage. Against Oklahoma State, he just beat the man in front of him to rush the passer.
• Junior defensive tackle Andrew Bolton is showing progress, too. He is disruptive. He is getting fly-bys on QB sack attempts — three on the year where he has missed. But he is improving.
• Senior corner Dexter McDonald is healthy, as are all the other KU players on the two-deep as of right now.
• Bowen has been well received from many outside of the program, but he is more concerned about the players having success.
• One of KU's biggest issues on offense is finishing blocks on the offensive line. They have to finish some people off if the offense is going to continue to improve.
• Going into the fourth quarter, Bowen could see the players getting excited on the sideline about finishing the game against Oklahoma State. To see those guys group up on their own and take ownership, it reinforced that they are starting to buy into what the coaching staff has preached since Bowen took over.
• Bowen likes running sprints with players at practices. And as far as chest-bumping and celebrating a big play goes, that is just his natural reaction.
• On KU's secondary: senior corners JaCorey Shepherd and McDonald are having great seasons. Shepherd is putting together an all-conference type season. … Senior free safety Cassius Sendish and junior strong safety Isaiah Johnson are capable of more, and Bowen is happy with what they have done. Those two have special games in them. Fish Smithson is getting tons of reps, too, because he is playing so well.
• KU is playing in a grown-man conference. Once a team can knock you off the ball, it doesn't matter what you scheme. Adjusting to that physicality and responding is a must.
• Smithson is very instinctive on the field. He understands the game well and reacts. That's the best kind of player to have at safety.
• Players show up at the football facility ready to work. At the same time, Bowen wants them being themselves and being comfortable. Giving them the freedom to do that is important. That's been one of the subtle changes, as well as creating energy and excitement in everything they do as a team.
— Listen to the complete press conference here: Bowen doesn't anticipate many more personnel changes
In the second week of the season, Oklahoma State lost its starting quarterback, junior J.W. Walsh, to a right-foot injury that could keep him off the field until at least November, if not longer.
Such a blow would have devastated lesser teams. But 10th-year Cowboys coach Mike Gundy has his program rolling, and OSU just plugged in Daxx Garman and won four games in a row.
That's what kind of team Kansas (2-3 overall, 0-2 Big 12) will have to deal with Saturday afternoon at home. The No. 16 Cowboys (4-1, 2-0) haven't lost since their opener, against defending national champion Florida State.
These days, KU needs all the help it can get, and playing at Memorial Stadium typically means the Jayhawks have a better chance to win than usual (see: 29-game road losing streak). But this week, Kansas will face some serious road warriors.
The Cowboys haven't played a true road game yet this season. However, they are 18-7 in away games since 2009, and have gone 15-6 on their Big 12 opponents' home fields. OSU has put up at least 30 points in 21 of its previous 25 road contests. What's more, in three of its last five road trips, Oklahoma State has scored 50 or more points. Fifty-plus. In away games.
With those numbers in mind, here are five OSU players the Jayhawks will have to keep their eyes on.
No. 12 — Daxx Garman, junior QB
KU and its defensive backs know they are in for an aerial attack vs. OSU's 6-foot-2, 205-pound quarterback.
Since he replaced Walsh in the second game of the season, Garman has completed 14 passes of 30 or more yards:
• Six of those for 30-39 yards — vs. Iowa State, UTSA and Texas Tech
• Six for 40-47 yards — vs. ISU, Texas Tech and UTSA
• One for 50 yards — vs. Texas Tech
• One for 87 yards — vs. Missouri State
Prior to his insertion into the spotlight, he hadn't taken an in-game snap since his junior year of high school in 2009. Now in his third year with the OSU program, it didn't make Garman any less dangerous. He leads the Big 12 in yards per completion (16.0) and yards per attempt (9.38).
In four games, Garman has completed 75 of his 128 throws for 1,200 yards and nine touchdowns while giving up four interceptions.
No. 26 — Desmond Roland, senior RB
At 6-foot-2, 210 pounds, he can truck some opposing linebackers on his way to first-down yardage or the end zone.
Last week against Iowa State, Roland scored two touchdowns, making it six games in a row that the RB had reached the end zone. He went for 95 yards on 19 carries.
The big back rushed for 144 yards and two touchdowns against Oklahoma last December and torched ISU for 219 yards earlier in 2013.
Roland leads OSU with 304 rushing yards, but he is just one of three viable rushing options for the Cowboys, who also use Tyreek Hill (196 rushing yards) and Rennie Childs (153 rushing yards).
No. 24 — Tyreek Hill, junior athlete
A lot of times on football recruiting sites, you'll see high school players listed as "athletes" rather than associating them with a particular position. Well, that's what Oklahoma State does with its 5-foot-10, 185-pound speed demon.
Hill enrolled at OSU for the spring semester and won the Big 12 indoor track title in the 200-meter dash. His football coach, Gundy, said even before the season began that the Cowboys are fortunate to have him on the roster.
"He's very fast. We'll play him at a running back position. We'll play him at the receiver position," Gundy said this summer, "and we look forward to him helping us in special teams."
The former Garden City Community College star returns kicks (351 yards) and punts (129 yards), and gets plenty of touches on offense. Hill has 14 receptions for 131 yards and a TD, as well as 196 rushing yards on 38 carries (5.2 average).
He has picked up 10 first downs for OSU this season.
No. 7 — Brandon Sheperd, junior WR
A 6-foot-1 target for Garman, he leads Oklahoma State with 16 receptions, 277 yards and 12 first-down plays.
Sheperd just went for eight receptions and 91 yards against Iowa State.
After getting more reps in practices than on game days in 2013, he had a breakout performance against Missouri State in September, with four catches — one for an 87-yard TD.
No. 10 — Seth Jacobs, sophomore WLB
His 46 career tackles are only sixth among current OSU defensive players, but the 6-2, 220-pound linebacker has only been at this for a season and a half.
Jacobs can take away passes and snuff out opponent runs. He has 35 total tackles this season and 24 of them have come on running plays.
But the guy has already intercepted two passes this season, too. Jacobs picked off Heisman Trophy-winner Jameis Winston of Florida State in his sophomore debut and also had a late-game pick against Texas Tech.
He had 10 tackles against the Red Raiders.

Find more businesses on Marketplace
Arts & Entertainment · Bars · Theatres · Restaurants · Coffeehouses · Libraries · Antiques · Services