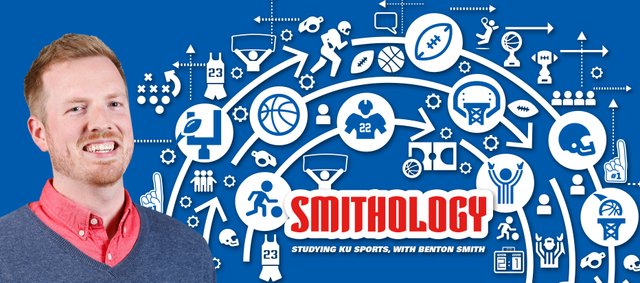 Posts tagged with
Kansas Basketball
When No. 10 Kansas takes on No. 13 Utah Saturday afternoon at Sprint Center, it will be another tough non-conference game for the Jayhawks (7-1), but it could mean far more for the Utes (7-1).
While this kind of game comes around often for KU, it's a rare showcase and opportunity for Utah. The 2:15 p.m., nationally televised (ESPN) matchup marks the first time a Utah team ranked in the top 15 has taken on a top-10 opponent since the Utes fell to Kentucky in the 1998 National Championship game.
Coach Larry Krystkowiak's team just last week knocked off Wichita State (then ranked No. 8) in Salt Lake City. But Utah entered that game ranked 25th. Now the Utes — their only loss came at San Diego State (currently ranked No. 18) less than a week into the season — are surging toward the top 10. What better way to announce yourself to the college basketball nation than by knocking off Bill Self's team in KU territory?
Krystkowiak's Utes certainly look the part of a top-15 team, if not better. Utah leads the Pac-12 in scoring defense (57.4 points allowed) and rebound margin (+10.5), and has limited opponents to 35.8% shooting from the field — 17th in the nation.
Offensively, Utah has made 51.6% of its shot attempts overall, including a 41.6% clip from three-point range.
As Luke Winn wrote about for SI.com, the Utes also have cashed in on easy points at the free-throw line by being the aggressors. In four of Utah's games, it has attempted 19 or more free throws than its opponent. Even against Wichita State (currently ranked No. 11), the Utes took 10 more free-throw attempts.
Utah is averaging 29.6 free-throw shots a game, and making 66.2%. Kansas is right there with the Utes, though. The Jayhawks are getting to the foul line 29.3 times an outing. Plus, they've been more successful, making 73%.
Are you ready for some free throws?
With all that in mind, it's time to meet the Utes KU will have to hold back (and keep away from the charity stripe) in order to score another quality non-conference win.
UTES STARTERS
No. 55 — Delon Wright, 6-5, senior G
What doesn't this guy do? The senior guard ranks among the Pac-12's top 10 in scoring (15.1), assists (4.9), field-goal percentage (57.5%), 3-point percentage (38.9%) and steals (1.8).
A Wooden Award candidate, Wright is averaging 18 points, 5.6 rebounds, 4.6 assists and hitting 69% of his shots the past five games.
He has taken 39 free throws this season and made 30 (76.9%).
— hoop-math.com nugget: Wright is an attacker. He has taken 36 shots at the rim, which leads Utah. Almost half of his attempts (48.6%) come there and he makes 72.2% of those quality looks in the paint.
No. 42 — Jakob Poeltl, 7-0, freshman C
He might not get much national buzz, but the Austrian native seems to be one of the better first-year post players in the nation.
Like Wright, he has led Utah the past couple of weeks. Poeltl has averaged 12.2 points and 9.6 rebounds the past five games, while proving nearly unstoppable when he attacks offensively, making 25 of 31 shot attempts (80.6%). He went 10-for-10 against North Dakota.
What's more, Poeltl could be the kind of big man who makes KU miss inside. The young 7-footer averages 2.9 blocks a game.
If he has a clear weakness, it's at the foul line. Poeltl has attempted more freebies than any of his teammates (49), but he is only shooting 44.9%.
— hoop-math.com nugget: The big guy leads Utah with 10 put-backs (30 of his 44 rebounds have come on offense) and he converts on 80% of his second-chance shots at the rim. In total, 68.1% of his looks come at the rim.
No. 11 — Brandon Taylor, 5-10, junior G
You're looking at one of Utah's 3-point gunners. Taylor leads the team with 39 attempts from downtown and 14 makes (36%). He now ranks 10th all-time in program history with 111 career threes. Plus, he is 10th all-time in accuracy, as a career 40.5% marksman from deep.
Taylor, the team's starting point guard, averages 10.3 points and 2.8 assists. He doesn't get to the foul line as much as Poeltl and Wright, but he has hit 18 of his 21 tries (85.7%).
In knocking off Wichita State, the junior floor general scored 17 points and dished four assists. Of course, he also hit 3 of 7 from 3-point land.
— hoop-math.com nugget: Second on the team with 59 field-goal attempts, Taylor prefers firing away from deep. That's where 66.1% of his shots have been attempted from. Only 15.3% of his looks have come at the rim.
No. 25 — Kenneth Ogbe, 6-6, sophomore F
He starts, but he has been more of a complimentary player for Utah because he entered the season as a backup. Ogbe moved into the starting five when Jordan Loveridge (11.5 points) suffered an injury.
Ogbe only scored two points (free throws) against WSU, but followed that up with a nine-point night at BYU in a rivalry-game road win.
If left open, he's a capable 3-point shooter, having made 9 of his 19 attempts so far.
— hoop-math.com nugget: On each of Ogbe's 3-point makes, a teammate has set him up with an assist. He'll be spotting up on the perimeter waiting for good looks.
No. 20 — Chris Reyes, 6-7, sophomore F
Another role player for Utah, he only averages 4.6 points and 4.4 rebounds.
Reyes can battle. He grabbed nine rebounds in a loss to San Diego State.
While he has started every game, he only plays 18.1 minutes.
— hoop-math.com nugget: Reyes is eighth on the team in shot attempts. When he does score it's most often because a teammate drew the defense's attention and set him up: 80% of his makes at the rim have been assisted, as have been 77.8% of his two-point baskets from farther out.
UTES BENCH
No. 14 — Dakarai Tucker, 6-5, junior G/F
After missing the first four games of the season, he's proven to be a valuable backup.
Tucker played 34 minutes and scored 13 points against Wichita State. At BYU he hauled in six rebounds and score five points.
He hasn't played as much as Taylor, but he takes 3-pointers at a comparable rate. So far, Tucker has connected on 8 of 19 (42.1%) from long range.
— hoop-math.com nugget: Of his 24 shot attempts through three games, only three have come in the huge area of the court between the rim and the 3-point line. He's scoring at point-blank range and form deep almost exclusively.
Georgetown's November trip to the Bahamas for the Battle4Atlantis might have produced just one win for coach John Thompson III, but it should have his team prepared for the likes of No. 10-ranked Kansas.
The Hoyas (5-2) aren't ranked by the AP, but that Thanksgiving week tournament, and the quality competition, helped them reach a current ranking of No. 20 from kenpom.com.
The college hoops analytical site has Kansas (6-1) ranked No. 9 — not too far off from Georgetown's Atlantis foes, No. 16 Florida, No. 5 Wisconsin and No. 27 Butler.
Though the Hoyas lost by three to Wisconsin and by eight to Butler, they opened the holiday tourney with an overtime victory against Florida.
All of those games were played in the 60-point range, so don't expect much up-and-down action in D.C., between the Hoyas and Jayhawks.
According to hoop-math.com, just 14.6% of shot attempts surrendered this season by Georgetown have come in transition — that's the 10th-best percentage in the nation. Plus, as you might have noticed, Kansas doesn't get out much in transition. Only 16.4% of the Jayhawks' field-goal attempts have come in fast-break situations — that places them 309th in the country.
With that in mind, here are the Hoyas Bill Self's Jayhawks will have to hold back in order to pick up a victory in their first true road game, at Verizon Center.
HOYAS STARTERS
No. 4 — D'Vauntes Smith-Rivera, 6-3, junior G
The man whose crossover and clutch jumper from just inside the 3-point line gave the Hoyas an OT victory over Florida led Georgetown and the Big East in scoring last season.
Appropriately, he's the Big East's Preseason Player of the Year. Smith-Rivera averages 14.4 points, 3.6 rebounds and 3.3 assists.
He has taken a team-high 30 three-pointers, but has connected on just 10 of them, also a team-high.
Not only is he tough to guard, he cashes in when drawing fouls, making 25 of 28 free throws to date (89.3%).
— hoop-math.com nugget: Can be coaxed into settling for jump shots — 38% of his shot attempts are two-point jumpers and 42.3% are from behind the arc.
No. 24 — Joshua Smith, 6-10, senior C
A 350-pound behemoth in the post, you'd expect a veteran of that size to be effective on his touches. You'd be right.
Smith has taken the second-most shot attempts for Georgetown (54, compared to 71 form Smith-Rivera) and he's shooting 67% from the floor this season.
If KU defenders find themselves about to become another victim of the robust center, it might be best to foul him if possible. Smith's 29 free-throw tries lead the Hoyas, but he makes just 59%.
Smith puts the big in big man and averages 12.7 points and 6.9 rebounds.
— hoop-math.com nugget: Smith leads the Hoyas with 14 put-backs, that's where 26.5% of his made baskets at the rim come from. And he converts 75% of his second-chance looks from point-blank range.
No. 0 — L.J. Peak, 6-5, freshman F
Georgetown's youngest starter is still finding his way after opening the season with 23 points against St. Francis Brooklyn.
Since then, Peak has totaled 37 points in his next six games (with 22 of those coming against Texas A&M Corpus Christi and Robert Morris), giving him an 8.6 points per game average for the year.
He scored eight against Florida, two against Wisconsin, none against Butler and five against Towson.
As you might expect of someone in a bit of a slump, his shooting numbers haven't helped his cause. On the season, Peak has shot 4-for-14 from three-point range (29%) and 14-for-22 at the foul line (64%).
— hoop-math.com nugget: More times than not, Peak's shot attempts come inside. Of his 47 attempts, 57.4% have come at the rim.
No. 55 — Jabril Trawick, 6-5, senior G
A role player opposite of Smith-Rivera in the backcourt, he averages 7.4 points and 3.4 rebounds for Georgetown.
Though he averages 25.1 minutes a game, the senior captain's season-high for shot attempts was eight, in the Hoyas' season opener.
Trawick has never made more than two three-pointers in a game for Georgetown.
— hoop-math.com nugget: He doesn't shoot often for a starter (4.9 attempts a game), but he makes the most of them, taking 70.6% of his shots at the rim.
No. 3 — Mikael Hopkins, 6-9, senior F
More of a rebounder (6.9 a game) and enforcer in the paint (2.7 blocks) than a scorer (5.0 points), he still has great value for the Hoyas in the frontcourt.
He blocked four shots and scored eight points in Georgetown's win over Florida.
— hoop-math.com nugget: While the majority of his shots come at the rim (87.9%), Hopkins only makes 37.9% of those easy looks.
HOYAS BENCH
No. 13 — Paul White, 6-8, freshman F
He plays more off Georgetown's bench (22.1 minutes) than anybody else.
White averages 7.3 points thanks to his effective shooting — 19 of 36 (53%).
White's personal season-high of 13 points came in a loss to Butler, when he went 4-for-5.
In the last five minutes of games, he has gone 4-for-5 at the foul line.
— hoop-math.com nugget: KU might prefer that he try to attack in the paint because he only makes 28.6% of his shots at the rim. Don't leave him open inside the arc, though — he has made 12 of 18 two-point jumpers.
Kansas University's basketball team is in the midst of a challenging non-conference schedule, with games this week at Georgetown (5-2), and against No. 13 Utah (6-1), in Kansas City, Mo.
Coach Bill Self talked a little about that Monday afternoon at his press conference, but also had to deal with some off-the-court issues for his No. 10 Jayhawks (6-1).
Here are some of the highlights from the Q&A:
• Self opened the press conference by addressing Jamari Traylor's weekend arrest. The junior backup forward is suspended for KU's Wednesday game at Georgetown. Self called him a "good kid" who "made a bad, bad choice."
• KU saw two different versions of itself against Florida: the way to play and the way not to play.
• Georgetown is playing through big man Josh Smith (12.7 points, 6.9 rebounds). He's a good passer and his production per minute is "off the charts." KU has seen Smith both when he played at UCLA and as a Hoya.
• Georgetown is physical, but they play different offensively than the Hoyas used to under John Thompson, now that his son, John Thompson III, is there. Thompson III played at Princeton and that's the offense they run.
• At this time of the season, practice is pretty important. There is so much stuff to get in. Kansas needs guys getting comfortable.
• Freshman power forward Cliff Alexander embraces contact and that gets him to the foul line. When he and Smith are guarding each other there will be some banging going on. Alexander played great, and with energy in the second half against Florida. He and sophomore forward Landen Lucas are KU's most physical guys.
• Alexander has probably played as well as any inside player for KU this year. A lot of Perry Ellis' stuff comes on the perimeter, too. Alexander will emerge as someone Kansas can play through. He's actually out there with a purpose now. Cliff is "as coachable as anybody we've had." He's trying to be a sponge.
• KU's non-conference schedule should be good for this team — Kentucky, Rhode Island, Tennessee, Michigan State, Florida, Georgetown, Utah. That's a pretty tough stretch from the Orlando Classic to this weekend's game against Utah at Sprint Center. The thing that makes it hard is KU hasn't played gimmies. That's what's been good for the Jayhawks. In timeouts the coaches can say, this situation will be good for us. Even being down 18 against Florida or getting blown out by Kentucky.
• On College Football Playoff: Self thought what happened was going to happen but he was holding out hope one of the Big 12 teams would get in there. Both TCU and Baylor and unbelievable years.
• Self would be fine with whatever if the Big 12 looked at expanding for the benefit of football. He doesn't understand the "One True Champion" deal that people use as a negative against the Big 12, though.
• Florida and Georgetown played, so of course Kansas studied that video. KU knows how good Florida is, and they lost to Georgetown in overtime. The Hoyas' whole offense is designed to exploit defensive unsoundness. Georgetown will make them look bad at times, that's for sure.
• There's no question, KU needs to play Frank Mason III and Devonté Graham together. They can really put pressure on defenses.
• Wayne Selden Jr. can be an NBA player. He has vision, can shoot, is tough, has a physical way about him.
• Self hasn't had a chance to talk to new Kansas football coach David Beaty a lot, but he knows he's a night owl. Beaty texted him at midnight. Self also is happy for Clint Bowen because he's a big part of Kansas football.
• Getting introduced as the new head coach is strange. You're kind of in a fog things happen so quickly. It's nice to win the press conference but it's also good to get the fluff out of the way so you can get to work.
• Kansas becoming a good football program helps the basketball program and the university financially. It brings "unbelievable" exposure to KU. The name Kansas needs to be out there. It doesn't have to be Kansas basketball. Self wants to bring recruits in when there's energy on campus. The basketball team wants the football program to be good. … Basketball is so much easier to turn around. You go recruit two studs and you're right on track.
• It's nice to have unique things like the Jayhawk mascot and the "rock chalk" chant. It helps give the programs at KU something different and memorable. That helps promote the brand, too.
• There might not be as much open court stuff as there was in the past in college basketball. Self has always thought you have to play 10 or 15 games before you can really look at stats and get a good picture out of them. In KU"s situation, the team has to make shots from the perimeter or their stats aren't going to look as good… And the last 10 minutes always varies what your pace is.
— Listen to the complete press conference: Self addresses Traylor's arrest, upcoming road game at Georgetown
There aren't many college basketball coaches or programs in the nation who compare favorably with the success rate of Bill Self at Kansas University. But Florida's Billy Donovan is on that short list.
His Gators have won at least 20 games in 16 straight seasons. KU has done that 25 consecutive years — the previous 11 under Self.
Donovan brings UF to Allen Fieldhouse Friday night a bit down by his standards, but it's very early in the season. Florida is 3-3 and unranked, playing its first true road game of the season at No. 11 KU (5-1), in the SEC-Big 12 Challenge.
The Gators have lost three of their last five — with setbacks against Miami (Fla.), Georgetown (in OT) and North Carolina.
While the Gators are averaging just 63.5 points a game and hitting a mere 38.7% of their shots a month into the season, keep in mind Donovan has led Florida to a 454-172 record in his 18-plus seasons there, and he has hung two national championship banners, with four total trips to the Final Four.
And, for what it's worth, UF is 2-1 versus Kansas under Donovan.
Now, on to the Gators who Kansas will have to hold back in order to get a win.
THE FLORIDA STARTERS
No 20 — Michael Frazier II, 6-4, junior G
He's the Gators' only returning starter, and he set a single-season program record last season with 118 3-pointers.
With two more makes from deep, he'll break into UF's all-time top-10 in career three-pointers made.
The easy scouting report on Fraizer: watch out for him from long range. He's a career 44.4% shooter from downtown. He nailed five 3-pointers nine different times last season.
— hoop-math.com nugget: 56.5% of Frazier's shots this season have come from 3-point range. On 12 of his 14 makes, a Gator teammate set him up. So KU doesn't want him spotting up for catching-and-shooting.
No. 21 — Jon Horford, 6-10, senior C
If his name sounds familiar, it should. Horford is a graduate transfer from Michigan who actually played against the Jayhawks in the Sweet 16, in 2013.
His arrival at Florida has paid immediate dividends for Donovan. Horford is averaging 10.3 points and 7.0 rebounds while playing 29.2 minutes a game.
With his experience, he gets to the foul line (15-for-16). But KU could entice him to take 3-pointers and he has made just 5 of 19 from beyond the arc.
— hoop-math.com nugget: Only 33.3% of Horford's field goal attempts have come at the rim. Not much for a center. He'd rather take 3-pointers — 45.2 % of his shots have come from out there. But he is efficient in the paint, converting 85.7% of his shots at the rim.
No. 10 — Dorian Finney-Smith, 6-8, junior F
The SEC's Sixth Man of the Year last season, he slid into the starting lineup easily this year, and averages 10.3 points and 5.0 rebounds for the Gators.
A season ago, he led UF in rebounding, so those numbers will go up for him.
After missing two earlier games with a hand injury, Finney-Smith returned against Georgetown and led Florida with 16 points.
He knows success against KU, having scored 15 in the Gators' win last season, in Gainesville.
— hoop-math.com nugget: 62.2% of his shots come at the rim. Only 8.1% of his two-point shot attempts are jumpers. The guy knows where and how to make his shots count.
No. 0 — Kasey Hill, 6-1, sophomore G
Now a crucial member of Donovan's lineup, Hill finished in the top 10 of the SEC last season in assists and assist-to-turnover ratio, while coming off the bench.
Hill is averaging 8.2 points and 3.5 assists, but has struggled to make shots thus far, going 14-for-50 from the floor.
He did, however, set a new career mark with 20 points against UNC, by going 10-for-12 at the free-throw line.
With 11 seconds left against Georgetown, he drove for an and-one that put UF up a point before the Hoyas made the game-winner.
— hoop-math.com nugget: This is a rare Florida guard who won't take many 3-pointers — just 8% of his shot attempts have come from long range. Most of his looks — 52% — are 2-point jump shots.
No. 30 — Jacob Kurtz, 6-6, senior F
How abnormal is this Donovan team? Kurtz, a walk-on and former team manager, starts for the perennial powerhouse.
Now in grad school, the unlikely starting forward scores a little (4.2 points) and provides some needed rebounding (6.0) for Florida — he pulled down 13 boards vs. Louisiana-Monroe.
— hoop-math.com nugget: Kurtz plays smart and benefits from the play of those around him. A whopping 84% of his shots come at the rim and 81.8% of those came via assists.
THE FLORIDA BENCH
No. 23 — Chris Walker, 6-10, sophomore F
Eligibility issues seemed to stunt the former McDonald's All-American's development last season, when he didn't get to take the floor until SEC play.
Walker seems a likely candidate to supplant Kurtz in the starting lineup eventually. But for now, he has played four games for UF — three off the bench — and averages 5.0 points and 4.5 rebounds.
Ten of his 18 boards have come on the offensive glass. But he has only made 7 of 19 shots so far.
— hoop-math.com nugget: 33.3% of Walker's made baskets at the rim have come on offensive rebounds and put-backs.
No. 1 — Eli Carter, 6-2, junior G
A key to UF's perimeter, Carter started two games and came off the bench in two others.
He transferred to Florida from Rutgers, and holds career averages of 12.5 points and 2.7 rebounds, with 101 3-pointers to his name on 304 tries (33.2 percent).
Carter is averaging 9.0 points and 2.3 assists for UF this season but has made only 12 of his 34 shots. Shockingly, given those numbers, he went 8-for-9 against Miami. Against Georgetown and North Carolina, he went a combined 2-for-16.
— hoop-math.com nugget: Half of his shots have been 3-point attempts, but he can get inside, too, with 35.3% of his shots coming at the rim.
Coming off a tournament championship at the Orlando Classic, and with another top-tier non-conference opponent just around the corner, Kansas University men's basketball coach Bill Self talked about the Jayhawks' accomplishments to date and what's left to be done at a Wednesday afternoon press conference.
While Florida's Friday visit to Allen Fieldhouse for the SEC/Big 12 Challenge proved to be a hot topic, so were minutes, starting fives, defense, player comparisons and much more.
Here are a few of the highlights from the Q&A:
• KU has rebounded the ball a lot better since that Kentucky loss. The Jayhawks also have improved in moving the ball, looking more organized.
• Frank Mason III was KU's second most valuable guy at the Orlando Classic. He rebounded and took care of the ball vs. pressure. Didn't score a lot of points, but didn't take a lot shots. He was the team's best defensive rebounder. He "went and got 'em." The PG aggressively pursued the ball.
• The Jayhawks haven't forced turnovers enough yet. They're not quick and active defensively like they need to be. Sviatoslav Mykhailiuk is the best defensive positioning guy but he isn't a stealer of the ball. Neither is Wayne Selden Jr. KU is better at this juncture on "D" than it was a year ago. Personnel has a lot to do with how many turnovers they force. Kansas doesn't yet have great anticipators on defense and the Jayhawks don't play with their hands enough yet. Most of the opponent turnovers have been guys throwing the ball out of bounds, not KU running through the ball.
• Self likes the current starting five — Mason, Selden, Mykhailiuk, Perry Ellis, Landen Lucas — because it has gotten the team off to better starts. Cliff Alexander, a freshman power forward off the bench, is going to foul quick… The starters aren't as important as the five who finish, either.
• Selden has leadership abilities: He's tough, smart, cares a ridiculous amount and is definitely an alpha male. He hasn't been quite as good a leader yet because he hasn't played his best. More leadership will show up as he improves. Selden hasn't shot it well at all, but he struggled shooting early in non-conference last season, too, then picked it up.
• Kelly Oubre Jr. has been better in practices than in games but he's still not comfortable. He's a thinker right now, not a reactor. A lot has been made of him not playing to the hype but it's six games in. He's never played guard under pressure. He has to impact KU moving forward. It's just a matter of time before he snaps out and finds his way… He should be a slasher, extra-possession guy who creates havoc defensively.
• With KU's non-conference schedule, there are numerous quality opponents. It is harder to get guys minutes if they're figuring out who they are and if they can play. Self knows Oubre can play. He hasn't had much of an opportunity to play through mistakes. He just needs to go and make something good happen for himself. … Not thinking too much is possible, because he has a good enough understanding. Self would rather a guy play with reckless abandon and screw up than play slower because he's thinking too much. You can't play to "not screw up."
• Based on KU's personnel, Selden needs to be the top perimeter defender. The Jayhawks don't have a guy as skilled as Andrew Wiggins anymore. Self also would like Oubre or Devonté Graham to develop into that kind of stopper, too.
• Florida has played a difficult schedule and the Gators were beat up when they lost to Miami (Florida). They lost a one-possession game in overtime to a good Georgetown team and another to a very good North Carolina team in the Bahamas. Florida will be a high seed in the tournament eventually.
• Kansas can win without a 7-footer. KU has had teams with this size before. They weren't big when they won it all in 2008. It's a nice luxury to have someone up front who can block shots and correct mistakes. The Jayhawks are big enough to win… Self was joking with Georges Niang this past summer and the Iowa State star forward said the Cyclones beat KU in the Big 12 Tournament because that "monster" Joel Embiid wasn't out there. Sure, KU would like to have that but they can be good without a 7-footer.
• Florida's Kasey Hill and Chris Walker were two supremely talented players coming out of high school and Michael Frazier II can really shoot it. They have a lot of talent.
• Rock Chalk Video does a great job for KU in producing quality videos — many unseen by the public, recruiting videos and that sort of thing — and it's an important part of the program.
• Graham is doing fine with his shoulder and is practicing full speed. It was good they only had to use him limited minutes in Orlando.
• Sherron Collins is "the baddest boy we've had here," so Self hesitates to compare Mason to Collins. The coach thinks Mason is more athletic than Collins. That would be a great goal for Mason to get to the point where he could play at Collins' level.
• Alexander has a tendency to put his hands on guys in other jerseys, which leads to a whistle. That is why Self likes bringing him off the bench. Alexander also gets to watch some of the game from the bench. … Alexander will end up starting, most likely. But it's more about minutes played.
• More than likely, Mykhailiuk will be around at KU for just two years. He just has some things to tighten up. He's a legit 6-7 and 1/2 and he's going to fill out and get stronger. He should be playing against Olathe North or Free State High or Lawrence High. "Svi" projects out as high as anyone on the team four years from now. He'll be 21 and a "bad boy."
• UF coach Billy Donovan is as good as the college hoops profession has. He won a national title when no one thought they were any good and another one when everyone expected them to win it all. Self knew the Gators were good last year, but they ended up being one of the best teams in the country, maybe the best, before losing at the Final Four.
— Listen to the complete press conference: Bill Self on importance of starting five
— Hear from Kansas big men Landen Lucas and Jamari Traylor: Lucas and Traylor discuss KU's improving rebounding and how Mason factors into that
Kansas University men's basketball coach Bill Self hasn't had the greatest week — what with Tuesday's 72-40 loss to Kentucky in Indianapolis.
That game and the Jayhawks' performance in it proved a popular topic three days after the fact at Self's Friday afternoon press conference at Allen Fieldhouse.
With Rider coming to Lawrence Monday night, KU will soon have a chance to get back on track. But Self said the team has a long way to go.
Here are some of the highlights from the Q&A:
• KU practiced this morning at 6 a.m. They'll practice again this afternoon. Not because of punishment. They have to get better.
• It's too long a season to put too much stock in one game.
• If LeBron James goes 4 for 18, does that mean he's not gonna be confident the next game?
• At this point, no one is totally sure who KU's best players are. It's probably discouraging for Wayne Selden Jr. and Perry Ellis, because they should be KU's two best players and they haven't played better than any of the other guys so far.
• Jamari Traylor played his butt off against Kentucky and went 0 for 6. It's a little bit different scoring over 6-foot-6 or 6-7 as opposed to 7-foot.
• Self wishes a couple of guys would establish themselves as the team's best players. Their three most talented players are Frank Mason III, Selden and Ellis. They haven't really statistically played well yet. But he knows they will. He isn't worried about that.
• Kansas doesn't have a different-level freshman like Andrew Wiggins or Joel Embiid. These freshmen are gonna be good but you can't ask that much of those guys right now.
• Mason drove it but he needs to drive to pass and not just drive looking to score, especially against length. … There was no intimidation of getting in there, KU just didn't accomplish much in the paint when they got there.
• Cliff is a good player, but he is 6-8 going up against 7-footers from Kentucky. He couldn't maul people like he usually does. He will have to learn to put himself in position before the catch.
• "Productivity, leadership, calming influence, intelligence.  There are a lot of things I think which need to see from those guys.  That'll definitely filter down to the rest of the guys."
• "But one of the big keys to that game, and seems like a minor key, was how their three man kept every ball alive on the glass.  Every ball.  Poythress and Lyles kept every ball alive on the glass."
— Listen to the complete press conference: Bill Self discusses 6 a.m. practice, other topics
Kentucky coach John Calipari has loaded his roster with so much talent, so much depth that his No. 1-ranked Wildcats actually have two five-man platoons to throw at opponents this season.
Is this guy some sort of evil genius? Bill Self and his No. 5 Kansas Jayhawks will find out for themselves tonight in Indianapolis, at the Champions Classic.
Calipari said Monday at a press conference — detailed by The Courier-Journal — that he isn't playing each of his top 10 players in two distinct units to make himself look good.
"I'm not doing this to be a genius. I've already told you," the UK coach said. "They all deserve a chance to show what they are. They're going to. Would I love to do this the whole year? Absolutely. But we may not be able to. It will be decided on the court. If anybody uses this as an excuse, then you won't play."
The Wildcats' starting platoon features:
• Aaron Harrison — 6-foot-6, soph. G (7.5 points)
• Andrew Harrison — 6-foot-6, soph. G (9.5 points)
• Alex Poythress — 6-foot-8, jr. F (7.5 points)
• Karl-Anthony Towns — 6-foot-11, fr. F (5.5 points)
• Willie Cauley-Stein — 7-foot, jr. F (9.0 points)
Those guys would play at least 30 minutes a game in most programs. But Calipari is so confident in his next five, no one on the team has averaged more than Cauley-Stein's 24.5 minutes through two games.
It's a minuscule sample size, but at this point, Kentucky's leading scorer, Trey Lyles, comes into games with the bench platoon:
• Trey Lyles — 6-foot-10, fr. F (13.0 points)
• Tyler Ulis — 5-foot-9, fr. G (8.5 points)
• Devin Booker — 6-foot-6, fr. G (5.0 points)
• Marcus Lee — 6-foot-9, soph. F (3.0 points)
• Dakari Johnson — 7-foot, soph. C (9.5 points)
Says Calipari: "Bottom line is I'm doing this for these players. They will decide how this plays out. My hope is that they all play, and they'll all play because they deserve to all play."
UK (2-0) warmed up for this early-season showdown vs. the Jayhawks (1-0) with wins over Grand Canyon and Buffalo.
On average, the Wildcats have only taken 16 seconds per possession. With top-tier athletes who aren't asked to play as many minutes as your typical star players, UK benefits from fresh legs. Just another advantage of Calipari's platoon system.
Against inferior competition, Kentucky has scored 48.7% of its points off dunks and layups, 18.6% from free throws, 17.3% from behind the 3-point line and 15.4% on 2-point jump shots.
If KU's perimeter defenders can keep the Wildcats from getting to the paint, that should take the nation's No. 1 team out of its comfort zone.
And then how would players react, in the midst of this Calipari experiment? Like everyone else, we'll have to wait and see how a two-platoon team responds to adversity. Is it any more difficult to recover and respond?
It seems the mad scientist, with so many tools at his disposal, isn't too concerned.
"I'm enjoying it," Calipari said, "because I know no kid's getting left behind. And I know the easiest thing for me to do is play seven guys."
So much for a boring Friday afternoon press conference to ease everyone in to the first exhibition of Kansas University's men's basketball season.
Bill Self, the plan was, would come in and talk about some big-picture themes for the Jayhawks, who play host to Washburn Monday at 7 p.m.
Instead, Self learned Thursday freshman guard Conner Frankamp will transfer from the program at the semester's end — as first reported by KUsports.com's Gary Bedore.
Here are some of the highlights from the Q&A:
• Conner Frankamp and his father requested a meeting on Wednesday and Self met with him that afternoon before practice. Frankamp came the next day to tell Self he would be leaving KU at the end of this semester.
• Frankamp will not play or be a part of the team the next couple of months. He'll continue receiving academic assistance and will make a decision on where he will attend in the spring semester.
• This wasn't something KU wanted to happen. They anticipated him playing a much larger role this year. This early in the season, you still have to determine what role everyone will have but Frankamp was going to be in the rotation and playing significant minutes.
• Frankamp just decided it was in his best interest to transfer. There were reasons Self is sure were very valid to Frankamp and his family.
• Frankamp should become eligible to play at his next school as soon as the fall 2015 semester concludes there. The family told Self he doesn't want to sit all of 2015-16, which would have given him three complete years of eligibility.
• Somebody was going to get left out. KU had seven good perimeter players with Frankamp. There hasn't been a lot of separation, like you hope for, at practices so far. Self thought they still needed to find out which five of the seven perimeter players were going to be the best options for the rotation.
• Frankamp definitely would have been in the top five guards, as of today. But they don't know how Kelly Oubre and Devonté Graham are going to develop and things like that.
• KU lost "a good player," "a fine young man" and "a very good shooter" with this move. But the Jayhawks might be more locked in and able to figure out what their role will be now.
• Graham is going to be a player who will challenge for a starting spot at PG. He might not be quite ready for that yet. He will be in the mix at point guard, and he is KU's purest point. Frank Mason is a scoring point and Frankamp was a shooting point. But neither Mason nor Frankamp were pure points.
• Wayne Selden Jr. could become KU's third point guard.
• Mason understands the game a little better now that he's a sophomore. He probably feels a little more freedom and isn't thinking as much. Mason is aggressive. He puts pressure on people.
• Selden feels like this is his team more than anybody else's. That is a good thing. Last year he was fitting in and now he's taking more of a leadership role.
• KU only has 11 players on scholarship right now. But Kansas has 11 good players still. Self hopes everyone will get minutes in the exhibition vs. Washburn so the coaches can look at different combinations. That's the goal.
• There are a lot of times when coaches think they're really deep and once the games come they realize they are better off if certain players stay in a lot longer. He doesn't know how it will play out. He predicts eight guys will play the majority of the minutes.
• This could be the deepest team Self has had at KU. The ninth, 10th and 11th players for Kansas right now are better than guys in those slots in the past. Kansas just isn't top-heavy with nationally acclaimed players.
• Now that Kansas has six perimeter guys, there will be times when Selden or Oubre will play inside. All six guards will have ample time to play.
• Self had a starting five for Monday's exhibition. Frankamp would've started. But as of Friday afternoon he hadn't decided on the starting five versus Washburn.
— Listen to everything Self had to say at his press conference: Bill Self discusses Conner Frankamp's decision to transfer from Kansas
A few hours before "Celebrating 60 years of Allen Fieldhouse" Monday, Kansas University basketball coaches of past and present gathered to talk hoops and the home of the Jayhawks.
North Carolina coach Roy Williams, former Kansas coach Ted Owens, SMU coach Larry Brown and Kansas coach Bill Self all addressed the media at the fieldhouse to share some of their memories.
Here are a few of the highlights:

Roy Williams
• Monday afternoon Williams walked into the fieldhouse for the first time since KU's last practice before the 2003 Final Four. "It was a nice feeling," he said. For him, going in the fieldhouse always was a thrill. "I wish nobody else would've been in there." He would've liked to take it all in for himself.
• When Williams first heard about this event: "That's a neat idea," because it's such a wonderful location. "It's the best. It really is."
• Being here has brought back some wonderful memories. Memories of the hurt feelings of when he left came up, too. "Everybody's in an arms race" in college athletics top put up new facilities and this place has been around 60 years.
• Williams' wife, Wanda, has been having some health issues or she would've made the trip, too.
• On how he wants to be remembered as a KU coach: "I wish we had won one more game on Monday night on a couple of occasions. But mainly as "a guy who "could coach a little bit," but really meant a lot to players.
• Self called him up and has made Williams feel so good, that made coming back easy. They talked during the summer recruiting period and Self first asked him. Williams said, "I'm in." The Tar Heels loved it because they got a day off Monday.
• "I always worried about coming back," Williams said, because he always loved the place. He is a Kansas fan. … "When people put your picture over the commode," that's a little worrisome.
• Williams turned down UNC once because he wanted to coach Nick Collison and Kirk Hinrich for the rest of their careers.
• On his last game at the fieldhouse: He hopes that people in attendance knew/recognized what they had in Collison and Hinrich, and what they did for four years.
• Williams was "blown away" by all the facilities and how everything looks now. "I think it's just sensational." … "Kansas basketball deserves the best."
• There's never a day goes by that Williams doesn't know what's going on at KU from a win-loss perspective.
• Williams remembers a game vs. Oklahoma when he thought there was no way the Sooner at the free-throw line would make his two shots because the crowd wouldn't let him. The result? "Brick, brick."
• "Time heals wounds," Williams said of returning. Over time people understand things better.
Ted Owens
• "This is a little different than the training room where we used to meet after the game," Owens said upon entering the press conference.
• On how he'd like his KU career to be remembered: By the relationship with his players and the productive lives they lived.
• Did Jo Jo White step out of bounds in overtime of a regional semifinal in 1966? Owens was completely across the court when the play happened against Texas Western… the Jayhawks thought they had scored to go to the Final Four. "Today with all the camera angles you have, there would be no question." It looked like White's heel was never out of bounds. The official saw where White landed and called it based on that.
• Even though Texas Western is associated with breaking barriers, Owens came to KU in 1960 and the Jayhawks were starting black players at that time.
• Owens remembers former KU coach Dick Harp as the man who gave him an opportunity to coach at this level. He was a personal and professional mentor for Owens.
• What has changed most at Allen since Owens' time is the floor. The court wasn't down until the day before they started practice each season back in the day. Before that players worked out at Robinson Gymnasium in the offseason. When they brought in recruits in the offseason, "it was a big old barn." … Owens, growing up in the Great Depression, learned not to complain about anything. He thinks sometimes as coaches you have to complain or make others realize what you need to be competitive.
• On Bud Stallworth's 50-point game: A great day, on national TV. To do that against Missouri made it even better. "If he had done that today, he would've had 63 points." There wasn't a three-point line back then.
• The architects and contractors built a beautiful building. It combines a solid structure with the rock of a high-profile program. It's a nice combination of the old and new.
Larry Brown
• On his first trip to Allen Fieldhouse: It was pretty amazing. He played for Dean Smith and the reason he got to KU was because of the things Smith said. Considering all that came before him and what they meant to the sport, "it was a remarkable feeling" to know he would be part of that at Kansas.
• "My first experience here wasn't the best." He was a sophomore at UNC and sat in the second row of the bench. It took him a long time to get down to the floor and it took him so long to get his warmups off that probably ate into the time he was allotted to play.
• Even with all the updates to Allen through the years it is still about the basketball court and the program.
• Brown looks back on his career and he wouldn't be here now if it wasn't for all the coaches he played for and worked for/with.
• Williams and Self are a big part of Brown's life. Self has allowed him to be a part of KU. Self and Williams are "the very best" at what they do.
• Danny Manning was "the best college player ever" in Brown's mind. Manning probably could've won three national championships if they hadn't run into so many injury problems. "He probably would've won three if he had a better coach." … Brown is excited for what Manning is going to accomplish at Wake Forest.
• "I'm 74 doing this. I've been stealing a long time." Brown always has enjoyed practice time more than the game and being around players who want to get better. SMU has given him that opportunity and he hopes he can keep doing it.
Bill Self
• Self called Owens and asked Williams in Brown in person — it was "harder to say no" in person. Self wanted to make sure all three of them were there to make it be what it needed to be.
• Self's favorite games at Allen are: (besides the time he played and scored 12 points as a a freshman for Oklahoma State) the last game against Missouri and the game against Texas in which KU had to come back from a big deficit to win it and win the Big 12. There are lots of great memories, including the game against Oklahoma State when Wayne Simien and the Cowboys all played at a very high level offensively.
• Self saw Kevin Durant a couple years ago, and Durant said one of the coolest things he experienced in college was the ovation the fieldhouse crowd gave him (then a Texas star) when he returned to the floor after getting injured.
• The building ties into the love of the place and how players are treated and that makes it a way of life. That's what makes it difficult to ever want to leave. The way the people treat you here was more of a pull to keep him here (when Oklahoma State was in the market for a head coach).
• On being here with Williams and Brown: "We're not trying to get each other's recruits," and they don't have to scout against each other tonight, which will make it a lot of fun.
• This is a very unique night for the fans to re-live some great memories with four coaches who have spanned 51 years of the program's history.
• Allen Fieldhouse has taken "a treasure" and added amenities to make it very modern. The gameday atmosphere is unique. Self hasn't been to Cameron Indoor or The Palestra but it would be very difficult for any building to rival this one by the time they get Naismith's rules and the DeBruce Center set up.
• Self hopes Brown will retire before he does. Brown is a basketball genius and "has forgotten more ball than I'll ever know." Self can't see doing it this as long as Brown has, but hopes to do it quite a while longer.
• The idea for the 60 years celebration came about as a way to raise money for charity and all the coaches' charities of choice will benefit from this. KU sold 52 tables for the event in a day and a half.
• Going back to 2003 to 2007, the building needed a pick-me-up or boost and they were able to do that. Now KU can bring a kid in on a non-basketball game day and still blow him away with the facilities. It's a very attractive place, even when it's not full.
• Brown doesn't remember times when he was mean; he only remembers being nice. When Self's Tulsa team beat Cincinnati in the NCAAs, Brown called him up and said he had to do one thing for him: Brown wanted him not to frown or have bad body language or say anything negative. Great advice: take the pressure off the kids and let them enjoy this.
Update: 2:05 p.m.
The Big 12's coaches and players have all packed up and left, so we will, too.
Before we get out of here, check out this video interview with Kansas junior forward Jamari Traylor. Being at Sprint Center, around all those other players, had him wanting to get on the court and play instead of sitting around doing interviews.
You can hear from KU's other Big 12 Media Day representatives, too, at our podcasts page:
• Kansas University men's basketball coach Bill Self discusses the style he expects his team to play this season and addresses broader issues in college athletics, such as autograph signing.
• Kansas University junior forward Perry Ellis talks with KUsports.com's Benton Smith about leadership, scoring and what he expects out of the Jayhawks in the months to come.
• Kansas University sophomore guard Wayne Selden Jr. talks with KUsports.com's Benton Smith about KU's versatile backcourt and how he tries to teach young freshmen.
Gary Bedore and Tom Keegan also bounced around, from interview to interview Wednesday, so check back in at KUsports.com later in the day, and tomorrow for plenty more from Big 12 Media Day.
Update: 12:44 p.m.
After spending the past couple of hours around the Big 12's coaches and players, it is evident that KU obviously has the respect of every program out there.
But that doesn't mean the competition is gun shy. Preseason Big 12 Player of the Year, West Virginia senior guard Juwan Staten, said the past few years KU has always had that particular player — an NBA lottery pick type, such as Ben McLemore, Andrew Wiggins or Joel Embiid — that gives Kansas a decisive edge.
"This year, they have a lot of pieces," Staten said, "but I don't know if they have that special, special player like they've had in the past. And that definitely makes it a lot easier to play with them. It does a lot for a team's (opponent's) confidence."
Junior Iowa State forward Georges Niang wouldn't go as far as to say KU is more "gettable" this year, in terms of dethroning the Big 12 champions for 10 years running.
"They're extremely talented. We prepare for them extremely hard, because they're so successful, everybody wants to beat them," said Niang an All-Big 12 preseason first-teamer.
Update: 10:56 a.m.
West Virginia coach Bob Huggins is bored with practices and ready for the season to start.
"It can't get here soon enough," Huggins said dryly.
The WVU coach expects some changes to his team this season, too, which might explain his inner excitement.
"We're finally gonna try to guard somebody, which would be something new," Huggins said.
Ideally, West Virginia would like to get the same production — without as many minutes — out of Big 12 preseason Player of the Year Juwan Staten this season.
Huggins would like to have Staten more fresh at the end of games: "When we needed him to just go get the ball, he just couldn't," the coach said of last year.
"He's shooting it with so much more confidence," Huggins added of Staten.
Update: 10:42 a.m.
Texas coach Rick Barnes' Longhorns were picked by the Big 12's coaches as the No. 2 team in the league, behind Kansas.
Along with returning stars Isaiah Taylor and Jonathan Holmes, UT has one of the top freshmen in the country, Myles Turner, who chose the Longhorns over the Jayhawks.
"We have high expectations for all of our players. Certainly Myles is a player we're excited about having," Barnes said.
The coach elaborated, saying Turner has embraced his situation at Texas. Barnes said Turner didn't want to be "the program," but preferred to be around other players who wanted to have a great team and meet individual goals by buying into each other.
Last year, UT got hurt in transition and part of that was shot selection. This year, Barnes has no concern about whether they can shoot it, he is only worried only about taking smart shots.
Update: 9:58 a.m.
Bill Self expects this year's team to look a little different than KU teams of the recent past.
"We'll be a fun team to watch play," Self said, noting the speed on the roster will give the style a different feel.
Now and throughout every season, it is fun to watch players get better. KU's coaches take a lot of pride in getting each Jayhawk to reach his ceiling.
As a team last season, Self said Kansas was as poor defensively as it has been in a while. This year's team might be physically more capable of playing a better brand of defense. The biggest difference will the the lack of a rim protector in the lane.
There is a lot of competition for minutes in KU's backcourt. That makes practices a little more heated. Wayne Selden Jr. will play a lot, but there are plenty of other guys jockeying for playing time. It will be two or three weeks before that shakes out, and the lineup for the start of the season could look very different from the one on the floor in March.
Update: 9:10 a.m.
TCU coach Trent Johnson has heard some similar questions the past few days.
"Why am I so happy? Why am I so excited?"
Johnson said he finally has a full compliment of players. They have established themselves and how they handle themselves socially and academically.
Johnson said he'll remain happy at least until the Horned Frogs play their first game.
Johnson doesn't think there is a benefit to being under the radar. In the Big 12 there are a lot of guys who know what they're doing and a lot of guys with talent.
TCU has a couple of key transfers in 6-foot-5 guard Trey Zeigler (Pitt) and 6-8 power forward Chris Washburn.
"We're in a position… that this team can rebound and defend at a high level."
Update: 8:51 a.m.
Iowa State coach Fred Hoiberg said he is very excited after a "special year" last season.
ISU lost two great players in De'Andre Kane and Melvin Ejim. They'll miss their leadership. The Cyclones now have a group that will try and replace those two by committee.
The Cyclones, Hoiberg said, have the versatility to play big or play small.
"We'll continue to do what's made us a successful offensive team," the coach said. ISU will spread the floor. Right now they're just trying to determine how they will flow and recognize mis-matches. The players have picked up on those things well so far.
Update: 8:40 a.m.
Oklahoma State coach Travis Ford said his team has depth and balance, even if it doesn't have a preseason All-America player.
"There doesn't seem to be any egos on this basketball team, and that's been fun to work with."
Ford said this team has pieces, they're just not proven. He sees OSU as hungry, with a great mix of seven returning players and seven new guys.
Andrew Hickey, a transfer from LSU, might be the best defensive player he has coached. Hickey is a three-year starter who led the country in steals two seasons ago.
Update: 8:24 a.m.
Kansas State coach Bruce Weber said last year about half the team was new, which made it a tough transition, after having a very experienced team the season before.
"I don't think we've arrived by any means," Weber said, adding staying healthy, and developing point guards will be important, as will be dealing with their schedule.
Last season, K-State had so many injury issues the Wildcats had trouble going five-on-five at practices.
Update: 8:10 a.m.
Texas Tech coach Tubby Smith praised the league for its depth and talent, and said all seven teams that made the NCAA Tournament last season are teams that can get back there next March.
"It will be a very challenging league again, if not the best league in the country," Smith said.
Original post: 7:40 a.m.
With each passing day, the 2014-15 college basketball season keeps getting closer.
Today at Sprint Center, in Kansas City, Missouri, the upcoming Kansas University men's basketball campaign seems even more immediate, as the Big 12's coaches and players congregate for Media Day.
We'll have updates throughout the morning and early afternoon, so keep checking back in at KUsports.com for what the Jayhawks — and their competition — are saying about the season ahead.
Here's a look at who will be talking, and when, today at Sprint Center
• 8:00 a.m.: Tubby Smith, Texas Tech
• 8:15: Bruce Weber, Kansas State
• 8:30: Travis Ford, Oklahoma State
• 8:45: Fred Hoiberg, Iowa State
• 9:00: Trent Johnson, TCU
• 9:15: Curtis Shaw, Big 12 coordinator of men's basketball officials
• 9:45: Bill Self, Kansas
• 10:00: Lon Kruger, Oklahoma
• 10:15: Scott Drew, Baylor
• 10:30: Rich Barnes, Texas
• 10:45: Bob Huggins, West Virginia
• 11 to noon: One-on-one interviews with head coaches from all 10 Big 12 schools
• Noon to 12:45 p.m.: One-on-one interviews with players from all 10 Big 12 schools
The following student-athletes are here representing their programs at Big 12 Media Day:
• Baylor: senior guard Kenny Chery and senior forward Royce O'Neale
• Iowa State: senior forward Dustin Hogue and junior forward Georges Niang
• Kansas: junior forward Perry Ellis, sophomore guard Wayne Selden Jr. and junior forward Jamari Traylor
• Kansas State: sophomore guard Marcus Foster, senior forward Thomas Gipson and senior forward Nino Williams
• Oklahoma: junior guard Isaiah Cousins, junior guard Buddy Hield and junior forward Ryan Spangler
• Oklahoma State: senior forward Michael Cobbins, junior guard Phil Forte and senior guard Le'Bryan Nash
• TCU: senior guard Kyan Anderson and senior guard Trey Zeigler
• Texas: senior forward Jonathan Holmes and sophomore guard Isaiah Taylor
Texas Tech: junior guard Toddrick Gotcher and senior guard Robert Turner
• West Virginia: senior guard Gary Browne, senior guard Juwan Staten and sophomore forward Devin Williams