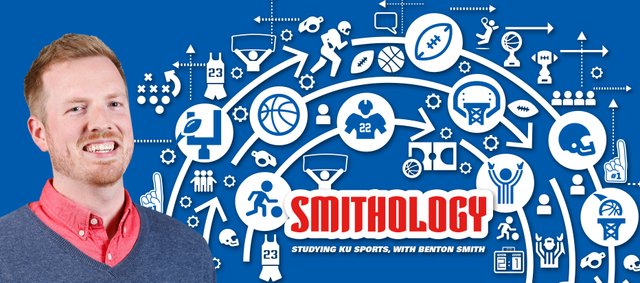 Posts tagged with
Jayhawks
After limiting high-scoring TCU to 23 points in a road loss last week, the Kansas football team will have to find ways to slow down a different kind of attack with West Virginia coming to Memorial Stadium Saturday (11 a.m. kickoff, FOX Sports Net).
The Mountaineers (5-4 overall, 2-4 Big 12) have adapted and become more reliant on the run this season. WVU averages 224.2 yards on the ground (compared to 227.8 through the air). And with Kansas allowing 255.4 rushing yards per game, the Jayhawks could be in some trouble.
Now in his fifth season at WVU, coach Dana Holgorsen's teams are known for posting monster yardage numbers:
- 56 games with 300 or more yards of total offense
- 41 games with 400 or more yards
-21 games with more than 500 yards
- 9 games with more than 600 yards
But West Virginia creates opportunities for its offense by taking the ball away, too. The Mountaineers rank 4th in the nation with 16 interceptions and 8th nationally with 22 total takeaways.
With those numbers in mind, here are the WVU players who should grab the attention of first-year Kansas coach David Beaty and the winless Jayhawks (0-10, 0-7).
FIVE MOUNTAINEERS TO WATCH
No. 4: RB Wendell Smallwood | 5-11, 202, jr.
When you have a high-powered run game, typically one man carries the load. For WVU, junior running back Wendell Smallwood is that man. Smallwood ranks 11th in the country in rushing yards per carry (6.7), 14th in rushing yard per game (124.3) and 22nd in all-purpose yards (138.3).

With Smallwood putting up 165 rushing yards in a 38-20 victory over Texas last week, WVU only had to throw the ball 12 times.

His 6 rushing touchdowns lead WVU this season.

With three regular-season games to go, Smallwood already holds the title of a 1,000-yard rusher. He has 1,119 and counting.

Smallwood even averaged 7.7 yards per carry against a stout Oklahoma State defense earlier this season.

The RB's 21 receptions ranks him third on the team. But they usually come in small doses, with a season long of 13 yards.
No. 3: QB Skyler Howard | 6-0, 206, jr.
With a reliable ground game, junior WVU quarterback Skyler Howard doesn't have to force much, and he completes 56.9% of his passes.

Howard averages 221.9 passing yards an outing, and has thrown 18 touchdowns, with 10 interceptions.

Against Texas last week, Howard went 10-for-12 through the air for 122 yards and, more importantly, a pair of touchdowns.

The fifth-year senior matched his personal-best single-game mark with 21 completions against both Liberty and Maryland earlier this season.

This QB can run, too. Howard took off for a 50-yard score against Oklahoma in early October.
No. 1: WR Shelton Gibson | 5-11, 192, so.
When Howard drops back to pass, he has a legit deep threat to target in sophomore wide receiver Shelton Gibson. The 5-foot-11 play-maker ranks 3rd in the nation in yards per reception — an astounding 23.04.

Earlier this fall, at Baylor, Howard and Gibson connected for a 70-yard score.

Gibson went for 118 yards and 2 touchdowns on just 6 catches against Maryland in September.

Dangerous on special teams, as well, he took a kick return 100 yards for a TD at Baylor.

It should be pointed out, though, that the past two weeks Texas Tech and Texas shut Gibson out: 0 catches, 0 yards in each of those games. Will KU also play deep in the secondary to take Gibson away, or will the hungry WR explode back on the scene?
No. 7: CB Daryl Worley | 6-1, 202, jr.
When KU has the ball, and true freshman QB Ryan Willis scans the field on passing downs, he'll need to be keenly aware of junior WVU cornerback Daryl Worley. With 14 passes defended through nine games, Worley ranks 11th nationally.

Four times this season, Worley has come away with an interception. (That puts him 1 behind teammate Karl Joseph's 5 picks.)

Worley 3 pass breakups in one game, at Baylor.

The defensive back came up with a crucial first-half fumble recovery at Texas that helped WVU take control.

The past 2 weeks, Worley is averaging 7.0 solo tackles per game.
No. 7: RB Rushel Shell | 5-10, 224, jr.
One more running back for Kansas to worry about, Rushel Shell averages 4.0 yards per carry and has 5 rushing TDs on the season.

Shell led WVU with 111 rushing yards and scored twice against Texas Tech.

In 5 of the past 6 WVU games, Shell has carried the ball 12 or more times, with a season-high 20 coming against Oklahoma, when he netted 72 yards and a TD.
The more you think about it, the more you realize the college basketball world should have seen a Michigan State "upset" of Kansas coming at the Champions Classic.
Sure, the No. 4 Jayhawks headed to Chicago with a higher ranking than No. 13 Michigan State. And, yes, KU had more recognizable returning players on the floor than MSU.
But Tom Izzo's players — senior guard Denzel Valentine in particular — had winning experience on their side.
Look at the core of Kansas veterans — senior forwards Perry Ellis and Jamari Traylor, and junior guards Frank Mason III and Wayne Selden Jr. This is their third season together, playing key roles in KU's rotation. While all of them have produced their share of memorable moments and helped Kansas continue its string of regular-season Big 12 titles, they haven't done much damage in big non-conference games away from Allen Fieldhouse.
Facing Michigan State at the United Center is on par with a Sweet 16, Elite Eight or even Final Four matchup in March. This group has yet to learn how to win on that stage.
Freshmen in 2013, Ellis and Traylor played a combined 20 minutes in KU's Sweet 16 loss to Michigan at Cowboy Stadium.
Mason and Selden, of course, have never gone any deeper in the NCAA Tournament than the Round of 32. And the past two years, Ellis and Traylor played much larger roles for KU teams that flamed out in the first weekend of March Madness.
As for Valentine — you know, the guy who put the Spartans on his back and delivered a monster triple-double of 29 points, 12 rebounds and 12 assists? He helped guide Sparty to the Final Four this past spring. Valentine and company knocked off Virginia, Oklahoma and Louisville on the way to the national semifinals.
KU's core of veterans has wins over Eastern Kentucky and New Mexico State in the past two postseasons, and losses to Stanford and Wichita State.
Valentine, like Ellis and Traylor, played in a Sweet 16 as a freshman. But he and MSU followed that up with a trip to the Elite Eight his sophomore year and a 2015 Final Four appearance.
Twice Tuesday night, down 13 in the first half and trailing by 11 in the second half, it seemed the Spartans didn't have the depth or size to knock off Kansas. What they did have, though, was a talented star who knows what it takes to win those type of games.
Shot selection and defensive mistakes led to KU blowing its double-digit lead, but being unfamiliar with how to prevail in those types of games — away from Allen Fieldhouse — had to contribute to those mental errors.
The Jayhawks have four months to keep evolving and improving (and, who knows, maybe KU wins that game if Cheick Diallo is available) but this core of veterans has to find stability and consistency on both ends of the floor for Kansas to achieve all of its goals, come March of 2016.
The college basketball season is less than a week old, but thanks to the Champions Classic, in Chicago, fans don't have to wait any longer to see some of the nation's top programs going head to head.
Bill Self's No. 4-ranked Kansas Jayhawks take on Tom Izzo's No. 13-ranked Michigan State Spartans Tuesday (approximately 9 p.m., on ESPN) at United Center, right after No. 2 Kentucky takes on No. 5 Duke.
Self and Izzo, of course, are plenty familiar with each other. Izzo has a 6-5 edge facing Self (1-0 when Self was at Tulsa, 2-3 when Self coached Illinois and 3-2 since Self took over at KU).
Michigan State has won three of the last four matchups with the Jayhawks, who beat the Spartans in Orlando last Thanksgiving weekend, at the Orlando Classic.
Kansas ran into little resistance in its season-opening, 109-72 thumping of Northern Colorado on Friday, but points won't be nearly as easy to come by in game No. 2. Michigan State, which opened with an 82-55 home victory over Florida Atlantic limited FAU to 33.9% shooting and blocked 12 shots.
As usual, Izzo's team dominated the glass in its debut. FAU only secured 5 offensive rebounds on its 39 missed field goals, and MSU snatched 35 defensive rebounds (53 total).
"We did enough work, but we know we're nowhere near where we're going to be," Izzo said afterward, "and yet I think there were enough bright spots. At times, we showed we could be pretty good."
Considering Izzo has taken MSU to seven Final Fours, opponents can always expect a fight out of the Spartans. And that's exactly what a KU team with Final Four aspirations of its own will get Tuesday night.
Here are the Spartans the Jayhawks should be worried about headed into the early-season showdown.
SPARTANS STARTERS
No. 45: G Denzel Valentine | 6-5, 220, sr.
Easily the most complete player this season for the Fightin' Izzos, senior guard Denzel Valentine led MSU with nine assists in the season opener against Florida Atlantic. Oh, yeah. he scored 13 points and pulled down 8 rebounds, too.

Valentine is the leading returning scorer (14.5 points), rebounder (6.3) and passer (4.3 assists) from MSU's 2015 Final Four team.

One of four unanimous selections to the Preseason All-Big Ten Team, Valentine messed around and got a triple-double (14 points, 10 rebounds, 10 assists) in MSU's first exhibition, against Northern Michigan.

Valentine is a threat behind the 3-point line, too. He made 102 from deep last season, connecting on 41.6%.

Valentine might not seem like one of Izzo's all-time great players (yet), but with 114 career games played at MSU, Valentine is on pace to become the program's all-time leader in games played — 32 more will do it….

… He also needs 46 assists and 184 rebounds to become the only Spartan in program history to finish in the top 10 in both categories. Plus, Valentine's 163 career 3-pointers currently ranks him 7th in school history.

While the Jayhawks spent part of their summer winning the World University Games, Valentine played for USA at the Pan American Games, where the U.S. won bronze.
No. 11: G Lourawls "Tum Tum" Nairn Jr. | 5-10, 175, soph.
Sophomore point guard Lourawls "Tum Tum" Nairn only averaged 2.2 points, 2.4 assists and 1.6 rebounds in 19.4 minutes as a freshman, but is bound to play a much larger role for the Spartans in his second season.

MSU went 13-4 when Nairn started last year. His addition to the starting unit helped in the NCAA Tournament, as the Spartans advanced to the national semifinals.

Not your typical college basketball guard, Nairn is more of a driver than shooter. He only took 10 3-pointers in 758 minutes as a freshman, making 3.

Nairn scored 8 points for his career high at Rutgers, as a freshman. He scored 7 points and passed out 4 assists (with 2 turnovers) vs. FAU on Friday.
No. 5: G Bryn Forbes | 6-3, 190, sr.
Likely Michigan State's most dangerous 3-point shooter, senior guard Bryn Forbes drained 3 of his 4 attempts in the season opener, giving him at least 1 made 3-pointer in 93 of his 104 career appearances in a MSU uniform.

If you include the Spartans' two exhibition games, Forbes has made 14-of-21 3-pointers in three appearances (two don't count) this season.

Forbes started 24 games last season, and averaged 8.5 points in 26.2 minutes.

By hitting 42.7% from 3-point range last season, Forbes ranked fourth in the Big Ten.

In his career, the senior has knocked down 212 of his 512 3-point tries (41.4%).
No. 2: F Javon Bess | 6-5, 220, soph.
An injury to his right foot shortened Javon Bess' freshman season, when he only got to play in 12 games.

Bess averaged 2.7 points in 12.3 minutes while trying to acclimate himself to the college game.

Izzo thought enough of Bess to start him in three Big Ten games — vs. Maryland, Penn State and Nebraska — before the injury derailed the forward's freshman season. Bess averaged 5.0 points and 3.0 rebounds in 18.3 minutes in those starts.

With 9 points against FAU, Bess matched his career high.
No. 10: F Matt Costello | 6-9, 245, sr.
More of a shot-blocker and rebounder throughout his Michigan State career, senior big man Matt Costello led Sparty with 15 points in the season opener against Florida Atlantic. That was just 2 shy of his career high of 17.

With 2 more blocks, Costello (105 career denials) will move into No. 5 in the Michigan State record books. If Costello can block 38 more before the season ends (he blocked 48 last season), he'll sit alone at the top, and surpass Branden Dawson's mark of 142.

Costello only started six games last season, and averaged 7.0 points and 5.2 rebounds in 20.4 minutes.

An effective scorer inside, Costello made 59.8% of his shots as a sophomore and 57.9% of his field goals last year.
SPARTANS BENCH
No. 23: F Deyonta Davis | 6-10, 240, fr.
A big man with the skills and toughness that just scream Michigan State basketball, freshman forward Deyonta Davis became the third Spartan in team history to post a double-double (13 points, 11 rebounds) in his college debut, vs. FAU.

When KU gets the ball inside, it likely will have to worry more about Davis than Costello. The freshman swatted away five blocks in his first game with MSU.

Davis' monster wingspan of 7 feet, 2 and 1/4 inches, and max vertical jump reach of 12 feet and 1/2 inches make him an absolute terror around the rim.
No. 14: G Eron Harris | 6-3, 185, jr.
If the name Eron Harris sounds familiar to Kansas basketball fans, it's not because the junior guard played well in recent MSU-KU meetings. This is Harris' first season with the Spartans after transferring from West Virginia.

Another 3-point threat for Michigan State, in his last season at West Virginia, Harris scored 17 points and made 3 of 9 from downtown in a loss at Allen Fieldhouse (in 2014). Later that season, he torched KU for 28 points and nailed 5 of 7 from deep in win at WVU.

In that 2013-14 season, his most recent after sitting out last year as a transfer, Harris started 32 games for West Virginia, averaging 17.2 points per game (fourth in the Big 12).

Harris ranked third in the Big 12 in both 3-point shooting (42.2%) and free-throw percentage (85.6%) before transferring.
Not that the Kansas football team had any control over the matter — or that better timing would've meant a KU win — but the winless Jayhawks probably couldn't face TCU at a worse time.
The No. 13-ranked Horned Frogs (8-1 overall, 5-1 Big 12) just had their 16-game winning streak snapped, with a 20-point loss at Oklahoma State.
Coach Gary Patterson's team planned on contending a spot in the College Football Playoff entering this season, and even though a regular-season loss makes that more difficult, you can bet that's still the prize TCU is after.
So the Horned Frogs, who also remember last season's 34-30 win at KU being closer than they would've liked, will be locked in and ready to dispose of David Beaty's Jayhawks (0-9, 0-6).
We're all familiar with KU's defensive struggles (see: allowing 58 points at Oklahoma State, 62 vs. Oklahoma and 59 at Texas during the past three weeks). Well, TCU could easily surpass those numbers.
TCU leads the nation with seven games of at least 600 yards of total offense, and the Horned Frogs are second nationally at 621.4 yards per game (Baylor leads the country at 665.6).
If TCU has any drop-off against Kansas, it might have to do with losing wide receiver Josh Doctson to a left wrist injury. Doctson had six straight games with at least 100 receiving yards and multiple touchdown catches.
That's one less Horned Frog the Jayhawks have to worry about Saturday at Amon G. Carter Stadium. But TCU still has loads of talent, and players waiting to expose KU's weaknesses.
FIVE HORNED FROGS TO WATCH
No. 2: QB Trevone Boykin | 6-2, 205, sr.
Heisman candidate and TCU quarterback Trevone Boykin leads the nation in total offense (441.1 yards per game) and has thrown a TD pass in 24 consecutive games — tied for the longest streak in the country with Western Kentucky's Brandon Doughty.

Boykin has completed 65.9% of his throws this year, for 29 TDs, 9 interceptions and 3,733 yards.

With 2,034 career rushing yards and 26 career TDs on the ground to go with his passing skills, Boykin really can do it all.

Since 2012, Boykin leads the nation in accounting for the highest percentage of his team's total offense (57.8%). No one else in that span is above 50%.
No. 22: RB Aaron Green | 5-11, 205, sr.
TCU senior running back Aaron Green should be happy to see KU. Last season, Green rushed for 128 yards and 2 TDs vs. the Jayhawks.

The RB has 7 career 100-yard rushing games and looks to add to that total vs. Kansas (allowing 252.8 yards per game on the ground).

Green leads TCU with 796 rushing yards, averages 5.3 a carry and is on pace for a 1,000-yard season.

Green became the first TCU player since LaDanian Tomlinson in 2000 to rush for at least 160 yards in back-to-back games when he ran for 164 and 162 in consecutive weeks versus SMU and Texas Tech.
No. 25: WR KaVontae Turpin | 5-9, 152, fr.
A receiver and return specialist, undersized freshman KaVontae Turpin now figures to become Boykin's top target, since Doctson is out. His 32 catches ranks first among Horned Frogs who will be in uniform Saturday.

Turpin has a pair of 100-yard receiving games already.

No TCU skill players reach the end zone as well as Doctson, but Turpin has 6 TD receptions of his own.

Between catching Boykin passes and making things happen on special teams, Turpin averages 16.4 yards per touch, the best mark among the nation's freshmen.
No. 32: MLB Travin Howard | 6-1, 190, so.
Just a sophomore, linebacker Travin Howard leads TCU with 59 total tackles.

A converted safety, Howard has only started seven games this season while becoming a standout defender.

Along with 2 forced fumbles, Howard has made big plays with 5 tackles for loss and an interception.

Howard made a career-high 12 stops against Texas.
No. 26: FS Derrick Kindred | 5-10, 210, sr.
Just a few plays behind Howard, senior safety Derrick Kindred has 56 total tackles from the back end of TCU's defense.

Kindred is the Frogs' active leader in career tackles, with 204.

While no one else on the roster has more than 1 interception in his career, Kindred has 7 picks.

The lone starter from last year's defense who didn't graduate, Kindred is responsible for the team's last non-offensive TD: a 60-yard pick-six at Kansas State.

The safety also occasionally blitzes, and has 3.5 tackles for loss, as well as 2 forced fumbles.
Somehow, after beating Oklahoma and Kansas State, Texas lost on the road to Iowa State last weekend, 24-0.
For the Longhorns (3-5 overall, 2-3 Big 12), the timing couldn't be better to see those crimson and blue uniforms of Kansas (0-8, 0-5) lining up across from them on Saturday night at Darrell K. Royal Stadium.
The KU defense is allowing 47.1 points per game. Let that soak in. That points allowed average ranks 126th in the nation. Believe it or not, the Jayhawks are a notch lower in total defense, surrendering 581.5 yards a game (127th in FBS).
Texas never has lost to KU at home, and with a 12-2 all-time record against the Jayhawks, the Longhorns' losses in the series came in 1901 and 1938.
UT shut out Kansas, 23-0, in the final game of the infamous Charlie Weis era last season, and has won the previous four meetings by a combined score of 122-30 — average of 30.5-3.8.
Here are five Longhorns KU coach David Beaty and his winless Jayhawks need to worry about in Austin, Texas.
FIVE LONGHORNS TO WATCH
No. 13: QB Jerrod Heard | 6-2, 195, RS-fr.
A red-shirt freshman, Jerrod Heard is more of a running threat than a passing aficionado for the UT offense. Heard leads the team in rushing yards, with 502, and has 3 touchdowns.

Heard's passing stats aren't great: 66-for-111, 839 yards, 3 TDs, 3 INTs. But the fact that he has exactly as many rushing attempts (111) as passes makes him more difficult to defend from down to down.

In UT's marquee win over Oklahoma, Heard rushed for 115 yards…

… But his best performance to date came in his second career start, vs. Cal. The freshman QB set a Texas record for total offense in one game (527 yards), surpassing Vince Young's 506 yards vs. Oklahoma State in 2005. Heard rushed for 163 yards and 3 TDs, and threw for 364.
No. 18: QB Tyrone Swoopes | 6-4, 244, jr.
The man Heard replaced as starting QB still plays an important role in the UT offense, which features an "18-wheeler" short-yardage package for junior Tyrone Swoopes.

Texas uses Swoopes in short-yardage situations, and just two weeks ago he came up huge vs. K-State, with three rushing TDs. UT sealed the game late with Swoopes running for gains of 13, 29 and 10 yards on one series.

Since UT came up with the package, Swoopes is averaging 5.2 yards per rush and has scored 5 rushing TDs, to go with a passing TD, which came against OU.

Last year against KU, Swoopes passed for 2 TDs and ran for another.
No. 32: RB Johnathan Gray | 5-10, 211, sr.
The Longhorns' featured running back, senior Johnathan Gray almost gets as many looks within the offense as Heard.

Gray has 102 carries for 411 yards and 3 TDs this season.

The senior rushed for a season-high 103 yards against K-State.

He ran for 46 yards and a pair of TDs vs. Cal.

Gray currently ranks 12th all-time at UT in career rushing yards, with 2,520. He is 145 yards from passing Hodges Mitchell and getting into the top 10.
No. 19: LB Peter Jinkens | 6-0, 230, sr.
UT's leading tackler on defense, senior linebacker Peter Jinkens has 61 total tackles, making 38 of those on his own. A play-maker, Jinkens also leads the defense with 7.0 tackles for loss and 4.0 sacks.

In UT's loss to ISU, Jinkens came away with 2.0 sacks and 9 tackles — both led the team.

In Big 12 play, the strong-side LB has 38 total tackles, which ranks 9th in the conference.

His season-high of 10 tackles came against Notre Dame.
No. 14: S Dylan Haines | 6-1, 193, jr.
When Texas makes a play against an opponent's pass, it's usually junior safety Dylan Haines making it happen. Haines' 3 interceptions lead UT.

A former walk-on, the strong safety has now started 20 games in his career. In 2014, he led Texas with 4 picks, ranked 2nd with 7 pass breakups and finished 3rd in tackles with 86.

Haines had to leave the Cal game early on Sept. 19 after getting called for targeting in the first quarter.

This season, Haines has 32 tackles (25 solo), to go with 1.0 sack, 1.0 TFL and 3 pass breakups.

His late interception vs. K-State stymied the Wildcats' attempt to come back.
Believe it or not, college basketball has almost arrived. Kansas coach Bill Self met with the media for his first weekly press conference of the 2015-16 season Monday afternoon at Allen Fieldhouse.
As the Jayhawks begin their year with an exhibition Wednesday night against Pittsburg State, Self discussed the health of his players, how preseason practices have gone, and what kind of expectations KU has for the months to come, with depth and talent all over the court.
Here are some of the highlights from the Q&A:
• After about a month of practices, Self is encouraged by the team's experience, as well as flashes of KU playing the way they want to play. Discouraging, though, has been the players' overall consistency and how they've handled the ball.
• From the end of last season to right now, both Perry Ellis and Frank Mason III have really improved. But Self hasn't seen a big jump from an individual standpoint from a lot of KU's players. Some of that could be health-related — Wayne Selden Jr.'s ankle and Brannen Greene's hip. Fans will probably view Hunter Mickelson as very improved.
• Selden would tell you his ankle is fine, but you can tell it isn't 100 percent yet. He hasn't shown the same explosion as he did this summer.
• They don't get together and meet about specific goals, but Mason is the kind of competitor that his goal would be to win every single game. Self's goal, as always, is to get the team to reach its ceiling, potential wise.
• If Self were to split hairs with Ellis, he'd say Ellis could be more vocal. But the senior forward really gives KU almost all you could want out of a veteran player.
• Self hasn't been thrilled with practices and he thinks some of it is boredom. The players are eager to play games (or exhibitions).
• Self is curious to see how the Jayhawks respond in their preseason opener, and if they can play aggressively and smart defensively, with a new emphasis on defense and more fouls getting called for contact.
• The coaches knew freshman big man Carlton Bragg would be terrific. He will be really good some nights and look bad other nights. Bragg is talented. He won't play at KU four years.
• KU has six big guys, and they're massaging them all and giving them all the same reps, mostly. That includes freshman Cheick Diallo, who still hasn't been cleared to play college basketball. Self was hoping to hear the news by Wednesday night, but now he's hopeful it'll be before the regular-season opener the following week. Diallo won't play in the exhibitions if KU hasn't heard any news. "I think there's a lot of processing going on right now."
• "We've got as good a guard in the country," (in Mason) to take advantage of the new rules emphasis. Mason's quickness will make him harder to guard as more fouls are called.
• If there is no touching allowed on the perimeter, you can really drive the ball better, and that should be the case for KU with Mason, Selden and Devonté Graham.
• Senior big man Jamari Traylor has actually played better the last two weeks than he has at any point in his career. His energy will get him minutes, even with the depth KU has in the front court.
• KU needs Greene and Svi Mykhailiuk to come off the bench and knock down shots. But they need to be more than just shooters. Greene, in particular, needs to do more than just make three-pointers, because teams will guard him to get him out of his comfort zone.
• Svi has shot the ball well, showed an understanding on defense and had a good camp. But carelessness has been an issue. That might keep him from being completely confident in the sophomore's play.
— Listen to the complete press conference: Bill Self on KU's health, state of mind entering season
Even if you have heard this one before, don't stop. Because the details of the challenges that lie ahead for Kansas football do vary from week to week — though the results in the win-loss column have not.
This Saturday, the winless Jayhawks and first-year coach David Beaty have to deal with No. 14 Oklahoma (6-1 overall, 3-1 Big 12). [Insert horrifying Halloween joke here.]
Since a surprising loss to Texas three weeks ago, the Sooners seem to be taking out their frustrations from that setback on their opponents, with back-to-back drubbings of Kansas State, 55-0, and Texas Tech, 63-27.
And if you follow KU football, you probably realize just how much the Jayhawks struggle against Oklahoma. In particular, Stoops is 10-0 against Kansas, and since he took over in Norman the average score in the KU-OU games is 39-12.
Kansas also enters its homecoming game (2:30 p.m. kickoff, Saturday at Memorial Stadium) on a 10-game losing streak, dating back to last season.
OU racked up 405 rushing yards last week vs. Texas Tech. KU's success against the run this season? Not so great. The Jayhawks are allowing 244.9 yards a game (9th in Big 12, and 118th nationally).
Again, you just might remember how Oklahoma ran over, through and around Kansas last year. And that's a perfect place to start our list of Sooners who should have the Jayhawks' attention.
FIVE SOONERS TO WATCH
No. 32: RB Samaje Perine | 5-10, 230, soph.
All running back Samaje Perine did last year against Kansas was set an FBS record with 427 rushing yards. Four hundred twenty seven rushing yards! In one game. Not to mention five touchdowns. As a freshman.

Perine is feeling good entering his second appearance against Kansas, too, coming off a 201-yard, four-TD showing against the Red Raiders.

Four times in his young career, Perine has gone for at least 200 yards on the ground and four scores.

Perine already has 2,000 career rushing yards, becoming just the sixth Sooner in the Stoops era to reach that mark. He got there on his 326th career carry, meaning he did it faster than former stars DeMarco Murray (342) and Adrian Peterson (365).

His stat line this season reads: 116 carries, 621 yards, seven touchdowns.

Just FYI: he bench presses 440 pounds.
No. 25: RB Joe Mixon | 6-1, 217, R-fr.
What's that you say? Another OU running back Kansas has to worry about? You bet. Joe Mixon would be the featured back at most programs — and maybe Oklahoma, too, if not for a major off-the-field issue.

Like Perine, Mixon destroyed TT, with 154 rushing yards and two touchdowns.

This RB gets involved in OU's passing attack, as well. Mixon averages 55.3 rushing yards and 32.9 receiving yards a game. He has four rushing TD's and three receiving TD's.

Mixon was the No. 1-rated running back by Rivals and 247Sports coming out of high school.

So why didn't he play last year? Mixon was suspended from the OU program in 2014, after being charged with a misdemeanor for punching a female student. He later accepted a plea bargain in the case.
Stoops addressed reinstating Mixon this summer, at Big 12 Media Days: "First, let me say there's no place for it," Stoops began. "It should never happen. There's not only domestic violence, but there's violence towards women, there's violence in general. None of it should be tolerated, and it has been disciplined."
No. 6: QB Baker Mayfield | 6-1, 209, jr.
A former Texas Tech quarterback, junior Baker Mayfield has fit in just fine in OU's offense. And he enjoyed seeing the Red Raiders last week, putting up 212 passing yards and a pair of touchdowns.

The QB has completed 67.5% of his passes this season, for 2,087 yards and 21 touchdowns.

Mayfield is averaging 298.1 passing yards a game and has only thrown four interceptions in his 212 attempts.

OU's QB ranks sixth in FBS in passing TD's a game (3.0) and 12th in total offensive yards per game (324.1).

As that last stat indicates, Mayfield can run the ball when needed. He rushed for 85 yards and two scores earlier this season, against Tulsa.

He absolutely lit up K-State, with five passing touchdowns — all coming in the first half of the rout in Manhattan.
No. 19: DE/OLB Eric Striker | 6-0, 222, sr.
In last season's 44-7 romp against Kansas, linebacker Eric Striker helped limit Kansas to 103 yards of total offense and no offensive points. Striker recovered a fumble and had two tackles for loss, as KU had just seven first downs and punted 11 times.

With six sacks this season, Striker now leads OU's top sacking linebacker ever, with 21.5. He ranks sixth overall in program history.

During OU's last four games, Striker has come away with 8.5 tackles for loss.

As if he wasn't menacing enough on defense, Striker did something for the first time last week vs. Tech: he intercepted a pass. Oh, yeah, and still got 1.5 sacks.

Earlier this season against West Virginia, he had 12 tackles, 3.0 TFL, two sacks and a forced fumble.
No. 1: ILB Dominique Alexander | 6-0, 220, jr.
Striker wasn't the only Sooner to nab his first career pick last week. Inside linebacker Dominique Alexander also pulled off that feat.

At 8.3 tackles per game, Alexander ranks fourth in the Big 12.

His 30 solo and 58 total tackles lead OU's defense, and Alexander has 5.5 tackles for loss in 2015.

In his 33 career games — 28 starts — Alexander has 245 tackles, 14.5 tackles for loss, five sacks, three forced fumbles and two pass breakups.
Sure, Oklahoma State brings averages of 37.3 points and 325.5 passing yards into Saturday's home game against Kansas (19.2 points a game). But the Jayhawks and coach David Beaty will be even more concerned with what the Cowboys can do on the other side of the ball.
The OSU defense tends to wreak havoc, and has established itself as the strength of coach Mike Gundy's team this season. In the past four games alone, the Cowboys (6-0 overall, 3-0 Big 12) have recovered eight fumbles.
Oklahoma State, which excels at pressuring the quarterback (more on that to come), has held four of its last five opponents under 200 yards passing. Kansas State got more than 200, but just barely — 207 — on Oct. 3. No such luck for Central Arkansas, Texas-San Antonio, Texas and West Virginia.
On the season, the Cowboys have allowed an average of 332.2 yards a game on defense, which ranks them 29th in the country.
As so often is the case in Big 12 matchups for Kansas, the Jayhawks haven't defeated Oklahoma State since Todd Reesing played quarterback.
The Cowboys have beaten KU in five consecutive meetings, and OSU has won 43 of its previous 48 games against unranked opponents.
For Kansas to have any kind of chance at Boone Pickens Stadium (2:30 p.m. kickoff, on FOX Sports 1), the offense will have to figure out ways to stay on the field — and score points — against a stingy OSU defense.
Here are five Oklahoma State defenders whom the Jayhawks should be worried about this weekend.
FIVE COWBOYS TO WATCH
No. 38: DE Emmanuel Ogbah | 6-4, 275, jr.
• With 1.25 sacks a game, the massive junior defensive end ranks fifth in the nation and No. 1 in the Big 12 in disposing of quarterbacks.
• Nine times this seasons, Ogbah has hurried a quarterback, making him OSU's all-time single-season leader in that category. With two more hurries this season, he'll become the program's all-time leader, with 18.
• In all six of OSU's games this season, Ogbah has recorded at least one sack, a feat he has pulled off in 12 of his last 14 games.
• In other words: watch out, Ryan Willis. No. 38 is coming your way.
• Oklahoma State probably wouldn't be undefeated if it wasn't for Ogbah. He scored a defensive touchdown, forced a pair of fumbles, recovered a fumble, finished with eight tackles and sacked the quarterback once in the Cowboys' 33-26 overtime victory at West Virginia two weeks ago.
No. 13: FS Jordan Sterns | 6-1, 205, jr.
• OSU junior free safety Jordan Sterns just seems to end up at the ball. Sterns leads the Cowboys with 56 total tackles through six games, and has made 39 of those by himself.
• In three of the last four games, Sterns' total tackles numbers have reached double digits.
• Averaging 9.3 tackles a game, Sterns leads the Big 12 in total tackles and ranks 23rd in the nation.
• Halfway through the fall, Sterns also has a tackle for loss, two pass breakups and a fumble recovery.
• In 2014, as a sophomore against West Virginia, the safety racked up 20 tackles. Twenty.
• Last season Sterns' 103 tackles made him the first OSU underclassman to break the century mark. He also blocked two kicks in 2014.
No. 92: DE Jimmy Bean | 6-5, 250, sr.
• As if having Ogbah on one end of the defensive line wasn't enough for KU to worry about, senior defensive end Jimmy Bean can bring heat from the opposite end.
• Ogbah's 1.83 tackles for loss rank him eighth in the NCAA, but Bean is bringing ball-carriers down in the backfield at nearly exact same rate: 1.75 (10th in the nation).
• In 2014, Bean had 3.5 sacks. Midway through his final college football season, he's already at 5.5 sacks.
• A starter since the first week of his sophomore year, Bean has 10.5 tackles for loss this season.
• Surprisingly, Bean and Ogbah are not the top sack duo in the nation. That distinction belongs to Penn State's Carl Nassib and Austin Johnson (13.5 sacks combined), who lead Bean and Ogbah by 0.5.
• Bean has hurried the QB two times this season.
No. 96: DT Vincent Taylor | 6-3, 300, soph.
• Guess what. OSU has another playmaker on the defensive line: sophomore tackle Vincent Taylor.
• A breakout star inside, Taylor made his first career sack in OSU's season opener, and now has three sacks and 6.5 tackles for loss as another disruptive force at the line of scrimmage.
• In the Cowboys' overtime victory at WVU, Taylor finished with a career-best nine tackles — a difficult number to achieve as an interior lineman.
• Taylor has 26 tackles on the year.
No. 20: LB Jordan Burton | 6-3, 215, jr.
• A junior-college transfer who played his freshman year at Stephen F. Austin, junior linebacker Jordan Burton hasn't had much trouble acclimating at Oklahoma State. Burton ranks second on the team in tackles, with 37.
• The new Cowboy came up with a sack and two tackles for loss in OSU's victory over Kansas State.
• Another key player in Oklahoma State's road win at West Virginia, Burton finished with 11 tackles his last time out.
• Through six games, the junior linebacker has 25 solo tackles, 5.5 tackles for loss, 1.5 sacks, a quarterback hurry and a fumble recovery.
Kansas City, Missouri — When new Iowa State coach Steve Prohm arrived in Ames, Iowa, he inherited a top-10 quality roster with loads of potential.
In order to maximize the Cyclones' success in 2015-16, Prohm knew he'd have to completely understand how best to utilize multi-talented senior forward Georges Niang. So the former Murray State coach watched a lot of video from the past few seasons, and figured he might as well call up a Niang expert: his ISU predecessor, Fred Hoiberg.
Given Niang's success under Hoiberg — 15.3 points, 5.4 rebounds, 3.4 assists, 40-percent three-point shooting last season — Prohm said Tuesday at Big 12 Basketball Media Day, at Sprint Center, he doesn't want to wreck a good thing.
"He knows how important he is to this team," Prohm said of Niang. "I do want to challenge him on the defensive end to become a better rebounder, to rebound out of his area and do some things defensively that we need. But offensively, I don't see it changing at all. I just hope he can even excel it even more."
Learning the league
First-year Texas basketball coach Shaka Smart hasn't spent too much time considering detailed game plans for the rest of the Big 12. Smart said with the non-conference schedule getting things started, he has focused more on that and establishing a new culture in the first couple weeks of practice.
The former VCU coach admitted, though, there will me an adjustment period for him once league play begins.
"Obviously, the stakes are higher, the crowds are more loud, they're more into the game," Smart said of road venues he said of conference venues he'll visit for the first time in 2016. "And certainly, as a new coach in the Big 12, I'm going to have to get to know what this league's all about, particularly on the road."
Sooners matching experience with youth
Lon Kruger enters this season with the luxury of returning some of the most talented senior guards in the Big 12 — preseason player of the year Buddy Hield and running mate Isaiah Cousins. But the OU coach won't hesitate to rely on some freshmen in spots, too.
On the wing, Kruger likes promising, versatile rookies Rashard Odomes (6-foot-6) and Christian James (6-4).
"They're very aggressive, physical on the boards," the OU coach said of the duo. "They rebound the ball well from the wing. They can score. For incoming freshmen, they've been well-coached. They have a good feel for the game, great enthusiasm for working every day, and the real benefit, too, from having Buddy and Isaiah, from a work ethic standpoint, in the gym all the time. And those guys come in and see what they do and fall in line and they'll benefit from that a great deal, too."
Don't poke the Bear
As if Baylor forward Rico Gathers wasn't already enough of an imposing presence on the court, Bears head coach Scott Drew said the 6-foot-8, 275-pound senior has refined his offensive skill set since last season.
Gathers averaged 9.6 points and 10.6 rebounds as a junior, but only made 42.7 percent of his field goals and 57.8 percent of his free throws. As a result, Drew said the big man spent a lot of the offseason in the gymnasium.
"So first and foremost, if he can become a 75-, 80-percent free-throw shooter, his production is going to go way up," Baylor's coach said.
"Second thing," Drew added, "because we have a lot of length in practice, him finishing over length every day is something that will help. His jump shot has improved. It's a lot softer, a lot better rotation."
Who are these Wildcats?
With eight players gone form last season's roster and seniors Justin Edwards and Stephen Hurt, along with junior Wesley Iwundu, the only readily recognizable players left, Kansas State coach Bruce Weber hasn't lost all hope.
In fact, Weber, whose Wildcats finished 15-17 a year ago, is having fun coaching the mostly overhauled Wildcats.
"They haven't been perfect by any means, but I'd say nine out of the first ten days we just coached them," Weber said. "We didn't have to beg them to go hard or get after them to go hard, so that makes it a lot easier.
"Now you can worry about the stuff you're supposed to worry about, you know, setting up the angle on the screen, the defense, getting in the right position or how you're going to guard something and you're not wasting as much time."
No defensive adjustments necessary at WVU
College basketball rules changes dominated much of the discussion at media day, and Bob Huggins — whose West Virginia teams have become known for their assertive defense and pressure — isn't quite sure yet what to make of the removal of the five-second closely guarded rule.
"I'd like to sit here and give you a very intelligent answer, but obviously I can't. So I don't know," the WVU said, with a wry grin.
Huggins, whose pants decorated with WVU logos were a hit, said he'll still ask his guards to defend on the ball with pressure, like always.
"Everybody's going to run a quick-hitter into a ball screen anyways, and that's what everybody did against us for the last 30 years, because we tried to not let people run offense," Huggins said. "So we ended up guarding ball screens or sprints, and that's what's going to happen. I don't think that changes much."
Forte can't do everything
There is no question which Cowboy's name will appear on the proverbial marquee every time Oklahoma State plays this season. However, OSU coach Travis Ford said senior guard Phil Forte III, admittedly a "leading man," can't be expected to do it all.
"I think last year we relied way too much on just (LeBryan) Nash and Forte, and that was my fault," Ford said.
Ultimately, the lack of balance made the Cowboys a less effective team.
"We had a lot of big wins and probably overachieved in a lot of areas," the OSU coach added of the 18-14 season, "but it caught up to us at the end of the year. It caught up to us."
Shooters and scorers?
Often sarcastic in entertaining dealings with the media, TCU coach Trent Johnson didn't disappoint Tuesday morning at Sprint Center.
When a reporter began a question by referencing Johnson's team full of shooters and scorers, the coach had to stop him right there.
"My team's full of good shooters and good scorers this year? I don't know about that," Johnson said, straight-faced. "Depends on what practice you're watching."
Eventually, the coach admitted the Horned Frogs have some experience — juniors Karviar Shepherd and Chris Washburn enter their third year of contributing — and some nights "the ball goes in."
He said TCU's ability to get back on defense and limit opponents' good scorers and shooters would probably determine how successful a season 2015-16 turns out to be.
Rebuilding Red Raiders
Texas Tech hasn't finished a season with a winning record since 2009-10. So third-year coach Tubby Smith realizes rebuilding the program won't be easy in the Big 12.
Smith said the Red Raiders' annual struggles mean they have to change the culture.
"Although we have great fans and great student support on our campus, and in Lubbock in general, there are a lot of great fans, we still have to continue to grow the program when it comes to recruiting to keep improving," Smith said, "whether it's facilities or other areas. We know that the competition is stiff no matter where in trying to influence or persuade down the middle to attend the university."
Put on your sunglasses and get ready to see some offensive fireworks. Texas Tech and coach Kliff Kingsbury are coming to Kansas this weekend.
Seven days after facing a deadly Baylor offense, the Jayhawks (0-5 overall, 0-2 Big 12) will have to deal with another point-scoring machine — even if Kingsbury, whom David Beaty ranks among the top five humans he knows, decides not to pile on in the second half.
Texas Tech arrives in Lawrence averaging 52.7 points per game, which ranks only behind Baylor (64.2) in the nation. Plus, the Red Raiders are more pass-happy than the Bears and have the top-ranked passing offense (439.0 yards per game).
The Red Raiders — 15-1 all-time versus Kansas, including a 6-0 mark at Memorial Stadium — rarely have had trouble with the Jayhawks, and Saturday doesn't figure to be any different. Texas Tech has won eight straight in the series, by an average of 18.3 points.
Last week against Iowa State, another struggling Big 12 team in 2015, Tech set a school record with 776 yards of offense (515 passing, 261 rushing) in a 66-31 drubbing. The Red Raiders (4-2 overall, 1-2 Big 12) even scored 52 points in a three-point loss to TCU.
So, once again, there are plenty of guys lining up across from Kansas about whom the Jayhawks should be worried.
FIVE RED RAIDERS TO WATCH
No. 11: WR Jakeem Grant | 5-6, 169, sr.
• The smallest man on the football field Saturday might also be the most dangerous one. Five-foot-six receiver extraordinaire Jakeem Grant averages 7.3 catches a game (No. 15 in the country) and 108.0 receiving yards per game (No. 10 nationally).
• The Red Raiders like to get creative and get the ball in his hands in as many ways as possible. Grant averages 14.7 yards per catch and 16.9 yards per touch.
• Grant has thrown a TD pass, returned a kickoff for a TD, rushed for a TD and, of course, caught a TD.
• With so many ways to burn defenses, Grant leads the Big 12 with 174.83 all-purpose yards per game.
• His three career kickoff returns for TDs make him Tech's all-time leader in that category.
• Last week, Grant caught a 75-yard TD pass against Iowa State.
• KU defensive coordinator Clint Bowen said he's more worried about Grant than any other Red Raider this week.
No. 5: QB Patrick Mahomes II | 6-3, 221, soph.
• Through the first 10 starts of his developing career, sophomore quarterback Patrick Mahomes II has lit up opposing defenses, throwing for 3,692 passing yards, 33 touchdowns and just seven interceptions.
• This season, which is going far better than 2014 (4-8) for Tech, has a lot to do with its QB. Mahomes has thrown for 2,264 passing yards and completed 167 of 257 passes and 19 touchdowns through six games..
• What's more, the QB has rushed for 205 yards on 34 attempts — with a team-leading six touchdowns.
• In torching Iowa State, he completed 33 of 46 passes for 428 yards and five touchdowns. Mahomes threw for 371 yards on 24 completions before halftime.
• Beaty compared him to Texas A&M Heisman winner Johnny Manziel.
• Though Tech was known for its huge passing numbers in the first 10 years of this century, Mahomes compares favorably through the first 10 starts of his career with the most prominent Red Raiders from that era — both his coach, Kingsbury (2,858 yards, 19 TDs, 13 INTs), and Graham Harrell (3,507 yards, 32 TDs, 9 INTs).
• Mahomes is the only Red Raider QB since 2000 to throw for four or more touchdowns in six of his first 10 starts.
No. 21: RB DeAndre Washington | 5-8, 198, sr.
• Tech's primary rusher, senior back DeAndre Washington is well on hhis way to a 1,000-yard season, with 586 rushing yards and six touchdowns.
• As one might expect out of a Red Raiders RB, Washington also gets involved in the passing game. His 18 catches rank second on the team behind Grant, but Washington's receptions don't tend to be especially explosive. He's averaging 8.8 yards a catch, which is ninth among Tech players with at least 10 grabs. He also has 1 TD catch this season.
• Washington's 7.1 yards per carry rank 11th in the nation.
• The team captain already has two 100-yard rushing games this season: 188 versus TCU and 138 against UTEP.
• Rushed for 4 touchdowns against TCU, a career high.
• Picked up the longest reception of his career on a 49-yard TD — via a screen pass from Mahomes — last week vs. Iowa State.
No. 40: LB Dakota Allen | 6-2, 234, fresh.
• Tech's leading tackler on defense, red-shirt freshman linebacker Dakota Allen has a team-best 34 solo tackles to go with the 24 on which he has assisted.
• Coming a bit out of nowhere this season, the first-year defender leads the Big 12 with 9.7 tackles a game, which ranks 20th in the nation.
• Against Baylor, in his second career start, Allen went for a career-high 13 tackles.
• Allen had 3.0 tackles for loss, a pass break-up and a QB hurry this season, too.
No. 3: S J.J. Gaines | 6-0, 179, sr.
• With a pair of interceptions last week against Iowa State, safety J.J. Gaines now has 4 takeaways in the air this season.
• When Gaines picked off a pass earlier this year against Sam Houston State, he took it 47 yards the other way for a touchdown.
• The defensive back has 34 tackles this season. Four came in a loss to Baylor, during which he also picked off Bears QB Seth Russell.
• Gaines also has a pass breakup and a fumble recovery this fall.
• Now with 8 interceptions in his career, Gaines needs 1 more to enter Texas Tech's all-time top 10.

Find more businesses on Marketplace
Arts & Entertainment · Bars · Theatres · Restaurants · Coffeehouses · Libraries · Antiques · Services