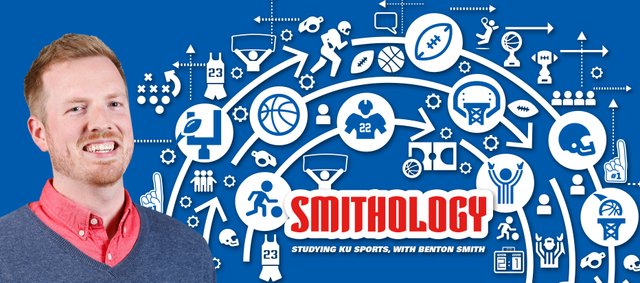 Posts tagged with
Jayhawks
From time to time during Devonté Graham's freshman season at Kansas, the young point guard exhibited the shooting, passing and decision-making of a veteran.
The 6-foot-2 lead guard from Raleigh, North Carolina, scored a team-high 14 points in his debut, came away with three steals against Florida in a comeback victory, didn't miss a shot on his way to a career-high 20 points against TCU and got KU to overtime by hitting two clutch free throws late against West Virginia.
The floor general in the making, though, made his most lasting impression in the Jayhawks' season-ending loss to Wichita State in the NCAA Tournament's Round of 32. Graham led KU with 17 points, pilfered five takeaways and knocked down three 3-pointers.
For a program that has suffered two consecutive early exits in March Madness, optimism abounds for Kansas heading into the 2015-16 season. The Jayhawks are expected to be just as good as — if not better than — any of the nation's projected top teams, such as North Carolina, Kentucky, Duke, Maryland, Iowa State, Virginia and Arizona. The return of Graham, Perry Ellis, Frank Mason III, Wayne Selden Jr., Brannen Greene, Jamari Traylor, Landen Lucas, Svi Mykhailiuk and Hunter Mickelson to go with another highly regarded recruiting class brings on those expectations.
At Kansas, one comes to expect significant individual improvements from season to season, and Graham has heaps of potential as a point guard. Just ask his coach, Bill Self.
"Devonté's gonna be our next Aaron Miles," Self proclaimed at KU's end-of-season team banquet. "That's what Devonté is. He's Aaron, but can actually shoot it better than Aaron. A lot better than Aaron."
Miles could be considered the last true point guard to start at Kansas. Most of Self's primary ball-handlers through the years have played more like combo guards or scoring point guards.
How does Graham compare to Miles and other former KU ball-handlers? We've only seen one season of Graham, so it helps to narrow down the sample size for all the players in the discussion. Check out the NCAA Tournament numbers for Miles, Graham and every other lead Kansas guard to play a significant role during his freshman season in the past 15 years.
Each Jayhawk point guard is listed with the season of his tourney debut and the seed KU earned that year.
Kirk Hinrich — 2000, No. 8 seed
• vs. No. 9 seed DePaul — 81-77 win (OT):
8 points, 3/4 FGs, 2/2 3s, 4 assists, 5 turnovers, 4 rebounds in 29 minutes
• vs. No. 1 seed Duke — 69-64 loss:
12 points, 4/7 FGs, 3/5 3s, 1/3 FTs, 6 assists, 3 turnovers, 2 rebounds in 28 minutes
— Averages: 10 ppg, 63.6% FGs, 71.4% 3s, 33.3% FTs, 5.0 assists, 4.0 turnovers, 3.0 rebounds in 28.5 minutes
Aaron Miles — 2002, No. 1 seed
• vs. No. 16 seed Holy Cross — 70-59 win:
7 points, 3/8 FGs, 0/1 3s, 1/1 FTs, 1 assist, 5 turnovers, 2 steals in 36 minutes
• vs. No. 8 seed Stanford — 86-63 win:
8 points, 2/4 FGs, 0/0 3s, 4/4 FTs, 5 assists, 4 turnovers, 4 rebounds, 1 steal in 25 minutes
• vs. No. 4 seed Illinois — 73-69 win:
13 points, 5/11 FGs, 1/3 3s, 2/2 FTs, 5 assists, 3 turnovers, 7 rebounds, 1 steal in 35 minutes
• vs. No. 2 seed Oregon — 104-86 win:
6 points, 2/10 FGs, 0/2 3s, 2/2 FTs, 8 assists, 3 turnovers, 2 rebounds, in 30 minutes
• vs. No. 1 seed Maryland — 97-88 loss:
12 points, 1/7 FGs, 0/4 3s, 10/12 FTs, 10 assists, 3 turnovers, 3 rebounds, 2 steals in 28 minutes
— Averages: 9.2 points, 32.5% FGs, 10% 3s, 90.4% FTs, 5.8 assists, 3.6 turnovers, 3.2 rebounds, 1.2 steals in 30.8 minutes
Russell Robinson — 2005, No. 3 seed
• vs. No. 14 seed Bucknell — 64-63 loss:
Did not play
— Averages: DNP
Mario Chalmers — 2006, No. 4 seed
• vs. No. 13 seed Bradley — 77-73 loss:
15 points, 6/11 FGs, 2/4 3s, 1/2 FTs, 0 assists, 5 turnovers, 3 steals, 3 rebounds, 5 fouls in 34 minutes
— Averages: 15.0 points, 54.5% FGs, 50% 3s, 50% FTs, 0.0 assists, 5.0 turnovers, 3.0 steals, 3.0 rebounds in 34.0 minutes
Sherron Collins — 2007, No. 1 seed
• vs. No. 16 Niagara — 107-67 win:
15 points, 4/9 FGs, 2/3 3s, 5/6 FTs, 6 assists, 0 turnovers, 4 steals, 1 rebound in 20 minutes
• vs. No. 8 Kentucky — 88-76 win:
8 points, 4/11 FGs, 0/2 3s, 2 assists, 3 turnovers, 1 rebound in 26 minutes
• vs. No. 4 Southern Illinois — 61-58 win:
2 points, 1/3 FGs, 0/1 3s, 1 assist, 3 turnovers, 2 steals, 3 rebounds in 23 minutes
• vs. No. 2 UCLA — 68-55 loss:
0 points, 0/4 FGs, 0/1 3s, 2 assists, 1 turnover, 1 rebound in 15 minutes
— Averages: 6.3 points, 33% FGs, 29% 3s, 83% FTs, 2.8 assists, 1.8 turnovers, 1.5 steals, 1.5 rebounds in 21.0 minutes
Tyshawn Taylor — 2009, No. 3 seed
• vs. No. 14 seed North Dakota State — 84-74 win:
8 points, 4/9 FGs, 0/1 3s, 0/1 FTs, 1 assist, 2 turnovers, 2 rebounds in 27 minutes
• vs. No. 11 seed Dayton — 60-43 win:
3 points, 1/5 FGs, 0/1 3s, 1/3 FTs, 3 assists, 6 turnovers, 1 steal, 3 rebounds in 27 minutes
• vs. No. 2 seed Michigan State — 67-62 loss:
8 points, 2/4 FGs, 0/1 3s, 4/4 FTs, 2 assists, 3 turnovers, 1 steal, 1 rebound in 28 minutes
Averages: 6.3 points, 38.8% FGs, 0% 3s, 62.5% FTs, 2.0 assists, 3.7 turnovers, 0.7 steals, 2.0 rebounds in 27.3 minutes
Elijah Johnson — 2010, No. 1 seed
• vs. No. 16 seed Lehigh — 90-74 win:
0 points in 1 minute
• vs. No. 9 seed Northern Iowa — 69-67 loss:
Did not play
— Averages: 1 GP, 0.0 points in 1.0 minutes
Josh Selby — 2011, No. 1 seed
• vs. No. 16 seed Boston — 72-53 win:
4 points, 2/6 FGs, 0/2 3s, 2 assists, 1 turnover, 2 rebounds in 15 minutes
• vs. No. 9 seed Illinois — 73-59 win:
0 points, 0/0 FGs, 2 assists, 0 turnovers, 1 rebound in 10 minutes
• vs. No. 12 seed Richmond — 77-57 win:
9 points, 3/9 FGs, 3/5 3s, 0 assists, 1 turnover, 3 rebounds in 17 minutes
• vs. No. 11 seed VCU — 71-61 loss:
2 points, 1/5 FGs, 0/3 3s, 0 assists, 0 turnovers, 1 rebound in 15 minutes
— Averages: 3.8 points, 30% FGs, 30% 3s, 1.0 assists, 0.5 turnovers, 1.8 rebounds in 14.3 minutes
Naadir Tharpe — 2012, No. 2 seed
• vs. No. 15 seed Detroit — 65-50 win:
0 points, 0/3 FGs, 0/1 3s, 1 assist, 2 turnovers in 13 minutes
• vs. No. 10 seed Purdue — 63-60 win:
3 points, 1/3 FGs, 1/3 3s, 0 assists, 1 turnover, 1 rebound in 4 minutes
• vs. No. 11 seed North Carolina State — 60-57 win:
Did not play
• vs. No. 1 seed North Carolina — 80-67 win:
Did not play
• vs. No. 2 seed Ohio State — 64-62 win:
Did not play
• vs. No. 1 seed Kentucky — 67-59 loss:
Did not play
— Averages: 1.5 points, 17% FGs, 25% 3s, 0.5 assists, 1.5 turnovers, 0.5 rebounds in 8.5 minutes
Conner Frankamp — 2014, No. 2 seed
• vs. No. 15 seed Eastern Kentucky — 80-69 win:
10 points, 3/6 FGs, 0/2 3s, 4/4 FTs, 4 assists, 0 turnovers in 25 minutes
• vs. No. 10 seed Stanford — 60-57 loss:
12 points, 4/8 FGs, 4/7 3s, 0 assists, 0 turnovers, 2 rebounds, 1 steal in 18 minutes
— Averages: 11 points, 50% FGs, 44% 3s, 100% FTs, 2.0 assists, 0.0 turnovers, 1 rebound, 0.5 steals in 21.5 minutes
Frank Mason III — 2014, No. 2 seed
• vs. No. 15 seed Eastern Kentucky — 80-69 win:
2 points, 1/1 FGs, 0/2 FTs, 4 assists, 1 turnover, 4 rebounds in 9 minutes
• vs. No. 10 seed Stanford — 60-57 loss:
2 points, 0/4 FGs, 0/3 3s, 2/2 FTs, 2 assists, 1 turnover, 2 rebounds, 1 steal in 22 minutes
— Averages: 2 points, 20% FGs, 0% 3s, 50% FTs, 3.0 assists, 1.0 turnover, 3.0 rebounds, 0.5 steals in 15.5 minutes
Devonté Graham — 2015, No. 2 seed
• vs. No. 15 seed New Mexico State — 75-56 win:
8 points, 2/6 FGs, 2/2 3s, 2/2 FTs, 4 assists, 3 turnovers, 2 rebounds in 25 minutes
• vs. No. 7 seed Wichita Stte — 78-65 loss:
17 points, 5/13 FGs, 3/8 3s, 4/4 FTs, 3 assists, 1 turnover, 1 rebound, 5 steals in 29 minutes
— Averages: 12.5 points, 37% FGs, 50% 3s, 100% FTs, 3.5 assists, 2.0 turnovers, 1.5 rebounds, 2.5 steals in 27 minutes
Now let's throw all those stats in one place to make things easier, and see which KU freshman point guards/combo guards truly performed the best.
Key: BLUE NUMBERS = Best in the group; RED NUMBERS = 2nd-best
KU Freshman PGs NCAA Tournament Numbers — 2000 to present
Player (year)
GP
PPG
FG%
3%
FT%
APG
TOPG
RPG
SPG
MPG
Kirk Hinrich ('00)
2
10
64%
72%
34%
5.0
4.0
3.0
--
28.5
Aaron Miles ('02)
5
9.2
33%
10%
90%
5.8
3.6
3.2
1.2
30.8
Russell Robinson ('05)
0
--
--
--
--
--
--
--
--
--
Mario Chalmers ('06)
1
15
55%
50%
50%
0.0
5.0
3.0
3.0
34.0
Sherron Collins ('07)
4
6.3
33%
29%
83%
2.8
1.8
1.5
1.5
21.0
Tyshawn Taylor ('09)
3
6.3
39%
0%
63%
2.0
3.7
2.0
0.7
27.3
Elijah Johnson ('10)
1
0
--
--
--
0.0
0.0
0.0
0.0
1.0
Josh Selby ('11)
4
3.8
30%
30%
--
1.0
0.5
1.8
0.0
14.3
Naadir Tharpe ('12)
2
1.5
17%
25%
--
0.5
1.5
0.5
0.0
8.5
Conner Frankamp ('14)
2
11
50%
44%
100%
2.0
0.0
1.0
0.5
21.5
Frank Mason III ('14)
2
2.0
20%
0%
50%
3.0
1.0
3.0
0.5
15.5
Devonté Graham ('15)
2
12.5
37%
50%
100%
3.5
2.0
1.5
2.5
27.0
When you stack the numbers together, four guys stand out as the clear-cut leaders: Kirk Hinrich, Aaron Miles, Mario Chalmers and Devonté Graham.
Hinrich led in FG% (64%), 3-point % (72%) and took second place in assists (5.0) and rebounds (3.0).
Miles played in the most games (5), dished the most assists (5.8) and pulled down the most boards (3.2), while posting the second-best free-throw numbers (90%) and minutes played (30.8).
In his one tournament game as a freshman, Chalmers scored 15 points, swiped 3 steals and played 34 minutes to lead the group, and finished second in FG% (55%), 3-point % (50%) and rebounds (3).
Graham's numbers look just as good as the ones posted by any of those other three guys. By the way, Hinrich, Miles and Chalmers all became some of the best Kansas players in recent memory. Graham hit 100% of his free throws to tie the departed Conner Frankamp for first, and had the second-best numbers among the 12 freshman point guards in points (12.5), 3-point % (50%) and steals (2.5).
Limiting the turnovers-per-game numbers to those who played at least 20 minutes, Graham's 2.0 giveaways were only bettered by Frankamp (0.0) and Sherron Collins (1.8).
After playing in his first NCAA Tournament game this past March, in Omaha, Nebraska, Graham said staying loose keyed his performance on that stage.
"When you have fun," he said, "a lot of good things happen."
Graham didn't didn't just look comfortable, he stood out as someone who could change the flow and make a critical impact.
"As soon as the game started, as soon as I got on the court, after I got up and down, started sweating a little bit, I just felt like it was another normal game," Graham said. "I'm not thinking about how big it is and all the pressure. You've just gotta be calm in that situation."
Whether Graham starts or remains a key backup in his sophomore season has yet to be determined. KU's summer play at the World University Games should heavily play into that decision for Self.
After averaging 18.1 minutes, 5.9 points and 2.1 assists as a freshman, all those numbers figure to increase in Graham's second season at KU. Self likes what he has in Graham, and even if Mason keeps his starting spot the two easily could could play side-by-side for long stretches to give KU a pair of play-makers.
"When we're in a game together, we're always thinking: attack," Graham said of teaming up with Mason. "It's kind of hard to stay in front of both of us at the same time. We try and break the defense down, find the right guys open to pass it to — create for others and also ourselves."
More playing time for a more experienced Graham should mean more success for the Jayhawks next season, as they try to get back to the Final Four for the first time since 2012. That KU team had Tyshawn Taylor and Elijah Johnson as point guards, and neither looked nearly as good his freshman season as Graham did.
Dexter McDonald's life changed earlier this month, when Oakland snagged him in the final round of the 2015 NFL Draft.
"When I finally got the call it was just a blessing," McDonald said in a profile posted on the Raiders' website. "It was a relief. And I was happy to say I would have the opportunity to become an Oakland Raider and join the Raider nation."
McDonald, a rookie cornerback out of Kansas, took another step in that direction Tuesday, when the seventh-round pick signed with Oakland. Referencing spotrac.com, SilverAndBlackPride.com reported the contract is for four years and $2.37 million.
You can watch McDonald, a Kansas City, Missouri, native, arrive in California, pose for photos and wear his No. 21 Raiders uniform for the first time in a Raiders.com video feature. The 6-foot-1 corner describes himself as a team player with a lot of energy.
"I'm one of those guys who is gonna be the same every day. I'm a physical corner — I'm gonna get on those wide receivers and jam them, disrupt the timing between the quarterback and the receiver to make it hard on them to pass," McDonald said.
Back in late March, an amazing pro day propelled McDonald into the realm of draftees. The physical, 200-pound corner stood out with a 4.42-second 40-yard dash, a vertical leap of 40 and 1/2 inches and a broad jump of 11 feet, 2 inches.
"It allowed teams to see what I was capable of, athletic wise," McDonald said the day he was drafted.
Now, McDonald can't wait to prove he can compete at the next level. The 23-year old defensive back finds himself with a unique opportunity, too, playing for and alongside some legendary names. Rod Woodson coaches Oakland's defensive backs and 18-year NFL veteran Charles Woodson plays safety for the Raiders.
"It's a blessing," McDonald said, "and I have an opportunity to be like a sponge and soak up as much knowledge as I can from those guys. And I'm definitely gonna do that."
Levi Damien of SilverAndBlackPride.com speculated McDonald has a chance to earn playing time as a rookie. Oakland's starting corners figure to be D.J. Hayden and T.J. Carrie, but the nickel spot is "very much up for grabs," and the Raiders proved last season with Carrie (also a seventh-round pick) that young guys can work their way onto the field and play crucial roles. Damien also projected McDonald's size could make him an option at safety eventually.
McDonald and his former KU teammate, Ben Heeney (drafted by Oakland in the fifth round), will play in Kansas City, against the Chiefs, on the final day of the regular season, Jan. 3, 2016.
The more you hear about Kansas basketball commitment LaGerald Vick, the more impressive he seems.
National analyst Eric Bossi of Rivals watched the 6-foot-5 guard from Memphis this past weekend in New York and came away claiming Rivals.com needs to move his national ranking of No. 137 up "at least 100 spots."
In order to get a better idea about Vick as a player, just check out his highlight videos. The 175-pound guard, who reportedly will re-classify and join the 2015 KU recruiting class with Carlton Bragg and Cheick Diallo, plays for Team Thad AAU, and in the past year or so he has put together quite the YouTube résumé.
Three of his scoring reels are posted below. With each one, I included some quick take-aways about what the clips tell us about this multi-skilled guard. Obviously, not everything we see here will immediately translate to college basketball and the Big 12, but there are plenty of promising signs that this previously unheralded recruit could turn into a go-to scorer for the Jayhawks before his days in Allen Fieldhouse are through.
This latest highlight reel from Courtside Films doesn't capture the correct way to spell Vick's first name, but it does provide an impressive array of highlights
• Vick can pull up for a 3-pointer off the dribble with ease when his defender leaves his hands down or fails to close out.
• His shooting, strength and ability to finish above the rim all look better now than they did in past highlight videos (shown below).
• When Vick's man gets low and really tests him on the perimeter, his ball-handling allows him to not only maintain possession but also get creative and find a way to punish his defender.
• He may be a little too reliant on his right hand at this point, but he does go left off the dribble from time to time, and that's obviously something he can continue to develop.
• No matter where he gets the ball, Vick stands out as an offensive threat in his ability to create better looks for himself, whether that be with a ball fake, jab step, cross-over or hesitation dribble. He appears a real challenge to keep in check.
• By the looks of this highlight reel, Vick is as confident a 3-point shooter as one could hope for. He doesn't overthink things when he's open from downtown, he just rises up and lets it fly.
• Finishing in traffic isn't for everyone. But it looks like Vick enjoys the challenge that taking on multiple defenders provides. Even when the road to the hoop looks treacherous, he doesn't show any fear.
• It's just a bad idea in general to leave him open anywhere on the court. He can either pull up for an easy look from behind the arc or speed through driving lanes to the rim.
• Vick often shows creativity in avoiding potential shot-blockers.
• He has a slight frame, but sometimes uses that to his advantage by slithering between defenders.
• If teams decide they want to take away his shooting ability, he could easily turn into a drive-first player on offense.
• Vick is confident and crafty when he gets into the paint, regardless of what kind of defender flies at him. In this aspect, he kind of reminded me of Manu Ginobili in his prime.
• He can play above the rim when he gets a wide-open lane or someone fails to put a body on him on the offensive glass.
• If you make the mistake of crowding Vick on the perimeter he is fast enough off the dribble to blow by you.
• Obviously his jumper is one of his strengths, enabling him to punish defenses if they leave him open (keep in mind many of these highlights come against teams ignoring basic defensive principles).
• Vick will need to clean up his ball-handling when he's taking on college guards. He is able to play pretty loose in these types of AAU showcases and (in the past at least) carries the ball at times when using his dribble outside.
• The kid has pretty quick hops, and can head skyward in a hurry.
• Vick's now-you-see-it/now-you-don't methods of slashing might be the final ingredient that turns him into a big-time college scorer. He can show defenders the rock, then take it away and finish by utilizing the window he just created for himself.
• His cross-over has a strong burst to it and he's always thinking "attack" when he has the ball in transition.
• Vick can finish with either hand once he has slashed his way into the paint.
• This scoring guard doesn't just rely on floaters, he takes advantage of angles on the floor and uses the glass well, even six to eight feet away from the rim. Not many guys have so many tricks in their bags.
When JaCorey Shepherd arrived at Kansas four years ago as a wide receiver, his transition to college football included plenty of teaching moments.
Now that the All-Big 12 cornerback is with the Philadelphia Eagles, who drafted him in the sixth round and this past week signed him to a four-year contract, Shepherd said his initial introduction to the NFL has been less based in instruction. After all, the players are all professionals now, as the 5-foot-11 defensive back pointed out in a video interview for Philadelphia's website.
But that's not to say Shepherd's experience thus far has been devoid of learning. At the Eagles' rookie mini-camp, the corner said, he found himself picking up new techniques at a fast pace. While playing press coverage — something he did at KU, too — he got too "handsy" on a few plays by doing things that were fine in college. He discovered he'll have to get rid of some of those habits he picked up in his first three seasons of playing defensive back.
"It's definitely a challenge," Shepherd said, "but I'm good at learning and going with the flow as I get more reps."
Eagles defensive backs coach Cory Undlin, who just joined the staff this offseason after working for Denver in the same role, wants his corners playing assertive press coverage at the line of scrimmage.
"To actually learn the proper way to press is actually gonna benefit me," Shepherd said.
Plus, Shepherd knows some guys who just played for Undlin last season, with the Broncos. He brought up their names when asked if he had anybody he could lean on for guidance while finding his way in the NFL.
"Previous corners from the University of Kansas, Aqib Talib and Chris Harris, they kind of helped me," Shepherd said, "and they told me they'll be there for me if I've got a question about the process going forward."
Excited that he could graduate from KU and embark on his NFL career this spring, the newly minted Eagle, who can be seen practicing in his No. 36 jersey in the video, said it felt good going "full out" at mini-camp for the first time since suffering a tear in his left hamstring prior to KU's pro day.
Now Shepherd can just enjoy himself on the field while playing the game he loves.
"It's a great relief off your shoulders," he said. "You don't have to think about that stuff, as far as where you're gonna be, where you're gonna end up. You can just go out there and do what you do."
Shepherd said he can tell Chip Kelly's staff is comprised of player-friendly coaches, which he likes. Now that he is in the league, the rookie corner wants to make sure he enjoys every moment, because he realizes not everybody gets the opportunity that is in front of him right now.
Back before Ben Heeney became a star football player at Hutchinson, or an All-BIg 12 linebacker at Kansas or a draft pick of the NFL's Oakland Raiders, he was just a 12-year-old kid who seriously loved football.
In 2004, Heeney laid out his goals for becoming a football lifer by mapping them all out with a pencil and paper. A fifth-round pick in the NFL Draft 11 years later, the linebacker shared the list of goals from his childhood on Twitter.
Complete with a table of contents, the script for the rest of his life included goals for middle school, high school, college and beyond.
HIGH SCHOOL GOAL
"In high school I want to make varsity on the football team. I want college coaches to come to the games and scout me for the team. I will play hard."
TRAINING / COLLEGE
"I would like go go to the University of Kansas or a better team in football. My parents went to KU. I want a football scholarship."
CAREER
"I want to play in the NFL. It would be fun and I would make a lot of money. I would train hard. After the NFL I would like to be the head coach for a college football team."
Pretty impressive stuff when you consider all of it has come true so far and Heeney still has plenty of football to play before he chases that coaching goal, post-retirement.
The Raiders profiled the former KU star on their website, in a video that includes Heeney going through drills at rookie mini-camp in his No. 51 Oakland jersey.
The new member of Raider Nation said he has quickly adapted to wearing the silver and black.
"Since I've been drafted by the Raiders, I can just tell they have the best fan base in the nation," Heeney said. "People comment on my Instagram and stuff. I'm just really excited to be a part of it."
Heeney hopes to break through as an on-field contributor immediately with Oakland, in the upcoming 2015 season.
"I think I bring leadership, and I'm always all over the field making plays," Heeney said. "You know, I'm just looking to bring that and help any way I can — special teams, defense, put me on offense. I'll play anything."
For the first time in his life, Hutchinson, Kansas native Ben Heeney is in California.
The Bay Area is the former Kansas linebacker's new home now, thanks to the Oakland Raiders, who took him in the fifth round of the NFL Draft.
Heeney thought heading into this past Saturday he might end up down in Tampa Bay or with one of the other handful of organizations with which he had the most pre-draft contact. But he landed on the opposite coast, in part, because he grabbed the attention of Oakland head coach Jack Del Rio.
Some say real recognize real. Well, linebackers recognize linebackers, too.
At the NFL Scouting Combine, Del Rio — the former Vikings, Cowboys, Chiefs and Saints linebacker — received a text from an old teammate. As reported by the San Francisco Chronicle's Vic Tafur, Oakland's coach said the message read something like: you have to check out Ben Heeney.
"So it kind of piqued my attention and (I) started watching him in the drills; of course he had that crazy hairdo going at the Combine," Del Rio said. "We get back and start watching the tape, and the guy is all over the place. He flies around, makes plays, very productive, has a great mindset in terms of special teams and linebacker play. We're excited to add him."
Clearly, the Raiders coach sees potential in the KU standout.
"He plays with his hair on fire," Del Rio said.
Heeney arrived out west Thursday, and a Raiders video production crew greeted him and his KU teammate, seventh-round pick Dexter McDonald, at the airport.
"I just tweeted out that I landed in Oakland, and the fans are crazy," Heeney says in the video posted on the Raiders' website. "They continue to just show me love."
Oakland's rookie mini-camp begins today for Heeney, McDonald and the rest of the Raiders' draft picks and undrafted hopefuls.
Zach Yenser doesn't claim to be on the cutting edge of social media usage, nor the inventor of some fantastic, never-before-seen concept. But Kansas University's new offensive line coach and run-game coordinator knows what he likes and what works when it comes to using Twitter to his advantage.
Of late, like all of head coach David Beaty's assistants, Yenser has been hitting the recruiting trails hard. You can tell by checking in on his tweets.
During spring football, when the former Cal and Louisiana Tech assistant could most often be found on KU's practice fields or in the offices at the football complex, he used Twitter from time to time to highlight the work and technique of his offensive linemen.
While examining and critiquing video footage from practices, Yenser would grab his phone, take a video of something he liked and make it a Vine he could tweet out to his followers.
"It's just a way to publicly recognize your guys up front," the O-line coach said. "People watch the offensive line and are like, 'Oh, that's cool, ya know. Fun.' I tell my guys, 'The only way you're gonna get noticed is if you give up a sack.' Nobody knows what you do."
Yenser hopes to educate and put a spotlight on his big men in the trenches when he sends out a highlight to the masses — an idea the coach said he stole from Penn State O-line coach and run-game coordinator Herb Hand, who started posting short clips as a Vanderbilt assistant.
Former Kansas tight end Jordan Shelley-Smith became the first Jayhawk to show up in one of Yenser's videos. The coach liked the footwork he saw from his junior left tackle.
Of course, Yenser received positive feedback from his players upon debuting the idea. He could tell they appreciated the love, and said it goes back to the core of his interaction with the linemen. He tells them: "We're in it together. I'm here to serve you guys.
"If they take that and listen," he added, "we'll all get better."
Senior center Keyon Haughton and sophomore guard Junior Visinia also starred in Yenser's tweets this spring.
The concept brings some added benefits with it, too.
"I think recruits like it," Yenser said. "I think a lot of people like just to see what's going on."
The O-line clips also provide the KU assistant with another avenue for discussions with high school coaches. He gets questions from them about how he teaches certain techniques, and prep coaches also tweet out some of the clips for their players to see.
Yenser said whenever he has time while watching video footage, he'll throw a clip up and tweet it out. He can tell how much the idea is working every time he posts a new one, looking each time for the ultimate sign of praise:
"How many retweets and likes can you get?"
Meet Cheick Diallo.
He's 6-foot-9, 220 pounds. He was MVP of the McDonald's All-American game and co-MVP of the Jordan Brand Classic.
And he just might be the next great big man at Kansas.
Originally from Mali, the five-star post player turned himself into one of the nation's elite college prospects at Our Savior New American High, in Centereach, New York. He joins KU as the No. 5 overall talent in the Class of 2015, according to Rivals.com.
The big man stole the show at the McDonald's all-star game earlier this month, where his name was called repeatedly, bucket after bucket, and he wowed the Chicago crowd with a fast-break spin-move on his way to an 18-point/10-rebound performance.
He even blocked some shots in the offense-oriented showcase and dropped a dime inside.
Diallo appears to have everything you're looking for in a traditional big man: length, toughness, and the ability to finish at the rim on one end of the floor while intimidating the opposition from doing the same on the other end.
The guy even snags defensive rebounds anticipating the ensuing outlet pass he's about to sling down the floor.
That makes him a perfect fit for KU coach Bill Self. Even better, the lean, young big fills a need for next season's roster.
Self continually referenced the Jayhawks' lack of an elite interior presence during the 2014-15 season. Unlike most Kansas teams, this one couldn't throw the ball into the post and get a basket. Even worse perhaps, there was no rim protector waiting in the paint on defense.
That gaping hole in KU's lineup likely is the very reason Diallo will be playing at Allen Fieldhouse next season.
"I felt like Kansas was the best place for me," Diallo told ESPN.com's Paul Biancardi. "I can earn playing time right away. I played against Joel Embiid in high school and watched his development. I need to work on a lot of things and feel coach (Bill) Self can help my game. On my visit, the campus was great and the people were nice. I could see myself there."
Picture Diallo in a Kansas uniform, playing alongside all the returning Jayhawks and fellow freshman Carlton Bragg, and it's easy to envision KU getting past the first weekend of the NCAA Tournament for the first time in three seasons. And back to the Final Four for the first time since 2012.
Here are a few more Diallo highlight reels as your mind wanders about the possibilities.
Kansas offensive coordinator Rob Likens walked into his office at Anderson Family Football Complex in early April and found an unexpected gift of sorts waiting for him.
There, placed on a shelf sometime in Likens' absence, sat a framed photograph of KU's co-defensive coordinator, Kenny Perry.
This would have caught Likens off guard had Perry not established himself as the unpredictable instigator on new coach David Beaty's staff.
"He embraces that role," Likens said. "He loves it."
At Kansas practices this spring, Perry's intensity while coaching the cornerbacks leads one to think he might not have a light-hearted cell in his DNA. That's on-the-field Perry. The one ambling around the coaches' office quarters, playing Elf on the Shelf with a framed photo of his own mug helps his fellow staffers retain their sanity while embarking of the arduous mission of turning around a downtrodden program.
"I like to bring a lot of different energy," Perry explained. "I love coaching, and it's so stressful you've gotta add some light to it."
That's why not long after Perry received a framed photo of himself from Beaty on his birthday, the assistant decided he could have some fun with it.
"It's gonna be Coach Perry on the Shelf," the former TCU corners coach declared. "It's gonna show up in different offices."
Wearing a wry grin, Perry said he will decide who "deserves" the photo, which doubles as a trophy.
"It's a memento of my appreciation for the job they're doing," Perry said.
Countered a laughing Likens: "Yeah, I was a 'winner,' right, to have his photo? Exactly. That's the way he looks at it."
Perry got his start as a high school assistant coach in 1994 and worked his way through the ranks, eventually landing at TCU as director of high school relations in 2013. Along the way, he decided to take on the practical joker route with his fellow coaches to alleviate the stress.
KU running backs coach Reggie Mitchell said he has worked on some staffs in the past and he didn't want to be around his co-workers once practice ended. But he's having a blast with this group assembled by Beaty, thanks in part to Perry's ability to catch other assistants off guard with his wisecracks.
"You can put him in any circle of people and he's gonna fit right in," Mitchell said. "He has the kind of personality to make you feel like you've known him all your life."
Beaty's staff, the coaches hope, are building a foundation through their camaraderie. Likens said they have more fun together than any staff he has worked on in 23 years. There is something to that, he added, because this can be a trying time for them as they attempt to build Kansas into a successful program.
"Coaches are perfectionists, and we get very, very frustrated. There's days I come off that practice field. 'Wooo,'" Likens reenacted, letting his head hang low to mimic the end of a rough day. "And it's hard. And (Perry's) there to lift me up.
"He comes off the practice field some day and his corners had a bad day and he's down, I'm there to lift him up," Likens added. "We all encourage each other, because we all understand the vision. We all know it's going to get there. It's not there yet, and it's gonna take some time."
One benefit of that chemistry is that it can trickle down to the players — Likens has seen that happen before. It may not show up immediately, he added, because the Jayhawks wearing helmets and pads are still in the feeling out process with their new coaches, seeing how they will react on good days and bad ones.
The more the players and the guys in charge can build strong relationships in the midst of this restoration phase, they're betting it will pay off in the years to come.
"God hoping, we win a lot of games," Perry said. "But there's gotta be a happy medium. You spend so much time together, if you're not having fun you're not happy together, and it doesn't create a good house. Right now we got a great house. You'll go through some growing pains, and you've gotta have a solid foundation. I think that's what David's built."
The Oklahoma City Thunder has a coaching vacancy.
Cue the wild speculation.
Yahoo's Adrian Wojnarowski reported Wednesday afternoon the small-market NBA franchise not too far from Lawrence, Kansas, decided to get rid of head coach Scott Brooks.
So don't be too surprised if rumors start swirling about the Thunder having interest in Kansas head coach Bill Self or vice versa.
According to Wojnarowski, Oklahoma City has strong interest in Florida coach Billy Donovan. If the two-time NCAA champion Gators coach wants to jump to the league, the job could be his for the taking.
Plus, UConn's Kevin Ollie, who played for OKC, could figure into the coaching search.
But KU fans long have feared Self would leave Allen Fieldhouse behind for a lucrative, appealing job in the professional ranks. Throw into the equation that Self grew up in Edmond, Oklahoma, and went to Oklahoma State, and one could easily infer the Jayhawks' coach would listen if OKC gave him a call.
And any coach with a pulse would have to contemplate such an offer, because the Thunder have arguably two of the best five players in the NBA in Russell Westbrook and Kevin Durant.
Here's what we know:
• NBA teams have reached out to Self in the past. Just last year, Cleveland had some exploratory discussions with him about his interest.
• But Self told Gary Bedore last summer "not many" organizations have actually sought him out.
• As recently as last offseason, Self shot down the notion of leaving Kansas for an NBA job anytime soon.
"We've got so many good things going on right here," Self told 610 radio in May of 2014. "You add the DeBruce Center (for Naismith rules and training table) and add the living quarters (new apartment complex to be built) to go along with the way we'll be fed, from a recruiting standpoint we've done pretty well. I think we can even take a step up."
The Thunder might not even have Self on their short list. It's too early in the process to know either way. Whomever OKC goes after, expectations will be monumental. Injuries to Durant, Westbrook and Serge Ibaka at various junctures left the Thunder out of the playoffs this year. And Oklahoma City has a championship-level roster when everyone is healthy.
The new guy, whether that's Donovan, Ollie, a coach with NBA experience or someone else, will be expected to not only guide the Thunder back to the NBA Finals for the first time since 2012, but bring the Larry O'Brien Trophy to Oklahoma.
OKC general manager Sam Presti made that clear in a statement he released:
"We move forward with confidence in our foundation and embrace the persistence and responsibility that is required to contract an elite and enduring basketball organization capable of winning an NBA championship in Oklahoma City."
Self operates at KU with those types of job requirements, and maintaining those is easier at the college level when you're working at a name-brand program such as Kansas.
For all the talent the Thunder has, nothing in the NBA is guaranteed. Durant will be a free agent in 2016. Westbrook's contract expires the following season. We might be two years away from Oklahoma City falling into irrelevancy.
You couldn't say that about Kansas.
Are the Thunder interested in Bill Self? Who knows at this juncture.
Given Self's situation, and contract with KU, it's hard to imagine he would want to leave that behind to become the head coach of his home state's pro team.
UPDATE — 5:30 p.m.
The Oklahoman's Thunder beat writer, Anthony Slater, on Wednesday posted a long list of possible replacements for Brooks. Of course, Donovan and Ollie topped the lineup as favorites.
However, The Oklahoman also pointed to Self and Iowa State's Fred Hoiberg as currently employed options. Slater wrote Self would be a "widely popular" hire in OKC:
"Self is from Edmond and is as charismatic as they come. Not sure he fits the Thunder mold or is even on the radar at all. But, man, is it a fun hire to think about. Particularly from a media perspective."

Find more businesses on Marketplace
Arts & Entertainment · Bars · Theatres · Restaurants · Coffeehouses · Libraries · Antiques · Services