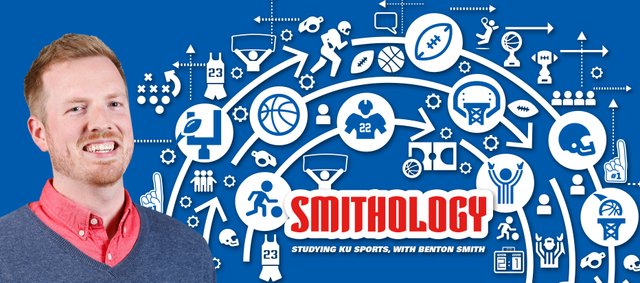 Posts tagged with
College Basketball
The regular season is over, and the postseason begins Thursday for Kansas University's men's basketball team.
Coach Bill Self doesn't yet know whether his Jayhawks (23-8 overall, 14-4 Big 12) will face Oklahoma State or Texas Tech in their Big 12 Championship opener in the Kansa City, Mo. — those two teams play in the opening round Wednesday — but he was ready to talk about the postseason Monday afternoon at Allen Fieldhouse.
KU has lost two of its last three games, and freshman center Joel Embiid's availability at the Big 12 Tournament remains up in the air due to his back issues, making the next week even more intriguing.
Here are some of the highlights from Self's press conference, in bullet-point form:
• Self doesn't see a scenario where Joel Embiid doesn't play in the postseason. He does see a scenario where Embiid might not be able to play in the Big 12 Tournament, though. … Embiid is a lot better, symptom-wise, than he was a week ago. If the doctors say it is fine to play him this weekend, they will. Playing three games in three days at Kansas City, Mo., could be challenging for Embiid, too. Rather than manage minutes, Self would rather have him more rested for the NCAAs if that's what is best for the freshman big man.
• Self's first year here, Keith Langford hurt his knee and didn't practice the last few weeks of the season. The next year Wayne Simien had a similar situation. This isn't new territory for Self. Still, no one on the coaching staff is an expert on how to bring Embiid along. They will rely on what the doctors say. … Embiid is pain-free now, but that could change if he took a hit or bump at practice or in a game. … Embiid about "threw a fit" the last time they told him he couldn't play against TCU. He wanted to play.
• Oklahoma State is the No. 8 seed in the Big 12 Tournament — that shows how tough the league is. KU could play the Cowboys Thursday. That's good for KU. Self would like to face a real quality opponent.
• After losing at West Virginia Saturday, Self wants to see KU play tougher. The Jayhawks need to have more pride in guarding the ball, and keeping guys from getting to the rim.
• On Kansas point guards: Frank Mason and Naadir Tharpe, as well as Conner Frankamp, are the guys in charge of making sure KU plays well. But, really, it's on Tharpe to make that happen more than anybody else. KU needs its guard play to be sound, and they need to be a little more aggressive on both ends of the floor than they were at WVU.
• Big 12 awards turned out about the way Self thought. He has never understood, though, why voters are able to cast votes before the regular season is over. … Self thought Iowa State's Melvin Ejim deserved Player of the Year. Andrew Wiggins could've and should've been right there. … Self thought Rick Barnes deserved the Coach of the Year, but Lon Kruger deserved it, too.
• Big 12 Tournaments have always been competitive. But this year, regardless of what seeds end up in the championship game, it shouldn't surprise anybody. No. 8 seed OSU was picked to win the league before the season began. "It's gonna be a pretty special weekend."
• The last time KU played OSU, the Jayhawks lost. The guys should be excited to play the Cowboys again, considering they got outplayed at OSU.
• On playing away from Allen Fieldhouse: He wishes the W-L record was better (5-6 away, 4-1 neutral) but the competition had a lot to do with it. Villanova (lone neutral site loss, at the Bahamas) could be a No. 1 seed.
• Wiggins keeps getting better. He was fantastic, not just because of 41 points at WVU, but because of his energy level. Wiggins has proven he can take over. Self told Wiggins yesterday he needs to play at the level he has proven he is capable of. … With KU playing form behind, there was no margin for error, but the basket does get bigger. You can't make too much of the comeback because of that.
• On playing a junk zone defense, such as a triangle-and-two: Situations and personnel on the other team determine when they do that. KU hasn't done it much this year. Kansas should be able to stop people, even without Embiid on the floor.
• On the possibility of being in the same bracket as Wichita State: Self would welcome whatever bracket the Jayhawks end up in. It doesn't matter who the other top seeds are in that region. They want to play the other top seeds, regardless of who they are.
• Playing well this weekend is the key. A No. 1 seed could still be in play if KU wins the Big 12 Championship. … Regardless of what sites KU gets in the NCAA Tournament, Kansas fans will travel well.
• Perry Ellis needs to play well defensively for KU to have its best chance. But he is capable.
— Listen to the complete press conference: Bill Self on dealing with Embiid's back issues, Big 12 Championship
After Self's session, KU sophomore power forward Perry Ellis came out to answer questions from the media.
Tubby Smith's Texas Tech men's basketball team nearly had one of the upsets of the 2013-14 season on Feb. 18, at Lubbock, Texas.
That was before Kansas freshman Andrew Wiggins scored the winning basket of a 64-63 victory with just more than a second to go.
Both Wiggins and center Joel Embiid turned out to be fortunate freshmen in the final minute, and the Red Raiders lost their second game of what is now a five-game skid, entering tonight's rematch at Allen Fieldhouse vs. the No. 8 Jayhawks (22-7 overall, 13-3 Big 12).
Texas Tech (13-16) is just 5-11 in the Big 12, but as anyone who watched the Red Raiders nearly knock off KU could attest to, they are far more competitive this season under first-year coach Smith. In their 11 conference defeats, they've lost by an average margin of 7.4 points. Last season, Tech dropped 15 Big 12 games by an average of 21.4 points.
Tech does a few things well, and most of its success comes due to a commitment to playing at a methodical pace, which limits possessions and chances for its opponents. In Big 12 games, the Red Raiders are:
• 1st in scoring defense (68.1 points allowed)
• 1st in rebounding defense (opponents grab 29.0 a game)
• 2nd in 3-point field goal percentage (30.64%, percentage points behind Kansas State's 30.56%)
• 3rd in field goal percentage (44.4%)
• 4th in rebounding margin (+2.0)
While Tech is just 6th in Big 12 games in the category of offensive rebounds (11.0 a contest), the number is deceiving because the Red Raiders play at a slower pace, so there are fewer shots taken — and therefore fewer rebounds available — in their games than in those played between other Big 12 teams.
In conference games, 35.5% of Tech's 31.0 rebounds a game come on offense.
Against Kansas, the Red Raiders earned just more than half of their 25 rebounds on the offensive glass (13, compared to 12 defensive boards), leading to 14 second-chance points for Tech.
That glass work has helped Tech become one of the more prolific teams in the nation at scoring inside the 3-point line. The Red Raiders score 58.3 percent of their points on 2-point field goals — 18th in the country.
Just one Red Raider consistently takes and makes a high volume of 3-pointers, and he comes off the bench. On that note, let's get reacquainted with Texas Tech.
Jaye Crockett, No. 30
6-7, 210, sr. forward
— Feb. 18 vs. KU: 10 points, 3/11 FGs, 2/3 3s, 2/3 FTs, 5 rebounds (3 offensive), 2 assists, 1 steal, 0 turnovers in 26 minutes.
A huge chunk of Tech's inside-the-arc offense comes from its leading scorer. Crockett averages 13.6 points and 6.3 rebounds, and has made 51.2% of his shots this season.
The senior forward will take some bombs from beyond the arc — 18-for-56, 32.1% — but he does much more damage inside of it. On 2-point shot attempts, he makes 55.6%.
However, Crockett's production has dropped off the past three games, as he has battled tendinitis in both knees.
Since scoring 10 against Kansas, he had six points in 26 minutes at Oklahoma State, 8 points in 32 minutes vs. Kansas State and 1 point in 18 minutes at Baylor.
Not a good sign.
Jordan Tolbert, No. 32
6-7, 225, jr. forward
— Feb. 18 vs. KU: 16 points, 7/10 FGs, 0/1 3s, 2/2 FTs, 6 rebounds (4 offensive), 2 steals, 2 turnovers.
Now 20 points shy of 1,000 for his career, the junior averages 10.9 points and 6.0 rebounds this season. He has started five games against Kansas during between his freshman season and now, and averages 10.6 points against the Jayhawks.
Like Crockett, Tolbert scores efficiently inside the arc. A 55.6% shooter from the floor overall, he is one of the more experienced players in the Big 12 and has converted 60% of his 2-point attempts.
In his past two games, though, Crockett has made just three of his 12 field-goal attempts, and is averaging 7.5 points a game, scoring 66.6% of his points at the free-throw line.
Robert Turner, No. 14
6-3, 180, jr. guard
— Feb. 18 vs. KU: 11 points, 4/7 FGs, 1/2 3s, 2/2 FTs, 1 rebound, 2 assists, 2 steals, 3 turnovers.
A junior college transfer, Turner leads Tech with 77 assists this season.
He averages 9.6 points and 2.7 assists, and is tied for the second-most 3-pointers attempted on the team. From distance, Turner has hit 22 of his 72 tries (30.6%). In his last 12 Big 12 games, he has only hit more than one 3-pointer on one occasion. In that stretch, he is 7-for-26 (26.9).
Turner made 6 of 7 2-point attempts at Baylor his last time out, and is a 41.1% shooter overall this year.
His 40 steals lead Tech.
Toddrick Gotcher, No. 20
6-4, 200, so. guard
— Feb. 18 vs. KU: 0 points, 0/0 FGs, 0/4 FTs, 3 rebounds, 3 assists, 1 turnover in 21 minutes.
At different times this season, he has played all three positions on the perimeter, and averages 7.6 points, 3.0 rebounds and 2.0 assists.
Gotcher has averaged 9.0 points a game in his past three, since getting shut out vs. Kansas.
Like Turner, he has hoisted 72 3-pointers. Gotcher has found a little more success, making 24 (33.3%).
From the floor, he has made 40.5% of his field goal attempts.
Dejan Kravic, No. 11
7-0, 235, sr. forward
— Feb. 18 vs. KU: 13 points, 6/8 FGs, 1/1 FTs, 3 rebounds, 4 fouls, 1 turnover in 23 minutes.
The big man, as you might assume, basically lives inside the arc offensively. He has only tried a pair of 3-pointers this season. His field-goal percentage is 49.7% for the year and 51.7% in Big 12 action.
Kravic averages 7.0 points and 4.3 rebounds on the season.
His 37 blocked shots lead the Red Raiders.
Texas Tech bench
Dusty Hannahs, No. 2
6-4, 210, so. guard
— Feb. 18 vs. KU: 10 points, 3/9 FGs, 2/5 3s, 2/2 FTs, 4 rebounds (2 offensive), 2 assists, 1 steal, 1 turnover in 30 minutes.
The backup guard is Tech's gunner. He has hit 40 of 104 3-pointers on the season (38.5%), while making 25 of 61 in Big 12 games (41%).
Hannahs averages 8.3 points a game, and as a 91.8% free-throw shooter is on pace to be Tech's all-time single-season leader in that category. He averages 2.1 free-throw makes a game in 22.5 minutes this season. In Big 12 play, he had nailed 33 of 35 (94.3%).
Kansas University men's basketball coach Bill Self fielded questions from the media for about 30 minutes Thursday afternoon at Allen Fieldhouse.
The No. 5 Jayhawks (22-6 overall, 11-2 Big 12) play at Oklahoma State (18-10, 6-9) at 8 p.m. Saturday night. Self commented on that game and much more, including the rise of Wichita State to national prominence and whether the Jayhawks could add the Shockers to their schedule.
Here are the highlights in bullet-point form:
• Winning the Big 12 outright is a small part of the motivation on Saturday. The big part is playing an Oklahoma State team Kansas has developed a little rivalry with lately, as well as playing on a national showcase in prime time on ESPN.
• Oklahoma State is different now that Marcus Smart is back. He can impact a game and not score. His defensive anticipation is as good as anyone who KU will play against, and not just this year. Smart has totally dominated the games since serving his suspension.
• OSU is playing better because Phil Forte is playing better. He thrives when Smart is on the floor. They're kind of like the Morris twins in the way they feed off of one another. You can't leave Forte open. That's what makes him hard to guard.
• Self thought this game at OSU would have conference title implications, as far as who would have the best shot to win it. It's nice to go down there with a tie already clinched, but the Jayhawks want to take care of business. KU needs to play well to impress the NCAA Tournament selection committee.
• On Tarik Black and Jamari Traylor: They're a big part of why KU is better. They provide a needed energy presence, and give the Jayhawks a different look than the starting frontcourt players, Joel Embiid and Perry Ellis.
• Kansas isn't in competing with Wichita State for a No. 1 seed, despite the arguments media or people want to have about it. Self thinks WSU deserves the No. 1 seed line if the Shockers keep on winning. It's hard to win on the road, especially when you're everybody's Super Bowl game. … Self isn't in the least bit concerned with anything but the teams on KU's schedule. The Jayhawks have a long way to go before they will be a No. 1 seed. It all depends on how they finish the season.
• Wichita State's success is great for the state. Iron sharpens iron. When others are good in your area, it makes you better. It's good for Kansas to have Wichita State and Kansas State playing well.
• On returning to Oklahoma State, where he played in college: The first time he coached KU down there, Self toured every place and talked with a lot of good friends. KU got rocked in that game. Now he approaches it as a business trip.
• Going into the NCAAs, you start thinking more about seeding and the tournament itself. It's too premature to give much thought to those things now.
• Kansas keeps making the NCAA Tournament despite turnover in the roster. That's because the players are good and the assistant coaches are good. Those are the constants, the jobs those assistants have done. KU has brought in talent and has been able to overcome inexperience.
• On the Big 12 player of the year coming from KU: Self would like to see Embiid as a candidate but numbers tend to drive that award and people might not include him despite the impact he has on the floor. Andrew Wiggins is a leading contender. People should wait to draw their conclusions until the Big 12 season is over.
• On KU assistant coaches: Self thought Barry Hinson was positive, but Fred Quartlebaum (director of student-athlete development in his first year at Kansas) makes Hinson look like a the sky is falling and the sun will never come up personality. Jerrance Howard is a younger coach, has more energy and fun to him than Self and Kurtis Townsend. One thing you can't undersell is having someone who has been in the fire. Norm Roberts was a head coach in New York for St. John's. KU has a nice blend on its staff, and has for a while. Different personalities on the staff offset each other, and that's a good thing.
• On highly-ranked recruits: The key with Kansas has been evaluating and projecting what they could become. You can look at players who are ranked in the top five or 10 and you know they will have a huge impact. But there isn't much difference between 11 and 50. Those recruiting services, though Self appreciates them, are overrated. KU coaches have done a good job of plugging in guys that fit the program.
• Wayne Selden is getting it. Embiid and Wiggins deserve the majority of the attention, but if KU didn't have those two, Selden would be a guy that would be in consideration for freshman of the year in the Big 12.
• Naadir Tharpe has given KU point guard play that has allowed the Jayhawks to do well in the Big 12. He has gotten better, but one area where he can get better is on the defensive end.
• Wiggins has learned to impact the game with his athletic ability. People line up and what to get a piece of him, because he got so much attention. He has had the best season of any player on the team to this point. Wiggins has been the most consistent. That's pretty good when you don't have upperclassmen to show you how to do it, plus all the expectations on him. He has been himself and not tried to be what he's not. No disrespect to Embiid, but it's easier when there is less pressure. Now Embiid is feeling the way Wiggins has all season.
Wiggins is so nice. He might be the most polite kid KU has ever had. Nice is OK, except for two and a half hours a day. Wiggins couldn't have handled it better with all the hype. He just plays. Some of the things that are said about him register for him and motivate him.
• Oklahoma State is capable of beating anybody, particularly when they're playing at home. OSU is right at the top of the Big 12 in terms of raw talent.
• Self wouldn't say Kansas would never play Wichita State. KU is pretty locked in schedule wise, and that wouldn't be a part of what they have planned right now. KU will schedule strictly on what the program thinks is best. It might be better for KU to play out in New York or Los Angeles or Philadelphia. You want to do what's best for the program. When Self was at Illinois, the program had a presence in a lot of metropolitan areas because they were in the Big 10. It doesn't hurt now that he's at KU to be able to go play at Georgetown or another major city.
• Self thought against Texas Kansas was at the level it needs to be defensively. They didn't carry that over to the Oklahoma game. Kansas needs to make other teams play poorly. That's what got the Jayhawks to the title game in 2012.
• Re-focusing after clinching a share of the Big 12 title. Whenever you win your league, that's a good year. But good years aren't good enough. The whole focus now is what are they going to give to make good become great, and can they become special. It's hard to take those steps. If they're not motivated by that, then there is a problem.
• As the road team for a College Game day game: It's not too different from another road game. Except when guys are laying around watching TV, there will be a lot of talk about the game, which should get the Jayhawks amped up.
• Self's parting shot: "This may have been the longest press conference I've ever done."
— Hear the complete press conference by clicking here: Bill Self discusses what lies ahead for KU
— Listen to a Q & A with guard Wayne Selden: Wayne Selden discusses learning as a freshman, the Big 12 title
It feels like about a year ago that Kansas University's men's basketball team last faced Oklahoma.
Actually, it was only close to a full Big 12 schedule ago.
OU has played 12 times since the Jayhawks beat the Sooners, 90-83, back on Jan. 8, in Norman, Okla., and KU has competed in 13 games in the six-plus weeks that have passed since their first meeting.
This rematch doesn't have the same anticipation surrounding it as KU's revenge sequel with Texas on Saturday, but Oklahoma (20-7 overall, 9-5 Big 12) is one of three teams currently tied for second in the conference (Iowa State and UT are the others) and quickly running out of time in its pursuit of Kansas (21-6, 12-2).
Tonight's Big Monday game at Allen Fieldhouse is one of KU's biggest to date, because a victory guarantees the Jayhawks at least a share of their 10th straight Big 12 championship.
Kansas coach Bill Self said Saturday night it has been long enough since KU faced Oklahoma that players from both teams have long forgotten the intricacies of the scouting reports they received for that game.
So, what have Lon Kruger's Sooners been up to? For one, they spent most of Saturday afternoon blasting Kansas State. The final score was OU 86, K-State 73, but Oklahoma led by as many as 27 points in the second half on its home floor.
That was Oklahoma at its best, but the Sooners have been inconsistent over the past few weeks. In fact, three of OU's five conference losses have come in the last six games. The Sooners really needed their win over K-State on Saturday, as well as their victory at Oklahoma State (without Marcus Smart) a week earlier, because prior to that they had dropped three of their previous four:
• L 81-75 at Iowa State on Feb. 1
• L 91-86 (OT) at West Virginia on Feb. 5
• W 88-72 vs. Baylor on Feb. 8
• L 68-60 vs. Texas Tech on Feb. 12
Despite its recent road setbacks, Oklahoma is 8-4 away from Norman this season — 4-3 in true road games and 4-1 at neutral sites.
The Sooners create most of their success on the offensive end of the court. In Big 12 games, Oklahoma is:
1st in free throw percentage (76.4%)

1st in made 3-pointers (124, or 8.9 a game)

3rd in scoring (78.6 points)

3rd in 3-point FG percentage (37.3%)

tied for 3rd in steals (6.29)
Kruger has embraced the power of the 3-pointer, so OU isn't shy from behind the arc. The Sooners average 21.8 attempts from deep per game, and they are the only team in the Big 12 with six players to have made at least 20 3-pointers.
Let's get reacquainted with the six OU gunslingers (and one of their teammates).
Buddy Hield, No. 24
6-4, 208, so. guard
— Jan. 8 vs. KU: 18 points, 6/14 FGs, 3/8 3s, 3/4 FTs, 8 rebounds (3 offensive), 1 steal, 1 turnover, 5 fouls in 38 minutes.
Fact: Hield is going to hoist some 3-pointers. He averages 6.7 attempts from deep a game and has made 70 of his 182 tries (38.5%).
He averages 17.5 points and 3.4 successful 3-pointers a game in Big 12 play, and scored a career-high 30 points at ISU on Feb. 1.
In three of his last six games, he has made five from downtown.
Defensively, the sophomore guard is second in the Big 12 in steals (1.44 a game, behind only Marcus Smart's 2.46).
Cameron Clark, No. 21
6-7, 211, sr. forward
— Jan. 8 vs. KU: 32 points, 10/18 FGs, 0/4 3s, 12/16 FTs, 3 rebounds, 1 steal, 4 personal fouls in 29 minutes.
Percentage-wise, the versatile forward is OU's most effective 3-point shooter. Clark, who torched Kansas for 32 points back in January without even making a 3, has converted 28 of his 60 tries from downtown (46.7%).
During OU's last four games, he has hit 20 of his 33 shots (60.6%). He scored 11 points and grabbed eight rebounds Saturday vs. K-State.
Clark averages 15.2 points and 5.7 rebounds, and when he draws contact, he hits 78.4% of his free throws.
Jordan Woodard, No. 10
6-0, 185, fr. guard
— Jan. 8 vs. KU: 10 points, 0/5 FGs, 0/1 3s, 10/10 FTs, 1 rebound, 2 assists, 1 steal, 2 turnovers.
This freshman isn't only a threat from long range (22 for 58, 37.9%), he attacks the opposing defense.
Woodard's 173 free throw attempts lead OU, he shoots 77.5% at the foul line and that's where he has scored 45% of his 11.0 points a game this season.
He tends to wear down defenders in the second half — that's when 128 of his free-throw attempts have come.
Sixth in the Big 12 with 4.7 assists a game, the first-year point guard can set up his teammates almost as easily as he can create his own offense.
Isaiah Cousins, No. 11
6-4, 186, so. guard
— Jan. 8 vs. KU: 4 points, 1/5 FGs, 0/1 3s, 2/2 FTs, 2 rebounds, 1 assist, 2 steals, 2 turnovers.
The sophomore is coming off a 6-for-11, 17-point outing against K-State and has made 43.4% of his field goals this season. His career high of 21 came four games ago against Baylor.
Cousins averages 10.5 points and 4.1 rebounds. From the land of 3, he has made 26 of his 72 shots (36.1%).
Ryan Spangler, No. 00
6-8, 232, so. forward
— Jan. 8 vs. KU: 4 points, 2/3 FGs, 3 rebounds, 4 assists, 1 steal, 1 turnover, 4 fouls in 23 minutes.
Hey, it's a Sooner who isn't going to shoot a 3-pointer … Well, actually he might, too. Even OU's bruiser has hit 3 of 11 from distance.
But most of the time, you'll find Spangler attacking the glass — and not just on defense. The sophomore power forward averages 9.6 boards a game and about a third of those come on offense (3.3 a game).
The hard-working big man has 10 double-doubles to his name and leads the league in boards. He has been successful on 60.2% of his shots this season and made at least half of his attempts in 23 of OU's 27 games.
His board production fell off against K-State, when he only had two, but in other Big 12 games he has hauled in double-digit totals seven times, with a season-high 17 coming against Oklahoma State late last month.
Oklahoma bench
Tyler Neal, No. 15
6-7, 234, sr. forward
— Jan.. 8 vs. KU: 11 points, 4/5 FGs, 2/2 3s, 1/2 FTs, 2 rebounds, 1 turnover in 23 minutes.
In just 15.9 minutes a game, the substitute forward scores 6.8 points and pulls down 3.4 rebounds.
And, of course, he can knock down 3-pointers. Neal has nailed 27 this season and makes 42.2% of his bombs.
Frank Booker, No. 1
6-4, 198, fr. guard
— Jan.. 8 vs. KU: 4 points, 1/2 FGs, 1/2 3s, 1/2 FTs, 0 turnovers in 10 minutes.
A relative non-factor against Kansas the first time around, the backup guard has done damage against other Big 12 opponents and averages 5.3 points on the year.
The freshman went 4 for 6 on 3-pointers at OSU and scored 15 points. At K-State on Jan. 14 he made 3 of 7 treys for nine points.
On the season, Booker has hit 34 of 93 3-pointers (36.6%). The guy loves hanging out beyond the arc. He has only made seven two-point field goals this season.
Three weeks ago, Rick Barnes' Texas basketball team handled Kansas in Austin, Texas, giving the Longhorns their fourth straight win over a top-25 team and catapulting them into the chase for the Big 12 championship.
The Horns' bigs gave the Jayhawks fits, and point guard Isaiah Taylor flew up and down the floor, rarely slowing down.
Today, No. 19 Texas (20-6 overall, 9-4 Big 12) comes to Allen Fieldhouse trying to narrow the gap between first and second place against No. 8 Kansas (20-6, 11-2).
A pair of road setbacks since UT's defeat of Kansas on Feb. 1 kept the Longhorns from gaining any more ground on KU. Here is what Texas has done since knocking off the Jayhawks:
• W at TCU, 59-54
• L at Kansas State, 74-57
• W vs. Oklahoma State, 87-68
• W vs. West Virginia, 88-71
• L at Iowa State, 85-76
That leaves the top half of the Big 12 standings looking like this, heading into Saturday's marquee matchup between the top two teams in the conference:
Kansas, 11-2
Texas, 9-4
Iowa State, 8-5
Oklahoma, 8-5
Kansas State, 8-5
If the Jayhawks earn some redemption for their 81-69 loss at Texas tonight, a 10th straight Big 12 championship becomes even more attainable. If the Longhorns pull off a sweep of KU, the next couple of weeks become very interesting in the Big 12 title chase.
Texas held KU to 38.5% shooting in the first meeting. In the Longhorns' nine conference wins this season, opponents have scored 66.1 points and shot 38.1% from the floor — plus a 29.2% mark from 3-point range.
In their four Big 12 losses, the Longhorns allowed an average of 83.5 points per game on 47.6% shooting.
UT out-rebounds its opponents by an average margin of +8.0 a game, and has won the battle of the boards in 21 of 26 games. The Longhorns got the better of the Jayhawks, 38-33, on Feb. 1.
Now, it's time to get reacquainted with the Longhorns who will try to duplicate that success in tonight's rematch.
Jonathan Holmes, No. 10
6-8, 240, jr. forward
— Feb. 1 vs. KU: 22 points, 6/13 FGs, 1/2 3s, 9/10 FTs, 4 rebounds, 3 steals, 0 turnovers, 3 blocks.
The team's most experienced player and a certain leader, Holmes averages 13.1 points and 7.4 rebounds.
He's one of the most effective scorers in the Big 12, converting 51.2% of his shots, hitting 23 of 60 3-pointers (38.3%) and making 78% of his free throws.
The one thing he doesn't do much of on offense is pass to set up someone else: 16 assists this season vs. 43 turnovers.
He hauled in a UT season-high 16 boards (including six on offense) in the Longhorns' win at TCU on Feb. 4.
Defensively, Holmes is one of three UT players in the top eight in the league in blocked shots. At 6-8, he's eighth, with 1.21 swats a game.
Javan Felix, No. 3
5-11, 195, so. guard
— Feb. 1 vs. KU: 9 points, 1/6 FGs, 0/2 3s, 7/10 FTs, 2 rebounds, 2 assists, 1 turnover, 4 fouls in 18 minutes.
The undersized guard scored 16 points and nailed four 3-pointers for the second game in a row in UT's loss to Iowa State this week.
Felix has been on a tear the last three games, averaging 20.3 points on 22-for-52 shooting and 14-for-33 accuracy (42%) from behind the 3-point line.
On the season, he averages 12.8 points and 2.8 assists, but in Big 12 games, the sophomore's scoring numbers have gone up, to 15.5.
Felix leads UT with 44 3-pointers this season, and he attempts 5.3 a game, making 33%. He hit what proved to be a game-winner in the final seconds of overtime at Temple in December.
Isaiah Taylor, No. 1
6-1, 170, fr. guard
http://www.youtube.com/watch?v=Y-Y_viRB13c
— Feb. 1 vs. KU: 23 points, 7/14 FGs, 1/2 3s, 8/8 FTs, 1 rebound, 0 assists, 1 steal, 2 turnovers.
The speedy freshman was a highlight reel waiting to happen against Kansas in Austin, Texas.
Taylor averages 13.1 points and 3.7 assists on the season, but is coming off another breakout game at Iowa State, where he scored 26 points, and had eight assists, seven rebounds and one turnover.
Taylor has only taken 15 3-pointers this season, but uses his speed to create high-percentage opportunities, and shoots 41.7% from the floor.
His ability to beat his man off the dribble also helps him get to the free-throw line, where he has made 124 of 165 attempts (6.6 trips a game) this season — 75.2%.
In his last seven games, Taylor is averaging 19.1 points and shooting 45.3% from the floor. At the foul line in that stretch he has only missed three of his 50 free throws.
Cameron Ridley, No. 55
6-9, 285, so. center
— Feb. 1 vs. KU: 9 points, 3/7 FGs, 3/6 FTs, 10 rebounds, 0 assists, 1 steal, 2 turnovers, 4 blocks, 4 fouls in 23 minutes.
The ginormous center delivered one of the most impressive plays of the game against Kansas three weeks ago, nearly tearing down the rim on a dunk as he went past Joel Embiid.
In 25.1 minutes a game this year, Ridley averages 10.8 points and a team-leading 7.9 rebounds.
Ridley pulls down 3.0 offensive rebounds a game.
His 2.31 blocks are third-best in the Big 12, and he denied four KU shots in the Horns' win at UT.
Demarcus Holland, No. 2
6-2, 185, so. guard
— Feb. 1 vs. KU: 4 points, 1/4 FGs, 2/4 FTs, 11 rebounds (5 offensive), 3 assists, 2 steals.
Usually the last offensive option when he is on the floor, Holland still averages 7.8 points a game.
The sophomore has made 40.5% of his shots this season, but struggles from behind the 3-point line, where he has only made 13 of 45 (28.9%).
Those shooting woes carry over to the foul line, too, where Holland is just 41 for 73 (56.2%) on the year.
Still, as a guard he averages 5.0 rebounds and does enough little things that he leads UT in minutes a game this season: 31.12.
Texas bench
Connor Lammert, No. 21
6-9, 235, so. forward
— Feb. 1 vs. KU: 7 points, 3/5 FGs, 0/2 3s, 1/2 FTs, 1 rebound, 1 assist, 1 turnover, 1 block in 19 minutes.
Though he comes off the bench, Lammert has scored in double figures four times this season.
The sixth man averages 5.7 points and is third on the team with 5.0 rebounds.
The 6-9 forward stretches opposing defenses occasionally, making 14 of 37 3-pointers this season.
Overall from the floor, Lammert has made 49.6% of his shots.
Prince Ibeh, No. 44
6-10, 250, so. center
— Feb. 1 vs. KU: 2 points, 1/3 FGs, 0/2 FTs, 3 rebounds (all on offense), 1 turnover, 4 blocks, 3 fouls in 17 minutes.
Ibeh didn't play a ton against Kansas, but he proved to be as significant a deterrent to the Jayhawks' offense as anybody in burnt orange, swatting away four KU shot attempts.
The backup big only averages 14.0 minutes a game this season, but contributes 3.7 rebounds and 1.88 blocks (fourth in the Big 12) to go with 4.2 points.
Unfortunately for Trent Johnson, the above pose has been his go-to move this season.
That's what going winless in conference play will do to a coach.
Things won't get any easier for his TCU team (9-14 overall, 0-11 Big 12) today at Allen Fieldhouse, but they could be worse. The Horned Frogs could have to deal with Kansas starting freshman center Joel Embiid. But Jayhawks basketball coach Bill Self announced Friday the 7-foot phenom will miss the game, because he didn't practice on Friday and continues to recover from some nagging knee and back soreness.
That's good news for TCU, because Embiid went for 14 points, six rebounds and three blocks in just 19 minutes in a 91-69 Jayhawks blowout victory on Jan. 25 at Fort Worth, Texas.
The Frogs, dead last in the Big 12 standings, will take all the help they can get against first-place KU (18-6, 9-2).
Though the Horned Frogs have lost 11 straight games since closing their non-conference schedule on Dec. 29 by beating Texas Southern, three of their Big 12 losses have come by six points or less. Most recently in such a scenario, they gave Texas a scare on Feb. 4 before falling at home, 59-54.
Still, the fact of the matter is TCU just isn't that good, despite the presence of a few talented players. One major issue is depth. Johnson relies heavily on his starters, and they can only do so much.
The Frogs are in the bottom half of the Big 12 in almost every statistical category. They only rank among the top five teams in the league in free-throw percentage (third, 73.1%) and turnover margin (fourth, +1.26 a game).
Now, let's get reacquainted with the five TCU starters who will do all they can to pull off a mammoth upset at Allen Fieldhouse.
Kyan Anderson, No. 5
5-11, 175, jr. guard
— Jan. 25 stats vs. KU: 12 points, 2/8 FGs, 0/3 3s, 8/8 FTs, 1 rebound, 8 assists, 1 steal, 1 turnover in 37 minutes.
TCU's best shooter — 47.1% field goals, 33 of 84 3-pointers, 85.4% free throws — gives the Horned Frogs much more than that.
Anderson is seventh in the Big 12 in scoring at 16.3 points a game, but he's also fourth in a assists with 4.9, second in the league in free-throw percentage (behind only Oklahoma State's Phil Forte, who hits 92.5%) and averages 1.3 steals in 34.6 minutes.
He has eight 20-plus point game this season and became a 1,000-point career scorer at TCU with 27 points at Iowa State.
Amric Fields, No. 4
6-9, 220, jr. forward
— Jan. 25 stats vs. KU: 13 points, 5/10 FGs, 1/2 3s, 2/4 FTs, 7 rebounds, 2 assists, 2 turnovers, 1 block in 37 minutes.
The junior forward has led the Frogs in scoring six times this season while only playing in 16 games.
Fields averages 13.6 points and 6.1 rebounds and is a threat from three-point range, too, making 18 of 50 from deep to date.
Basically, the Frogs' offense goes as Fields and Anderson go. In Big 12 games, the two have combined to score 326 of TCU's 650 points and have 68 of the team's 124 assists.
Fields' seven rebounds against Baylor made him the team leader in that category for the fifth straight game.
Brandon Parrish, No. 11
6-6, 185, fr. guard
— Jan. 25 stats vs. KU: 15 points, 6/11 FGs, 2/3 3s, 1/2 FTs, 0 rebounds, 1 assist, 1 steal, 1 turnover, fouled out in 32 minutes.
The freshman has scored double digits 13 times in his first season, with a season-high of 18 against West Virginia.
Parrish averages 9.7 points and 3.3 rebounds, and has connected on 31 of his 84 3-pointers (36.9%).
He is shooting nearly 40% from the field in conference play.
Karviar Shepherd, No. 1
6-10, 225, fr. center
— Jan. 25 stats vs. KU: 8 points, 2/6 FGs, 4/4 FTs, 4 rebounds, 1 steal, 3 turnovers, 3 blocks, fouled out in 18 minutes.
The highest-rated player ever to wear the TCU uniform (No. 46 in the class of 2013 by Rivals.com), the big man has given the Horned Frogs a legit interior presence.
Shepherd averages 8.4 points, is 10th in the Big 12 with 6.9 rebounds and swats about 2.0 shots a game (fourth in the league).
He's a solid free-throw shooter, who hits 74.1% at the line this year (12th in the Big 12).
He didn't play that well in his first matchup with Kansas, and Embiid had something to do with that. If the Frogs stand a chance of sticking around with the Jayhawks in the rematch, they'll need a career day from the center whom KU once recruited.
Shepherd scored a career-high 15 points against Texas Tech and secured 11 rebounds, his best effort in Big 12 play, against Oklahoma.
Jarvis Ray, No. 22
6-6, 195, sr. forward
— Jan. 25 stats vs. KU: 8 points, 2/6 FGs, 4/5 FTs, 5 rebounds, 3 assists, 1 steal, 2 turnovers in 23 minutes.
The only senior in the starting lineup is also the only senior in TCU's entire rotation.
Ray has started every game for the Horned Frogs this season, and averages 8.5 points, 3.8 rebounds and 1.3 steals.
For a guard, he makes his presence felt on the glass, and has 28 offensive boards on the year.
He has only scored double digits in one Big 12 game this season: 11 on Jan. 11, vs. Baylor. In the eight games since, his best outing was against KU: eight points.
Kansas basketball coach Bill Self had his weekly press conference Thursday afternoon at Allen Fieldhouse, two days before the No. 7 Jayhawks (18-6 overall, 9-2 Big 12) play host to TCU (9-14, 0-11).
The Jayhawks rolled past the Horned Frogs, 91-69, on Jan. 25.
Here are the bullet-point highlights from Self's Q & A with the media.
• Joel Embiid's status: No update at this point. The freshman center feels better. The MRIs and things like that have been done, and they show that his injuries should get better quickly. A lot of his availability for Saturday depends upon whether he can practice on Friday. You think about it longterm, and they're not gonna do anything to jeopardize his health down the road. A lot of times there is no reason to hold guys out if they're healthy. Embiid's not doing anything at practice. Just dressed out for practice on Wednesday. No activity. Didn't even shoot free throws. He looks a little different — not exploding, not as likely to initiate contact. The big man just hasn't looked like himself.
• On Jamari Traylor, who didn't play against Kansas State due to disciplinary reasons: Self will visit with Traylor today and hold off on a decision until after they visit, but he anticipates that visit going well.
• KU's dribble-penetration defense: If you look at KU against K-State, the Jayhawks scored "all their points" on dribble penetration. It's the hardest thing to guard. In that particular game, KU didn't defend the rim "worth a flip" and allowed K-State to get inside off the bounce. Sometimes it is a matter of pride and want-to. Players have to be tough and mentally into it. On Monday, the Jayhawks didn't have that type of mindset.
• KU's ball-screen defense: There is a toughness element in fighting through it. K-State probably scored five baskets off ball-screen offense against Kansas. Three of those, KU's players probably weren't in tune to what they should have been doing.
• Self doesn't know what the players have learned from the K-State overtime loss, because they haven't played yet and have only had one 75-minute practice since then (the team had Tuesday off). Syracuse and Wichita State are the only teams that haven't had tough losses. KU is playing in the best conference in America and is 9-2. The Jayhawks aren't doing badly. But KU needs to be better at making other teams play poorly. They didn't do that at K-State.
• Brannen Greene was a spark against K-State. He was good late and helped KU's comeback to force overtime.
• You only play roughly 35 games in a season, so players should be excited every time they play. There are dog days in baseball, football can become more of a grind late in the season. The key in basketball is how does a player's body feel. A lot of guys are sore but they're not hurt. That's natural at this time of year.
• On Conner Frankamp playing well in limited minutes: All the role players have done well but they haven't had the same opportunities as their starters. All the players have done well, and that's great for the team moving forward, even into next year as guys who are coming back will be chomping at the bit to play a bigger role.
• TCU is winless but they'll get one before the year is over. It's just a matter of time. They were actually close in the second half at Iowa State, and Melvin Ejim scored 48.
• SMU emerging under Larry Brown and Tim Jankovic: To see the interest level and the new arena and brining college basketball excitement back to the Metroplex is very cool to see. They probably did that faster than a lot of people thought.
• Saturday, Monday format of the Big 12 is great preparation for the NCAA Tournament.
• Several former players have said they will be back for this weekend with the NBA All-Star break. Self probably won't find out until about 5 p.m. Friday that they need tickets. "That's kind of how my guys operate."
— Click here for complete audio from the press conference.
— Hear from freshman Brannen Greene and senior Tarik Black by clicking here.
That sneaky Bob Huggins. West Virginia's men's basketball coach must have chuckled to himself when his Mountaineers were picked seventh in the Big 12 preseason poll.
Huggy, the third-winningest active coach in college basketball (737 career victories) probably kept laughing inwardly during the non-conference schedule, as outsiders continued to write off WVU because of its early-season struggles.
All the while, West Virginia kept improving. Now here we are a week into February and the Mountaineers, though 14-9 overall, are in third place in the Big 12 with a 6-4 record — the same mark held by Oklahoma, the No. 21-ranked team that lost at WVU, 91-86, in overtime on Wednesday.
The victory over OU was just the latest in a string of key victories for West Virginia, which has won four of its last five games, beating Texas Tech, Baylor and Kansas State before knocking off the Sooners.
Three-point shooting and precise offense have made WVU's Big 12 success possible heading into Saturday's game at Allen Fieldhouse against No. 8 Kansas (17-5, 8-1).
In conference games, the Mountaineers have made 75 of their 206 three-pointers (36.4%). Their turnover numbers are even more impressive. Through 10 Big 12 games, WVU has averaged just 9.8 giveaways a game, compared to 13.7 for its opponents (West Virginia averages 7.0 steals a game, too). That's a Big 12-best turnover margin of + 3.9 a game.
When the Mountaineers miss long jumpers, they tend to track some down. They average 12.1 offensive boards a game in Big 12 play.
Nothing would make Huggy Bear happier Saturday than beating Kansas for the first time in his 21 seasons as a head coach — Huggins lost both games against the Jayhawks last season, went 0-3 vs. KU when he coached at Kansas State and lost to Kansas once as Cincinnati's head coach.
Let's meet the players who will try to help Huggins end his losing streak against the Jayhawks.
Juwan Staten, No. 3
6-1, 190, jr. guard
As the above clip proves, Staten is the most explosive player in a West Virginia uniform. Not only does he jump out of the gym, but he averages 18.1 points a game (second in the Big 12 to Melvin Ejim, Iowa State, 18.3) and 6.0 rebounds. Six rebounds. At 6-foot-1.
In Big 12 play, he's been even better, averaging a league-best 20.4 points and making 53% of his shots (second in the Big 12 to Thomas Gibson, K-State, 58%).
He rarely hurts WVU with his decisions, either. Staten dishes 5.5 assists a game in conference action (second in Big 12 to DeAndre Kane, Iowa State, 5.8), and he has one or fewer turnovers in 17 of his last 30 games, dating back to last year.
Much to the dismay of opposing coaches, Staten basically never leaves the court. He leads the Big 12 in minutes played at 37.4 a game. Amazingly, in conference games, he averages more than 40 minutes — 40.2 — because WVU has played two overtime games.
Really, the only thing he doesn't do is make three-pointers — 5-for-14 this season.
Eron Harris, No. 10
6-3, 195, so. guard
If you watched the highlights in the intro from the Oklahoma game, you noticed a common audio refrain: "Eron Harris … for three!" He drilled 6 of 13 from deep against the Sooners.
Harris carries nearly as much of the scoring load as Staten. KU coach Bill Self said the two combine to form arguably the best backcourt in the Big 12.
Slightly bigger than his running mate, at 6-foot-3, Harris averages 17.5 points and 3.7 rebounds. He leads WVU with 64 three-pointers and a success rate of 42.7%.
Terry Henderson, No. 15
6-4, 200, so. guard
The third guard in the Mountaineers' starting lineup, Henderson averages 12.5 points a game and has produced double digits in 13 of his last 16 games.
He's not as lethal as Harris from behind the arc, but he has made 37 threes this season. He scored 17 points against OU, behind 3-for-8 shooting from three-point distance and going 4-for-4 at the foul line, where he shoots 83.6% on the year.
Devin Williams, No. 5
6-9, 255, fr. forward
A true interior player — a rarity in this lineup — Williams is the only WVU starter who won't take any shots outside. He hasn't attempted a three-pointer all season.
Williams is the biggest man in a relatively small lineup, and averages 8.8 points and a team-high 7.3 rebounds. His 57 offensive rebounds are by far the most on the team.
The power forward has only made 40.7% of his shots in his freshman season, and he has five double-doubles. Williams pulled down 13 boards and scored 12 points at home against Oklahoma State, in an 73-72 loss.
Rémi Dibo, No. 0
6-7, 225, jr. forward
After tearing a meniscus in the preseason, the small forward recovered and became one of the most accurate three-point shooters on West Virginia's roster. Dibo is tied for second on the team in 3-pointers with 37, and has made them at a 40.7% clip.
He only averages 18.9 minutes a game this season, but Huggins started him each of the last two games. On the year, he averages 7.3 points and 3.2 rebounds. He had eight boards against Oklahoma.
West Virginia bench
Gary Browne, No. 14
6-1, 195, jr. guard
A veteran presence in a reserve role, Browne leads WVU in career games played with 87.
The experienced guard averages 5.9 points in 19.4 minutes, and he shoots 42.4% from the field. He played for the Puerto Rico national team and his known for his decision-making.
Nathan Adrian, No. 11
6-9, 230, fr. forward
Now he provides a spark off the bench, but earlier this season he started 11 games. The young big man was named Big 12 Newcomer of the Week back on Dec. 30, 2013.
Adrian averages 5.0 points and 2.8 rebounds but where he really bothers opponents is on the perimeter. He can stretch the defense by spotting up behind the three-point line, where he's made 27 of 72 (37.5%) this season.
His rebounding numbers (2.8 a game in 17.2 minutes) and free-throw attempts (7-for-11) indicate he doesn't play very physically in the paint.
Baylor's free-fall through the Big 12 schedule appears to have stopped, or at least the Bears found a tree branch on which to grasp before crashing to the ground in the NIT forest.
Just when it seemed the losing and tumbling (out of the Top 25, down through the Big 12 standings and out of the list of teams worthy of making the NCAA Tournament) might turn the Bears' season into an unrecognizable pile of disappointment, Scott Drew's team ended a five-game losing skid by winning just its second Big 12 game of the year on Saturday — at Oklahoma State of all places.
The 76-70 victory over the Cowboys (then ranked No. 8 in the country) proved, at most, the people who voted Baylor into the top 10 back in December weren't completely off the mark or, at least, the Bears could beat a team in the Big 12 not named TCU.
The truth probably lies somewhere in between. The good news for Drew is his players shouldn't enter tonight's home game against No. 8 Kansas staggering. You'll remember the Bears (now 14-7 overall and 2-6 in the Big 12) lost, 78-68, at Kansas on Jan. 20.
As the score indicates, Baylor didn't play that poorly. The Bears out-rebounded KU, 31-29, pulled down 20 offensive rebounds on their 36 misses, and out-scored the Jayhawks, 15-8, in second-chance points. BU knocked down 13 of its 27 three-pointers (48.1%) to stick around, but went 9-for-20 at the free-throw line. The Bears only trailed by a point at Allen Fieldhouse with 15:30 left before Kansas pulled away.
Clearly, the Bears know they need to knock off Kansas (16-5, 7-1) to build their résumé back up and reinvigorate their season. They've taken to YouTube to try and get a packed house and an ideal home atmosphere for Tuesday's game at Ferrell Center.
A noisy home arena won't hurt, but if Baylor wants to give KU a true test, it will need to keep pounding the offensive glass (14.5 offensive rebounds a game in Big 12 play) and knocking down three-pointers (the Bears make 8.13 a game in conference action).
Baylor beat KU in Waco, Texas, last season, and is the only team in the nation to have defeated the Jayhawks in each of the last two seasons.
Let's get reacquainted with the players who will try to make it three seasons in a row.
Cory Jefferson, No. 34
6-9, 220, jr. forward
— Stats Jan. 20 vs. KU: 16 points, 6 of 10 FGs, 2 of 2 3s, 2 of 4 FTs, 6 rebounds, 1 assist, 3 turnovers, 1 steal.
In 23 of his last 28 games, Jefferson has scored in double figures. Though he has slowed down of late, going scoreless in the first half of each of Baylor's last three games, he has averaged 8.3 points in the second half during that stretch.
His 12.5 points and 8.4 rebounds lead the Bears, and he is shooting 52.5% from the floor this season.
Brady Heslip, No. 5
6-2, 180, sr. guard
— Stats Jan. 20 vs. KU: 19 points, 6 of 10 FGs, 6 of 9 3s, 1 of 2 FTs, 3 rebounds, 1 assist, 1 turnover.
A super-sub when Baylor lost at Allen Fieldhouse a couple weeks ago, Heslip accounted for nearly half of the Bears' 13 thee-pointers.
The long-range assassin leads the Big 12 in three-pointers made per game (3.0) and is second in three-point percentage (47.3%), behind OSU's Phil Forte (48% entering Monday). Of his 298 career field goal attempts, 245 of them are from behind the arc.
As much as he gives Baylor an amazing scoring threat from three-point range, Heslip also rarely turns the ball over, averaging one giveaway every 55.1 minutes.
He's averaged 11.3 points this season, and just became a starter two games ago.
Kenny Chery, No. 1
5-11, 180, jr. guard
— Stats Jan. 20 vs. KU: 3 points, 1 of 8 FGs, 0 of 3 3s, 1 of 2 FTs, 1 rebound, 8 assists, 2 turnovers, 1 steal.
The point guard had to miss Baylor's win at OSU with an ankle injury. Drew and the Bears will be glad to have him back.
Chery's 2.6-to-1 assist-to-turnover ratio is third in the Big 12, and he's fourth in the league at 5.0 assists a game. In his last nine games, he passed out 42 assists and only gave the ball away 13 times.
The junior makes 85.1% of his free throws and averages 11 points a game.
Isaiah Austin, No. 21
7-1, 225, so. center
— Stats Jan. 20 vs. KU: 16 points, 6 of 15 FGs, 4 of 8 3s, 0 of 3 FTs, 5 rebounds (4 offensive), 0 assists, 1 turnover, 2 blocks, 2 steals.
Something about playing KU turned the big man three-crazy. Certainly it was part of the game plan — drawing KU posts, primarily Joel Embiid, away from the paint — but it also worked better than anyone could have anticipated.
Austin had made three from downtown all season before drilling a career-high four at Kansas. In Baylor's three games since, the center is 1-for-5 on three-pointers. Expect more bombs from the seven-footer at the Ferrell Center. It must make the sophomore feel even younger, because he hoisted 90 threes last season, compared to 23 so far in 2013-14.
BU really might need his threes to drop, too. Austin hasn't reached double figures since hit outburst at KU.
The center averages 10.2 points and 5.5 rebounds. Defensively, he leads the Big 12 with 2.7 blocks a game.
Royce O'Neale, No. 00
6-6, 220, jr. forward
— Stats Jan. 20 vs. KU: 8 points, 3 of 7 FGs, 1 of 3 3s, 1 of 2 FTs, 5 rebounds (4 offensive), 3 assists, 3 turnovers, 2 steals.
A strong passer for a small forward at 2.6 assists a game, he typically doesn't contribute much scoring at 5.9 points a game.
But his eight points against Kansas were the most he scored against any Big 12 team this season. He hurt the Jayhawks on the offensive glass, too, extending Bears possessions four times.
Baylor bench
Gary Franklin, No. 4
6-2, 190, sr. guard
— Stats Jan. 20 vs. KU: 0 poins, 0 for 2 FGs, 0 for 2 3s, 1 rebound, 1 assist, 1 turnover, 2 steals in 10 minutes.
With Chery sidelined at Oklahoma State, Franklin went for 11 points, 5 assists and 3 steals in the Bears' critical road win on Saturday.
In seven of his last 17 games, Franklin has contributed double figures. He makes 39.8% of his threes, averages 1.6 makes a game from deep and 6.9 points a game.
Rico Gathers, No. 2
6-8, 270, so. forward
— Stats Jan. 20 vs. KU: 6 points, 1 of 4 FGs, 4 for 7 FTs, 7 rebounds (4 offensive), 2 turnovers, 2 blocks in 19 minutes.
The backup big is a load in the paint, especially on the glass. Constantly beasting any player who gets in his way, the hard-working forward ranks third in the nation in offensive rebounds per minute (0.18) and total rebounds per minute (0.41).
Gathers came through with 14 points and 6 boards at OSU, and averages 7.9 points and 7.6 rebounds.
Taurean Prince, No. 35
6-7, 210, so. forward
— Stats Jan. 20 vs. KU: 0 points, 0 of 3 FGs, 1 rebound, 1 assist, 3 turnovers, 1 steal in 11 minutes as a starter.
Sometimes Prince comes up with much-needed production and sometimes Drew barely plays him enough minutes to make an impact.
Obviously, Prince was a non-factor at KU. Ditto for Baylor's Saturday win at Oklahoma State (3 points in 11 minutes). But in the two games in between he produced double digits both times. The forward had 12 points and 6 rebounds against Texas, and 11 points, two three-pointers and 3 rebounds against West Virginia.
During his past 10 games, the sophomore is averaging 10.8 points. On the year, he scores 8.1 a night.
Maybe we should have known Rick Barnes would have his Texas Longhorns right back in the thick of the Big 12 hunt this year.
But after the Horns went 16-18 last season and lost in the first round of the CBI Tournament (yes, that is a thing; it's a rung below the postseason NIT) it seemed easy to think Texas would spend 2013-14 rebuilding.
Not exactly. With three straight wins over ranked opponents, Texas nabbed a ranking of its own, coming in at No. 25 in this week's poll. The Longhorns are 16-4 overall and 5-2 in the Big 12, which puts them in third place (a half-game behind Oklahoma) entering Saturday.
Suddenly, Texas is one of the surprise teams of the nation. But, really, we should have seen it coming. As KU coach Bill Self talked about Friday morning, last season was an anomaly for UT.
Prior to the Horns' cameo in the CBI, Barnes led Texas to the NCAA Tournament in each of his first 14 years with the program. In fact, UT reached the Sweet 16 five times in the past 12 years. Only 12 other programs in the nation have made it to that stage at least five times in that span: Duke (nine), Kansas (nine), Michigan State (seven), Connecticut (six), Kentucky (six), North Carolina (six), Syracuse (six), Wisconsin (six), Arizona (five), Pittsburgh (five), Louisville (five) and Xavier (five).
Anybody who has kept up with the Big 12 since its inception in 1998-99 knows what Texas is capable of under Barnes. Obviously, Kansas (winner of nine straight league titles) has the best record in that span at 208-43. Behind the Jayhawks, in second, is Texas (172-79), with 23 more wins than Oklahoma.
Texas has won five straight games — vs. Texas Tech, at West Virginia, vs. Iowa State, vs. Kansas State and at Baylor — entering Saturday's showdown at the Erwin Center with No. 6 KU (16-4, 7-0).
So, how are the Longhorns doing it?
In Big 12 games, they are hitting 45.6% of their shots (second to KU's 54.4%), they lead the league in field-goal percentage defense at 40.6%, they're second in three-point field goal percentage defense (31.3%, only slightly behind Texas Tech's 30.6%), they pull down a league-best 38.4 rebounds a game and they swat 5.6 shots a game (second in the Big 12 to KU's 5.9 blocks).
In its current win streak, Texas is holding opponents to 66.6 points a game on 39.2% shooting and 25.9% from three-point land.
Let's meet the players who make it happen on both ends of the floor.
Jonathan Holmes, No. 10
6-8, 240, jr. forward
Holmes owns the signature play of the Longhorns' season to date, with a buzzer-beating three-pointer from the right corner that beat Kansas State, 67-64, on Jan. 21 in Austin. On the season, he has converted 19 of his 50 from downtown.
He and freshman guard Isaiah Taylor lead Texas with 15 double-figure scoring games so far this season. Holmes averages 12.9 points and 7.4 rebounds a game.
His board numbers are a little better in Big 12 games, in which he averages 8.3, third-best in the league.
Javan Felix, No. 3
5-11, 195, so. guard
The leading returning scorer from the disappointing 2012-13 Longhorns (6.8 points), Felix has scored in double figures 14 times in his second year at Texas.
This season, Felix is averaging 12.2 points and 3.0 assists. But he began to step up his game when UT got to its conference schedule. Through seven Big 12 games, the sophomore leads Texas with 15.6 points per game, and has made 40 of 97 field goals. In non-conference games, he shot 32.4% from the floor and averaged 10.3 points.
Felix dished five assists, with no turnovers, in the Longhorns' win over Baylor.
Isaiah Taylor, No. 1
6-1, 170, fr. guard
Taylor had a career night, scoring 27 points at Baylor this past Saturday, as you can see in the video clip below.
The young floor leader, who made 10 of 18 shots, seven of eight free throws, and had three steals and three assists, said after the game that the team's bigs, Cameron Ridley and Holmes, opened things up for the Longhorns' guards.
During UT's five-game winning streak, Taylor has averaged 13.4 points and 2.8 rebounds a game. On the year, he has put up 11.7 points and 3.7 assists a game.
Cameron Ridley, No. 55
6-9, 285, so. center
The big man's 8.9 rebounds a game in Big 12 play are second only to Oklahoma's Ryan Spangler (11.1). Ridley averages 3.1 offensive rebounds and 2.4 blocks in league games.
He swatted away five shots against Iowa State, marking the fourth time in his career he blocked at least five in one game. In fact, Ridley blocked six twice this season, against BYU (in a loss in November) and UT-Arlington.
The Longhorns' overall leading rebounder this season (7.8 a game) — and shot blocker (48 this season) — also scores 11.2 points an outing.
Demarcus Holland, No. 2
6-2, 185, so. guard
At 8.6 points a game, Holland doesn't light up the scoreboard too frequently, but he's a glue guy that makes Texas successful.
Even with a 6-2, 185-pound frame, the sophomore guard averages 5.0 rebounds. Holland fills his role-player duties so well that Barnes plays him 31.4 minutes a game. Holland leads Texas with 24 steals, and is third in assists (52).
Texas bench
Connor Lammert, No. 21
6-9, 235, so. forward
Sixth on the team in minutes (19.1 a game), the backup big is the Longhorns' fourth-best rebounder (4.8 a game). Lammert adds 5.5 points per game and shoots 50% from the floor.
Four times this season, Lammert has scored in double figures, the latest coming at Oklahoma State, where he contributed 11 on 5-for-8 shooting.
Prince Ibeh, No. 44
6-10, 250, so. center
Much like Ridley, Ibeh alters or blocks shots regularly. The backup center has turned away 39 of his opponents' shots and grabs 3.5 rebounds a game in just 13.6 minutes.
He's averaging 2.1 blocks in the Longhorns' last 14 games, has blocked at least three shots on four different occasions this year and adds 5.0 points.

Find more businesses on Marketplace
Arts & Entertainment · Bars · Theatres · Restaurants · Coffeehouses · Libraries · Antiques · Services
Blog: New plans filed for major shopping center south of SLT and Iowa Street interchange

June 29, 2015 · 35 comments

Supreme Court declines to hear Kobach appeal on proof of citizenship

June 29, 2015 · 21 comments

Man charged in downtown stabbing; victim believes motive related to sidewalk donation

June 29, 2015 · 7 comments

KU designates 'reflection room' for students of all faiths or no faith to pray, meditate

June 28, 2015 · 15 comments

Lawrence gay couples ecstatic over U.S. Supreme Court ruling

June 26, 2015 · 45 comments

Letter: Kasold plan support

June 29, 2015 · 11 comments

Chad Lawhorn named as Journal-World managing editor

June 29, 2015 · 4 comments

Activists ask Wichita to remove Confederate flag from park

June 24, 2015 · 77 comments

Supreme Court declares nationwide right to same-sex marriage

June 26, 2015 · 46 comments

Letter: Climate strategy

June 3, 2015 · 166 comments