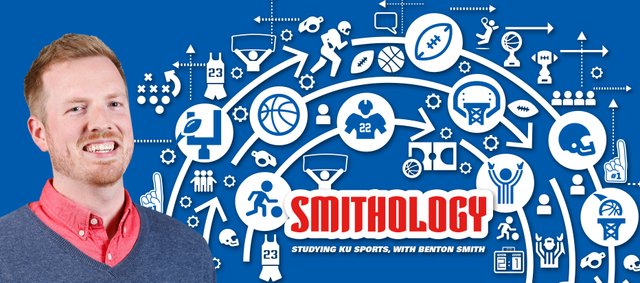 Posts tagged with
Buddy Hield
As Bill Self mentioned following Kansas University's Saturday night loss at Iowa State, the Jayhawks don't have much time to recover and prepare for another solid offensive team in Oklahoma.
The Sooners (12-5 overall, 3-2 Big 12) head to Allen Fieldhouse for Big Monday coming off an 82-65 dismantling of rival Oklahoma State. It was just what OU needed, having lost in overtime to Kansas State and by 21 at West Virginia in its previous two league games.
Only two opponents this season — Butler and Wisconsin — have held Oklahoma below 60 points. The Sooners average 73 points a game (third in the Big 12) and have shot 44.6% from the field (fourth in Big 12).
But Lon Kruger's team knows how to defend, too. OU has held its competition to 36.9% shooting (third in the Big 12).
Meet the six Sooners KU (14-3, 3-1) has to worry about on Big Monday.
SOONERS STARTERS
No. 24 — Buddy Hield, 6-4, junior G
Just a fraction of a point behind Oklahoma State's Le'Bryan Nash (17.7 points) for Big 12 leading scorer honors, Hield averages 17.6 points. Unlike his rival from OSU, he can torch opponents from long range.
His 40.8% 3-point shooting ranks fifth in the conference, and he is always ready to fire. HIeld already has made 51 3's this season — to lead the Big 12 — on 125 hoists.
He's no one-trick Sooner, either. Hield leads OU with 22 steals, averages 5.6 rebounds and makes 81.8% of his free throws (sixth in the Big 12).
Hield destroyed Oklahoma State on Saturday, nailing all 10 of his field-goal attempts, including four 3-pointers, on his way to 27 points.
He scored 31 in a loss to Kansas State and is averaging a Big 12-best 22.4 points in conference games.
— hoop-math.com nugget: Good luck coaxing Hield into taking 2-point jump shots, a range at which he only makes 25.8% of his attempts. He takes less than two of those a game and only 13.6% of his 228 shots have been on 2-point jumpers. Hield basically lives downtown, and at the rim.
No. 11 — Isaiah Cousins, 6-4, junior G
Though he doesn't jack as many 3-pointers as backcourt mate Hield, Cousins actually shoots the deep ball at a higher percentage. He has nailed 32 of 72 3-pointers (44.4%, third in the Big 12).
Cousins hit 4 of 8 3-pointers against Baylor, 3 of 5 at Texas and 3 of 5 at West Virginia.
He averages 12.5 points and 5.7 rebounds, but does turn the ball over more than any of his teammates (2.4 a game). His carelessness has picked up since the start of Big 12 play, too. Cousins has averaged 4.3 giveaways in the past three games.
— hoop-math.com nugget: 34.1% of Cousins' shots have been 2-point jumpers. He has made 20 of 59, and they primarily come one-on-one. Only three of his 2-point jumpers have been assisted.
No. 35 — Tashawn Thomas, 6-8, senior F
The former Houston big man has added some power to the Sooners' rotation after learning 17 hours before the season opener the NCAA had granted him a waiver to play.
He entered the season with 34 career double-doubles on his resume and has averaged 11.5 points and 5.9 boards as a Sooner, while leading OU with 1.5 blocks.
Both of Thomas' double-doubles this season have come in Big 12 play: 12 points/11 boards at Texas, 14 points/11 boards vs. K-State.
He blocked three shots at West Virginia and two vs. OSU in his last two games. In the non-conference, he swatted five shots against Missouri.
To open conference play, Thomas lit up Baylor, making 11 of 17 shots and scoring 24 points.
— hoop-math.com nugget: As you might've guessed, Thomas mostly operates inside, with 57.2% of his shots coming at the rim. He's not too bad in short- to mid-range, either. His 40% shooting (24-for-60) on 2-point jumpers leads OU's rotation players.
No. 00 — Ryan Spangler, 6-8, junior F
Again one of the top rebounders in the conference, Spangler averages 8.2 boards a game (second to Rico Gathers' 11.2).
When the OU defense gets stops, he's usually the guy finishing them off. He leads the Big 12 with 6.2 defensive boards a game.
Spangler contributes 9.5 points a game, too, and makes 55.4% of his shots. Since he transferred to Oklahoma from Gonzaga, he has hit 50% or better in 38 of his 50 games, all of which he has started.
The rugged forward went for 11 points and 11 rebounds against OSU, his fifth double-double of the season.
— hoop-math.com nugget: Even though most of Spangler's boards come on defense, he averages 2.0 a game on offense and has 15 put-backs this season. 25% of his shots at the rim have been on the offensive glass. Spangler shoots 73.3% at the rim (44 of 60).
No. 10 — Jordan Woodard, 6-0, sophomore G
The least likely scorer in OU's starting five, the second-year guard scores 7.9 a game.
The Sooners need Woodard to set things up on offense, and he averages 4.5 assists a game (second in the Big 12 to Monté Morris' 5.9).
He has started all 50 games of his OU career and has shot 82.4% at the foul line this season.
Woodard shot 5-for-7 vs. OSU, scored 13 points and dished four assists.
— hoop-math.com nugget: The point guard can get to the rim on his own. Of his 19 field goals at the rim this season, only one came via a teammate's assist.
SOONERS BENCH
No. 2 — Dinjiyl Walker, 6-1, junior G
Kruger barely uses his bench, with OU's five starters all playing 28 minutes a game or more. Walker is the one Sooner backup earning consistent minutes (13.7 a game).
The former junior-college guard averages 5.4 points a game on 39.8% shooting.
Walker's season-high is 13 points, against Northwestern State, but he also scored 10 points against both Wisconsin and Texas.
— hoop-math.com nugget: Walker hasn't been great from 3-point range (25%), but 43.4% of his 83 shot attempts have come from deep.
It feels like about a year ago that Kansas University's men's basketball team last faced Oklahoma.
Actually, it was only close to a full Big 12 schedule ago.
OU has played 12 times since the Jayhawks beat the Sooners, 90-83, back on Jan. 8, in Norman, Okla., and KU has competed in 13 games in the six-plus weeks that have passed since their first meeting.
This rematch doesn't have the same anticipation surrounding it as KU's revenge sequel with Texas on Saturday, but Oklahoma (20-7 overall, 9-5 Big 12) is one of three teams currently tied for second in the conference (Iowa State and UT are the others) and quickly running out of time in its pursuit of Kansas (21-6, 12-2).
Tonight's Big Monday game at Allen Fieldhouse is one of KU's biggest to date, because a victory guarantees the Jayhawks at least a share of their 10th straight Big 12 championship.
Kansas coach Bill Self said Saturday night it has been long enough since KU faced Oklahoma that players from both teams have long forgotten the intricacies of the scouting reports they received for that game.
So, what have Lon Kruger's Sooners been up to? For one, they spent most of Saturday afternoon blasting Kansas State. The final score was OU 86, K-State 73, but Oklahoma led by as many as 27 points in the second half on its home floor.
That was Oklahoma at its best, but the Sooners have been inconsistent over the past few weeks. In fact, three of OU's five conference losses have come in the last six games. The Sooners really needed their win over K-State on Saturday, as well as their victory at Oklahoma State (without Marcus Smart) a week earlier, because prior to that they had dropped three of their previous four:
• L 81-75 at Iowa State on Feb. 1
• L 91-86 (OT) at West Virginia on Feb. 5
• W 88-72 vs. Baylor on Feb. 8
• L 68-60 vs. Texas Tech on Feb. 12
Despite its recent road setbacks, Oklahoma is 8-4 away from Norman this season — 4-3 in true road games and 4-1 at neutral sites.
The Sooners create most of their success on the offensive end of the court. In Big 12 games, Oklahoma is:
1st in free throw percentage (76.4%)

1st in made 3-pointers (124, or 8.9 a game)

3rd in scoring (78.6 points)

3rd in 3-point FG percentage (37.3%)

tied for 3rd in steals (6.29)
Kruger has embraced the power of the 3-pointer, so OU isn't shy from behind the arc. The Sooners average 21.8 attempts from deep per game, and they are the only team in the Big 12 with six players to have made at least 20 3-pointers.
Let's get reacquainted with the six OU gunslingers (and one of their teammates).
Buddy Hield, No. 24
6-4, 208, so. guard
— Jan. 8 vs. KU: 18 points, 6/14 FGs, 3/8 3s, 3/4 FTs, 8 rebounds (3 offensive), 1 steal, 1 turnover, 5 fouls in 38 minutes.
Fact: Hield is going to hoist some 3-pointers. He averages 6.7 attempts from deep a game and has made 70 of his 182 tries (38.5%).
He averages 17.5 points and 3.4 successful 3-pointers a game in Big 12 play, and scored a career-high 30 points at ISU on Feb. 1.
In three of his last six games, he has made five from downtown.
Defensively, the sophomore guard is second in the Big 12 in steals (1.44 a game, behind only Marcus Smart's 2.46).
Cameron Clark, No. 21
6-7, 211, sr. forward
— Jan. 8 vs. KU: 32 points, 10/18 FGs, 0/4 3s, 12/16 FTs, 3 rebounds, 1 steal, 4 personal fouls in 29 minutes.
Percentage-wise, the versatile forward is OU's most effective 3-point shooter. Clark, who torched Kansas for 32 points back in January without even making a 3, has converted 28 of his 60 tries from downtown (46.7%).
During OU's last four games, he has hit 20 of his 33 shots (60.6%). He scored 11 points and grabbed eight rebounds Saturday vs. K-State.
Clark averages 15.2 points and 5.7 rebounds, and when he draws contact, he hits 78.4% of his free throws.
Jordan Woodard, No. 10
6-0, 185, fr. guard
— Jan. 8 vs. KU: 10 points, 0/5 FGs, 0/1 3s, 10/10 FTs, 1 rebound, 2 assists, 1 steal, 2 turnovers.
This freshman isn't only a threat from long range (22 for 58, 37.9%), he attacks the opposing defense.
Woodard's 173 free throw attempts lead OU, he shoots 77.5% at the foul line and that's where he has scored 45% of his 11.0 points a game this season.
He tends to wear down defenders in the second half — that's when 128 of his free-throw attempts have come.
Sixth in the Big 12 with 4.7 assists a game, the first-year point guard can set up his teammates almost as easily as he can create his own offense.
Isaiah Cousins, No. 11
6-4, 186, so. guard
— Jan. 8 vs. KU: 4 points, 1/5 FGs, 0/1 3s, 2/2 FTs, 2 rebounds, 1 assist, 2 steals, 2 turnovers.
The sophomore is coming off a 6-for-11, 17-point outing against K-State and has made 43.4% of his field goals this season. His career high of 21 came four games ago against Baylor.
Cousins averages 10.5 points and 4.1 rebounds. From the land of 3, he has made 26 of his 72 shots (36.1%).
Ryan Spangler, No. 00
6-8, 232, so. forward
— Jan. 8 vs. KU: 4 points, 2/3 FGs, 3 rebounds, 4 assists, 1 steal, 1 turnover, 4 fouls in 23 minutes.
Hey, it's a Sooner who isn't going to shoot a 3-pointer … Well, actually he might, too. Even OU's bruiser has hit 3 of 11 from distance.
But most of the time, you'll find Spangler attacking the glass — and not just on defense. The sophomore power forward averages 9.6 boards a game and about a third of those come on offense (3.3 a game).
The hard-working big man has 10 double-doubles to his name and leads the league in boards. He has been successful on 60.2% of his shots this season and made at least half of his attempts in 23 of OU's 27 games.
His board production fell off against K-State, when he only had two, but in other Big 12 games he has hauled in double-digit totals seven times, with a season-high 17 coming against Oklahoma State late last month.
Oklahoma bench
Tyler Neal, No. 15
6-7, 234, sr. forward
— Jan.. 8 vs. KU: 11 points, 4/5 FGs, 2/2 3s, 1/2 FTs, 2 rebounds, 1 turnover in 23 minutes.
In just 15.9 minutes a game, the substitute forward scores 6.8 points and pulls down 3.4 rebounds.
And, of course, he can knock down 3-pointers. Neal has nailed 27 this season and makes 42.2% of his bombs.
Frank Booker, No. 1
6-4, 198, fr. guard
— Jan.. 8 vs. KU: 4 points, 1/2 FGs, 1/2 3s, 1/2 FTs, 0 turnovers in 10 minutes.
A relative non-factor against Kansas the first time around, the backup guard has done damage against other Big 12 opponents and averages 5.3 points on the year.
The freshman went 4 for 6 on 3-pointers at OSU and scored 15 points. At K-State on Jan. 14 he made 3 of 7 treys for nine points.
On the season, Booker has hit 34 of 93 3-pointers (36.6%). The guy loves hanging out beyond the arc. He has only made seven two-point field goals this season.

Find more businesses on Marketplace
Arts & Entertainment · Bars · Theatres · Restaurants · Coffeehouses · Libraries · Antiques · Services
Blog: Request for tax break on downtown project to create debate; a closer look at supposed parking problem in downtown

November 30, 2015 · 18 comments

Group hopes to register hundreds of Lawrence high school students to vote

November 29, 2015 · 3 comments

Only in Lawrence: The mad scientist who helped draw Lawrence's artistic backbone

November 30, 2015 · 2 comments

Blog: Couture-Lovelady resigns from Kansas House

November 30, 2015 · 3 comments

Letter: Award questioned

November 30, 2015 · 14 comments

Letter: Climate hope

November 30, 2015 · 5 comments

City receives multiple requests for skydiving at Lawrence airport; official cites safety concerns, directed to work with FAA

November 30, 2015 · 3 comments

KU professor who used n-word in class discussion is placed on leave

November 20, 2015 · 258 comments

Editorial: Uncomfortable?

November 29, 2015 · 15 comments

As Kansas, national election races heat up, talk of brokered convention looms

November 30, 2015 · 1 comment