LJWorld.com weblogs Shop Talk with Jenn and Julie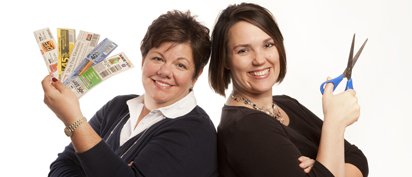 Old Navy "Pre-Black Friday" Sales
It seems like this year there are more and more PRE-Black Friday deals than there have been in the past. Today, Monday, Tuesday and Wednesday Old Navy is having "5 Hour DoorBuster" sales. From 12-5pm each day they will be running specific items deeply discounted following this schedule:
Sunday:
-75% Off Women's Sweaters
Monday:
-75% Off Adult Graphic Tees (excluding clearance items)
Tuesday:
-75% Off Adult Long Sleeve Tees (excluding graphic tees and clearance items)
Wednesday:
-Extra 50% off ALL Adult Clearance Items
Sweeten this deal even more if you collected "Super C-A-S-H" in the past couple of weeks. These are effectively 1/2 off coupons earned from previous purchases. For instance, I have a $30/$60 Super C-A-S-H that will pair really nicely with these sale items!
What does Old Navy have in store for its Turkey Weekend Deals??
If you visit the Old Navy site, you will find a printable coupon for $10/$50 in stores valid Thursday only.
Thursday:
$5 Performance Fleece Accessories
$20 Kid/Baby Frost Free Jackets
$29 Adult Frost Free Jackets
$15 Kids/Baby Jeans
See More In Store Deals listed at OldNavy.com
Friday:
Store will be open at midnight and will offer a Free Kodak Easy Share Sport Waterproof Digital Camera Bundle with a $40 purchase (supplies will be limited)
$15 Adult Jeans
$5 Performance Fleece Tops and Bottoms (Kids/Babies)
$5 Graphic Tees for the Family
$25 Adult Wool Blend Pea Coats
$15 Sweaters for the Family
$10 Jeans for Kids
50% off All Outerwear for the Family
See more sale items listed at OldNavy.com
Saturday:
$8 Performance Fleece Tops for Adults and Pants for Men
$8 PJ Bottoms for the Family
$6 Collectibles line for the Family
$8 Packaged PJ Sets for Toddlers
$6 Women's Long Sleeved Tops
See more sale items listed at OldNavy.com
Not up for fighting the crowds on these busiest shopping days of the year?? (That would be me.) Old Navy has some great online deals as well starting tomorrow .... but I've been sworn to secrecy.... keep on the watch for these great deals over the next week as well.