LJWorld.com weblogs Shop Talk with Jenn and Julie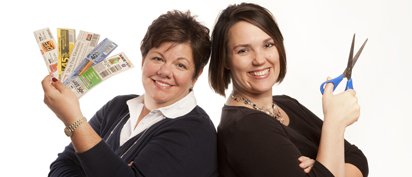 Home Depot floored me with their lack of knowledge
My husband and I have decided to replace the carpeting in our living room and dining room with a hard surface floor.
Over the past few weeks, I have been looking at different surfaces and getting estimates from floor stores. Yesterday, we decided to go to Home Depot to check out the store's selection and to schedule someone to come out for an estimate.
I am a bit of a novice when it comes to purchasing flooring. In our 20 years of home ownership, I've only had to purchase carpeting once. We've been very fortunate in the homes we've purchased in the area of flooring/carpeting. We've refinished hardwoods, but never purchased it.
Now when I went to the floor stores, I had no problem getting help or talking to someone who knows the different flooring products. I had lots of questions about selection, durability, what would look good with our current hardwoods in adjacent rooms, etc. I had a certain look that I was interested in, but wasn't sure how to achieve it. The floor stores were great in answering all my questions.
The trip to Home Depot proved differently. First, we had to find someone to help us. We asked one employee who then went to get another employee who could help us in flooring. When that person came, she actually could not help us because she was new. The gentleman who could help us was cutting shades, so we had to wait.
When he was finally available, he really was no help. I asked questions about the products I was interested in, but his answers were vague. So I chose two products I liked, and asked if someone could come out for an estimate. He began taking my information and then informed me there would be a $50 non-refundable fee. I know that Home Depot hires contractors to do these "jobs" for them, but I was not expecting a fee for an estimate that I got for free from two local stores. I asked the Home Depot employee if I could bring in my room measurements and get an estimate that way. Well of course, he said he could give me an approximate estimate, but someone would still have to come out to take the exact measurements, and thus I would have to pay the $50 fee.
I don't know how you would feel, but this experience at Home Depot was a turn off. I'm not a big fan of the Home Depot. It's rare, in my experience, to find someone that can actually help you. There are lots of employees that can tell you where to find an item, but really can't help you if you have any questions about how to do a job or about the details of a product. Don't get me wrong, over the years we have spent our fair share at Home Depot, but when you're looking for advice or detailed information about product, this retailer can be inconsistent.
So, in the case of my floors, Home Depot had cheaper prices, but had poor service. The floor store prices are higher, but I feel much better dealing with people who know their industry and explain the product and service.
My quest still continues to find the exact flooring I want, but unfortunately, I'm still looking for some answers.