LJWorld.com weblogs Shop Talk with Jenn and Julie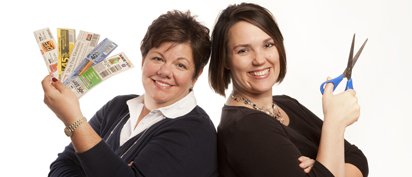 How Do You Find A Destination for Your Dollars?
We all have places that we prefer to spend our time and money, and we all have different reasons. For some it is the availability of local produce; for a few it might be proximity to their home; and others it is a matter of price. It is debated here time and again: Which store is the best store to shop at? Which store has the best over all deal for your time, energy and money?
For me? Finding a place to shop where I can stick to my family's budget, keep us on a healthy diet and have great customer service are the defining factors when it comes to spending our dollars. Is that too much to ask? I don't think so.
I love a good deal, but there are stores I will not spend my money in because I deplore the customer service. There are others that I do enjoy shopping at, but finding the extra driving time from one end of town to the other between activities and nap schedules isn't something I want to do as frequently as I shop. And the pursuit of a deal....it is like a game for me. How can I find the best price for what my family buys... that does play into the decision as well.
We've heard over and over which stores people prefer....but I want to know why you prefer them. Not why Checkers is better than HyVee or Dillons. Not why anyone who doesn't shop The Merc is anti-Lawrence. I want to know about the details. What shapes your opinion? Is there something that sticks out in your mind that makes you loyal to the store of your choice?
When I shop at Dillons on 6th and Wakarusa, there are employees who know me. They talk to me when I come in, they talk with the kids. The few times I've had to address customer service about a discrepancy on my receipt I've been met with nothing but a helpful smile and the problem has always been resolved with little hassle. And of course there are the deals. I can easily stay in my budget and have money to do things like bulk up my produce purchases.
What factors play into your store loyalty? How do you find a destination for your dollars?