LJWorld.com weblogs Shop Talk with Jenn and Julie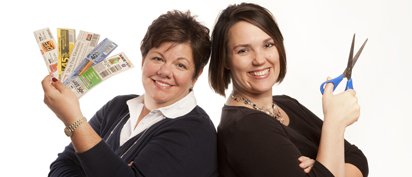 How can you get a spa-like pedicure without going to the spa?
So here we are heading into summer. I do not like the extreme heat we endure during the summer months, but I love summer footwear – flip flops, sandals and open-toed shoes.
I also like the fact that you can usually purchase casual summer footwear pretty reasonably. This week JC Penney has $12.99 sandals and Target has $14 dollar women's sandals. Awesome!
For me, when I wear sandals, I like to keep my feet well groomed. That means keeping my nails polished and my feet well moisturized.
What I don't like, however, is to spend the money on a pedicure.
Getting a professional pedicure can cost anywhere from $30 to $50 or more. I can get the same results at home for much less. Target has Sally Hansen nail polish on sale this week for $4. Walgreens has Revlon and Sally Hansen polishes buy one get one half off. CVS has Wet n Wild nail polish buy one get one half off. You can get quite a few bottles of polish for the price of one pedicure.

Here are a few tips on how to get a professional quality pedicure at home from About.com.
Remove Old Nail Polish

Choose an acetone-free remover (which is gentler) to get rid of all traces of your last pedicure.

Soak Your Feet 

The perfect time for a pedicure is after a bath or shower, but you can soften your skin in five minutes in a pinch. Use warm (not hot) water, and be sure to pat dry before the next step.
Remove Dead Skin

This is when the ladies at the corner nail salon take out one of those scary razor blades and the spa ladies rub expensive scrubs on your feet. We like to use both a foot scrubber (such as a pumice stone) and an exfoliating rub. Pay special attention to rough heels and rinse away sloughed-off skin when done.
Clip and Shape Nails

Long toenails are creepy, so get yours back to a respectable length with a pair of clippers and a file. 

Tackle Your Cuticles

By this, we mean for you to reach for one of those angled wooden tools and push overgrown cuticles back into place.
Trim Excess Skin
Perhaps the most important step, you'll need a cuticle trimmer or nail "nipper" to help you remove dead, rough skin from all around your nails. Be careful — these tools are sharp!
Moisturize

Slather on a coat of rich moisturizer and give your feet a mini massage. Wipe any lotion off your nails before applying polish.
Polish
Choose a fab nail color and apply two even coats to each nail. You can also apply a clear top coat.