LJWorld.com weblogs Shop Talk with Jenn and Julie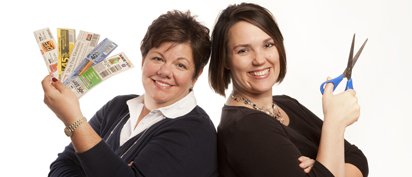 HyVee's Annual General Mills Cereal Sale is Here
I've had email after email asking me if I know when the annual General Mills cereal sale will be at HyVee this year and I now have an answer:
The fabulous "Your Cereal Is Basically Free" sale on General Mills cereals will begin THIS WEDNESDAY, August 31! I'll wait while you celebrate....
The details of the sale are a little different from last year, but the principal is the same. I talked with the manager of HyVee on 6th Street and here is what I learned:
All General Mills cereals are included in the catalina sale, select cereals will also be greatly reduced in price ... to the point that they are basically free after coupons and catalinas.
Buy 4 General Mills cereals and use the $4/4 coupon to be found in their weekly flyer. After you check out, you will be given a $4 off your next order catalina.

You may use other manufacturer's coupons in conjunction with the sale and catalinas, inching you further and further towards "free" cereal.

You will only receive ONE $4 catalina on each transaction whether you purchase 4 boxes of cereal of 40. If you plan on purchasing multiple boxes of cereal, you will need to conduct multiple transactions of 4 boxes. HyVee on 6th street will allow you to conduct several transactions in a row provided there is not a line. (And, well, that's just good coupon form.)
In addition, they will also allow you to "Roll" your catalinas from one transaction to the next.
Your transactions could look something like this:
Buy 4 General Mills Cereals
Use $4/4 HyVee coupon from weekly flyer
Use any combination of manufacturer's coupons to equal off 4 boxes of cereals
Use $4 Off Your Next Order catalina
You may actually find yourself needing to purchase extra items because you cannot receive "Cash Back" on a transaction at HyVee.
Luckily ... with all of that cereal on sale HyVee will also be running a $0.99 sale on half gallons of milk Thursday, Friday and Saturday.
Included in the General Mills sale this year will be fruit snacks. These will be eligible for the $4/4 HyVee coupon, but will not print a catalina. They will be priced at $1.99 each. With no other coupons but the one from the flyer, you will be getting them for $0.99/each.
Now....where can you get your hands on some manufacturer's coupons to sweeten these deals?
In today's Journal World you will find a $0.50/1 various General Mills cereals coupon.

There are a variety of coupons from the 8-07 General Mills Sunday Back to School insert
$1/2 Basic 4, Chex, Fiber One, Honey Nut Cluster, Oatmeal Crisp, Raisin Nut Bran, Total, Wheaties from 7-31 Smart Source
This is a great example of a sale that can be utilized for strengthening your own stockpile and taking a moment to donate some extras to local charities.

Happy Shopping!
**All of the info I received on rolling catalinas and doing multiple transactions was from the manager at the 6th street HyVee. I am not sure what policy will be utilized at the 23rd Street HyVee... be sure to let us know if you have been over there!