LJWorld.com weblogs Shop Talk with Jenn and Julie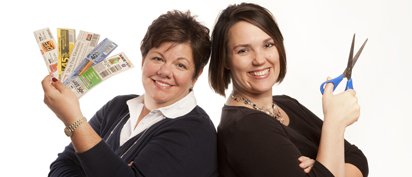 Sunday's pork chop dinner has a taste of nostalgia
Over the last few weeks, I've been spending my time working on my housekeeping. I've been cleaning, organizing and getting my home ready for fall. I've enjoyed getting my house in order, and I'm pretty proud of my family for helping me keep it this way.
But now that I've got my clutter under control, I'm ready to get cooking in the kitchen. And, I have one particular dish in mind.

I don't know why, but I've been craving breaded pork chops for about a week. I've had pork chops prepared in different ways, but breaded is my favorite. And I also feel that when prepared this way, they don't get dried out.
Growing up, my mom, who is from Rome, used to make breaded pork chops using thin pork cutlets. She would dredge the chops in flour, dip in beaten egg, then cover with bread crumbs. The preferred cooking method was frying in oil. And for whatever reason, this was always considered a special meal and usually prepared on the weekend.
When I met my husband, I soon discovered that breaded pork chops were also one of his favorite meals. His grandfather, an Austrian, was an awesome cook. And when he made breaded pork chops, the whole family was invited for dinner – aunts, uncles, cousins, etc. And again, this was considered a special meal and usually prepared on Sunday.
The only difference in the two families' methods of preparation was that my in-laws used a thicker bone-in chop and the meat was fried in Crisco. These were delicious as well.
Over the years, I've made breaded pork chops plenty of times. I like using a thinner chop and frying in oil.
The other night I was having some trouble sleeping, so I turned on the TV and caught an episode of "Everyday Food" on the Create channel. Wouldn't you know, one of the dishes they were making was breaded pork chops. But instead of using plain breadcrumbs, they used panko crumbs. These are a Japanese style breadcrumb which looks like flakes rather than crumbs. I've read that using panko gives you a crispier coating and that when used in frying, oil doesn't soak into the panko as readily as it does in regular breadcrumbs. I took this as a sign. I've been craving pork chops and now I see this cooking show making pork chops. That's it … they are on the menu for today.
Hy-Vee has Blue Ribbon Pork chops on sale for $2.97/lb. I know what we are having for dinner tonight.
Here's the recipe I saw on "Everyday Food." This recipe also includes a Napa Salad if you're interested. Enjoy!
Ingredients
(Serves 4)
1/2 small napa cabbage, thinly sliced crosswise
1 tablespoon rice vinegar
Coarse salt and freshly ground pepper
1/4 cup all-purpose flour
1 large egg, lightly beaten
1 cup panko (Japanese breadcrumbs)
4 boneless pork loin chops (6 ounces each), trimmed of fat
1/4 cup vegetable oil
1/2 cup ketchup
2 tablespoons Worcestershire sauce
1 teaspoon light-brown sugar
Directions
Make salad: In a medium bowl, combine cabbage and vinegar. Season with salt and pepper; toss to combine. Set aside.
Place flour, egg, and panko, each in separate shallow bowls; season each with salt and pepper. Dip pork chops into flour and then egg, shaking off excess. Dip into panko, pressing to adhere.
In a large skillet, heat oil over medium heat. Add pork, and cook until browned and cooked through, 4 to 6 minutes per side. Transfer to a paper-towel-lined plate.
Meanwhile, in a small bowl, stir together ketchup, Worcestershire, sugar, and 1/2 teaspoon pepper; season with salt, and stir to combine. Thinly slice pork chops crosswise, and serve with Napa salad and sauce on the side.