LJWorld.com weblogs Shop Talk with Jenn and Julie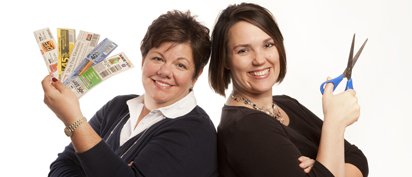 Sweet deals on Halloween candy can bring a smile to your face
I miss the days when my kids were younger and still trick or treating.
Everyone who knows me is aware of my love for fall. To some people, like my sister, fall represents a season of dismal change. Leaves falling off trees to expose bare limbs, grass turning a dull brown color. Gone are the vibrant flowers and vines that thrive in the summer. My sister gets a little sad seeing the warm summer months come to an end.
Not me. Not only do I like the crisp fall air and the colors of the fall leaves, it's about Halloween and Thanksgiving. The house is decorated with candles and all the fall trimmings. This year I added some spider web doilies I found at Yankee Candle. They're perfect hanging off my mantle, mirrors, and in corners of doorways. I added glittered spiders I purchased at Pier One to the webs. It adds just that glint of sparkle. The fall gives me inspiration and renewed motivation to accomplish projects I had put on hold during the summer.
This week in the Journal-World ads I am seeing lots of candy. I still buy these sweet treats to give out to the neighborhood kids. I love to see all the clever costumes and smiling faces. I especially enjoy the really young ones who may be trick or treating for the first time. The excitement on their little faces is contagious. It allows me to relive the days of going through the neighborhood with my own children.
So here's a rundown of sweet treats found in Sunday's LJW:
CVS
3-Day Halloween Candy Sale (Sunday-Tuesday) – 2/$4
Hershey's, Mars, Nestle or Wrigley's (9.34-12.5 oz). You will need to use your CVS card to get the sale price.
Hershey's snack size, Air Heads, Kidz Pick or Twizzlers/Jolly Rancher to name a few. These are $5.99. Sizes range from 30 piece to 70 piece bags.
WALGREENS
Halloween Candy -- $6.99. Varieties include Tootsie Roll, M&M's, Dum Dum Pops, and Charms Mini Pops.
Also, buy 1 get 1 50% off –- Mars, Hershey's, Nestle or Palmer – Minis, Fun or Snack size candy (13.9 oz. to 30 oz.).
TARGET
Treat-size candy, including Kit Kat, Twix, Reese's, Snickers, Skittles, and Butterfinger (10.5 oz. to 12.5 oz.) -- $2.49.
Also, for $2.49, M&M's milk chocolate (12.6 oz.) and Pumpkin Spice Kisses (10 oz.). Other select varieties also on sale.
Hershey's mix (50 pc.) and Mars Fun size (53 pc.) and selected others -- $6.99.