LJWorld.com weblogs Shop Talk with Jenn and Julie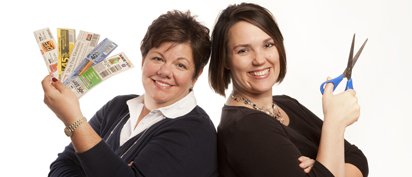 If You Only Have a Little Time: My Favorite Deals for the Busy Shopper
I have been running crazy for the past several weeks. I've traveled to both North Carolina and New York, I've celebrated my youngest's first birthday, redesigned SuperJenn, worked with other Kansas City area bloggers to bring families in transition "Back to the Table" and am currently suffering through a rotten cold. I've barely had time to look at the ads...the coupons. I feel like I've slipped out of the loop. I haven't even SEEN this week's ads yet.
So what do you do when that happens? When it all feels like it is getting away from you? Like shopping and saving money is an incredible, unobtainable feat? I have to start at the beginning. The first thing I did when I got home from New York last week was to make a menu. I scoured through the cupboards and the freezer and I made a little list for the store...I used very few coupons because I just didn't have the time to put the deals together. And I still managed to stay on budget.
So I've been looking around online trying to find some of the best deals. The deals that I can focus on when I don't have a lot of time. The deals that will help me to replenish parts of my stockpile. This is what I've got....please feel free to add the best deals that you find around town!
Dillons:
There is currently a sale at Dillons "Buy 10 Get $5 off. The first couple of deals are part of that sale.
Here are my favorites:
Kraft Singles – $2.99 $1/2 9/26 SS Insert (exp 11/7/2010) -$0.50 sale (WYB 10) Final Price: $1.99/ each
Kraft Salad Dressing – $2.19 $0.55/1 8/29 SS Insert (exp 10/24/2010) -$0.50 sale (WYB 10) Final Price: $.69
Kraft Mayo or Miracle Whip – $2.99 $0.75/1 Kraft Miracle Whip Dressing or Mayo Kroger eCoupon $1/2 9/26/2010 SS Insert (exp 11/7/2010) $1/2 Kraft Miracle Whip Dressing or Mayo "Like" Miracle Whip on Facebook and print a $1/1 Coupon Final Price: As low as $1.26/ each
Progresso Soup $1.00 $1/4 9/12 GM; 9/26 S $1/4 Printable $0.50/2 Kroger eCoupon $0.50/2 Cellfire eCoupons
$0.50/2 Shortcuts eCoupons Final Price $0.50/ea
Silk Almond Milk (I don't have an actual price on these) $2/2 9-19 S $1/1 Kroger ecoupon I've seen peelies by the milk that will double to $1/1
Better Oats Oat Revolution $1.29 $0.75/1 Printable when you "Like" them on Facebook Final Price $0.29
Two items at HyVee I found noteworthy:
Monterey Mushrooms: $0.99
Buy One Get One Free Earth Grains Breads
Target has a printable coupon for $1/2 Oscar Mayer Carving Board Turkey. You can stack this with a $1/1 Printable Coupon. I'm not sure of the starting price but I'm guessing this will make a fairly decent price.
If you are interested in a couple of freebies, I'm hosting a giveaway at SuperJenn that will end tonight at midnight. By sharing your best tip for making family dinners a priority you can enter to win a gift pack from Libby's.