LJWorld.com weblogs Shop Talk with Jenn and Julie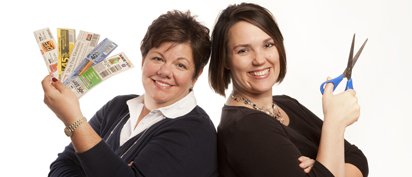 Quick RoundUp of Weekly Deals
I've found this week escaping me...a little more quickly than usual so I'm only going to share a quick round up of my favorite deals. I encourage you to leave comments here or to share with us on FaceBook the great deals and steals you've managed around town this week. I find that everyone loves to share their shopping successes! It just makes everything more fun!
Walgreen's
Lots of Freebies and MONEY MAKERS at Walgreen's this week. These are just the items and coupon match ups... please feel free to post (Either here or on our FaceBook Fan Page) your shopping scenarios ... what combonations do you use to stretch your dollar the furthest?
Simply Saline Nose Spray $7 Get $7 RR = FREE ... use $1/1 from 1-24 Smart Source FP = +$1 Overage
Dove Shampoo/Conditioner or Styling Products $4 Get $4 RR = FREE... use $1.50 Hair Care Treatment from today's Red Plum FP = +$1.50 Overage!
Remember you can only get one RR per deal per transaction. You can do as many transactions as you want to, but only one RR will print per transaction.
LifeSavers Jelly Beans $2. Buy 2 use $1/2 Printable and stack it with the $$1/1 Walgreen's Coupon from the March Coupon Book (found at the front of the store by the weekly fliers) ... the coupon will apply itself to as many items as you have purchased and get these for $0.50 each! I'm going to use these to fill the chocolate eggs I'm making for the kids.
Crest 3D White Dental Care (toothpaste or Rinse or Oral B Advantage ToothBrush) 3/$9 get $3RR 3/$6 Use $6/2 from today's RedPlum FP = FREE Don't need toothbrushes or toothpaste right now? I happen to know that The Shelter here in Lawrence could always use these items!!
DenTek Floss $2 Get $2 RR = FREE Use $1/$2 or more purchase of DenTek Floss or Picks from 1-17 Smart Source FP = +$1 Overage
Target
Target has some snazzy produce prices this week. I'm particularly happy to see that
Asparagus is $1.99/lb
Green Beans are $0.99/lb (If these look good this might be my favorite deal this week!)
Strawberries are $1.99/lb
Philadelphia Cream Cheese $0.99/ea
Nestle Morsels $2/ea. Use $1/2 from 3-21 Red Plum FP = $1.50/ea
Skippy Peanut Butter $1.79/ea Use $0.75/2 from today's Red Plum FP = $1.42/EA
Dillon's
Dillon's is running their March Madness sale for one more week. In addition to that I've seen
Zone Perfect Bars $1.25/ea Use $0.55/1 from 2-28 Smart Source doubled to get these FP= $0.25/ea
Gold Medal Flour $1.77/ea. I've seen blinkies in the aisle that equate to $1/1 Wheat Flour which would net you a FP = $0.77/ea which is a GREAT deal. I'd buy extra and throw it in the freezer.
CVS
That Huggies deal at CVS I told you about last week is finally here! 2 pkgs of Huggies for $17.98 and get $5ECB. Use two $3/1 Huggies Printables and your FP= $3.49/ea There is a limit of one reward per household (or Extra Care Card) but you can use the ECB to do the deal a second time and get a second run on the deal
Like I said, short but sweet this week...reality for me is a crying baby which doesn't leave much time for coupons!! Share with us your favorite deals..either here or on our FaceBook Fan Page! Its always fun to post what great deals you've found!!