LJWorld.com weblogs Shop Talk with Jenn and Julie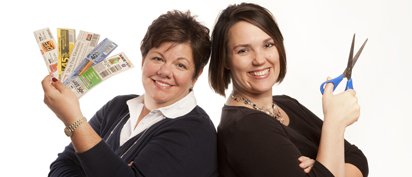 Here's a Chance to Step into Your Best Life
I started using Facebook about a year ago and love how I've been able to reconnect with old friends and keep in touch with family. And it's been great to rediscover my relatives in Italy.
My husband may argue that I spend way too much time socializing on Facebook. And it is very easy to become distracted by it. It's so convenient, as you can Facebook at any time of day or night. It's been very helpful on those nights when sleep escapes me. Amazingly there are many others on Facebook at all hours as well.
This past week, one of my high school friends posted a great suggestion on her Facebook page. She's getting a group together that is interested in making healthy lifestyle changes — eating better and exercising. The goal is for the group to motivate each other, give advice, and make each other accountable for their choices. She's named the Facebook page, Step Into Your Best Life. How appropriate.
I'm hoping that this will motivate me to dust off my Wii Fit and start getting some exercise in my day. I'm also hoping it will help motivate me in making healthier decisions in my everyday life.
I've been wanting to put the focus back on my health, and maybe this is just the push I need. As we get busier in our lives, we tend to forget the healthy aspects and make choices based on convenience. Many of you know what I'm talking about.
It's not always easy to juggle family, work, and all the activities we become involved in. And for me, I start to lose sight of being more healthful. It becomes more about making sure I have food available for my family at any given time. During baseball season, our schedules vary, and often we aren't all home at the same time.
So this week, my aim is to share what I found in Sunday's ads in the Journal-World that will help me make healthier choices as I step into my best life.

If any of you have anything to add about how you have achieved a healthier lifestyle, please tell us your stories.
TARGET
Asparagus - $1.99/lb.
Pineapple - $2.50 ea.
Strawberries - $1.99/one lb. pkg.
Broccoli and cauliflower heads - $1.49 ea.
Green beans - .99 cents/lb.
Frozen turkey breast - .99 cents/lb.
Eggs - .99 cents/dozen
WALMART
Salmon fillets - $7/2 lb. pkg.
Tilapia - $11/4 lb pkg.
Birds Eye steam fresh veggies - $1 ea.
Cantaloupe - $1.50 ea.
Yoplait yogurt - $4 (8 pack)
DILLONS
Boneless pork chop – By one/Get one free
Boneless pork loin - $1.89/lb.
Tyson boneless/skinless chicken breast - $2.49/lb.
Apples (select varieties) - .99 cents/lb.
Washington State pears - $1.29/lb.
HY-VEE
Dole packaged salads (select varieties) - .88 cents
Birds Eye frozen veggies - .88 cents
Hy-Vee split chicken breast value pack - .88 cents/lb.
Blackberries - $1.99/pkg.