LJWorld.com weblogs Shop Talk with Jenn and Julie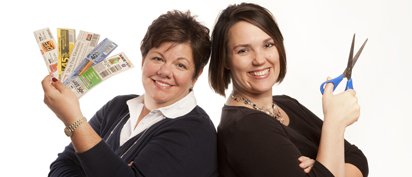 Best to have a thrifty game plan for summertime sports
http://worldonline.media.clients.ellingtoncms.com/img/photos/2010/07/20/pwe_Shop_Talk_col_2k_7-21.jpg
My 14-year old son, Thomas, has found a new hobby this summer: golf.
I must admit I was a little leery about him taking up the sport. My main concern was cost. But I am happy to report that it hasn't been as costly as I had anticipated. And the benefit has been that I haven't been hearing the "I'm so bored" mantra this summer. Oh yeah, and he's not spending all his time playing video games.
My son and his friends, Adam, Hunter and Stephen, usually play during the week. They prefer to go to Eagle Bend Golf Course, where $8 gets them nine holes. They don't golf there on weekends because it costs more. They have also golfed at The Orchards, but not as often; nine holes costs $10.
Thomas decided he would use his dad's old clubs. Since he had never golfed before, this would be the best way to see if he even liked the sport without investing a ton of money. The only thing he did buy was a golf bag. He needed one he could carry. He bought the bag for $30 at Wal-Mart, though he made this purchase after he decided he enjoyed golfing and the bag would make the walk between holes easier. He also purchased a driver on clearance for $9.99 at Dick's Sporting Goods.
I couldn't believe this. My son was not asking for a brand new set of clubs, a new golf wardrobe and shoes. He was being quite frugal in his purchases. Could it be that he is maturing and understanding the value of a buck? Now, you know after a morning of golf, teenage boys can work up an appetite. So the boys pool their money, head over to Hy-Vee and get the Toscana pizza. This pizza is a wonderful thin crust pie, and when it is on sale it costs $5.
This has been a great summer of growing for my son. He is becoming quite the independent young man, as are his friends. In the past, he would have asked for brand new everything for this sport. Not that he would have gotten it, but he would have really tried. This is how I know he is maturing, and I appreciate the way he has eased into his approach of the sport of golf.
— Julie Anderson, a mother of two who is learning the ropes of shopping frugally, and Jenn Hethcoat, a mother of three and coupon expert, write the Shop Talk blog at LJWorld.com/blogs.
loading...
Blog: Mexican restaurant to close, but comfort food spot to take its place

June 19, 2018 · 9 comments

Kobach sought pardon for VP of corporate donor accused of putting gun to cab driver's head

June 20, 2018 · 21 comments

Opinion: But her emails? You're dang right her emails

June 20, 2018 · 16 comments

After wrongly insisting administration had no choice, Trump signs order ending child-parent separation

June 20, 2018 · 27 comments

Overnight storm topples trees in Baldwin City

June 21, 2018 · 1 comment

Lawrence City Commission approves police board, but concerns linger regarding access to police files and recordings

June 19, 2018 · 2 comments

Kansas Democratic Party disavows, condemns attorney general candidate Sarah Swain for poster showing lassoed police officer

June 19, 2018 · 31 comments

City leaders question study results for bus transfer hub location

June 20, 2018 · 10 comments

As outrage mounts, Trump digs in on immigration amid family-separation crisis; administration refuses to apologize

June 18, 2018 · 39 comments

Federal judge strikes down Kansas law requiring proof of citizenship for new voters

June 18, 2018 · 28 comments