LJWorld.com weblogs Shop Talk with Jenn and Julie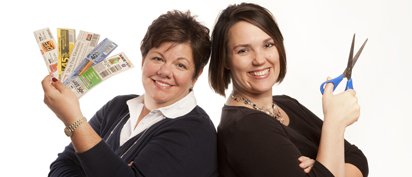 Walmart gets "Home Trends" right with this line
Lots going on in this week's Lawrence Journal -World . . . with coupons, that is. Look for 4 inserts this week – P&G, RedPlum, SmartSource, and General Mills. There are many worthwhile coupons, so please take advantage. Also, don't forget your Valentine next Sunday. You'll get lots of gift ideas this week in your retail ads.
A small insert fell out of my paper this morning that caught my eye. It's for the trendy line at Walmart called Home Trends. This insert is very well photographed and definitely made me take a closer look. So much so, that I went on line to check out the items and take a trip to my local Walmart to see for myself.
Once all the Christmas decorations come down, and the house gets a good cleaning, I feel like there's something missing in my décor. I like to perk things up with reasonably priced accessories. So, I decided the Home Trends brand might be a place to start.
Here's what I found:
I was at the Super Walmart in Lawrence. The selection of items was not as varied as what I had seen on line. Walmart They did have most of what is pictured in the ad.
On the cover, the 25" woven vase with greenery was pretty decent for $13. Would make a nice accent piece.
Throw pillows for $13 were ok. I liked the patterns and colors.
The bedding was very tasteful as well; although I felt there was not a great selection available. There are also coordinating sheet sets with prices that range from $22.88 to $36.88. The sheets are 250 thread count.
I really liked the bathroom accessories, towels, and shower curtains. Nice variety for these items and I did not see anything over $21.00 making for great price points.
The 4x6 area rugs (non-skid backing) for $44 were ok, although limited selection.
The storage box with lid was nice as well for $30. Plus there are 2 other types of storage boxes ($13) – woven and faux leather. Both are pretty spacious and appeared quite sturdy.
I do want to add that the dinnerware sets are worth looking at too. Thirty dollars gets you a 16-piece set. Nice trendy styles and color selection.
I know how many of you may feel about Walmart, and it's not always positive. But I do feel for certain items and certain price points, you can't go wrong with this Home Trends line. It's definitely an upper scale line for Walmart, and I think they got it right especially in terms of style and color. So, if you're looking to add some trendy accents to your rooms, take a look at this line for some inexpensive items that might give you the look you're aiming for.