LJWorld.com weblogs Shop Talk with Jenn and Julie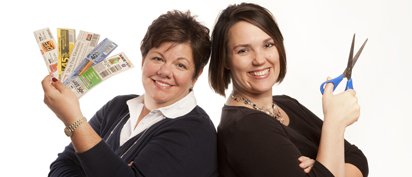 BOGO at Payless and Grocery Deals for the Week
Payless is running their BOGO sale again until the 6th of September. This sale is a good one especially if you've got several kids to put into new shoes. When you make ANY purchase at Payless you will find a coupon on the bottom of your receipt good for $10 off a purchase of $30 or more at Office Max. If you happen to be or work in Topeka where there is an Office Max, this is a nice coupon. Turns out... if you make a purchase at Office Max, you will get a coupon for $5 off a purchase of $25 or more at Payless Shoes.

Juicy Juice 8 pk boxes are on sale at Target for $2. You can use your $1/2 Manufacturer's Coupon from the 8-01 Red Plum and stack it with the $1/1 Target Printable.
Del Monte fruit cups are $2/ea and when you buy 3 you get the 4th free. If you buy 4 you can use 4 $1/1 Target Printable coupons and your final price will be $0.50/ea.
$1/1 Market Pantry or Archer Farms Bakery Purchase and $1/1 Produce Purchase printable coupons are available at Target right now. These show up every once in a while and are great if you put a little thought into your purchase. Last week I found zucchini and yellow squash both for $1.99/lb...usually I wouldn't look twice at that price, but with the coupon I took a minute to look again: Each individual zucchini and squash weighed roughly half a pound...or around $1. I bought one of each (enough to accompany one night's meal) and bagged them separately. I was able to use 2 $1/1 Produce Purchase coupons because I was purchasing two different produce items. I got both of these for pennies. You can also find several $1 items in the bakery if you look. For example: individual ciabatta rolls.
Dillon's has another "Get $4 off" sale going on, this time it is Buy 8 Get $4 off. There are a lot of items in this sale, one that strikes me in particular was the Welch's Grape Jelly. Assuming you purchase 7 other items included in the sale (or 7 other grape jellies...whatever) you will get these for $1.49/ea. Pair that with the $0.55/1 Welch's from the 8-01 Smart Source and you can get that jelly for $0.50/ea. That is a great "stock up" price for jelly. Even when it comes to stockpiling my family doesn't go through THAT much jelly...but its hard to resist a price that good! I noticed when I was at the food pantry at Ballard Community Services a couple of weeks ago that their "PB&J" section was EMPTY. Why not pick up even ONE extra and pass it on?
Another great deal is on Progresso Soup. These are part of the "Buy 8" sale with a final price of $1.50/ea. You can print a $0.50/2 Progresso Soupcoupon making the final price $0.75. (I noticed the pantry is low on soup, too!)
Smart Balance Butter, Spread or Sour Cream are all $1.99 after the "Buy 8" sale. You can use a $0.50/1 Sour Cream coupon from 7-11 Red Plum to make this $0.99.
CVS has 6 "Free" items this week:
Pepsi 2L 4/$5 There is an in ad mail in rebate for $5. Limit of 4 times you can do this deal in store but the rebate form says one per address/household.
SoBe Lifewater is B1G1 again this week. You can still get B1G1 coupons playing the SoBe Heads or Tails Game.
Right Guard or Dry Idea B1G1. Use the B1G1 coupon from 7/25 Red Plum to get both for free.
Blink Tears is $7.99 Get $7.99 ECB = Free after ECB
Zegerid OTC $9.99 Get $7.99 ECB Use $3/1 from today's Red Plum to get these free PLUS an overage.
Crest and Oral B Rinse, Toothpaste or Floss (see ad for exact items) $3.49 Earn $2.50 ECB (limit 2) and use the $1/1 from 8-01 P & G to get these for free after coupons and ECB.
I try to post good deals I find both in the stores and online throughout the week; sometimes here and sometimes exclusively on the Shop Talk with Jenn and Julie Facebook page. If you haven't become a fan yet be sure you do!
What are your favorite deals this week? Be sure to share them here or on the Shop Talk with Jenn and Julie Facebook page.