LJWorld.com weblogs Shop Talk with Jenn and Julie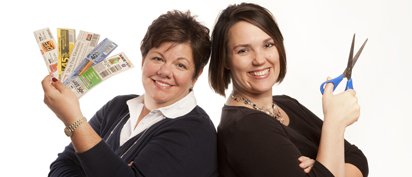 Anyone up for a Budget Friendly Dinner Challenge?
Check out the Dillons ad today. Lots of 10 for $10's. The best part is that you don't have to buy 10 to get the price! Or you can mix and match the items.
Also on sale, Tyson chicken drumsticks or thighs for .99 cents per pound, Hormel marinated boneless pork loin or tenderloins for $6.99 each, Kroger Idaho potatoes are $1.99 for a 5 pound bag, pork chops for $1.99 per pound, Tyson boneless skinless chicken breast for $2.29 per pound. There are too many items to mention.
I am going to head to Dillons today and put together a dinner for my family of 4 based on sale items only. I am going to give myself a budget of $10-$15 dollars and see what I can come up with. I will post my dinner menu on my next blog.
So, are you ready for the challenge -- creating a budget friendly meal? Or if you've been doing this already, how about sharing your menus and ideas.