LJWorld.com weblogs Shop Talk with Jenn and Julie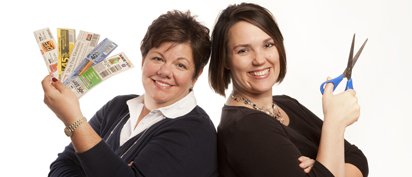 Take a bite out of your morning coffee

I love coffee.
I love to drink it and use it in recipes. You can run out to 23rd and Louisiana and get your Dunkin Donuts coffee fix, or you can head to Walgreens and buy Dunkin Donuts brand coffee for $5.99 (12 oz. pkg.) as featured in Sunday's ad.
Nothing beats that fresh pot brewing and that first sip from your morning cup. For us coffee aficionados, it's exhilarating.
Beyond the morning brew, I've been looking for ways to use coffee in some recipes. I have used coffee in my brownie recipes. It intensifies the flavor in chocolate. My search led me to this recipe: Fast and Easy Tiramisu on the Kraft Foods Web site. The recipe calls for coffee made from instant granules. I use coffee brewed from my pot with the same results. I've made the traditional version of tiramisu, which is a little more time consuming. This version is quick and a good alternative.
Other deals to be found in Sunday's Journal-World:
WALGREENS
Maybelline Lip or Nail Color – BOGO
Band-Aid Bandages (select types) - $1.99/coupon
TARGET
Market Pantry Cheese (8 oz. chunk or shred) - $1.50
Market Pantry Sandwich Bread - .99 cents
Honeycrisp Apples - $1.49/lb.
Men's Champion T-shirts or shorts - $7.50/ea.
Women's cheenos or jeans (Mossimo brand) - $18
CVS
Make sure you check out all the BOGOs today. There are a lot.
Brach's candy corn (9 oz) – 2/.88 cents (3 day sale only).
Pedigree or Cesar dog food - .79 cents
JC PENNEY
Big 3-Day Sale (Sunday-Tuesday)
KOHL'S
3-Day Specials
MICHAELS
50% Select Fall Décor
50% off regular priced item coupon
HANCOCK FABRICS
Columbus Day Sale (2 days only)
40% off regular price fabric item (Sunday only)
SEARS
15% off outerwear coupon
Get to know Julie and Jenn, then sign up to get updates when they post a new blog entry with money saving tips.