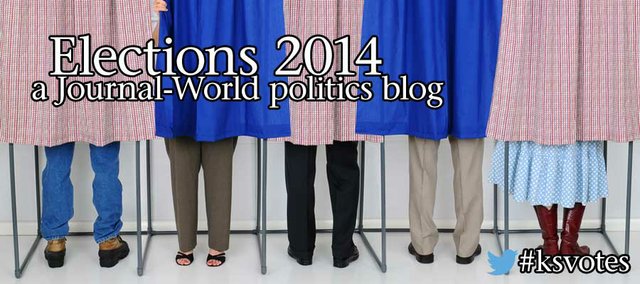 Posts tagged with
Davis
A new poll out today shows Republican Gov. Sam Brownback with a lead over his likely Democratic challenger, Rep. Paul Davis of Lawrence.
The survey by Rasmussen Reports of 750 likely voters conducted April 16-17 shows Browback leading, 47 percent to 40 percent, with 6 percent preferring somebody else, and 7 percent undecided. The survey has a margin of error of plus or minus 4 percentage points.
The polling firm also found GOP Sen. Pat Roberts of Kansas with a strong lead in a hypothetical match-up with former Democratic Gov. Kathleen Sebelius, 54-37 percent.
Last week, the New York Times published a story saying Sebelius had been urged to return to Kansas and run against Roberts. But a spokeswoman for the Health and Human Services secretary said Friday that she is not considering such a bid.
In October, SurveyUSA reported Brownback trailing 39-43 percent. But that was a survey of registered voters. The Rasmussen survey of likely voters may be more reflective of the population that actually turns out to vote in November.
Reply
7 comments
from



Rep. Paul Davis, D-Lawrence, the presumptive Democratic nominee for governor, reportedly claimed again last week that school funding cuts under Gov. Sam Brownback's administration have led to "thousands" of teacher layoffs, a claim that has already been shown to be greatly exaggerated.
According to a report in the Kansas City Star, Davis reasserted that claim last Wednesday during a fundraising event in Johnson County.
But even after Brownback compared education to defense spending in his first State of the State speech — a comparison Davis agreed with — the governor submitted a budget the next day with what the Democrat called the largest cut in school spending in state history.

The result: thousands of teacher layoffs and a myriad of school fees that parents must pay.

"This is foolishness," said Davis, adding that it's "not who we are as a people. It's time for us to get things right."
Although the story itself did not put quote marks around the phrase, Star reporter Steve Kraske confirmed in an email that Davis used the word "thousands" in reference to teacher layoffs.
Davis made a similar claim when he gave the Democratic response to Brownback's State of the State address in January, and the Journal-World reported afterward that the claim was greatly exaggerated.
According to official state data, only 811 teachers lost their jobs due to a "reduction in force" between 2009 and 2013.
Because Brownback didn't come into office until January 2011, only 201 of those can actually be attributed to his tenure in office - those that occurred in the 2011-2012, and the 2012-2013 academic years.
Layoffs, of course, are not the only way to reduce the size of a workforce. Many districts used attrition during the Great Recession - not replacing teachers who retired, changed careers or moved out of the area.
Since Brownback became governor, the total number of full time equivalent teachers employed in public schools has actually grown slightly, from 34,074.8 in his first full year in office, to 34,772.8 this year. That is still below the pre-recession number of 34,978.8 during the 2008-2009 school year.
Officials from Davis' campaign did not return phone calls made last week seeking comment. Davis himself said this week that he would have his office share with the Journal-World the information on which the claim was based, but so far we've not received it.
Reply
13 comments
from





Gov. Sam Brownback was the subject of two national pieces this week.
Yahoo News focused on his potential as a 2016 Republican presidential candidate.
"His quiet, yet ambitious, work in Kansas has proceeded without major controversies of the sort that have helped define Wisconsin Gov. Scott Walker, who fought a pitched battle with public-sector unions, and New Jersey Gov. Chris Christie, who was a magnet for viral controversies even before the recent allegations of misconduct surrounding the closure of George Washington Bridge lanes," wrote Chris Moody. Here is a link to that story.
And The Daily Caller dissected the pros and cons of Brownback's tax policy in this story.
This attention follows a Feb. 13 piece in the New York Times, headlined "Brownback Leads Kansas in Sharp Right Turn."
Meanwhile in Kansas, Brownback faces a tough re-election challenge against House Minority Leader Paul Davis, D-Lawrence. The race is neck-and-neck, according to a recentpoll.
Reply
9 comments
from



National Journal, a non-partisan political publication, includes the Kansas gubernatorial election among its list of 15 governorships "most likely to flip" from one major political party to the other.
"By all rights, Kansas should be safe Republican territory, but it features the sleeper race of the cycle," the National Journal states, ranking the race between Republican Gov. Sam Brownback and House Minority Leader Paul Davis, D-Lawrence, No. 10 among the top 15.
The article mentions past Democratic successes for governor in Kansas, the warfare between moderates and conservatives in the Republican Party and polling that indicates a tight race.
Reply
2 comments
from


Find more businesses on Marketplace
Arts & Entertainment · Bars · Theatres · Restaurants · Coffeehouses · Libraries · Antiques · Services